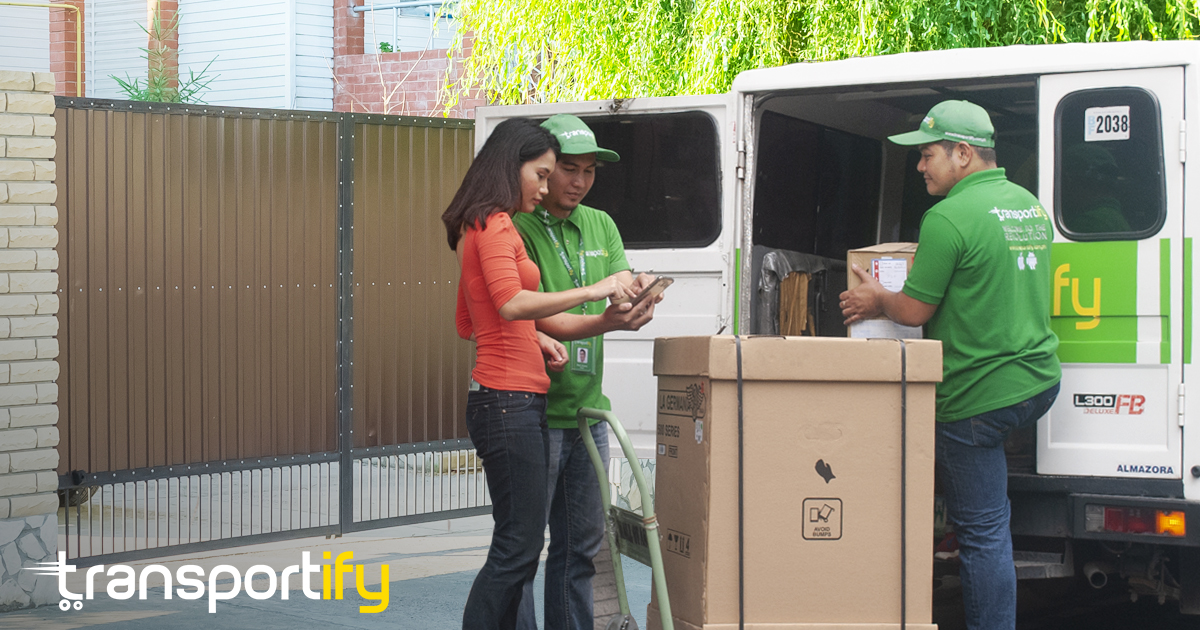 In the Philippines, it is not uncommon to see Filipinos using passenger jeepneys and tricycles as a means to transport electronic appliances. However, few Filipinos are aware that this habit can cause both external and internal damages.
We know that most people use tricycles and jeepneys to save money in transporting appliances. Still, it might only cost more money if the appliance suffers any damage before reaching its destinations. For safe yet affordable appliance delivery service, choose Transportify!
Transportify is a delivery & logistics app that lets you book vans and other large vehicles where appliances can fit and transport them right at your doorstep on the same day. What's great with Transportify is its affordable prices that let you save up to 40% on the cost compared to renting trucks outside or going to well-known truckers. See our updated closed van capacity and base rates in the table below.
Column 1
Column 2
Column 3
Column 4
Vehicle Type
Cargo Dimension
Capacity
Starting Price

Economy (Sedan/Hatchback)

L: 3.5 ft
W: 2 ft
H: 2.5 ft

200 kg

₱190

Economy Extra Space (SUV/MPV)

L: 5 ft
W: 3.2 ft
H: 2.8 ft

300 kg

₱240

L300/Van

L: 7 ft
W: 4 ft
H: 4 ft

1000 kg

₱470

Closed Van (4W)

L: 10 ft
W: 5 ft
H: 5.5 ft

2000 kg

₱1950

Closed Van Extra Space (6W)

L: 14 ft
W: 6 ft
H: 6 ft

2000 kg

₱2350
Here are the reasons why you should opt for Transportify Philippines' appliance pick up and delivery service that can save you up to 40% on cost rather than risking your appliances to tricycles when transporting appliances.
Avoid internal damages
The sharp bounces and vibrations of moving tricycles and jeepneys can affect the internal hardware and wirings within appliances like televisions, computer monitors, and computer central processing units. Even public utility vehicle drivers advise passengers transporting these affordable appliances using tricycles and jeepneys to let the electronic device settle for a day or more before turning it on to avoid shocking the internal hardware that just experienced intense vibrations. The chips and wirings inside appliances may be strong enough to withstand the vibrations and bounces. Still, to be safer, it is recommended that you use Transportify as an appliance pick up and delivery service provider in the Philippines. Download the app today.
Avoid external damages
Transporting these affordable appliances by tricycles and jeepneys makes them vulnerable to external damages. Even if the appliances are in their boxes filled with Styrofoam or bubble wrap, there could be situations that can harm appliances. For example, Filipinos are not strangers to jeepneys and tricycles that suddenly pull over, causing passengers to lunge forward then bounce back uncontrollably. Situations like this may cause the appliances to drop and break or get scratched. To avoid damaging newly bought appliances, you can use the Transportify app for your appliance pick up and delivery service needs. Book a same-day delivery while you are at the appliance store so Transportify could fetch your appliances from the store and deliver it to your house.
Protection from weather
Another danger of using tricycles and jeepneys to transport appliances is the lack of protective coverage from rain and intense sunlight. With Transportify's closed van for appliance pick up and delivery, electronic appliances are shielded from harsh sunlight that could heat up and damage them in any way. Closed van trucks can also protect appliances' electric wirings from getting wet by the rain. If the appliances you bought are too large to fit in our economy vehicle option, you can rent a Transportify van or truck instead.
At the end of the day, instead of safely delivering your appliances at a 40% lower cost, you might spend more when using Tricycles and other unsafe vehicles.
The Trusted Appliance Pick Up and Delivery Service By Businesses
Our pick up and delivery service allow our partnership with appliance stores, such as SM appliances, to go through a same-day booking option, which cuts time on the delivery and set-up of your recent appliance purchase.
As Transportify continues to reinvent affordable appliance pick up and delivery scene, we've gone beyond our standard services in the metro. We have gone on to expand our reach to go beyond Pampanga and Baguio. With our expansion in range also allows the opportunity for local store owners to expand their reach in reaching a customer base here in Mega Manila.
Understanding 3PLs
Transportify's services aren't just for individual clients, but they also operate under contracts with business partners. Many businesses nowadays outsource their business operations so that they can reduce costs in different sectors by optimizing performance on others. As not all businesses have the capacity to have an appliance pick up and delivery service, they often outsource these services to 3PLs or Third Party Logistics providers; these include companies that excel at storage, packaging, and delivery, to name a few.
Hiring 3PLs allows partner businesses to:
Cut costs in terms of logistical expenses, training, and equipment storage
Learn from business practices of dedicated 3PL services to incorporate into their own
Focus on other sectors of business operations
Increase brand-trust through partnering up with high-quality 3PLs
Expand customer demographic by sharing customer bases from each other
We at Transportify know the importance of providing high-quality and affordable appliance pick up and delivery service to retailers of household appliances. It's our priority to ensure that our services will not be endangering our customers' packages with the use of our service. We offer a higher level of security and trust to both our business partners and their customers.
Trust your transporters
Our drivers are trained to deliver a high-quality customer service that includes the loading and unloading of the packages from its pick up point to its delivery destination. For our customers' convenience, we've added options on whether the package requires the additional workforce to handle the delivery to ensure that there won't be any internal or external damage to the items while it's in transit.
One of the many dangers of hiring an unknown contractor for a delivery service is that you, as the customer, do not have the critical information to give them your trust. Not all service providers offer their contact information, and their vehicle plat numbers often change from day-to-day, making reports on lost or damaged items during the trip challenging to deal with after an unsuccessful delivery.
We at Transportify want our customers to feel safe with our affordable appliance pick up and delivery service by giving them all the information that they need with a delivery. Our customers can breathe a sigh of relief as their packages' safety can be monitored through our app's Track and Trace feature. It allows them to take note of the on-going delivery's status, from the Driver's name, vehicle details, and the current route, all through their smart devices.
The Transportify way of delivery
Our drivers are adequately trained to handle various types of shipments, from food products to events equipment. Included in our drivers' training is the handling of different kinds of materials such as recently bought affordable appliances to fragile glassware to bulky furniture.
Being a part of the Transportify team is quick and easy to follow as long as you have the right paperwork and a winning attitude. Depending on your van type, you can check our income calculator to estimate how much you'll earn from being a part of our pool of van operators. Our L300 drivers can earn as much as ₱40,000 for 30 completed bookings per month, while for smaller deliveries such as those handled by SUV, MPVs, and Sedans make as much as ₱21,000 just for one daily booking per month.
With our numbers steadily growing beyond 60,000 van operators, our customers can be sure that they offer the Transportify way of delivering quality service expected to all our drivers.
Frequently Asked Questions:
Who offers affordable appliance pick up and delivery service?
📺 Abenson offers appliance delivery service when you buy on their website. If you bought an appliance in a store or just want it to arrive on the same day, you can book Transportify to pick up your appliance and deliver it to your home. Transportify can handle small to big and bulky appliances like refrigerators and television set.
How much does pick up and delivery services charge?
📺 The price will depend on what item you'll be delivering. Grab Express picks-up and delivers parcel and light items that will fit the motorcycle and would usually cost you ₱150 – ₱250. Transportify on the other hands focuses on bulk and large items to pick-up and deliver. Prices start at ₱190 +₱20/km when you book the economy vehicle. If you need a larger vehicle, you could either book the L300/Van or Closed Van vehicle, which starts at ₱500 and ₱2150, respectively.