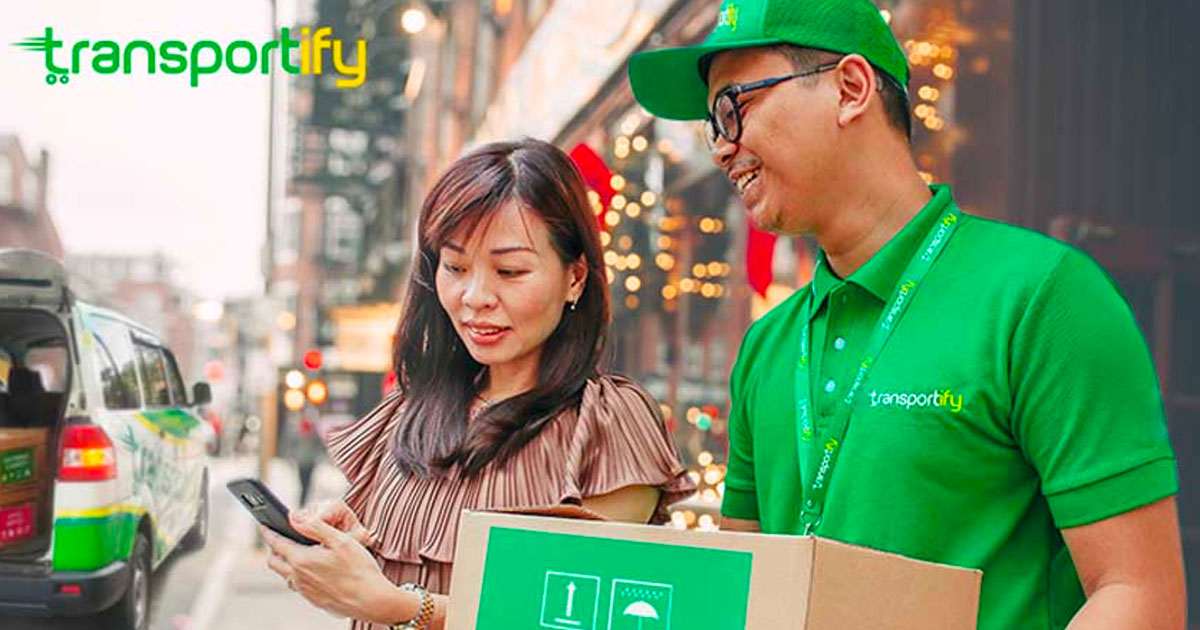 With the vast amount of delivery companies, it isn't very easy to judge who provides the best Manila delivery service that you can trust for your business. There is a real element of handing over control whenever you send a package. You find yourself putting your, sometimes very expensive, goods in the hands of complete strangers and hoping that it finds its way through several different handlers to its destination. Surrendering control to this degree can be worrying, especially if you are sending something of great value or importance, and the internet is full of horror stories about delivery drivers mishandling packages.
Transportify as your trusted Manila Delivery Service Provider
Luckily, Transportify has been the go-to app of businessmen looking for Manila delivery service provider. Transportify is a mobile/web app for Manila delivery and has been around since 2016. Unlike other Manila delivery service providers that use unsafe motorcycles, Transportify uses larger closed vehicles to guarantee the safety of your items. You can check out below our available vehicles and prices:
Vehicle Type
Dimensions/
Weight Limits
Base Price


(Metro Manila)

Base Price


(Outside Metro Manila)

Base Price


(Visayas/Mindanao)

Wing Van 

32 to 40 x 7.8 x 7.8 ft




12000kg to 28000kg

7500 PHP

6500 PHP

6500 PHP

6w Fwd Truck

18 x 6 x 7 ft




7000kg

4850 PHP

4850 PHP

4850 PHP

Closed Van

10 to 14 x 6 x 6 ft




2000kg to 4000kg

1800 PHP

1450 PHP

1450 PHP

Open Truck

10 to 21 x 6 ft x open




2000kg and 7000kg

2300 PHP

1950 PHP

N/A

L300/Van

8 x 4.5 x 4.5 ft




1000kg

430 PHP

330 PHP

310 PHP

Small Pickup

5 x 5 ft x open




1000kg

310 PHP

250 PHP

220 PHP

Light Van

5.5 x 3.8 x 3.8 ft




600kg

250 PHP

192 PHP

225 PHP

MPV/SUV

5 x 3.2 x 2.8 ft




200kg

160 PHP

130 PHP

140 PHP

Sedan

3.5 x 2 x 2.5 ft




200kg

140 PHP

110 PHP

120 PHP
Are you still having doubts about us? Well, you read below our tips on how you can be sure that your delivery service provider is one of the good ones and see how Transportify checks the list.
1

Check Out the Provider

Choosing a delivery service provider with a significant online presence and a highly regarded reputation is an excellent precaution. This might not always result in the cheapest Manila delivery service around. Still, the reassurance that the driver is part of a respectable company should provide the right amount of peace of mind. Most companies are proud of their standards and will often post information about their training and quality assurance processes on their websites so that customers can see that they stand by their claims. Providers that care about how they are perceived will have a lot of good feedback online and will almost always respond to any negative feedback people should post about them to try and improve in the future. This is an excellent benchmark of a company's rigor and should be treated as such.
2

Firsthand Experience

One of the benefits and pitfalls of using just any delivery service providers is that you can never be 100% certain of anything until you experience it firsthand. This is where the drivers doing truly come into their own as they are the face of the company that they represent, and if they do not portray a decent, honest, and polite image, then the entire company suffers. It is for this reason that all Transportify drivers wear uniforms, undergo training sessions, and have feedback requested against every Manila express delivery service. By using measures such as these, we (and other companies) strive to ensure that our drivers give the best possible impression of our company that they possibly can. After all, if a driver gets a bad review, then nobody wins. The customer is not happy, the driver will not be satisfied, and the company will not be happy, so although these situations needs professional handling when they occur, avoiding them is by far the best approach.
3

Read Online Reviews

Responding to ratings and reviews are very important for any company these days. Still, delivery companies, in particular, are very susceptible to a bad review due to the rapid turnover and customer-focused nature of the business. Any company that doesn't respond appropriately to any feedback, especially critical feedback, should be rethinking how they handle their customers. It is always important to know that staying in business is a complicated tapestry that requires many facets to work, but alienating your customers is a sure-fire way to head out of business.
Manila Delivery Service Provider's Quality and Variety of Vehicles
Most Manila delivery service providers offer prices based on the capacity of their vehicles. The more they can accommodate, the better the price. The motorcycle versus car/van is a point of contention for many people when it comes to the ideal vehicle for deliveries. Motorcycles have the luxury of being compact. Its size and lightness mean it can weave through traffic with no problem and beat the arrival time of other vehicles by a long shot. However, have you seen the sizes of the storage boxes on motorcycles? It cannot handle large cargo or packages that people can't transport themselves.
Look for companies that have a variety of vehicles that you can choose from based on your needs. Vans and trucks have a capacity of 1,000 kgs, more than enough for bulk orders and oversized items. Even with lighter packages, a van is an appealing choice since it can hold more cargo. There is no need to make multiple trips in the same way motorcycles do for Manila delivery rental services. Using vehicles with more capacity allows you to spend more time on the road than parked for reloading. For fast-growing businesses, this trait is essential to keep up with the increased demand.
Convenient Manila Delivery Service Provider for Customers and Business Partners
Transportify is a must-try Manila delivery service because of its ease of access. It does not require travel to the nearest branch, which is often the case with similar businesses. You can book a cargo delivery rental van from your home or office and wait for the truck to arrive for the transaction. Any further instructions you have with the items can be forwarded to the driver using the chat system available in the Manila delivery app.
The main point for convenience for the app is how easy it is to use. Different options are depending on how far and how fast you want your cargo to be delivered. There is a free quote area that will help you get a reasonable estimate of the delivery cost for all your 2023 logistics needs. You can shift through options within the app until you find one that suits your needs best. When you have questions, the app, and the website as a dedicated customer service line that can help answer any questions you may have.
Consider A Mobile-Friendly Delivery Service Provider App
The point of having an app and website is to be a source of information for clients first, and business—second. If the app does not have the right information or features to reassure their clients, then what can be used to guard against the fear of trying something new? Nothing. The digital world, no matter how prevalent in our daily lives, still holds a lot of doubt and mystery. Your go-to Manila delivery service provider should have all the answers you are looking for, or at the very least, refer you to people who do.
Transportify ticks off all these boxes. They are the go-to Manila delivery service provider you should watch. They aim to be the best at transporting things, and they have actively worked to address issues with the current logistics system. It is not the go-to because of its relatively new status in logistics, but because all the frills and flourishes of the service are actual necessities that have been neglected. It is a must-try for any competitive business looking to expand in embracing the next decade.
Frequently Asked Questions:
Who is the best delivery service provider in Manila?
🚚 LBC is one of the top choices for delivery service providers in Manila. If you need to send a package in a long-distance location, they have nationwide coverage that may arrive within 5+ working days. Transportify, on the other hand, works best for same-day Manila delivery service with flexibility to deliver even large & bulky items with its trucks and vans.
How much do manila delivery services cost?
🚚 For shipping companies like Xend, the average delivery fee costs around ₱60 – ₱200 for their parcel delivery service in Manila. Motorcycle Courier, like GrabExpress, would charge you ₱150-₱300 to deliver on the same day within Metro Manila. If you have massive packages like XL balikbayan boxes or big cargo, you may try using the Transportify app. The smallest vehicle type, economy class, has rates starting at ₱120 +₱20/km. There is also an available fleet for large scale deliveries like 10W Wing Vans.