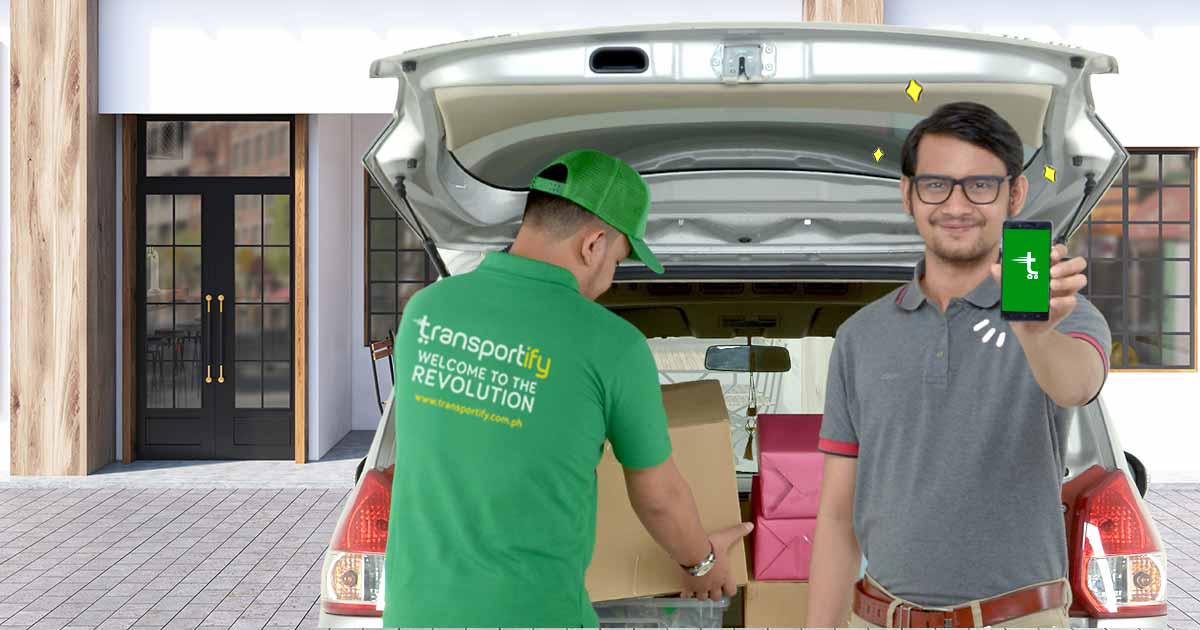 The qualities and capabilities of a trusted courier and delivery service in the Philippines can play a huge factor in determining the success or failure of a business. Determining factors come in different forms: the manner they deliver (how fast or slow), their affordability, the delivery areas that they cater to, cars, motorbikes, closed vans for delivery, or trucks, among others. In Transportify, you are assured that we meet every criteria set by the customers. From having wide vehicle classes to select up to in app features like Chat with Driver, Transportify is the right choice for you. Get a price check now.
In the Philippines, you can find most businesses in highly populated urban areas. This is also where most heavy road traffic is experienced daily – affecting businesses, appointments, meetings, etc.
It is, then, essential to know who provides the most efficient courier and delivery service in the Philippines. That's why Transportify is revolutionizing delivery service in the Philippines— offering a wide array of vehicles and services to fulfill your delivery needs. Check out below to see the basic pricing of our delivery service in the Philippines.
Column 1
Column 2
Column 3
Column 4
Vehicle Type
Cargo Dimension
Capacity
Starting Price

Economy (Sedan/Hatchback)

L: 3.5 ft
W: 2 ft
H: 2.5 ft

200 kg

₱190

Economy Extra Space (SUV/MPV)

L: 5 ft
W: 3.2 ft
H: 2.8 ft

300 kg

₱240

L300/Van

L: 7 ft
W: 4 ft
H: 4 ft

1000 kg

₱470

Closed Van (4W)

L: 10 ft
W: 6 ft
H: 6 ft

2000 kg

₱1950

Closed Van Extra Space (6W)

L: 14 ft
W: 6 ft
H: 6 ft

2000 kg

₱2350
So what makes us the most trusted courier and delivery service in the Philippines? To give you a guide, here are the critical considerations you should know in choosing a courier and see how Transportify covers the checklist.
Delivery Service Type
The courier and delivery service provider must cater to any size of delivery. Whether it's a small package or extra-large cargo delivery. You would not want your customer to receive a damaged item because your chosen courier cannot provide the type of vehicle that can accommodate your needs.
Delivery Areas Allowed
Whether you're someone who needs to deliver a package to your loved ones or business that distributes products in certain parts of the country, it is always essential to choose a courier and delivery service in the Philippines that can transport packages in your desired delivery area.
While most service providers deliver outside of their standard service areas, there would be certain fares you would have to pay, called surcharge. This is where affordability comes in.
Service Affordability
Some courier and delivery service in the Philippines requires you to pay surcharges for deliveries that are not within the standard service area. What makes one stand out from the other is its surcharge price differ from the others.
Moreover, an efficient delivery service provider is one that lets you pay for what you just used, with no hidden fees or senseless extra charges.
Speed of Delivery
How fast or slow a courier and delivery service provider can transport your packages is also essential when choosing your provider. There would always be packages that need to deliver in a rush, so you should know the ones that can give you just the right solution.
Tracking and Security
You can trust efficient courier and delivery service in the Philippines to deliver packages on time, without hassle, and safely. When choosing a provider, select a courier that does not leave your packages unattended and the one that lets you track, trace, and monitor them, from pick up to delivery.
Ease of Doing Business
Transporting your packages on time is good, but what can make this better is the ease of doing business with your courier and delivery service in the Philippines. Before deciding to go with one, ask yourself: How can I contact them? Do I have to book deliveries personally? How do I know that my packages have arrived at the location? Can they give me any proof that the packages are delivered?
Have a courier and delivery service in the Philippines that makes everything easier. This makes you accomplish more tasks in less time (most effective if you're into business).
Given all these determining factors and more, choosing a transport company to deliver your packages becomes much more manageable. Transportify, a courier and logistics company in the Philippines, best qualifies with these considerations. Use our trusted courier and delivery service app and see the difference.
Businesses that can use a courier and delivery service in the Philippines
With the growth of technology and delivery services, it is important to stay one step ahead of the competition. Customers like to have their products right in their hands as soon as possible.
There are tons of benefits that every company could get when they use the services of a courier such as Transportify. So, if you are engaged in the following services, you could use a delivery service.
1Online shopping stores
The online shopping business has become one of the fastest-growing industries in the Philippines. One of its most prominent features is that it allows sellers and buyers to agree on a delivery system. Since most online shoppers demand a fast delivery system, your business could use a delivery courier such as Transportify.
At an affordable rate and an efficient speed, your customers could get their orders right on the same day. What better way to attract your potential clients than to give them a choice to shop without having to out themselves.
2Appliances
Emergencies are inevitable in every home. Sometimes, people experience appliance breakdowns such as a broken fan and a refrigerator. So, if you are in the appliance business, you could use the help of a courier and delivery service to give your customers an efficient way to replace their appliances.
As such, when you offer delivery services, customers would naturally turn to your business when they need a quick replacement for their appliances. This makes your business have a competitive edge against other companies.
3Office Supplies
All offices have a constant need to keep their day to day supplies at a maximum. However, there are instances where there can be an oversight, which in turn can lead to a quick need for office supplies.
Materials such as papers, clips, and ink are vital to the productivity of the company. Most employees do not have the liberty to go out of their office to buy supplies during work hours. This is why if you are in the business of furnishing office supplies, then have a delivery system so that big companies will turn to you if they are short of materials.
4Dry cleaning services
Every dry-cleaning service can make their business more competitive when they offer pick-up and drop-off services. This entices a lot of customers since it is convenient for them and saves them a lot of time, money, and energy. Dry-cleaning business also has the most loyal customers since people like to stick with businesses; they can trust when it comes to their clothing.
This is why, if you are engaged in the laundry business, use Transportify to help your customers get their laundry right at their doorstep.
Customer satisfaction should be the priority for every business. When customers get what they want, most likely than not, they will stick to the services of the company. In turn, this loyalty provides your company with a steady flow of profit.
This is why the addition of a courier and delivery service can produce great results for your business. It provides a win-win situation for both you and your customers.
So, if you are looking to get started in providing a delivery service for your customers, Transportify is the best option. Just download the application, and you can deliver your products right at the get-go.
Frequently Asked Questions:
How do I choose the best local courier and delivery service?
💯The factors you need to consider when looking for the best courier is the pricing of their service, the speed of delivery, how wide their covered service area is, how flexible their vehicle options are, and how well they handle customers concerns. If you are looking for the best local courier and delivery service, you may choose to try Transportify. They have fast and same-day deliveries to any point in Luzon with large fleet available from sedans to 10w wing van available from Monday to Sunday. The cost of their booking is one of the cheapest in the marketplace.
How much are courier and delivery services in the Philippines?
💯Prices for motorcycle courier services ranges usually from ₱150-₱250 per booking. If you need larger vehicles to deliver your bulky goods like sedans and hatchbacks, you will usually spend around ₱300-₱350. You can visit our website to get a quotation on the delivery costs.