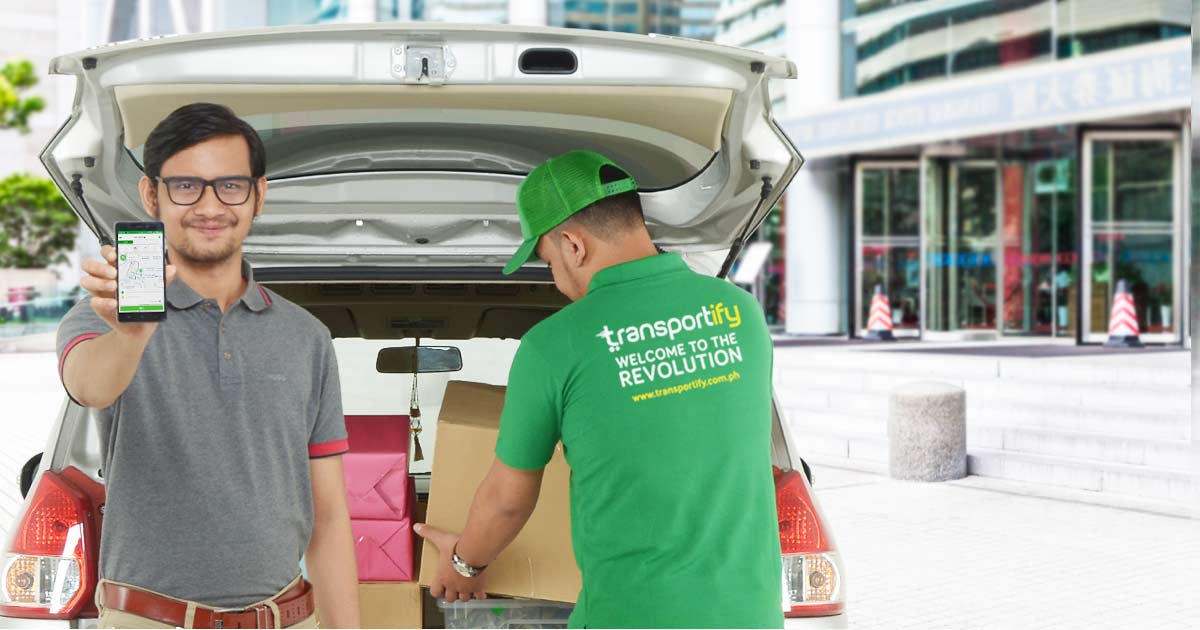 Nowadays, a lot of people may have already used logistics and shipping companies for delivery once or twice in their lives, may it be for sending gifts, for businesses, and house-moving.
Although there are a lot of logistics providers offering services to people, finding one that lives up to its promise of giving a fast courier service is a problem. Some delivery companies' shipping duration takes days. But with Transportify's app for courier service, everyone is sure to benefit from the convenience of our express delivery service with an average rating of 4.8 stars.
You can check out the table below for all the vehicles we offer and their capacity, so you'll know which best suits your needs. You can also read below how you can we can help different types of costumers by continue reading this article.
Column 1
Column 2
Column 3
Column 4
Vehicle Type
Cargo Dimension
Capacity
Starting Price

Economy (Sedan/Hatchback)

L: 3.5 ft
W: 2 ft
H: 2.5 ft

200 kg

₱190

Economy Extra Space (SUV/MPV)

L: 5 ft
W: 3.2 ft
H: 2.8 ft

300 kg

₱240

L300/Van

L: 7 ft
W: 4 ft
H: 4 ft

1000 kg

₱470

Pickup Truck

L: 10 ft
W: 6 ft
H: Open

2000 kg

₱1850

Pickup Truck Extra Space

L: 14 ft
W: 6 ft
H: Open

2000 kg

₱2250

Closed Van (4W)

L: 10 ft
W: 6 ft
H: 6 ft

2000 kg

₱1950

Closed Van Extra Space (6W)

L: 14 ft
W: 6 ft
H: 6 ft

2000 kg

₱2350

Long Pickup Truck

L: 18 ft
W: 6 ft
H: Open
7000 kg

₱4850

10-W Wing Van

L: 32 ft
W: 7.8 ft
H: 7.8 ft

15000 kg

₱8000
For Small Businesses
Small business owners can benefit from the fast courier services of Transportify. You do not need to go through all the trouble of renting vans or trucks because booking through our app for courier services or on our website is just one click away. Same-day deliveries for rushed orders are even possible to suit your customers' urgent needs. Moreover, you can track the movement of your packages so you can ensure your valued customers that their packages are on the way.
For Online Marketplaces
More and more Filipinos are shifting to online marketplaces like Lazada and Shopee. Thus, it is a challenge for online shop sellers to keep up with the delivery demands brought about by the growing number of buyers. With Transportify's fast delivery service, online sellers can avoid delivery delays that can cost them their current and prospective buyers' trust.
If you are worried about the speed of our delivery may damage your products, then worry not. We can assure you that all Transportify delivery vehicles are in good condition and are capable of carrying large, heavy items like furniture and appliances.
For Moving House
Filipinos know how tedious house-moving can be—searching for the most affordable moving truck for rent, finding the best day to move out, and so on. Back then, it takes a long while for families to move houses. But now, with Transportify available for mobile downloads, people can find affordable moving trucks in a minute and schedule a house-moving even on the same day! You will be able to move out of your old house and move into your new one immediately. Download the app (with 4.8 stars rating) and get started now.
Plus, you can track the location of our drivers along with your packages and the estimated time of arrival through our app for courier services. No more worrying when will your furniture get to your new house and no more worrying if your personal belongings got lost.
For Special Events and Occasions
Special occasions like weddings and formal parties can also benefit from Transportify's fast courier services in Manila. Transporting homemade centerpieces, decorations, and props is now hassle-free. You can book a nearby van or schedule a pick-up in advance, and then sit back and watch as we deliver your packages within the day. You will have more time preparing for the event instead of panicking and wondering when the decorations will arrive.
Our courier services in Manila are also applicable to team buildings and company outings. Transporting tables, chairs, and even food is no longer a problem. With Transportify, you can always expect your package to get there on time and in excellent condition.
Transportify is truly helpful for everyone who is looking for a reliable provider of fast ourier services in Manila. Our valued customers can always expect our quality service in express delivery, that's why we're rated an average of 4.8 stars.
Effects of An App for Fast Courier Services In Manila
The uses of the app for courier service are only limited by the individual's scope and imagination. One might ask, "How often do deliveries affect our daily life?" They'll be surprised that a small delivery is one moving part of a greater whole—of the logistics industry, of independent businesses, and convenience in the Philippines.
The practical use of a fast courier service cannot be denied, but there are intangible qualities that highlight Transportify as one of the best courier services in Manila.
For Building Trust
Advertisements have a polished veneer that makes it always seem too good to be true. The lauded praises in commercials, catchy taglines, and carefully crafted design have become markers of good advertisement and not necessarily a good product. There is suspicion. Businesses need to earn the consumer's trust by delivering in more ways than one. The first way they earn their trust is by providing a quality product that is what they advertised. The second way is to make sure the product reaches the buyer in good condition. Too often, we hear horror stories of poor product handling, boxes come damaged, or they never come at all. Even though the business hired a courier service, customers can help but still find fault. The responsibility for the item does not disappear when it leaves the store or warehouse; most people believe that if it wasn't damaged in their care—it is the business' responsibility.
Transportify's app for courier service has everything neatly packaged. Take away the suspicion with it's track and trace feature, and the two-way chat feature. Accessible communication channels and general transparency means you have nothing to hide. The security of reaching out to someone with your concerns creates a seamless experience that can ensure that people who are interested in your products become repeat customers.
For Creating Connections
Some courier services have a limited service area, and to everything after that becomes incredibly expensive. Distance is extremely relative, for example, Metro Manila is only a small part of the region, but the massive buildings, small roads, and bad traffic makes things feel father than they are. Take away the limitation of only doing business in one city. Transportify can move stuff within the city and move back and forth between provinces. It is especially beneficial for those who sell specialized products that are not typically stocked in stores. A business working in a niche market can be incredibly difficult if people don't need the item regularly, expanding the reach by way of delivery can ensure that if someone out there requires a specific product you are a viable option.
For Maintaining Relationships
A fast courier service is not only something a business benefits from, but it can be a way for family and friends to keep in touch beyond emails and chat messages. Before the internet sending letters and gifts was a popular way to maintain feelings. A carefully planned package can tell someone that they are in your thoughts. The action of sending anything makes the feelings more tangible. Just by downloading the app for courier service, you can reach out to people who live far away or those who have hectic lifestyles and would appreciate small "care packages."
Let us break the stigma of courier services in the Philippines; let us take away the idea that there is no such thing as a fast courier service. Transportify was made to bridge a gap in the logistics industry. It has all the essential tech and features behind leading courier services and was made to be accessible for everyone. Transportify creates opportunities for businesses and people. What can you do with Transportify?
Frequently Asked Questions:
What is the fastest app for courier service in Manila?
💯 If you need fast same-day delivery of large and multiple items, you can download the Transportify app, which offers 4 wheel vehicles for delivery service. You can also download Grab Express if you need a fast motorbike courier for small parcels.
How much does an app for courier service in Manila cost?
💯Transportify is a courier app that lets you deliver large and multiple items and would cost you P190 for the base fare +P20/km when you book the economy vehicle, which can carry up to 200kg. Grab express, on the other hand, is a motorcycle courier app that charges P80 base fare plus the distance traveled for a package that weighs 20kg or less.