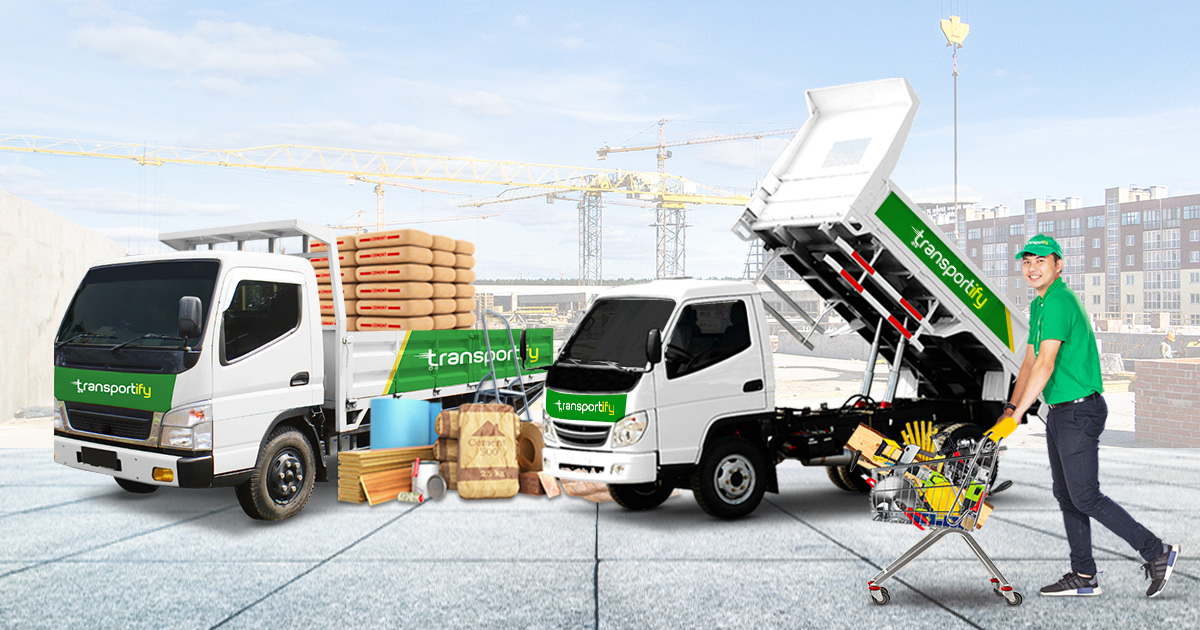 Many households nowadays need a piece of sudden hardware equipment as a necessity in their house. Due to busy schedules and sometimes lack of their vehicle, giving many customers a rough time buying tools and materials they need for their home.
Luckily, the use of bulk couriers in any products keeps increasing day by day. Different companies now offer deliveries of any item and give customers the convenience they're longing for.
Transportify, as one of the fastest couriers in the Philippines, is now offering bulk hardware products delivery service for the public. It may seem new to you, but the demand for hardware deliveries are kept on increasing day by day.
Moreover, the demand for same-day couriers is drastically increasing every day; hardware stores also use this trend to satisfy their customers. That's why there's stiff competition to be the fastest courier in the Philippines, with all companies offering same-day courier delivery service for hardware products.
What is Hardware Delivery?
Unlike the everyday products you can buy from different e-commerce websites, hardware product deliveries come with the unusual items you might need in your household. For example, you need a hammer, driller, or some household tools that you need from fixing small repairs in your house. You don't have any time to go to the hardware, so instead, you get your mobile phone and make a purchase for your needed items – that's how hardware transportation is all about.
How Transportify Does The Job?
Transportify offers an on-demand delivery service through its mobile and web app. With a wide selection of vehicles available on the platform, customers are ensured all their hardware products delivery and construction materials will be transported to their household. Here's the rate and capacity for our fleet for hardware products delivery:
Vehicle Type
Dimensions/
Weight Limits
Base Price
(Metro Manila)
Base Price
(Outside Metro Manila)
Base Price
(Visayas/Mindanao)
Wing Van 
32 to 40 x 7.8 x 7.8 ft
12000kg to 28000kg
7500 PHP
6500 PHP
6500 PHP
6w Fwd Truck
18 x 6 x 7 ft
7000kg
4850 PHP
4850 PHP
4850 PHP
Closed Van
10 to 14 x 6 x 6 ft
2000kg to 4000kg
1800 PHP
1450 PHP
1450 PHP
Open Truck
10 to 21 x 6 ft x open
2000kg and 7000kg
2300 PHP
1950 PHP
N/A
Mini Dump Truck
10 x 6 ft x open
2000kg
1500 PHP
1200 PHP
N/A
L300/Van
8 x 4.5 x 4.5 ft
1000kg
430 PHP
330 PHP
310 PHP
Small Pickup
5 x 5 ft x open
1000kg
310 PHP
250 PHP
220 PHP
Light Van
5.5 x 3.8 x 3.8 ft
600kg
250 PHP
192 PHP
225 PHP
MPV/SUV
5 x 3.2 x 2.8 ft
200kg
160 PHP
130 PHP
140 PHP
Sedan
3.5 x 2 x 2.5 ft
200kg
140 PHP
110 PHP
120 PHP
All driver-partners are well trained in terms of delivering different types of products to customers. They are a veteran, reliable and fastest courier that can handle the shipment with the utmost care, so you can ensure that your items will arrive safely.
SEE ALSO:
The Benefits of Hardware Products Delivery
There are some benefits when choosing to have your products delivered from your favorite hardware store that partnered with a reliable and trustworthy courier service provider like Transportify:
You are getting your hardware products fast. In some scenarios, you can receive your items delivered the same day you make a purchase. Though this service may vary depending on the location, most of the time, they can provide it within the day.
You are opting for the shipment time and speed. If you need a hardware product by a particular time and date, the courier service and the seller will do their best to accommodate your request for your convenience and according to your schedule.
Store-to-home shipment by associates you can trust. Your hardware products delivery will be handled by the most reliable and trustworthy courier company, which can provide an outstanding delivery service to satisfy both of their clients and their client's customers at the same time.
How To Find Fastest Courier In The Philippines For Hardware Products Delivery
With lots of courier service providers here in the Philippines, choosing the right one could be a daunting task. All of them almost offer the same delivery services at a reasonable price; however, only a few of them can pull-out the best services among the rest.
So, to help you choose the best courier service provider for hardware items deliveries, here are the following tips that you can consider.
1Outstanding customer service
Excellent customer service is the epitome of the courier industry. Meaning, the fast courier service provider can provide exceptional customer service support by answering all the concerns and queries promptly. Though it's not all about the support system, the courier drivers must also provide exceptional and professional customer service skills as well
2Care for the employees
Remember, low prices usually give poor quality service. Also, poor-paid drivers may provide a poor customer service experience, and as a result, it can cost you more in the long-run.
3Fast delivery
A bulk delivery courier company should go above and beyond the exemplary services that you can find from other couriers. When it comes to transports and deliveries, they should deliver it within the estimated time of arrival. If a courier service is known for being late and lousy service, ditch them right away.
Remember, your chosen courier service provider is an extension of your business. Any move and services they will give to your customers will positively and negatively affect your business' reputation. So always be wise when choosing.
Collaboration With The Right Hardware Product Store
Doing a do-it-yourself project at home or a full-blown renovation for 2023 but worried that your hardware products would not be delivered because of standard delivery schedules? No need to worry! You can count on Transportify's services as the fastest courier in the Philippines, especially now that they have partnered with Handyman.
Handyman has recently collaborated with Transportify, one of the fastest couriers in the Philippines, by hiring the on-demand delivery app as their third-party logistics partner company for hardware deliveries. Furthermore, Handyman will shoulder the cost of 5-7km distance when customers purchase P30,000 worth of Handyman products, as long as it is within Transportify's service area with plans of expanding more.. Download the app and experience express shipment today using large trucks in Luzon.
With a vast network of stores in Robinson's malls and other vital commercial places all over the country, Handyman sells thousands of affordable and high-quality products to provide the needs of homeowners and builders. As one of the fastest couriers in the Philippines, Transportify seeks to meet this partnership's demands and ship on the same day.
Larger and heavier items like bulks of tiles, plywood, cement, and paint can be delivered through the L300 option of Transportify, which could carry a maximum of 1,000 kg. If there is a need to provide products that weigh up to 1,700kg, customers could choose our closed van option to send the items they purchased from the hardware center to their homes. Transportify also recently launched their Mini Dump Truck vehicle. The maximum payload capacity for this vehicle type is 3500kg, which is an excellent fit for hardware and construction products for your business and individual needs this 2023.
With Transportify's on-demand services, one of the fastest couriers in the Philippines, urgent renovation projects for 2023 will be accomplished in no time. Shopping for hardware tools at Handyman and express courier in the Philippines is now more convenient because of the Transportify app's affordable shipping prices, complete with extra service features.
This 2023, Big businesses are now noticing Transportify's potential for local same-day deliveries and the advantages of using its budget truck rental service. With Transportify's goal to revolutionize the Philippines' logistics system, you can be assured that your deliveries will be accomplished safely and on schedule.
Download our mobile app and enjoy your hardware on the same day you bought them from Handyman, Philippines. If you have questions about Transportify's 2023 fleet and prices, get in touch with our customer representative today.
If you are interested in hiring Transportify for your hardware products delivery needs, you may start exploring different delivery services by downloading the application using the QR code and buttons below.
| | | |
| --- | --- | --- |
| | or | |
Frequently Asked Questions:
Who is the fastest courier in the Philippines for hardware products delivery?
⚒️ The standard set up for a hardware store was to transport your orders using your vehicle or avail their delivery option. In that case, fast transportation of bulky hardware products can now be quickly booked through Transportify, one of the fastest courier in the Philippines. Deliveries are guaranteed to arrive in under an hour to pick-up and deliver. Whether it's a new sink, door, or boxes of tools, Transportify can handle it no matter the size of the products.
How much would hardware products delivery in Manila cost?
⚒️ If you need to deliver some boxes of tools and items like an electric fan or tiles, you book Transportify's sedan, which costs P140 for the base price +P20/km and can carry up to 200kg. For larger items, you can book the L300 / Van vehicle instead, which costs P500 for the base price +30/km and can carry up to 1000 kg of load. There are available vehicles like Mini Dump Truck to help you transport construction materials and hardware products delivery needs. Explore the Transportify app to know more.