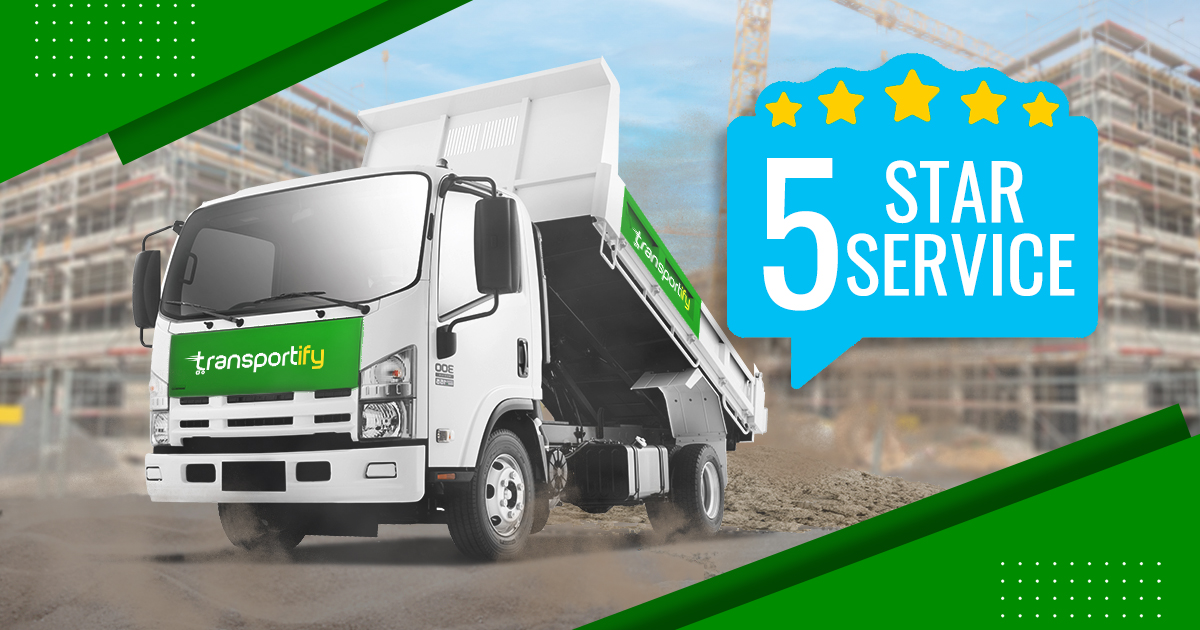 Those in the construction industry know that there are two crucial logistics operations throughout the duration of a project. In order to start working on infrastructure, the materials needed for the project must be ready on site. Thus, construction materials delivery is vital since it supplies the items needed to complete the project. As the construction project progresses, more and more unwanted rubble piles up on the site. This is where debris hauling services come in. Transportify, a truck booking app, can provide these two logistics services at affordable rates. Get a price check now.
Logistics Operations in Construction Projects
Managing a construction project is not an easy feat. There are many factors to study and consider such as the requirements of the clients, designs of the architects and the numerous laws in the Philippines which govern construction activities. There is the added problem of how to get materials from different locations and bring them to the construction site. Furthermore, debris caused by ongoing construction operations must be cleared out in order to make room for construction materials. Fortunately, Transportify has the solutions to these logistical problems.
1

Site clearing

A construction operation usually begins with the client telling the construction company plans about the desired project. Whether it is a new house, office building or even a shopping mall, the engineers in the construction company take careful notes of how the client wants the project to turn out in order to build the design of the new infrastructure. After this step, the construction company inspects the site where the project will take place. Usually, a site clearing operation is necessary in order to transfer unwanted rubble to a dumpsite. By clearing away these unwanted materials, the land is made clear and ready for the new construction project. Thus, one can say that the debris hauling operation is crucial in the whole construction process.

The table below shows our vehicles for debris hauling and construction materials delivery.
Vehicle Type
Dimensions/
Weight Limits
Base Price


(Metro Manila)

Base Price


(Outside Metro Manila)

Base Price


(Visayas/Mindanao)

Wing Van 

32 to 40 x 7.8 x 7.8 ft




12000kg to 28000kg

7500 PHP

6500 PHP

6500 PHP

6w Fwd Truck

18 x 6 x 7 ft




7000kg

4850 PHP

4850 PHP

4850 PHP
Closed Van

10 to 14 x 6 x 6 ft




2000kg to 4000kg

1800 PHP

1450 PHP

1450 PHP

Open Truck

10 to 21 x 6 ft x open




2000kg and 7000kg

2300 PHP

1950 PHP

N/A

Mini Dump Truck

10 x 6 ft x open




2000kg

1500 PHP

1200 PHP

N/A

L300/Van

8 x 4.5 x 4.5 ft




1000kg

430 PHP

330 PHP

310 PHP

Small Pickup

5 x 5 ft x open




1000kg

310 PHP

250 PHP

220 PHP

Light Van

5.5 x 3.8 x 3.8 ft




600kg

250 PHP

192 PHP

225 PHP

MPV/SUV

5 x 3.2 x 2.8 ft




200kg

160 PHP

130 PHP

140 PHP

Sedan

3.5 x 2 x 2.5 ft




200kg

140 PHP

110 PHP

120 PHP
2

Procurement of construction materials

The procurement of materials for the construction project is another part where trucking companies play a vital role. The crucial objective is finding out where to get the different materials to be used in the construction project. At this point, a logistics company providing vehicle rental for construction materials delivery is needed to transport goods from the hardware store to the site. It is also important to note that construction materials delivery should not be delayed. If the delivery of construction materials gets delayed, the whole project gets delayed as well. Procuring materials is such an important step in the entire operation that a reliable third party logistics (3PL) company providing on demand construction material delivery app should be used by construction companies. Furthermore, these companies must provide the appropriate vehicles for debris hauling services and construction materials delivery.
3

Using the right vehicles

Mini dump truck vehicles are heavy duty and dependable vehicles for these sort of logistics operations that support the construction project. The mini dump can haul any type of construction materials from loose aggregates like sand and gravel to items like bricks and cement. Another use for this type of truck is debris hauling logistics. Because it has an open dump body that can be lifted by a hydraulic cylinder, rubble and other loose materials can easily be dumped at appropriate locations. However, debris hauling in a construction project is not a one time occurrence. As the construction progresses, many unwanted rubble and debris pile up which would occupy space that could have been used to store construction items. Thus, frequent trips of the mini dump truck doing debris hauling services is necessary for a construction project.

When it comes to construction materials delivery, an open truck is one of the most ideal vehicle types for this operation. Its long body and large carrying capacity make it capable of transporting materials like scaffolding structures, bricks, hollow blocks and lumber products. An open truck is also known as a "drop side truck" which means that it can put down the "gates" on all three sides of the vehicle. Thus, the construction materials delivery process is made easy since loading and unloading of materials can happen from all sides.

Transportify, an app based trucking and logistics company, has mini dump trucks and open trucks for operations such as construction materials delivery and debris hauling services. A construction company does not need to have its own fleet of trucks to fulfill the logistics operations of every project. It can outsource this to third party logistics companies like Transportify which offers plenty of useful app features at the most affordable delivery rates.

SEE ALSO:
Why Use Transportify for Your Construction Hauling Needs?
Fortunately, in the Philippines, there is a bright future in store for the construction industry. With a bright future ahead, construction companies can expect more projects to come their way. Thus, it is necessary to partner up with a trucking company that provides consistently excellent service and can fulfill whatever delivery requirement you may have. Here are some reasons to book Transportify for your construction hauling needs.
1

Pickup and Deliver Anywhere in Luzon

Materials to be used for construction can come from many different sources. For example, the construction site is in Laguna but your supplier for steel structures is in Pampanga. This is not a problem when you use Transportify for your construction materials delivery needs. The same scenario can be applied to debris hauling services. If a construction manager wants to move debris from the construction site in Angeles to the dump site in Rizal, Transportify can surely do the job well. With Transportify, construction materials and debris can be picked up and delivered to any destination in Luzon.
2

Ease in using the App

The Transportify app is very easy to use. After downloading the app on your mobile device and setting up an account, the intuitive user interface can easily guide you on the steps to make a booking. There is also the web app if the client prefers to use the computer when making a booking. Transportify gives users the option to schedule bookings up to two weeks in advance in order to plan operations more effectively. Lastly, the 24/7 customer service personnel of Transportify are always ready to answer any questions you may have about the app and other services of the company.
3

Business Program

The Transportify Business Program is aimed at providing additional benefits to companies who regularly need delivery services. The list below shows some benefits of the Business Program:
Free Enrollment.
Customer Service personnel available 24/7.
Flexible payment schemes.
Proof of delivery and cash on delivery services.
Warranty of up to Php 3 Million for damaged, stolen or lost goods while the booking is on going.
A special team dedicated to documenting the steps you want then loading and unloading materials.
An account manager is ready to assist you in your bookings. Expand your business with our trucks.
Please visit our website or email business@transportify.com.ph to know more about our Business Program
To download the Transportify application, scan the QR code or click the button below:
| | | |
| --- | --- | --- |
| | or | |
Frequently Asked Questions:
Why is debris hauling needed in construction operations?
🚛 Debris hauling is important in construction projects for numerous reasons. One reason is that construction companies make use of debris hauling services when they clear the area before actual construction takes place. Unwanted items are loaded in a vehicle like the mini dump truck and transferred to a dump site. Another reason is that debris hauling services remove unwanted rubble and loose materials that piles up on the project site as the result of construction operations.
What items do trucks carry when doing construction materials delivery?
🚛 Because a construction project can be big and diverse, many kinds of materials are being transferred during these delivery operations. Common construction materials include hollow blocks, reformed bars, lumber products, scaffolding structures and bricks. Hollow blocks and reformed bars form the foundation of the infrastructure. Lumber products are often used as floor boards or made into furniture items and scaffolding structures serve as platforms for construction workers.