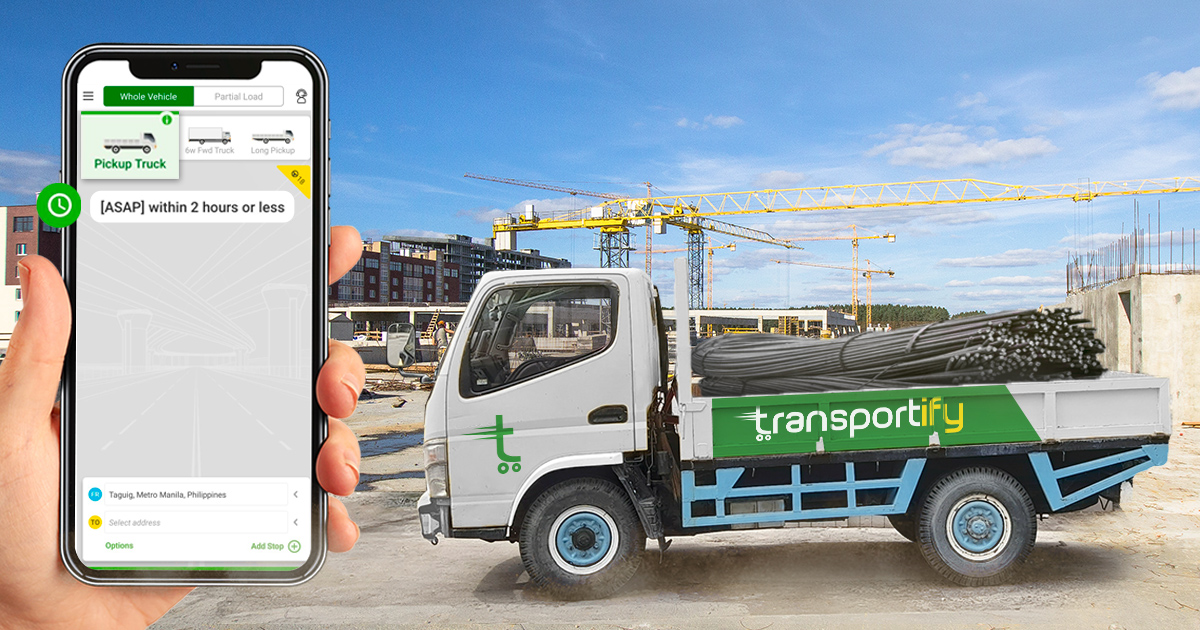 The construction sector plays a vital role in the Philippine economy, contributing significantly to its financial strength. In the fourth quarter of 2020 alone, the construction industry accounted for a substantial 336 Billion pesos. These impressive numbers can be attributed to the "Build Build Build" program initiated by the Philippine government in 2016. However, the recent COVID-19 pandemic caused setbacks, leading to contractions in both private and public construction expenditures in 2020.
As the world gradually recovers from the pandemic's impact, it's crucial to look ahead to the future of the Philippines' construction industry, especially in the context of on demand construction material delivery services. But before we delve into these exciting changes, here are some quick statistics about the construction sector in the Philippines:
Value-added generated from the construction sector: 336.19 Billion
Fixed capital formation value of the Philippine construction sector: 607.87 Billion
As you can see, the construction industry is experiencing exciting growth. With our assistance, you can propel your construction business to even greater heights.
Understanding Last-Mile Delivery in the Construction Industry
In the 1970s and 1980s, a manufacturing model called "just-in-time" (JIT) was introduced. JIT emphasized creating products to meet immediate demand instead of stockpiling surplus items. This shift revolutionized how businesses approached efficiency when producing consumer and industrial products.
Today, general contractors, home builders, and developers are exploring innovative ways to optimize their supply chains and unlock economic benefits of retail logistics. This is where on demand construction material delivery and the role of a construction material delivery app come into play.
Last-mile delivery denotes the final stages of the delivery process, starting from the equipment manufacturer or materials distributor and concluding with the end-user, typically a contractor at a construction site. Although it may seem straightforward, last-mile delivery poses several challenges for ecommerce logistics and the construction industry.
Last-mile logistics prioritizes local carriers to efficiently deliver products to end-users, focusing on cost-effectiveness and providing a seamless experience for customers.
But what does this mean for you and your business? And what can Transportify do to help you streamline this aspect of your business's supply chain? Here are Transportify's trucks for on demand construction material delivery:
Vehicle Type
Dimensions/
Weight Limits
Base Price


(Metro Manila)

Base Price


(Outside Metro Manila)

Base Price


(Visayas/Mindanao)

Wing Van 

32 to 40 x 7.8 x 7.8 ft




12000kg to 28000kg

7500 PHP

6500 PHP

6500 PHP

6w Fwd Truck

18 x 6 x 7 ft




7000kg

4850 PHP

4850 PHP

4850 PHP

Closed Van

10 to 14 x 6 x 6 ft




2000kg to 4000kg

1800 PHP

1450 PHP

1450 PHP

Open Truck

10 to 21 x 6 ft x open




2000kg and 7000kg

2300 PHP

1950 PHP

N/A

L300/Van

8 x 4.5 x 4.5 ft




1000kg

430 PHP

330 PHP

310 PHP

Small Pickup

5 x 5 ft x open




1000kg

310 PHP

250 PHP

220 PHP

Light Van

5.5 x 3.8 x 3.8 ft




600kg

250 PHP

192 PHP

225 PHP

MPV/SUV

5 x 3.2 x 2.8 ft




200kg

160 PHP

130 PHP

140 PHP

Sedan

3.5 x 2 x 2.5 ft




200kg

140 PHP

110 PHP

120 PHP
How Can You Improve Your Last-Mile Delivery with a Construction Material Delivery App?
Now, let's explore how Transportify optimizes the "on demand construction material delivery" process, making it smoother and more efficient:
Technological Advancements
To streamline last-mile delivery in the construction sector, we've revamped our delivery ecosystem with advanced technology. Our construction material delivery app integrates innovative features such as cloud-based services, vehicle GEO tracking, GPS-based route optimization, and electronic delivery confirmation. This translates to reduced fuel costs, faster delivery times, and an enhanced customer experience.
Optimized User Experience
In this digital age, user expectations continue to rise. We prioritize providing an accessible and efficient user experience for all clients, whether they are merchants, builders, or drivers.
Our construction material delivery app offers seamless applications, online payment options, and real-time tracking notifications.
Improved Analytics and Data Reporting
We recognize the value of analytics and data. In last-mile delivery, we focus on collecting transactional records, delivery data from specific routes, and vehicle movement data to refine the delivery process. This data provides valuable insights and trends for your convenience.
Just-in-Time Delivery Services
Fulfillment timetables are evolving, and the demand for real-time visibility in the supply chain is increasing. Storing excess construction materials on-site can be costly and risky.
Transportify's vast network of delivery drivers, equipped with state-of-the-art routing technology, and delivery optimization feature ensures your construction materials arrive just in time, eliminating delays and reducing overall costs.
Customer Service Focus
Last-mile logistics is challenging because it involves interacting with consumers or tradespeople at construction sites. We emphasize the careful handling of all delivered products. Our well-trained drivers ensure a smooth delivery and unloading process of city to city delivery, backed by our construction material delivery app, designed for a convenient and cost-effective experience tailored to your needs.
SEE ALSO:
Save Time and Money by Outsourcing Your Logistics Requirements
When running a construction business, you have a million and one things to contend with. The last thing you should have to worry about is things like last-mile delivery. When it comes to getting all of the required materials to your construction projects on time, you can rely on Transportify to get the job done right.
You see, rather than build a fleet of delivery vehicles yourself (which comes with a wide variety of additional costs and responsibilities), you can leverage ours instead. By outsourcing these logistics requirements to a reputable third-party like Transportify, you can focus your time and money on more important aspects of the business, such as project and site management.
Discover the Benefits of Our Construction Material Delivery App
Transportify has dedicated years to developing a robust infrastructure, boasting a diverse fleet of vehicles with various sizes and capacities. We continuously innovate, incorporating new technologies, automation, and digitization to stay at the forefront of the industry. By partnering with us, you can rest assured that your delivery needs are handled professionally, allowing you to focus on your core business.
We understand that entrusting your delivery requirements to a third party may seem daunting, especially when deadlines are tight and clients demand perfection. That's why we invest heavily in training our employees, implementing cutting-edge technologies, and consistently raising the bar for on demand construction material delivery.
Would you like to explore this further?
Feel free to contact our customer service for more information or email us at business@transportify.com.ph. We are confident that we can help reduce your delivery costs while enhancing efficiency in your construction material delivery process.
| | | |
| --- | --- | --- |
| | or | |
Frequently Asked Questions:
What is the fastest time a construction truck can arrive at the pick-up destination?
🔨 The fastest time can be within 2 hours. This option is available for Pick up Trucks under the 'Quick' time type. If you need a rush transport of your construction material from the store to the site, you can use Transportify's on demand delivery app for that. If you are a business and you are looking for a logistics provider for your last mile delivery of supplies, Transportify is your most cost-effective option.
Why is it important to have last mile operations for construction supplies?
🔨 Last mile delivery operations are important regardless of industry because it is in this phase that your products are delivered to their customers.  In relation to the construction industry, it is not all the time customers have their own vehicles to do the transport. It is important to give options for delivery to boost customer experience and provide more convenience.