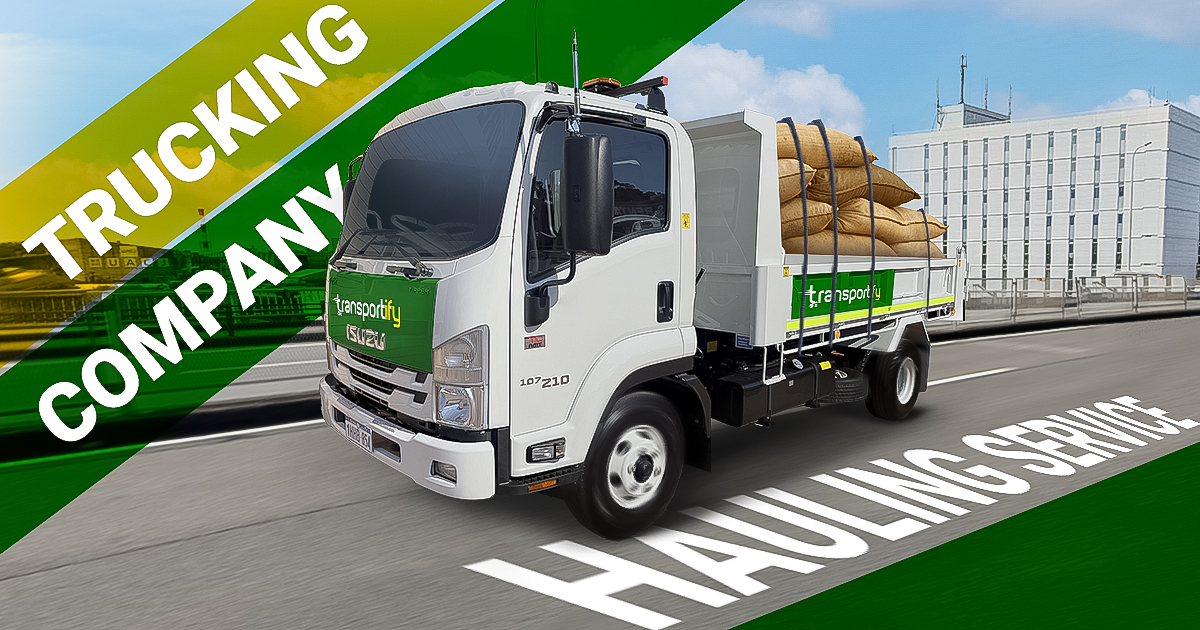 In many industries, moving goods from one place to another is essential and an integral part of the business process. For example, a manufacturing company will not be able to produce goods if it can not transport raw materials from the source to the production plant. Similarly, a construction project can not be completed if aggregates such as gravel and sand can not be transported to the construction site. In those situations, hauling services offered by a trucking company in Manila is needed to keep the business running.
What Are Hauling Services?
Hauling services is the general term that describes the movement of vast quantities of goods or raw materials across long distances.
Since mankind invented the wheel, transporting numerous items across vast distances has become a common activity and an important part of our daily lives. From horse-drawn carriages to 10 wheeler wing vans for freight delivery, hauling services have evolved greatly over the centuries. The invention of the railroad has also paved the way for faster hauling of goods, like coal and other minerals, from the source up to a production plant. The railroad system was used extensively to transport goods at the height of the Industrial Revolution, a period of intense growth in the manufacturing sector.
In recent decades, with the world becoming more and more interconnected, the process of hauling services has been redefined. Nowadays, a manufacturing company in Taiwan can source its raw materials in the Philippines. There is an entire logistics network of trucks and ships ready to support such hauling operations from the Philippines to Taiwan. In the section below, we will discuss the various industries that heavily depend on hauling operations from a trucking company in Manila.
Manufacturing Industry
As mentioned above, moving raw materials from the source to the destination is needed, especially for those involved in the manufacturing industry. Without this capability, these production plants will be handicapped and can not produce the goods that they intend to manufacture.
For example, a steel manufacturing plant would need pig iron as the main raw material. However, from where pig iron is produced up to the steel manufacturing plant, there have to be hauling services that would enable the transportation of this raw material. A dump truck or a mini dump truck would suffice in moving pig iron from source to destination.
On a different note, a manufacturing company can use various hauling services to move rejected products or junk into a scrap yard or recycling facility. Producing waste is inevitable in this line of business. However, a manufacturing company can always convert this wasted resource into an opportunity to recycle. And that is where hauling operations can come into the picture.
Lastly, hauling operations from a trucking company in Manila can also ferry finished goods from the production plant up to the distribution center. In these scenarios, the appropriate vehicle type would be a closed van or a 6w forward truck with adequate capacity and enough protection from the elements.
Construction Industry
The construction industry uses hauling services on a regular basis, if not daily. Most of the construction projects in the Philippines require aggregates such as sand and gravel to be mixed with cement to strengthen the material. And to have a steady stream of construction aggregates flowing into the construction site on a regular basis, there have to be hauling operations that would support such logistics requirements.
Usually, a mini dump truck for moving construction aggregates is the ideal vehicle type for this delivery service. And Transportify offers on-demand trucking operations at any time and from anywhere in Luzon. These aggregates are usually obtained from queries that are situated in the mountains. It would be extremely difficult if a construction company would still endeavor to obtain these aggregates by themselves. After all, planning and building an infrastructure such as a house or a bridge is already enough work. It is precisely in these situations that a logistics company that offers hauling operations like Transportify comes into the picture.
Lastly, debris hauling and construction materials delivery are other services that a construction company can benefit from. Debris from all the construction activity will only occupy precious space, which is why it is best that it be removed right away. Furthermore, construction materials such as steel bars and scaffolding can also be delivered by hauling services providers such as Transportify.
Companies that do long-distance deliveries
Regarding "hauling," the usual association with that word is "long-distance." Typically in the Philippines, hauling operations involve transporting goods, whether raw materials or for commercial purposes, across long distances. This may even involve interisland cargo and shipping operations, a service Transportify recently offered in their platform.
Usually, businesses that do long-distance deliveries are large and multinational fast-moving consumer goods (FMCG) companies. An FMCG company produces and distributes everyday household goods such as food and beverages, as well as toiletries and cleaning products. Because these items are consumed rapidly by people, it is very important that an FMCG company has efficient hauling operations that can quickly respond to changes in the consumer landscape.
By using an on-demand trucking provider like Transportify, the FMCG company can greatly enhance its logistics capabilities. They can simply create a delivery booking when the demand is high and their in-house fleet can not support the logistics requirements.
Why use a Trucking Company in Manila for Hauling Services?
There are many reasons why it is very much advisable to use a trucking company in Manila for hauling operations. In this section, we will discuss the main advantages and benefits of getting a third-party delivery company like Transportify to do the logistics operations for your business.
The table below shows the different trucks of Transportify, both open-bed and closed, fit for hauling operations.
Vehicle Type
Dimensions/
Weight Limits
Base Price
(Metro Manila)
Base Price
(Outside Metro Manila)
Base Price
(Visayas/Mindanao)
Wing Van 
32 to 40 x 7.8 x 7.8 ft
12000kg to 28000kg
7500 PHP
6500 PHP
6500 PHP
6w Fwd Truck
18 x 6 x 7 ft
7000kg
4850 PHP
4850 PHP
4850 PHP
Closed Van
10 to 14 x 6 x 6 ft
2000kg to 4000kg
1800 PHP
1450 PHP
1450 PHP
Open Truck
10 to 21 x 6 ft x open
2000kg and 7000kg
2300 PHP
1950 PHP
N/A
Mini Dump Truck
10 x 6 ft x open
2000kg
1500 PHP
1200 PHP
N/A
L300/Van
8 x 4.5 x 4.5 ft
1000kg
430 PHP
330 PHP
310 PHP
Small Pickup
5 x 5 ft x open
1000kg
310 PHP
250 PHP
220 PHP
Light Van
5.5 x 3.8 x 3.8 ft
600kg
250 PHP
192 PHP
225 PHP
MPV/SUV
5 x 3.2 x 2.8 ft
200kg
160 PHP
130 PHP
140 PHP
Sedan
3.5 x 2 x 2.5 ft
200kg
140 PHP
110 PHP
120 PHP
SEE ALSO:
Reduce Cost
Cost reduction is oftentimes the most important metric in determining options. For example, we would often compare the prices of smartphones to determine the best model that would fit my needs given budget constraints. In the same manner, many business owners evaluate strategic company decisions based on cost as well as other pertinent factors like manpower allocation.
Outsourcing the hauling operations of your business to a trucking company in Manila is a sound decision because it eliminates the need to procure delivery trucks, an endeavor that is very costly. Furthermore, a business need not allocate additional resources to maintain the logistics infrastructure of the company.
Delivery services at any time and from anywhere in Luzon
Having an on-demand delivery capability will surely give your business a competitive edge. By being able to fulfill delivery requirements at any time and from anywhere in Luzon, a business can readily respond to the fluctuating consumer demand behavior.
For example, during the Christmas season, FMCG companies are operating 24/7 just to supply groceries and supermarkets nationwide. It is during these moments that a supply chain logistics service provider like Transportify can augment the in-house delivery fleet of your company.
Enhanced flexibility, customization, and convenience
Flexibility, customization, and convenience are other factors business owners seek when looking at services offered by different companies. When it comes to the logistics services offered by Transportify, these three points can be expected in every delivery booking.
First, the fact that Transportify offers various vehicles for different kinds of delivery operations already speaks much about the flexibility and customization you can have with this platform. On top of that, there is the possibility of adding extra services to your delivery booking. You may also have multiple drop-off points for a single delivery booking.
Download the Transportify app now by scanning the code below or by clicking the buttons.
| | | |
| --- | --- | --- |
| | or | |
Frequently Asked Questions:
Can I do hauling operations on my own?
🚚 A business may choose to do its own hauling operations. However, that would entail a lot of investment since the business would have to procure the needed delivery vehicles to fulfill delivery needs. That is why the best solution would be to use a third-party logistics provider like Transportify for all your hauling and logistics needs.
Why are hauling services important?
🚚 Hauling services are important because they enable the movement of goods or raw materials to take place. For example, hauling services are needed in manufacturing because, without the raw materials, the production process could not take place. In construction operations, hauling services are needed to bring construction aggregates such as sand and gravel to the site.
What are the main services of a trucking company in Manila?
🚚 The main services of a trucking company in Manila include hauling from source to destination, long-distance delivery, and cargo freight transportation. Transportify, an on-demand trucking app, is the best logistics provider to use for all your logistics needs. It has a wide variety of vehicle types and can accommodate delivery bookings at any time and from anywhere in Luzon.