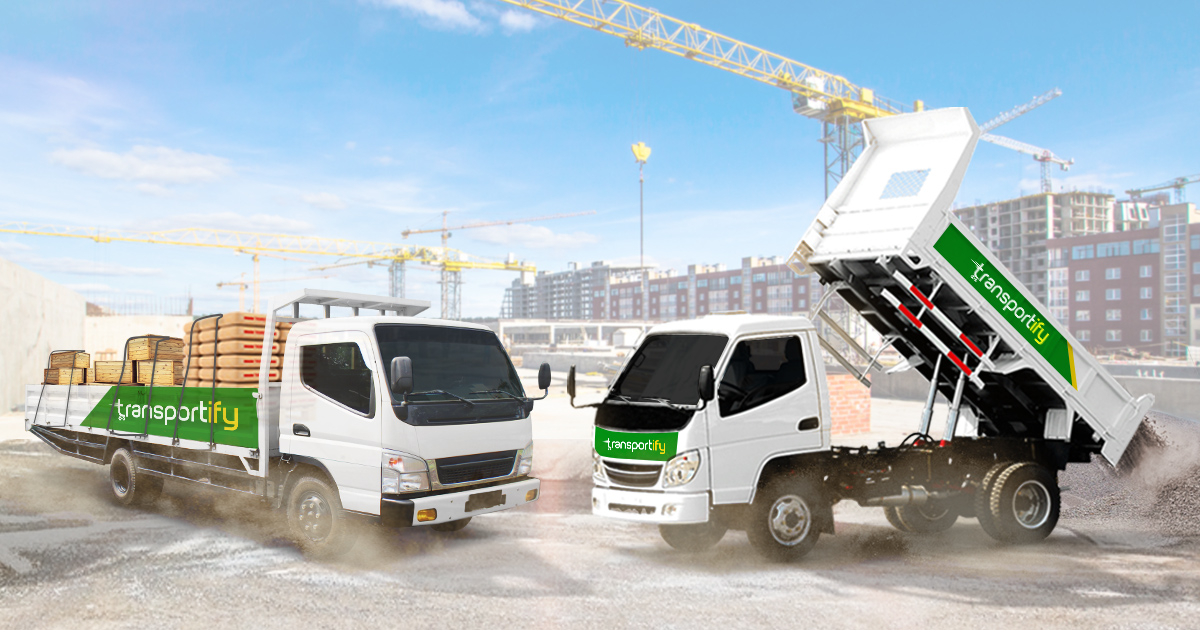 Aside from big scale constructions brought by Build Build Build, do it yourself home projects and renovations have been a driving force in the increasing demand for building supplies in the past few years. The trend is the result of people's participation in social media groups, which encourages them to share their renovation experiences and, as a result, influence others to do the same. With people staying at home and limited face to face interaction, consumers' most accessible option to acquire building supplies is through delivery. Since then, Transportify has been a go-to option for affordable truck rental services for building supplies delivery any time of the day. Whether it will be for big scale construction or small scale, Transportify is ever ready to deliver.
Read on to learn more about Transportify's affordable truck rental services for building supplies delivery.
Trends in the Construction Industry for 2023
Build Build Build
According to Philippine Constructors Association (PCA), the domestic construction industry has set to continue flagship infrastructure developments under Build Build Build in 2023 to maintain its support to small and medium contractors affected by the pandemic. By plan, the importance of Build Build Build is to help in reducing the congestion in Metro Manila and some other cities that experience the same urban challenges throughout the Philippines. As a result, the expansion outside Metro Manila creates a forecast for increased investments and development plans by the government and private sector in nearby provinces like Laguna, Cavite, Batangas, and more. Construction firms would need support from a third party logistics provider like Transportify for affordable truck rental services that can deliver from city to city within and outside Metro Manila.
Technological Advancements
The acceleration of digitization and other emerging technologies to increase efficiency and productivity have also been identified as top trends in the construction industry for 2023. An example is the emergence of app-based services that can get the job done in a shorter time frame. Transportify is an on-demand, affordable truck rental application for building supplies delivery. It is a convenient solution for construction operations that needs to transport or haul building supplies without worrying about the additional expense of fleet and labor maintenance. The application will allow you to book an Open Truck in a few clicks. Since bookings are documented on the app, it will be easier to input information, updates, and instructions real-time, facilitating better communication and collaboration.
The table below shows our vehicles for building supplies delivery:
Vehicle Type
Dimensions/
Weight Limits
Base Price


(Metro Manila)

Base Price


(Outside Metro Manila)

Base Price


(Visayas/Mindanao)

Wing Van 

32 to 40 x 7.8 x 7.8 ft




12000kg to 28000kg

7500 PHP

6500 PHP

6500 PHP

6w Fwd Truck

18 x 6 x 7 ft




7000kg

4850 PHP

4850 PHP

4850 PHP

Closed Van

10 to 14 x 6 x 6 ft




2000kg to 4000kg

1800 PHP

1450 PHP

1450 PHP

Open Truck

10 to 21 x 6 ft x open




2000kg and 7000kg

2300 PHP

1950 PHP

N/A

L300/Van

8 x 4.5 x 4.5 ft




1000kg

430 PHP

330 PHP

310 PHP

Small Pickup

5 x 5 ft x open




1000kg

310 PHP

250 PHP

220 PHP

Light Van

5.5 x 3.8 x 3.8 ft




600kg

250 PHP

192 PHP

225 PHP

MPV/SUV

5 x 3.2 x 2.8 ft




200kg

160 PHP

130 PHP

140 PHP

Sedan

3.5 x 2 x 2.5 ft




200kg

140 PHP

110 PHP

120 PHP
Small-scale or DIY constructions
As mentioned in the first part of this article, the demand for building supplies increased due to this trend. According to the Philippines Statistics Authority, the building supplies retail index has been steadily rising, peaking at 1.7 percent in November 2020. Building supplies retail prices reflect demand for small scale or do-it-yourself building projects of individuals. These supplies often come from known commercial hardware or those of nearby locations of consumers. These purchases would hire a truck rental company to transport the supplies from the store to the destination. Finding the right truck at the right price may be a challenge for individuals, but through the affordable truck rental services for building supplies delivery of Transportify, they can book a vehicle anytime for their building supplies delivery needs. Transportify can both cater to businesses and individuals as long as they have the app. Indeed, accessibility at its finest.
SEE ALSO:
What Are the Inclusions of Transportify's Affordable Truck Rental Services?
Transportify offers affordable truck rental services for building supplies delivery. However, we do not just take pride in being affordable because we provide holistic end-to-end delivery solutions anytime. Customer experience is our top priority, and we see to it that every booking meets the expectations of our users. Here's the list of the inclusions once you book for an Open Truck.
Standard Service
Truck rental bookings already come with the vehicle, driver, fuel, one extra helper to assist the driver, and loading and unloading of the items. The extra helper may assist the driver with the carrying, processing, and maneuvering for bookings under Open Truck.
Insurance coverage
Affordable truck rental services of Transportify are inclusive of insurance for every booking. We manage risks, but some remain uncontrollable. Insurance is a good inclusion given that items to be transported are building supplies, and these items tend to be of high value depending on volume. Having insurance proves that Transportify cares about your booking during and even after its completion.
24/7 Reliable Customer Service
Transportify is a truck rental company for building supplies delivery that operates 24/7 every day. We have our Customer Service to monitor, coordinate and assist with bookings that need attention. As stated, we value customer experience, and this aspect of our service is one of our keys to provide satisfaction to our customers. It is integral to send regular updates to our customers because communication is vital in a transaction to kindle trust.
In-app features
Transportify is a technology-driven truck rental company. We developed in-app features that aim to give customers a more convenient and smooth booking. A feature you may encounter at the first part of the booking is the optimized route. Based on current navigation and traffic information provided by Google, this feature will rearrange your destinations to achieve the quickest delivery time. The next feature is our flexible payment method. Going along with digitization, we accept cashless payments via bank transfer and credit/debit card. This feature reduces human contact and can be safer for customers. The last feature is the ability of the app to create more than ten bookings at a time through the batch booking feature.
Construction firms can work on multiple sites at once and may need to deliver building supplies all at the same time. If that happens, the app will allow you to create multiple bookings at once. The batch booking feature is a tool for users to efficiently manage and track bookings, especially if they are working on a big scale.
Transportify Across Business Industries
Finding the right company with affordable truck rental services can be challenging, but a company like Transportify understands the demands of users the best, may it be for business or individual use. These identified trends guided Transportify to create and offer relevant services to our consumers. Building supplies delivery is one of the many types of deliveries that Transportify can do. We also cater to gym equipment delivery, office relocation services, house relocation, computer peripherals, flower delivery, cake delivery, artwork delivery, and more. Demand for delivery is constant among industries, and Transportify is here to offer affordable trucking services.
Scan the QR code or click the button below for easy access on our affordable truck rental services:
| | | |
| --- | --- | --- |
| | or | |
Frequently Asked Questions:
What are the advantages of booking through Transportify's truck rental application over the traditional booking system?
☑️ Booking directly through the Transportify app is a very straightforward action towards your goal of hiring a truck. The use of applications eliminates unnecessary steps that prolong the process. Booking through an application won't have you transact over call, unlike the traditional booking system. Aside from the ease of booking, using Transportify will enable you to monitor and manage your bookings more effectively because every booking will be recorded in the application. This is considered to be a more sustainable practice since all information will be coming from the app and no need for papers to manually monitor the bookings
Are toll and parking fees included in the price of Transportify's affordable truck rental services for building supplies delivery?
☑️ No. The affordable truck rental services of Transportify do not include toll and parking fees. These fees are subject to reimbursement if bookers would want to use toll and parking. Bookers have the choice to use service roads when booking under Transportify.
Are there prohibited items in Transportify deliveries?
☑️ Yes. Transportify is allowed for building supplies delivery but is not allowed to transport hazardous waste, live animals, gases and fuel, explosives, human remains, prohibited drugs, cash/legal tender, precious stones and metals, and unregistered medicines.