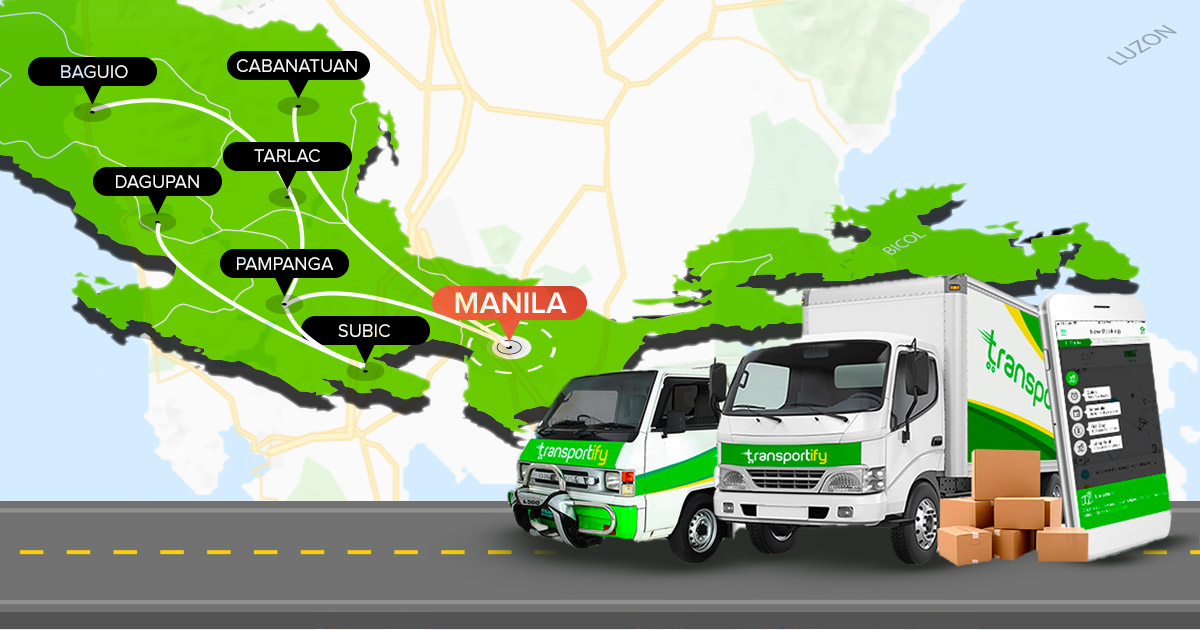 Local businesses in Pampanga have experienced the ease of delivering goods with Transportify provincial delivery services. Aside from deliveries within our Standard Service Area (Intra City), Long Haul provincial delivery service is now available in Pampanga. Our flexible price long haul delivery service aims to give local businesses more opportunities by providing them affordable means to reach more customers.
Transportify Long Haul Delivery
By using long haul truck service, our customers can send packages and ship their products from anywhere within our Standard Service Area in Pampanga to the following major provinces in Luzon and in Metro Manila via L300/Van and Closed Van at a flexible price. See the pricing for all our vehicles in the table below.
Vehicle Type
Dimensions/
Weight Limits
Base Price


(Metro Manila)

Base Price


(Outside Metro Manila)

Base Price


(Visayas/Mindanao)

Wing Van 

32 to 40 x 7.8 x 7.8 ft




12000kg to 28000kg

7500 PHP

6500 PHP

6500 PHP

6w Fwd Truck

18 x 6 x 7 ft




7000kg

4850 PHP

4850 PHP

4850 PHP

Closed Van

10 to 14 x 6 x 6 ft




2000kg to 4000kg

1800 PHP

1450 PHP

1450 PHP

Open Truck

10 to 21 x 6 ft x open




2000kg and 7000kg

2300 PHP

1950 PHP

N/A

L300/Van

8 x 4.5 x 4.5 ft




1000kg

430 PHP

330 PHP

310 PHP

Small Pickup

5 x 5 ft x open




1000kg

310 PHP

250 PHP

220 PHP

Light Van

5.5 x 3.8 x 3.8 ft




600kg

250 PHP

192 PHP

225 PHP

MPV/SUV

5 x 3.2 x 2.8 ft




200kg

160 PHP

130 PHP

140 PHP

Sedan

3.5 x 2 x 2.5 ft




200kg

140 PHP

110 PHP

120 PHP
SEE ALSO:
Visit our website for the full list of rates and serviceable areas covered by our long haul.
Inclusive Services
Enjoy our affordable price for delivery service with the following inclusions.
GPS Live Tracking
Goods Insurance
Parking & Toll Fee
Stops En Route
24/7 Customer Service
Loading & Unloading
Additional Services at Low cost
Extra options are available at your disposal to ensure hassle-free long haul truck service delivery experience.
Special Help by Driver
Extra Helper
Extra Drop-off Points
For more details, you may contact us through our social media channels or use our live chat.
How Can Businesses Benefit From Truck Service for Long Haul Provincial Delivery?
In order to grow your business, it involves hiring a third-party logistics company that can provide all the necessary actions towards provincial delivery and truck service for long haul transportation. Today, a large part of transporting truck service and long haul deliveries transport goods and other services are now being outsourced by renting delivery truck service providers.
Outsourcing shipping and provincial delivery needs don't mean that your company or your business is lacking. On the contrary, it only signifies that your business is expanding and growing. The question is, why do many companies work with long haul and truck service providers?
There are tons of advantages to outsourcing your business transportation and provincial delivery needs. Below are the following aspects of how truck service for long haul provincial delivery can benefit your business.
Crucial in Business Growth
Be it a chance to develop or alter your transporting operations, you will, at one point in your business, you will realize the importance of outsourcing responsibilities and duties out of your scope, so you can focus more on growing and expanding your business.
Your business's transport characteristic is usually the number one priority to outsource, and there are various cargo freight logistics and truck service providers for provincial delivery that are reliable to handle your business transportation operation.
When you are selecting which truck service or long haul service provider to work with, pick the best that's has been tried and has proven its worth in the transportation and logistics industry. You don't need to worry as even the most influential and successful businesses outsource their truck service for long haul provincial delivery needs to guarantee that their business operations will run smoothly as possible.
Appropriate Vehicle
Different industries and businesses require different kinds of trucks and vehicles. Sometimes your business will require big ones, while some other times you only need smaller ones. When you choose a logistics company, make sure that they can offer the requirements that you need.
Logistics companies have different kinds of vehicles with several sizes that can cater to transport goods for provincial delivery. It is also essential for you to pick the logistic company like Transportify that can serve and meet your business needs.
Cost-Efficient
All business operations require the transportation of their materials. It could be the supplies, tools, goods, and products for their customers, or moving to another location. All of these need trucks to execute. When you buy a truck, parking spaces, insurance, maintenance, as well as the people who will drive the vehicle is required. With that having said, this will only add-ups to your business expenses.
As your business continues to grow and expands, so the need for trucks is also moving. And for sure, you will need bigger parking spaces and more employees for the additional trucks. For this kind of scenario, you will not be able to handle your expenses, which can, of course, affect your plans to grow and expand your business.
This is where outsourcing of trucking service for provincial delivery and city transportation will play its huge role. By outsourcing your shipping and delivery needs to a reliable logistics service provider, there is no need for you to buy trucks and pay for additional employees.
Low Probability of Damage
Outsourcing a trucking service for your provincial delivery can assure you that your products will arrive at its intended destination safely and undamaged. Here in Transportify, we make sure that the process of transporting your products goes as smoothly as possible with the least amount of risk while in transit. You don't need to worry about your products getting damaged during the transport. Since we have a reliable, professional, and licensed partner-drivers, who can give you outstanding driving services to meet your transportation and delivery needs.
They are also well-versed in driving vehicles with heavy loads and ensure that they comply with the standard weight measurements. These kinds of adjustments can ensure that no possible damages may be incurred to your cargo during the transportation of goods.
Insurance and Security
The number one priority of your concern in long haul delivery is the products that are being transported. However, no matter how much we care to ensure that your loads are delivered safely, accidents may happen and inevitable. Yes, it is; therefore, it is necessary to hire a logistics company like Transportify that is cautious, takes care, and protects your cargo at 100%.
Most importantly, here in Transportify, we provide insurance, so that when accidents happen, you will get your compensation. Unlike with other logistics service providers, they don't offer insurance, so if an accident may arise during the transport, it will be your loss and not theirs.
Hiring a reliable logistics service provider can benefit your business more than on what you can expect. Remember, your chosen logistics service provider will be your representative, so any move they make will also affect your business reputation.
Additional Benefits
One of the greatest things about using a trucking service for provincial delivery is the responsibilities and care they put in picking up and delivering your products to its intended receiver. All your products will be handled with care because any damage that may occur during the transit will cost the logistics provider a loss in their revenue and reputation. This is an added assurance for businesses like yours that your company's reputation will not be at stake.
Over the years, when you were able to establish a good customer relationship with your chosen logistics provider, there's a massive chance of getting more benefits, loyalty awards, and discounted rates.
So, whether you are just starting out with your business or you're established already, consider hiring a third-party logistics provider who can provide you an outstanding provincial delivery to meet your transportation and delivery needs. It will give you additional time to focus more on expanding and growing your business, and you can make sure that your products are safely transported for reasonable and competitive rates.
Transportify is one of the best delivery service providers in Manila and has a proven track record for trucking service experience. You can rest assured that we are tested in this industry. We can provide you different kinds of vehicles for your business delivery needs. We also offer the best rates and ensure to meet the needs of our customers.
Download the Transportify app now by scanning the QR code below or simply clicking on the button.
| | | |
| --- | --- | --- |
| | or | |
Frequently Asked Questions:
Where do small businesses hire a truck service?
🚚 Starting businesses usually have limited capital to avail of logistics services since this is costly. Big companies can have their logistics through years of research and experience with their business models. However, a simple solution for small businesses is to have third-party logistics to handle your deliveries for you. Transportify is one of the leading logistics solutions that help SMEs reach their potential. One example is Petalier, a flower shop that has partnered with Transportify for their delivery needs and has grown so much since then. Transportify not only does delivery service but has a dedicated team that supports businesses to handle their needs in logistics.
What does long haul mean?
🚚 Long haul is defined as a long-distance transport of freight or passengers. The term long haul is more commonly known in traveling since it is used in the airline industry. Although it is also a common term in the logistics industry. Long haul logistics is essential for suppliers Transportify is a third-party logistics provider in the Philippines that provides extended haul delivery services in Luzon. This makes it possible to have ample cargo deliveries for businesses in the country's largest island.