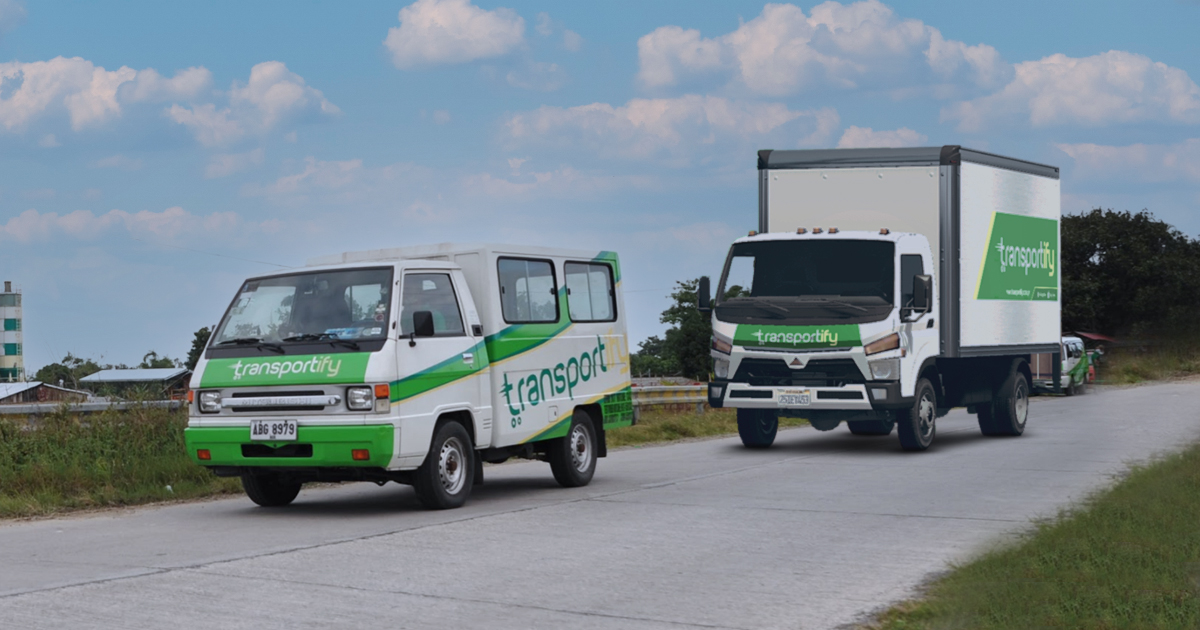 With the launch of Transportify in the Philippines, you will finally be able to book a "full-service same day delivery" L300 rental, comprised of H100 or van units, and 4W closed van truck or 6W closed van truck to pick up and deliver almost anything for you throughout Mega Manila and surrounding areas. Book for immediate pick-up and your driver will arrive within 60 minutes or pre-scheduled anytime up to two weeks in advance.
You can book and use Transportify same day delivery service from our mobile app available on Google Play and Apple App stores or our business-friendly web app available from any desktop, laptop, or tablet that is connected to the internet.
Booking the vehicle you want for the same day delivery with a full-service driver has never been easier! Pay for just what you need, whether it is a few boxes or a full vehicle load. For small and medium-sized deliveries, the Sedan in Mega Manila starts at ₱140.
Need a larger vehicle? We have an available L300 rental for delivery, and it only costs as low as ₱330 in Pampanga and ₱430 in Mega Manila and an additional ₱27 for every kilometer thereafter! If you prefer to have an FB type van, you may also request it on the extra services section of the application. This will give slightly more provision for your goods since it has a box-shaped body. If you wish to have a bigger vehicle that L300, you can also book a closed van truck and 10-wheeler wing van for much large cargoes at an affordable price. Scroll down below for a full list of vehicles and rates.
This Standard service includes full-service loading and unloading by your driver within 5 meters from the vehicle. But don't worry, if you need your driver to do more work, you can select Extra Services such as Special Help by Driver or Extra Helpers to assist with larger or more complicated tasks.
If you are looking for a large vehicle that delivers up to more than 10 locations, our closed van truck and L300 rentals offer flexible services – you can have a full day option (10 hours) only for a flat price of ₱2,800 and ₱6,000, and still, be able to have any Extra Services of your choice. For your convenience, the options are almost limitless!
Vehicle Type
Dimensions/
Weight Limits
Base Price


(Metro Manila)

Base Price


(Outside Metro Manila)

Base Price


(Visayas/Mindanao)

Wing Van 

32 to 40 x 7.8 x 7.8 ft




12000kg to 28000kg

7500 PHP

6500 PHP

6500 PHP

6w Fwd Truck

18 x 6 x 7 ft




7000kg

4850 PHP

4850 PHP

4850 PHP
Closed Van

10 to 14 x 6 x 6 ft




2000kg to 4000kg

1800 PHP

1450 PHP

1450 PHP

Open Truck

10 to 21 x 6 ft x open




2000kg and 7000kg

2300 PHP

1950 PHP

N/A

Mini Dump Truck

10 x 6 ft x open




2000kg

1500 PHP

1200 PHP

N/A

L300/Van

8 x 4.5 x 4.5 ft




1000kg

430 PHP

330 PHP

310 PHP

Small Pickup

5 x 5 ft x open




1000kg

310 PHP

250 PHP

220 PHP

Light Van

5.5 x 3.8 x 3.8 ft




600kg

250 PHP

192 PHP

225 PHP

MPV/SUV

5 x 3.2 x 2.8 ft




200kg

160 PHP

130 PHP

140 PHP

Sedan

3.5 x 2 x 2.5 ft




200kg

140 PHP

110 PHP

120 PHP
Know more about Transportify same day delivery services by visiting our website at www.transportify.com.ph or downloading our mobile app at the Android Play or Apple App stores. If you're a business or SME, learn more about our popular Business Program by emailing business@transportify.com.ph.
What Are the Benefits of Same Day Delivery for Your Customers?
Wondering what you can get out of using a same day delivery courier? Check out these benefits on why same day delivery system is beneficial for everyone.
1Convenient for your customers
Every customer would want to take a hold of their order as fast as possible. It has been suggested that at least 48% of customers would not want to wait for at least five days for their orders.
This is the very reason why consumers prefer businesses that offer same day delivery services. It can serve to attract customers to avail of your services when they know they could get it on the same day.
2Accommodates all size
One of the best things about same day couriers is their wide selection of vehicle choices. Using vehicles such as a closed van truck or L300 rental can accommodate any amount of delivery. Whether it is one parcel or several boxes, a same day courier such as Transportify can help your customers transport goods from one place to another.
3Availability even in emergencies
There are times where customers just really need their product immediately. By using a same day delivery courier, your customer's urgent needs for closed van truck and L300 rental can be fulfilled without a hassle. This leads your customers to turn to your services when they are in an emergency.
Benefits of Same Day Delivery for Business Owners
The transportation industry has become a very competitive market. To be one step ahead, many businesses now offer same day delivery services. Giant companies such as Amazon and Walmart have offered these services after seeing a positive response from their consumers that resulted in increased sales. Here are some of the business benefits of same day delivery.
1Saves space for Inventory
When products are shipped out immediately, your inventory costs will reduce dramatically, as well. This is because the cost of maintaining the products would be less the faster they are out of the warehouse. Besides, it could also save a lot of space for new products to be stored.
2Reduce risks and liability
By availing same day delivery couriers, the risk of damaging the goods and products would be less. Transportify uses vehicles that are safe for your products, such as its closed van truck and L300 rental. Trusting the services of well-trained and certified experts can provide a sense of security that your products will be safe.
3Saves time
Business owners should dedicate their time to planning and strategizing ideas to make their business grow. As such, when you are in the business of selling products, hiring a same day delivery courier can help you save time.
You don't need to personally deliver the products yourself, as you can just hire a courier to do it for you. Now, you can give more focus to your business as well as spend more time with your friends and family.
4Increase Brand Credibility
Nothing beats getting your customer's trust and loyalty when you've established your credibility. Many customers prefer services that can fulfill its duty quick. Having a same day delivery service would give off the impression that your service is primarily concerned with helping customers get what they want.
5Keeps up with the competition
More than half of retailers and online stores provide same day delivery services of freight companies. Even big retail companies such as Amazon have seen how beneficial it is for both customers and business owners to use this system. Due to customer preferences and demand, switching to a same day delivery system can help your business keep up with the market demands.
Statistics on Same Day Delivery Services
If you are still having doubts about the benefits of same day delivery services, check out these statistics from researches that prove the benefits of using this delivery system.
88% of consumers would pay an extra fee for same day delivery services.
63% of people who shop online are particular with delivery dates.
There are already more than half, or 65%, of retailers who offer same day delivery services, and the number is expected to rise over time.
72% of consumers are buying from businesses that offers same-day delivery.
25% of digital buyers are most likely to abandon their online shopping carts when same-day delivery service is not available.
Without a doubt, the use of same day delivery services can make or break a business. Customers today are very particular when it comes to the length of time that their products will be on their hands. Because of the competitive market, it is always important to remain one step ahead of your competitors.
Choose an Efficient and Trustworthy Same Day Delivery Courier
For extra customer satisfaction and business productivity, hiring a same day delivery courier is the way to go. From customer engagement right down to business management, Transportify, 2020's king of same day delivery via closed van truck and L300 rentals, can fulfill your customer's needs as well as a competitive edge.
| | | |
| --- | --- | --- |
| | or | |
Frequently Asked Questions:
How much do closed van truck rentals costs?
🚚 Prices vary depending on the type of service. We advise that you check first which will fit better based on the item/s that you will move to avoid over expenses. For Transportify, a one-way service costs ₱1,800 and an additional ₱45/km. You can also rent a closed van truck for 10 hours for only ₱6,000.
How much do L300 rentals costs?
🚚 Prices depend if you will use it for the whole day or just for a single drop-off. You can rent Transportify's L300 for only ₱330 (Pampanga) with an additional ₱22/km and ₱430 (Mega Manila) with an additional ₱27/km for one-time use. We also offer full-day vehicle rentals for only ₱2,800 to move your items with unlimited drop-off locations for 10 hours.