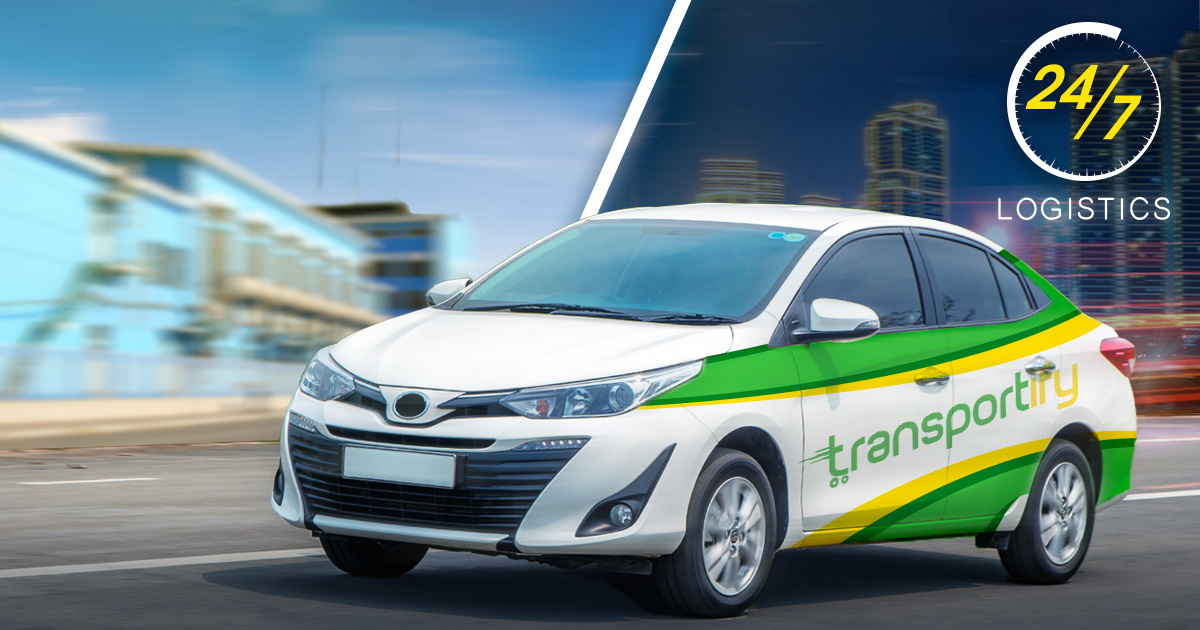 The hustle and bustle of the city and provinces can be a daily grind throughout the year. How about adding in December and its Holiday season? Along with all the shoppers scrambling during shopping sprees, a shipping spree takes place and beefs up logistics movement to a more massive and quicker pace. Learn how Transportify can support your hectic delivery schedules here.
While most larger logistics companies don't offer express delivery or need to fill vehicles to maximum capacity before movement and can be overbooked, Transportify handles express delivery in a timely and efficient manner and provides real customer convenience. It has been named the "Uber of Deliveries," making Transportify your 24/7 worry-free delivery service Manila.
What Should You Look For In A Delivery Service?
Pick a flexible delivery partner
Transportify is the leading freight shipping and delivery service Manila with an extensive vehicle fleet selection to fulfill all sizes and shapes of goods. The best part is you only pay for the type of vehicle you need and the distance of the delivery: no handling fees and other taxes. You can check out below the full vehicle list and their base price.
Pick a delivery partner that can battle delay with you
Time is money, and lacking time can be costly. It is always best to know your service and its offered services to have your goods shipped, tracked, and delivered. Most giant logistics companies tend to pick up customers' packages from a location such as a post office or a set store where those services are offered. This creates a type of delay similar to being stuck on the main road waiting for a red light to turn green instead of taking a smaller, quicker alternate path to avoid that bottleneck traffic.
Take the alternate path by shipping your packages with the Uber of Deliveries. Ready, set, done! Transportify's app is not only an "on-demand" type of platform; it offers 24/7 express same day delivery with flexible scheduling options for immediate or scheduled deliveries that guarantee your packages arrive at their destinations on time and efficiently. Transportify is not your average delivery service in Manila, and they adapt to the seasonal demand!
Pick a delivery service that can scale up or down
Whether for your business needs or the holiday spirit, it is always best to stay ahead of the game, so be prepared. However, being prepared means there is still the potential of running into last-minute roadblocks. Some roadblocks may include the delivery of unexpected business documents, a damaged gift sent to a friend, colleague, or relative, or your package being sent to the wrong location, forcing it not to be delivered on time to its respective destination. Do not be hesitant or reluctant when sending your packages, even in the holiday season, and choose express delivery service this Christmas. Be prepared!
To avoid these types of transportation delays, use Transportify's extra services delivery feature to ship your packages with ease and peace of mind knowing that they can be tracked and delivered successfully without any hassle. Transportify's user-friendly express same day delivery app for Android or iOS is the start of your logistics solution needs. The table below shows the standard rate for Manila and Pampanga so you can fully prepare yourself in advance.

Vehicle Type
Dimensions/
Weight Limits
Base Price


(Metro Manila)

Base Price


(Outside Metro Manila)

Base Price


(Visayas/Mindanao)

Wing Van 

32 to 40 x 7.8 x 7.8 ft




12000kg to 28000kg

7500 PHP

6500 PHP

6500 PHP

6w Fwd Truck

18 x 6 x 7 ft




7000kg

4850 PHP

4850 PHP

4850 PHP
Closed Van

10 to 14 x 6 x 6 ft




2000kg to 4000kg

1800 PHP

1450 PHP

1450 PHP

Open Truck

10 to 21 x 6 ft x open




2000kg and 7000kg

2300 PHP

1950 PHP

N/A

Mini Dump Truck

10 x 6 ft x open




2000kg

1500 PHP

1200 PHP

N/A

L300/Van

8 x 4.5 x 4.5 ft




1000kg

430 PHP

330 PHP

310 PHP

Small Pickup

5 x 5 ft x open




1000kg

310 PHP

250 PHP

220 PHP

Light Van

5.5 x 3.8 x 3.8 ft




600kg

250 PHP

192 PHP

225 PHP

MPV/SUV

5 x 3.2 x 2.8 ft




200kg

160 PHP

130 PHP

140 PHP

Sedan

3.5 x 2 x 2.5 ft




200kg

140 PHP

110 PHP

120 PHP
Use Transportify for the Busiest Holiday Season
Throughout the year, every business's sales skyrocket during the holiday season. As such, they face the significant challenge of having to accommodate orders and deliveries as fast as they can.
Most delivery service Manila is closed during the holidays. So, what is the best option for you to provide an in-demand service during the busiest time of the year?
Express delivery service
Unlike most delivery service Manila, Transportify is available anytime and anywhere – even during the holidays. You can avail of its services via its mobile applications that are accessible to both iOS and Android users. So, for deliveries scheduled during a holiday such as Christmas, Labor Day, and Independence Day, you would not have to worry about delayed deliveries with Transportify's express delivery courier services.
In addition to its express delivery, Transportify also has other delivery service services that can accommodate any needs for your business during this busy season. Check the following services.
Restocking of Inventory
A holiday worry for most businesses is the restocking of inventory. It was found that 34% of companies have a delay in shipments due to the sale of products that were not in stock. If you want to avoid this dilemma, then it is better to make sure that your inventory is in full stock.
With numerous orders during the holiday, your crew may not be enough to do all the inventory. Also, a majority of them will be on their day off during the holidays. So, to ensure your list is stocked on time, use Transportify's logistic fleet.
Transportify serves clients even during the holidays and does more than just express delivery. It also has trucks and vans that can accommodate your restocking needs and have your inventory ready during the holidays.
Door to door delivery service
Your customers would want to spend time with their families during the holidays. The last thing that they would want is to pick up their orders. Already more than half of retailers have a door to door delivery options, and the other half is planning to provide it in the incoming years. That is why a door to door delivery service Manila should be an option that you provide.
With Transportify, you can avail of express delivery right to your customer's doorstep. It even has the option to track and trace your package in express delivery. You need not even worry if the delivery is scheduled for a holiday because Transportify is available all around the year.
SEE ALSO:
What Are the Characteristics of the Right Delivery Service?
A business should not only engage in a delivery service Manila just because they are available during the holidays. They must also meet specific standards and characteristics to do them an excellent delivery service. To help you know what makes a service suitable, here are the top three qualities that you should look for.
1Efficient time management
During a busy time, such as the holiday season, streets become active, and traffic becomes congested. As such, an excellent delivery service Manila would know how to effectively manage their time and navigate through the traffic to get the deliveries on time.
2Readily available
Last-minute deliveries should not be a problem for an excellent delivery service. The holiday season sees an increase in express delivery due to an eleventh-hour shopping or a gift that was not sent out. As such, a delivery service Manila should be available around the clock with express and door to door deliveries.
3Reasonable price
You do not have to break the bank to accommodate all your customer's orders. A delivery service should not only be efficient and convenient, but it must also be affordable. Their services must be of fair value and one that is reasonable.
Transportify meets all the characteristics of a cargo delivery service Manila. You have to worry less because Transportify is now available in different areas of the Philippines. As a premium delivery service, Transportify now offers its services even during the holiday season.
Transportify's delivery service services can be availed of by downloading the mobile application, which is found in both iOS and Android products. Now, you do not have to be stressed about the demands of the holiday because Transportify will make your business better and more comfortable to handle with its express delivery service Manila.
| | | |
| --- | --- | --- |
| | or | |
Frequently Asked Questions:
Does Transportify offer affordable options for express delivery services?
🚚 Yes, Transportify is an affordable option for express delivery service. Their base prices are low and they offer a variety of options to choose from, so you can find a service that fits your needs and budget. For example, the base price of an sedan is only ₱ 140 and an additional ₱ 20 per kilometer. Additionally, they offer a variety of add-on services, such as extra helper, special help, or 10 hour booking. This gives you the flexibility to customize your delivery service to meet your specific needs.
What are the available express delivery service Manila during the holiday?
🚚 Most logistics services operate even during the holidays. One reason is that the main roads are less busy during this time. Some events happen during holidays, they too, need logistics. The logistics industry, in a nutshell, is busy every day. Minor to significant operations involve logistics. Even Transportify has drivers who accept delivery during these times. Some drivers prefer working on these occasions willingly. You can trust your logistics needs with Transportify even on holidays.