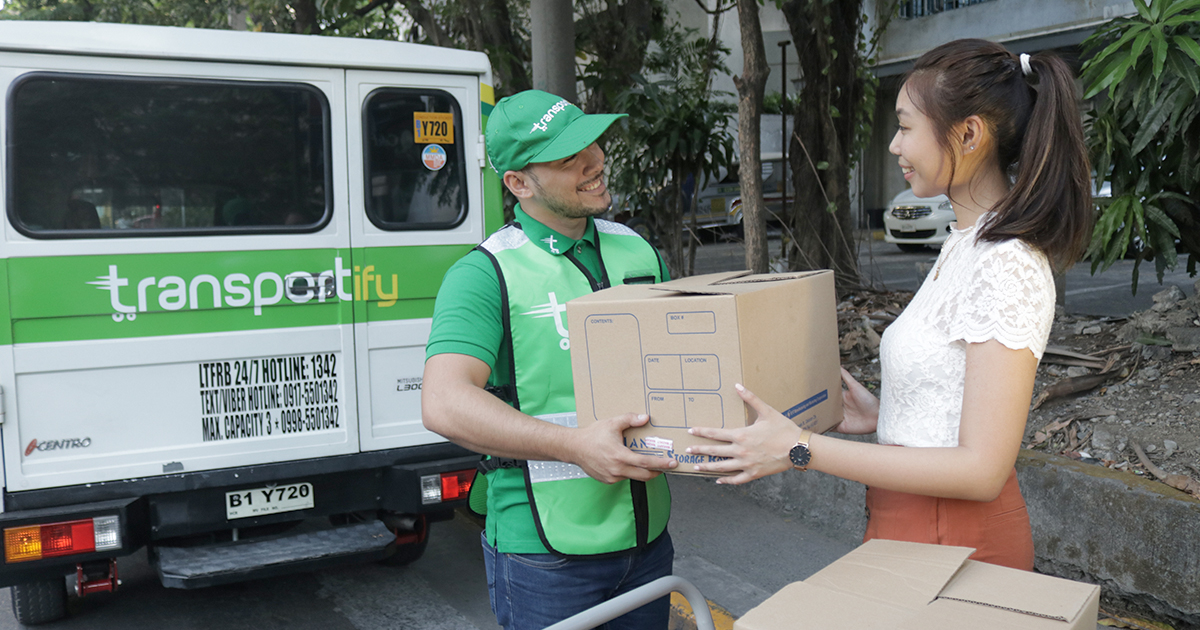 In 2016, Secretary Adrian S. Cristobal of the Department of Trade and Industry (DTI) noted that the Philippines has the highest logistics cost among ASEAN countries. Citing a study published by the World Bank, he said that the Philippines falls behind its ASEAN neighbors in terms of the "ease of doing business" based on time and cost.
How Can 3PL Delivery Services of Transportify Help You?
When Transportify finally arrived in the country, one of the objectives it had was to bring a revolution to this problem— lowering the cost of traditional logistics methods of small to medium enterprises (SMEs) without forsaking the quality of service — now giving SMEs and start-ups a choice to a better courier service. You can check out the table below for the courier vehicle list available, which is updated this 2023.
Vehicle Type
Dimensions/
Weight Limits
Base Price
(Metro Manila)
Base Price
(Outside Metro Manila)
Base Price
(Visayas/Mindanao)
Wing Van 
32 to 40 x 7.8 x 7.8 ft
12000kg to 28000kg
7500 PHP
6500 PHP
6500 PHP
6w Fwd Truck
18 x 6 x 7 ft
7000kg
4850 PHP
4850 PHP
4850 PHP
Closed Van
10 to 14 x 6 x 6 ft
2000kg to 4000kg
1800 PHP
1450 PHP
1450 PHP
Open Truck
10 to 21 x 6 ft x open
2000kg and 7000kg
2300 PHP
1950 PHP
N/A
Mini Dump Truck
10 x 6 ft x open
2000kg
1500 PHP
1200 PHP
N/A
L300/Van
8 x 4.5 x 4.5 ft
1000kg
430 PHP
330 PHP
310 PHP
Small Pickup
5 x 5 ft x open
1000kg
310 PHP
250 PHP
220 PHP
Light Van
5.5 x 3.8 x 3.8 ft
600kg
250 PHP
192 PHP
225 PHP
MPV/SUV
5 x 3.2 x 2.8 ft
200kg
160 PHP
130 PHP
140 PHP
Sedan
3.5 x 2 x 2.5 ft
200kg
140 PHP
110 PHP
120 PHP
As the local counterpart of Deliveree, Transportify provides a wide array of services from 3PL delivery to moving services, all through its mobile and web application platform. As the primary goal of this local courier service provider is to help SMEs in getting 3PL logistics solutions by lowering costs, it offers affordable rates wherein clients only pay for what they need. This is particularly helpful for industries with deliveries that are neither big nor small enough. From 2016 up to 2023, businesses now have the choice to opt into a better 3PL or third party logistics partner without breaking the bank.
Feravis Global Trading is one such industry.
Established in 2010, Feravis is an importer and distributor based in Makati, Manila. They have several products ranging from sporting goods, fitness, housewares, and consumer electronics. Before using Transportify, they had problems with the absenteeism of their drivers as well as the waste of time whenever there are only small consignments since they have to wait until the truck is full.
To address the issue mentioned above, Feravis decided to outsource using the local courier service of Transportify. Aside from being a cheaper and faster alternative for their smaller deliveries, they also found it easier to track their shipments through the GPS of the Transportify app. "We don't need gadgets like the GPS devices anymore, just the app, 'cause before, I was thinking of getting [a device], so I can monitor them (shipment)…" Feravis tells Transportify.
Adding to their confidence, it is not only them but also their customers who are very much satisfied with the service of Transportify. They said that customers are aware that it is a 3PL delivery service provider, and it improved its overall function and operation.
Together with Feravis, more and more SMEs are also discovering Transportify and the revolutionary 3PL services it offers its clients at a very affordable cost. With its rising patronage and the way it provides the "ease of doing business" with just a few clicks on its mobile and web application, Transportify may be the future of courier services in the Philippines. Don't be late this 2022 in using the best and start having the choice of a better courier provider.
Advantages of 3PL Delivery & Local Courier Service for SMEs in Retail
In 2023, every industry faces different kinds of challenges, which prompts them to find an effective solution. In the retail sector, one of the primary concerns is how to create a convenient system of delivering products to the hands of the customers.
In the Philippines, the online selling industry has continued to thrive with more and more customers preferring to shop on their mobile phones. The businesses that are engaged in the sector, more known as e-commerce, are significant users of the best local courier service.
There are many reasons why an e-commerce business would want to have a stable third party logistics (3PL) delivery system. But first, here is an overview of what these delivery services are all about.
What is 3PL?
3PL, which means third-party logistics, is a system used by a company in which it outsources the service of another business to complement its own. In short, a company that does not have a delivery system will engage the use of a courier service to manage its deliveries.
3PL in the retail industry
SMEs or small to medium enterprises will find it very beneficial to use the delivery system. Since these kinds of enterprises are still trying to make their way up to the top, then a solution that requires little cost is the best option for 2023.
An affordable local courier service like Transportify provides just that kind of service. Starting businesses would not have to build a delivery department on their own because of 3PL delivery providers for business. This saves cost and time for the company.
SEE ALSO:
Why use a local courier service?
There are tons of benefits that a business will acquire when they use 3PL delivery. Here are only some of them:
1Efficient delivery system
By 2023, logistics service providers like Transportify provides a more efficient delivery option because they already have their delivery system. This means that a local and affordable courier would most likely know how to navigate the traffic and is more knowledgeable about the different locations in the area.
For this reason, the delivery will surely be on time, and your customers will be more satisfied. Also, the drivers of a 3PL delivery provider know how to take care of packages, assuring your customers that they will receive their orders free from any damage.
2Competitive Edge
Rose Ong, the Philippine Retail Association's president, has advised retailers to find creative ways to make their online stores more customer-driven. As such, the existence of a local courier service in the Philippines has provided small retailers with a competitive edge over big-time enterprises.
These services help businesses gain a competitive advantage by giving customers a faster and better quality of delivery. It is essential that for retailers, customer satisfaction is the primary goal as one happy customer can turn into hundreds when they refer to your online store.
Also, a local courier service helps the company with a flexible and scalable delivery system such that when the sales are low, it cannot negatively affect the profit of the company borne out delivery costs. With a 3PL delivery, you will spend delivery costs only when you need them and as such, saves the small enterprise from unnecessary expenses.
Use Transportify for Your Enterprise in the Retail Industry
Using a 3PL system such as Transportify can vastly help your business venture. Not only does Transportify provide an efficient delivery system, but it also has a mobile application that enables you to get their service no matter where you are and no matter what time it is.
Transportify duly caters to the needs of e-commerce enterprises as it has a wide selection of vehicles that packages of any size can be readily delivered. Moreover, the 3PL delivery drivers are also equipped with training and knowledge on how to handle delicate packages while being on time.
Businesses in the retail industries can significantly benefit from a fast local courier service like Transportify that helps them create an efficient delivery system as well as a competitive edge against other companies. So, if you are starting an e-commerce business, you can download the mobile application in the Play Store for Android users and the App Store for iPhone users.
Make your business bigger and better with the help of Transpotify's effective courier service system.
| | | |
| --- | --- | --- |
| | or | |
Frequently Asked Questions:
What was the goal of Transportify?
🚚 Transportify's goal was to provide an affordable, convenient, and reliable way for people to get around Metro Manila. The company wanted to make delivery more accessible to everyone, especially those who lived in areas that were not well-served by local truckers and couriers.
Who offers affordable 3PL delivery for business use?
🚚 3PL delivery is an important part of any business, but it can be expensive. There are many companies that offer affordable 3PL delivery for business use, but not all of them are created equal. When looking for an affordable 3PL company, it's important to consider the quality of service and the features that are included in the price. One company that offers affordable 3PL delivery for business use is Transportify.