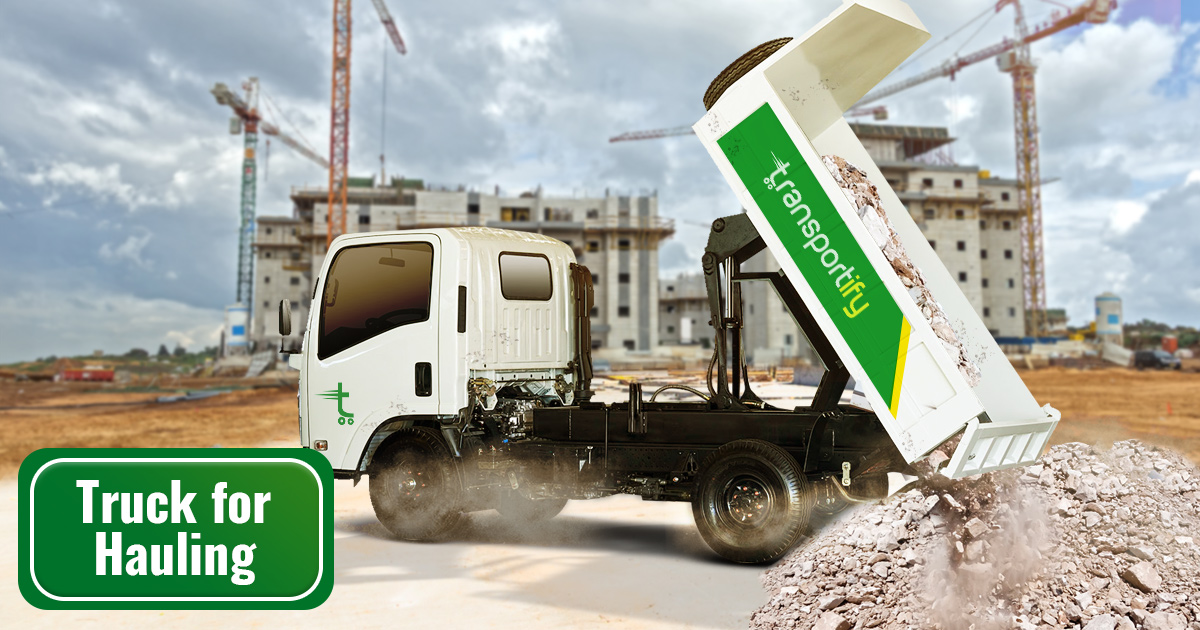 Having a local delivery truck provider can help you sustain business logistics operations even in times of uncertain demands. Some industries may have experienced a significant market recession during the pandemic, but the construction industry is one of those that remain resilient. With that said, construction companies need a logistics partner to sustain their hauling deliveries from suppliers to the site. Transportify is your local delivery truck provider that has been supporting construction companies in hauling construction materials.
What Are the Benefits of Choosing Transportify as Your Local Delivery Truck Provider?
Local delivery service providers offer distinct benefits to their customers. With the pandemic situation, it is more important that a provider is well aware of the current policies and procedures to ensure smooth delivery operations, especially when hauling construction materials. Let us further discuss the benefits below:
Reliability and credibility
Transportify has extended its reach not just in Metro Manila but to the whole of Luzon. The expansion of their market means that customers are accepting the innovative logistics services that they offer. With the broad vehicle selection they have, customers often find their vehicle needs on the logistics app. Below are the vehicles construction companies use for hauling construction materials:
Vehicle Type
Dimensions/
Weight Limits
Base Price


(Metro Manila)

Base Price


(Outside Metro Manila)

Base Price


(Visayas/Mindanao)

Wing Van 

32 to 40 x 7.8 x 7.8 ft




12000kg to 28000kg

7500 PHP

6500 PHP

6500 PHP

6w Fwd Truck

18 x 6 x 7 ft




7000kg

4850 PHP

4850 PHP

4850 PHP

Closed Van

10 to 14 x 6 x 6 ft




2000kg to 4000kg

1800 PHP

1450 PHP

1450 PHP

Open Truck

10 to 21 x 6 ft x open




2000kg and 7000kg

2300 PHP

1950 PHP

N/A

L300/Van

8 x 4.5 x 4.5 ft




1000kg

430 PHP

330 PHP

310 PHP

Small Pickup

5 x 5 ft x open




1000kg

310 PHP

250 PHP

220 PHP

Light Van

5.5 x 3.8 x 3.8 ft




600kg

250 PHP

192 PHP

225 PHP

MPV/SUV

5 x 3.2 x 2.8 ft




200kg

160 PHP

130 PHP

140 PHP

Sedan

3.5 x 2 x 2.5 ft




200kg

140 PHP

110 PHP

120 PHP
On top of that, Transportify is also making its way to becoming a nationwide trucking service provider through its interisland trucking service from Luzon and Cebu to key cities of Visayas and Mindanao via L300, Closed Van Truck, 6w Fwd Truck, and 10w Wing Van. If you need to transport construction materials delivery from Luzon and Cebu elsewhere, you may check their rates through the website
In-app features
Transportify highlights its logistics app as a tool for customers to manage and track bookings. The on-demand app has a GPS tracking system that shows the location of the driver and the estimated time of arrivals. It displays locations and streets based on Google so that you know the driver's location in real-time.
In some cases, hauling needs to be done from different locations before going to the site. You can easily plan out the order of pick up or drop-off through the route optimization feature of the app. Once activated, the route will be arranged to its optimal order, saving you time and cost.
Ease of communication
Communication is vital in every transaction. A local delivery truck driver must be able to converse with customers using a common language that they can both understand. Aside from that, it would be beneficial for customers to have a tool that can easily connect them with the driver and the service provider. Since Transportify is technology-based, it allows customers to reach out to the driver directly through the app and vice versa. Customers can give sound instructions through their chat, and the driver can reply right away. A good flow of communication can improve the process, resulting in faster delivery operations. Deliveries to construction sites can be difficult because the area is large and many people may sometimes be involved. To avoid miscommunications, customers can briefly instruct drivers in-app.
Aside from the in-app chat feature, customers can contact Transportify's customer service through the app. Transportify designed its customer service process to be reliable and proactive in solving concerns for customers. Having these features would benefit customers because they get immediate updates and resolutions to avoid further miscommunications in the long run.
SEE ALSO:
Tips on How To Have Efficient Operations When Hauling Construction Materials
In any construction project, the timely supply of construction material is crucial to profitability. Late procurement, ordering too much, and on-site material storage problems lead to costly setbacks. Here are tips on how to have efficient operations when hauling construction Materials:
Minimize daily ordering
Contractors often choose to order materials daily or short term, so storage on site is not necessary. However, this practice can have its disadvantages. While having what you need for that day is convenient, this might not be practical if you consider the cost of logistics. Hauling construction materials on a daily basis may cause you to go over budget, especially if the materials are traveling a long distance.
Avoid paying for downtime
Hauling construction materials via a local delivery truck on a daily basis is not only impractical, but it may also cause serious workflow troubles if your supplies do not arrive on time. You need to be extra cautious in paying your subcontractor and workers to wait around for the arrival of supplies.
The first two tips are more on delivery planning. You do not want a supply surplus nor would you want a lack of materials. Proper communication and planning with your contractor can save you the trouble of both over and under supply. It would also be nice to have an on-the-go local delivery truck provider who can haul construction materials for you anytime and anywhere. For example, in the Transportify app, you can set schedules of deliveries up to two weeks in advance. When you need to change your delivery schedules, the flexible time option gives you more leeway, especially if there are last minute changes. Choose a provider that can adjust to your needs.
Improve on-site material management
Loss of materials is a serious issue at every worksite within the construction industry. Now that most sites are being managed remotely due to limited human mobility, this can be more magnified. It usually happens when workers leave materials unprotected on site leading to security issues. These losses and damages may seem small and insignificant on an everyday basis, but they can affect your construction project in the long run. Make sure that you have a reliable inventory management system in place along with a security plan to ensure that your materials are well stored when work is done for the day.
Transportify's Business Program
According to the Department of Trade and Industry (DTI), the government intends to boost the construction industry by launching Construction Industry Roadmap 2020-2030. With significant support from the government, the construction industry is all set to ramp up constructions and expansions within and outside the metro for the road map to materialize. If you are from the construction industry, you should capitalize on these trends to propel your company to greater heights. Transportify has a Corporate Account for Business program that is designed to meet your business delivery needs. Under this account, you can have a dedicated fleet for your hauling construction materials needs, flexible payment options, custom SOP, and document return services. You can visit our site or email business@transportify.com.ph
| | | |
| --- | --- | --- |
| | or | |
Frequently Asked Questions:
Can a local delivery truck provider like Transportify haul construction materials within the same day?
📝 Yes. Transportify is a same day delivery provider anywhere in Luzon and Cebu. You can expect that your construction materials will arrive at their destination within the day of pick up. Some trucking companies may have difficulties doing it, especially when the location is in the provincial areas, but Transportify has expertise in this kind of trucking service.
Is there insurance in each Transportify booking for hauling construction materials?
📝 Yes. Transportify provides goods insurance to every booking. For individual customers, the coverage amount depends on the vehicle that you booked while for our Corporate Account for Business clients, the coverage is up to 3 million for every booking. Insurance is a good inclusion to a delivery package considering the number and cost of materials you will need to transport.