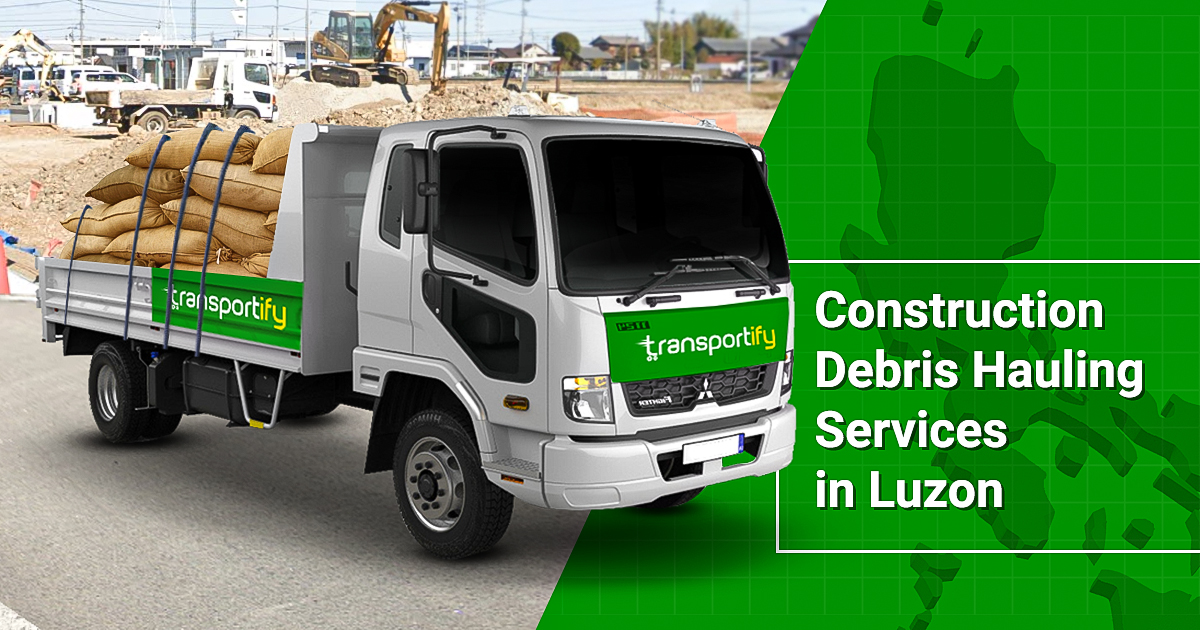 Disposing loose materials such as scrap and debris from construction sites is a major operation in the construction industry. This operation is important because if you just leave debris in your construction site, you clog up the space that could have been utilized for other operations. A manager of a construction company could procure multiple dump trucks to do the heavy construction debris hauling services that is needed. However, such a decision could be expensive. Transportify, a trucking company, offers these services at an affordable rate. Get a price check now for your 2022 construction deliveries.
Despite the negative economic impact of the current pandemic, the construction industry remains strong and robust. Experts predict that by 2024, this industry's output value will hit around 75.1 billion US dollars. Furthermore, more and more infrastructure projects like highways and bridges are being constructed by our government. Thus, it is safe to assume that in the Philippines, the construction sector will see plenty of activity in the years to come.
Normally, construction projects produce plenty of rubble and similar items because of activities like demolition and clearing areas before the actual construction operation. If the area is rocky or full of shrubs and bushes, there is a need to remove these items before actual construction can begin quickly and easily. If you are the manager of a 2022 construction project, then construction debris hauling services should be on your list of priorities because if these unwanted materials are not cleared quickly, then the whole project gets delayed.
The table below shows some vehicles used for debris hauling and construction materials delivery.
| Vehicle Type | Cargo Dimension | Capacity |
| --- | --- | --- |
| Vehicle Type | Cargo Dimension | Capacity |
| Pickup Truck | L: 10 ft x W: 6 ft x H: Open | 2000 kg |
| Pickup Truck Extra Space | L: 14 ft x W: 6 ft x H: Open | 2000 kg |
| Mini Dump Truck | L: 10 ft x W: 6 ft x H: Open | 3500 kg |
| Long Pickup Truck | L: 18 ft x W: 6 ft x H: Open | 7000 kg |
SEE ALSO:
Although the vehicles that play a crucial role in the construction sites are bulldozers, backhoes and excavators, we can not neglect the importance of trucks that do the construction debris hauling services. These trucks do not directly contribute to the construction of a building, but they allow other vehicles to work effectively by clearing out the rubble and unwanted debris from the surrounding area. A good example of this type of vehicle is the mini dump truck.
Because of its hydraulic cylinder open dump body which can be raised in order to dump items, a mini dump truck is the ideal vehicle for construction debris hauling services. Furthermore, it has a cargo capacity of up to 3 tons which makes it capable of hauling those debris materials like wood flooring, lumber, roofing debris and other heavy cargo items. It is a good fit for your 2022 construction materials delivery.
Transportify for Construction Debris Hauling Services
Here are some benefits when you use Transportify for your debris hauling operations:
1Low Cost
Transportify offers low-cost mini dump truck rentals for construction debris hauling services. When you book a mini dump truck anywhere in Luzon this 2022, it comes with an extra helper to assist the driver and to process the necessary paperwork with the client. Surely with these features, you can do your construction debris hauling services with little cost to your company.
2Professional Drivers
In Transportify, we take pride in our high standards of quality. We make sure that the booking experience of our clients is pleasant and enjoyable. Because we know that you want to get your money's worth in each booking for construction debris hauling, we train our drivers effectively in order to meet your expectations. Hauling construction debris is no easy feat which is why expert drivers are assigned to your booking in order to avoid errors and other complications.
3Track and Trace your Construction Debris Hauling
The Transportify app makes use of a Global Positioning System (GPS) which enables clients to watch closely the current location of their driver. This feature is not only available to the sender of the materials, the receiver can also view and monitor the progress of the delivery. This is called the "Track and Trace" feature which allows users a real time tracking of the vehicle they booked. App based features like this is just one of many advantages in using Transportify for your constructuon debris hauling services.
By using a truck booking app like Transportify, your 2022 construction debris hauling operations can easily be handled. There is no need to purchase multiple mini dump trucks in order to do construction debris hauling services effectively and efficiently. With just a phone or a computer, one can easily book mini dump trucks or schedule up to two weeks in advance. Furthermore, Transportify offers other large vehicles such as a 10 Wheeler wing van, Long Pickup truck, and Pickup truck for heavy cargo shipments. Lastly, the Business Program of Transportify is your key to delivering goods to more customers all over Luzon.
Transportify: Ideal Trucking Company for Construction Materials Delivery
Besides being able to handle your construction debris hauling services, Transportify is more than capable of delivering construction materials to your project site. Below are some of the main offerings of Transportify aimed at transferring heavy construction materials to anywhere in Luzon. Furthermore, the business program of Transportify can benefit companies who are always in need of a business logistics provider to deliver items needed for construction projects either straight to the project site or to a warehouse.
Large trucks for construction materials delivery
Mini Dump Truck
Besides hauling debris, a mini dump truck is also the right vehicle for delivering construction items like gravel and sand. These materials, called aggregates, are best transported via mini dump truck because the vehicle can easily lift its body to dump the contents on the ground.
Pick Up Truck
This vehicle is useful for transferring construction material items like bricks, hollow blocks and steel structures. Other materials used for construction like scaffolding poles and metal tubes can also be transported using the pick up truck.
Long Pickup Truck
Just like a pickup truck, the long pick up truck can do construction material hauling operations. However, its longer open body makes it capable of carrying more items compared to the smaller pickup truck.
Transportify Business Program
Economic experts say that the Micro, Small and Medium (MSMEs) are crucial to the Philippine economy. And rightly so because 63% of the country's total employment is attributed to these establishments. Among the many business sectors classified as MSMEs is the construction business. Reports say that the government wants to increase the construction industry's contribution to the economy from Php 2.3 trillion in 2018 to Php 130 trillion by around 2030.
Thus, if you are a construction business owner, you would want to take advantage of these trends to push your company to greater heights. Transportify offers a business program which is designed to answer your delivery requirements:
Free Enrollment.
Ready and on call 24/7 customer service.
Flexible payment schemes.
Proof of Delivery and Cash on Delivery services.
Warranty of up to Php 3 Million for damaged goods.
Have your own dashboard and account manager. Furthermore, we can provide special handling for fragile items.
Expand your business this 2022 with our trucks. Please visit this link or email business@transportify.com.ph to know more about our Business Program.
| | | |
| --- | --- | --- |
| | or | |
Frequently Asked Questions:
What is construction debris hauling?
🚚 The process of hauling loose items as a product of construction operations is called construction debris hauling. Typically, construction debris items would be concrete, glass, wood and other metallic wastes from the construction site. These items are loaded in a mini dump truck and taken to a designated dump location.
What do you mean by hauling services?
🚚 Hauling services refers to the process or activity in which one transports goods via a truck. This activity is crucial to a business because it allows the movement of goods that will be sold to customers. In fact, hauling is so important for a business that it is important to know the right trucking companies that offer the best hauling services. JRS Express can do hauling services nationwide. LBC can also deliver your goods to various points in the Philippines. Transportify, an app based company can do your hauling services to any point in Luzon. All you need to do is book or schedule a delivery through your phone or computer.