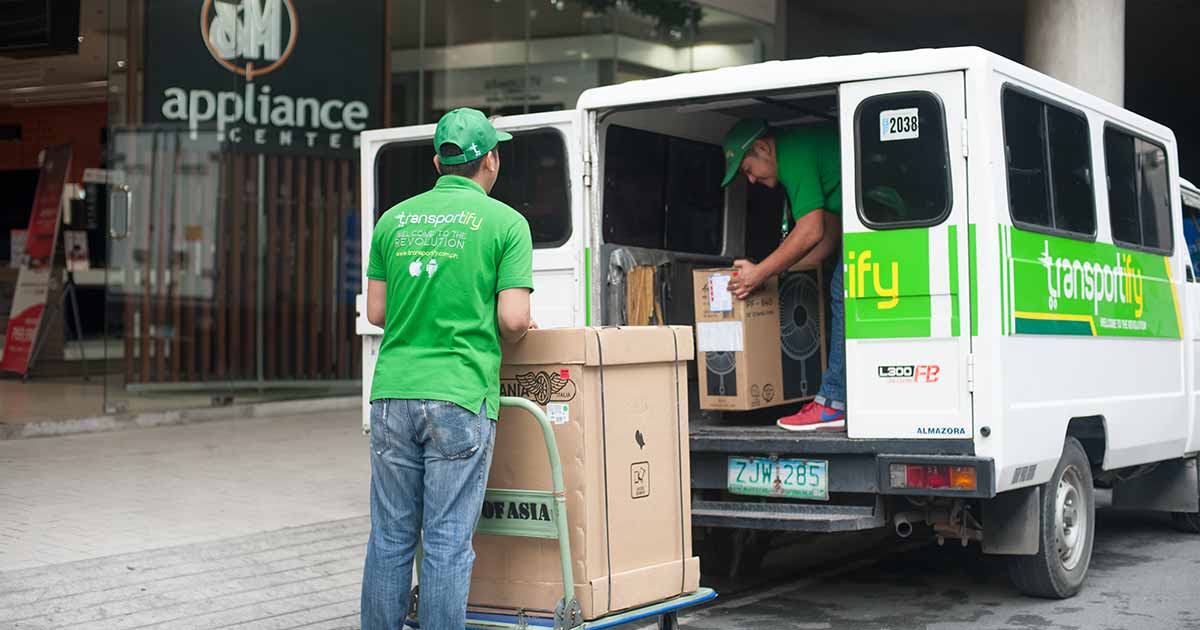 Buying new appliances from SM Appliance but worried that you would not be able to enjoy them immediately because of standard delivery schedules? Worry no more! Same-day delivery is now available! With a single tap on your phone, you can schedule an SM appliance delivery service straight to your home.
Now, with Transportify's on-demand logistics and delivery services, buyers can take their appliances home on the same day they bought their fridge, oven, or television from the store! No appliance is too small or too big for Transportify's appliance delivery service.
The Transportify app can now be used to book deliveries for SM Appliance Center items. This third-party logistics or 3PL service from Transportify is available to several SM branches within the Transportify service area such as SM North, SM Marikina, SM Sta. Mesa, SM Bacoor, and SM Cubao! For a complete list of fleet pricing for Standard rate and Full Day rates within Manila for your SM appliance delivery service needs, see the table below.
Column 1
Column 2
Column 3
Manila
Vehicle Type
Standard Rate
Full Day Rate

Economy

₱190




+ ₱20 Per KM

₱1,800

Economy Extra Space

₱240




+ ₱20 Per KM

₱1,850

L300/Van

₱470




+ ₱30 Per KM

₱2,800

Closed Van

₱1,950




+ ₱40 Per KM

₱6,000

Closed Van Extra Space

₱2,350 




+ ₱40 Per KM

₱6,400

Pickup Truck

₱1,850 




+ ₱50 Per KM

₱6,000

Pickup Truck Extra Space

₱2,250 




+ ₱50 Per KM

₱6,400
Simply download and install the Transportify mobile app for free, and launch it while making sure you have a strong mobile data or WiFi connection. Enter the appliances' store address as the pick-up point and your home address as the drop-off destination, and you will see the number of available Transportify vehicles in the area. You can then select the type of delivery vehicle you need for the appliances you bought and schedule your timing preference. Keep in mind that your pick-up time preference must be no less than 60 minutes from the time of booking, so the Transportify delivery transporters will have enough time to travel from his current location to the pick-up point.
Once the destination, vehicle type, and schedule have been selected, the Transportify app will then match you with a driver in about a minute. The app will also provide you the driver and vehicle's details like name, contact number, and plate number. You will also receive the driver's estimated time of arrival at the pick-up point.
Shopping at SM Appliance Centers in the Philippines is now easier and faster with the Transportify app and its affordable shipping prices complete with customizable extra service features for your SM appliance delivery needs. Download our mobile app now and enjoy your appliances on the same day you bought them from the store.
The Good Thing About Appliance Delivery Service
These days most of the consumers prefer to have everything directly at their doorsteps when you have bought something online, or you bought something from the mall, especially in the SM appliance center. It is also perfect if you want to send them the appliances you purchased for your friends and families.
Sometimes, it is a hassle if you have bought large pieces of furniture or appliances from the SM appliance center, and you don't have a car to transport it. Though the mall can provide an SM appliance delivery service for its customers, it takes time for the item to be delivered at your door or to your recipient's home. Usually, they have a schedule for their appliance delivery service; that's why all of their deliveries require at least 5-7 business days to be delivered at your doorsteps.
But with the help of Transportify's appliance delivery service, door to door delivery services is the haven for those consumers who want to treasure their relationships by sending valuable gifts to their loved ones without exerting too much effort. These kinds of services can give you additional time and can save you from all the potential hassles that you could experience while choosing things on your own and transport it at different locations in your town.
In the Philippines, there are only a few logistics companies that offer the same appliance delivery service, and typically they do not give the resources to pick the items directly from the mall's door. But, not in Transportify, they can understand that today, people are getting busier and don't like to endure the traffic to bring back home the SM appliance they have bought. Transportify values your time and your effort; that's why they are only offering the best appliance delivery service for your convenience.
Also, Transportify offers its customers a door to door delivery service within your local city at affordable prices (please refer to the table above). Meaning, you don't need to exert even a little effort through the entire delivery and pick-up process. Just get your mobile phone, go to the Transportify app and enter your pick-up location.
This way, it provides customers with a different level of convenience and comfortability. It also one of the significant reasons why Transportify is continuously soaring high as one of the best appliance delivery service providers in the Philippines.
Top Advantages of Appliance Delivery Services
No hassles and efforts for both senders and recipients.
You don't need to worry about the pick-up process, organizing, and delivery from your end. Just make sure that you are present on the pick-up location so they can transport your newly bought SM appliance to your desired location.
Your items are hundred percent safe, secure and deliver with a guaranteed.
Faster and flexible delivery time with no delays!
Before, when there's no delivery service app existed, sending and receiving items, especially larger pieces like furniture or appliances, were a definite hassle for everyone. And for those people who still choose the old and traditional method of sending and receiving items instead of the modern approach of delivery apps, are still experiencing the inconvenience of transporting their packages to the pick-up locations from the customer's given receiving area.
Remembering all of these hassles in mind, Transportify can assure that they only have the best appliance delivery service in the Philippines. This kind of service serves as a part of its Customer to Customer services or also known as C2C, as Transportify only want to enhance the method of their logistic services in the Manila, to lessen the hassle of items' sender and recipients.
If you're still not satisfied with some advantages listed above, below are some more benefits of using Transportify as your partner with SM appliance delivery service.
Great Deal at Affordable and Reasonable Prices
Against the common belief, the appliance delivery service is more affordable and can suit your budget. Usually, this kind of service might look expensive since other delivery service providers charge their customers an extra fee depending on the location, mode of transport, and quantity.
Not with Transportify, as you can see from the table above, it has a fixed rate and an additional for every excess kilometer. Usually, excess kilometers charges are not that expensive against other service providers, who charge you for the additional expenses you never heard about.
So, you don't need to worry about those hidden charges, as you can able to transport any SM appliance that you bought, regardless of its quantity and its size with no additional charges at all.
Doesn't Require Any Big Efforts
Like what was mentioned earlier, Transportify can give you the comfort and convenience that you deserve. To avail the SM appliance delivery service, get your mobile phones, download the application (please click the button above), enter your pick-up location, and your desired recipient address, then you're good.
Transportify will send the following details to you, the vehicle's plate number and the driver's contact information. Also, you don't need to exert any physical effort as the Transportify employee and the SM appliance employee are the ones who will lift your appliances. Thus, availing Transportify's appliance delivery service can give you extra time and saves you from the traffic in your city instead of delivery your items on your own.
Want to know more about Transportify? Check our fleet and prices on the website to know more about our unparalleled delivery services.
Frequently Asked Questions:
How much does appliance delivery service cost?
📺Delivery costs range from ₱500-₱1,000 depending on the store's delivery system. Usually, you have to wait for the next day or two to get your purchased appliances because they consolidate the orders first. The problem here is the possibility of mixing-up your appliance with others or getting damaged. With Transportify, you can book a same day delivery service solely for your item anytime. Prices start at ₱190 +₱20/km for the economy vehicle, which can load up A/C. If you need a larger vehicle, you can either book the L300/Van or Closed Van, which starts at ₱500 and ₱2,150, respectively.
Does SM offer same day appliance delivery service?
📺SM & Transportify have partnered together to provide same day appliance delivery to customers so that they don't have to wait for days for their appliances like the refrigerator to arrive. Customers can book on the same day Transportify vehicles to pick-up and deliver straight to their house.