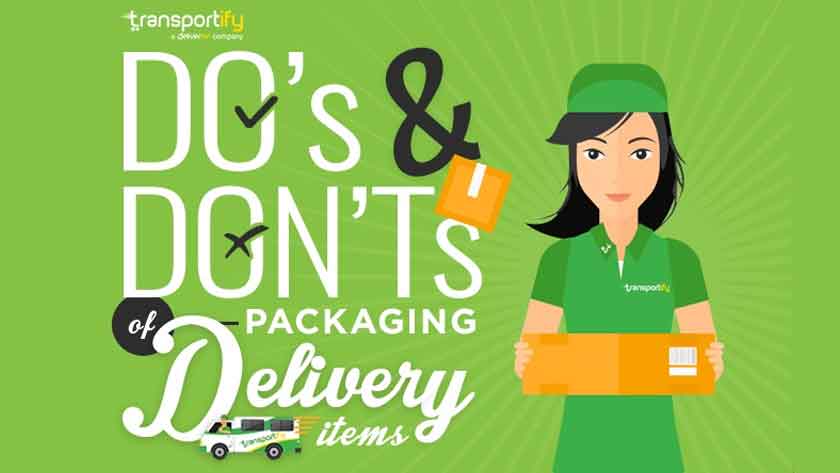 Whether you're a type of business that ships hundreds of packages in a month, a start-up who sent five or more products to their customers, or perhaps an individual who sent their gifts to their loved ones, knowing the basics of packing for cargo delivery service is essential.
Not only does the way freight logistics companies and cargo shipping services couriers handle packages play a significant role in the safety of the contents, but the way senders packed the items is also significant. Even if the carriers of the package did their best to handle the containers, the items might still be damaged because of the way the sender packed them.
At Transportify, we do the best that we can to make sure that your packages will be delivered on time, and of course, in great condition as well. Packages can travel thousands of kilometers through Transportify's outstanding global network and responsible partner-drivers to reach its intended destination. Packing your shipment with appropriate materials in a correct way will aid in ensuring that these packages will arrive safe and intact.
If you pack your shipments with an express transportation in your mind, there are some standards that you must follow to lessen the possible inconveniences that may arise during the transit.
It is recommended that the sender should ensure adequate and standard packaging materials were used before sending the packages to the freight logistics company. This is to avoid unnecessary incidents during transit.
Packing materials and necessary precautions will depend on the type of items you're going to pack. These items will also determine what kind of vehicle is needed during the transit. Also, it will determine what type of cargo delivery service should be used.
For the detailed price, fleet, rates, and vehicles see the table below:
Fleet
Base Price
Size
10-W Wing Van
P8,000
L: 32 ft
W: 7.8 ft
H: 7.8 ft
Long Pickup Truck
P4,850
L: 21 ft
W: 6 ft
H: Open
Reefer Truck
P2,700
L: 14 ft
W: 6 ft
H: 6 ft
Closed Van
Extra Space
P2,350
L: 14 ft
W: 6 ft
H: 6 ft

Closed Van
P1,950
L: 10 ft
W: 5 ft
H: 5.5 ft
Pickup Truck
Extra Space
P2,250
L: 14 ft
W: 6 ft
H: Open

Pickup Truck
P1,800
L: 10 ft
W: 6 ft
H: Open
L300/Van
P470 (Manila)
P430 (Pampanga)
L: 7 ft
W: 4 ft
H: 4 ft
Economy
Extra Space
P240 (Manila)
P220 (Pampanga)
L: 5 ft
W: 3.2 ft
H: 2.8 ft

Economy
P190 (Manila)
P170 (Pampanga)
L: 3.5 ft
W: 2 ft
H: 2.5 ft
There are factors that you must need to know before packing your deliveries:
Volume
Weight
Height
Type of goods (fragile or perishable)
Upon checking the factor above, you can now decide which materials to use. To give you more detailed information, check this useful infographic below:
If you wish to talk to our customer representative for a more detailed explanation for the do's and don'ts of packing, feel free to call us anytime you want. We're happy to assist you.
Additional Tips for Packing Items for Cargo Delivery Service in Freight Logistics
Now that you have an idea of how to pack your delivery items, here are some useful additional tips that you may follow to secure your packages. Remember, it's better to be prepared than to be regretful in the end.
We have all experienced the worst and disappointed in opening a package, only to find out that the item was damaged due to irresponsible and improper packing. Reducing the chances of this awful happening by following these few insider tips from the freight logistics experts is advisable.
Packing Tips to Protect Your Freight
Follow these essential packing tips to make sure that your items will arrive at its intended location safely and sound:
1Separate Fragile to Non-Fragile Items
Put those glasses, antiques, dishes, and other fragile items in a separate box. To create secure protection, you can wrap them individually by using a bubble wrap to limit their movements in the box.
Make sure that your boxes are secured with heavy-duty packaging tape, which can be purchased at any bookstore or hardware stores near your area.
2Choose Extra Thick Boxes for Fragile Items
Put additional protection to your packages with sturdy and thick boxes that won't easily break open during the transit. Thick boxes give an extra layer of protection that can't be found in standard shipping boxes.
3Be Lavish with the Packaging Materials
This tip is crucial – do not overfill the boxes and ensure that you use plenty of bubble wrap, packing peanut, or expandable foam to provide cushion for the fragile items.
These packaging materials can be bought at your favorite hardware stores or some bookstores. If you have questions, our customer service will be glad to give you advice on the best possible way to secure your items. Here at Transportify, we provide outstanding freight logistics and cargo delivery service to satisfy our customers.
4Do the Shake Test
After packing a box, try doing a shake test. If you hear something such as moving around or tossing inside the box, it only means that the shipment is not secured enough. Immediately open the box and try adding more packing material to prevent the items from moving. You can trust any cargo delivery service to make sure your item gets delivered. But packaging it well by yourself can ensure its perfect condition.
5Use Original Packing Materials for Gadgets and Electronics
Most electronics and gadgets like DVD players, TVs, and other electronic appliances, arrive in packaging, which is created specifically for them. No boxes will protect them better than their own packaging. So, if the original packaging or boxes are still available, use it to ensure the safety of the electronics before shipment.
6Disassemble Other Appliances and Housewares before Shipping
Remember, your furniture or other appliances may be permanently damaged if you try to move it without disassembling it first. For example, kitchenware like a dining table, you can remove its legs and crate all other pieces together for safekeeping. Besides, you can also remove cushions and foams from sofas and create them accordingly to prevent possible damage during the transit. Cargo delivery services can't assure you a perfect condition of your freight during transit as there are inevitable natural occurrences. But it pays to prepare your item as secure as possible.
7Shrink-wrapping For Business Shipping
To provide multiple or larger items extra security during the transit, consider shrink-wrapping the items to secure them from unwanted elements. Other freight logistics companies can guide you professionally to prepare your package by using the shrink-wrapping technique. Some of them also give custom packaging solutions if your packages require enclosed sides.
8Call the Experts
The tips from are some of the few ways to protect your packages from getting damaged during the transit. For additional help, you can consult with a cargo delivery service personnel to give you professional assistance.
Whatever items you need to ship, even if it is something as huge as a car or a plane, Transportify is glad and willing to be your delivery partner to find the smartest, convenient, efficient, safest, and economical way to get your packages deliver where it needs to ship.
9Complete Freight Logistics and Cargo Delivery Service Shipping
Again, many freight logistics companies have different options when it comes to shipping. However, none of them can win against your additional care and personal attention when you choose Transportify as your delivery parent.
Transportify gives customized cargo delivery service that is not available to other freight logistics companies. We take our precious time to understand our customer's unique needs and craft customized solutions to make sure that your freight will only receive the most secure and fastest delivery available in the Philippines.
So, whether you're shipping products to your customers, gifts to your loved ones, or building your business's logistics solution for shipping tons of products around the Philippines, you can trust on Transportify for a secure, accurate, efficient, and fast delivery.
Moreover, following these packing checklists can ensure that your packages will get to its intended destination safe and sound. Remember, it is better to be prepared than to regret things in the end. Following these guidelines will not cost you too much; instead, it will give additional protection to your packages. And choose the freight logistics and cargo delivery service that suits your needs. Of course, nobody wants to receive a damaged package, right?
Frequently Asked Questions:
What are the available freight logistics services in Manila?
🚛 Transportify is the only freight logistics that offers services from hutchbacks to even 10 W Wing van that you can book with just a few taps on your smartphone. This service is ideal for huge deliveries or to businesses with deliveries to multiple drop offs. Download the app now to start booking! Available on Google Playstore and Apple App store.
How does cargo delivery service of Transportify works?
🚛 To save on cost, a company sources from cargo delivery services the handling of their products delivery logistics instead of hiring in-house. This type of set-up works best for SMEs that can't afford the cost of having their fleet while being able to expand their business reach.