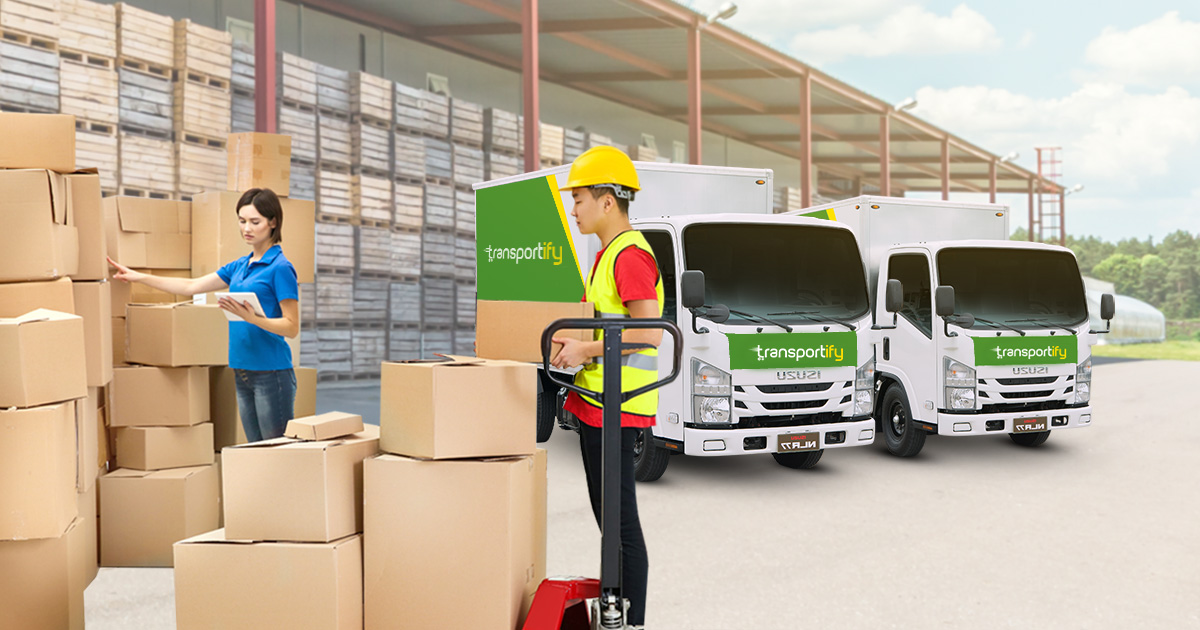 Whether you have a business that ships hundreds of packages in a month, a start-up that sends a few packages to their customers, or an individual engaged in e-commerce operations who deliver ordered items to consumers, knowing the basics of packing for cargo delivery service is essential. Surely, you would not want your customers to receive their goods in bad shape. Here in Transportify, we offer excellent freight logistics services at affordable rates. Get a price check now.
The safety of your packages depend greatly on the way freight logistics and cargo delivery service companies handle your packages, but the way senders package their items also play a crucial role. Even if the logistics company did their best in handling the cargo, it could still be damaged because of the way the sender packaged it.
At Transportify, we do our best to ensure that your packages will be delivered on time, and of course, in great condition as well. Packages can travel hundreds of kilometers through Transportify's network of responsible partner-drivers to reach its intended destination. Packing your shipment with appropriate materials in a correct way will aid in ensuring that these packages will arrive safe and intact.
Not only will proper packaging save your items from being damaged, it will also send a positive message to your customers. Imagine opening a cargo box and seeing the contents in disarray. This scenario would give your customers the impression that you put little effort and care into their ordered items. However, if items are well placed and in order, customers will be happy and grateful for the extra mile you did. And more often than not, that extra mile of ensuring that the cargo is packaged neatly and securely could translate to more customers buying from your store. In the end, the benefits of packaging your cargo properly goes back to you.
Transportify offers affordable rates for various vehicle types that can fulfill your cargo delivery service requirements. We have sedans and MPVs that can deliver food items, groceries and some electronic equipment. Our L300 and closed vans can do pick up and deliver appliances, home furniture and even gym equipment. For our freight logistics solutions, we have pick up trucks, long pick up trucks and 10 wheeler wing vans for large volumes of merchandise. Our mini dump trucks can satisfy your construction materials delivery requirements and our reefer trucks are ideal for transporting chilled or frozen goods. Check the table below to see our fleet prices.
Vehicle Type
Cargo Dimension
Capacity
Starting Price
Vehicle Type
Cargo Dimension
Capacity
Starting Price

Economy (Sedan/Hatchback)

L: 3.5 ft
W: 2 ft
H: 2.5 ft

200 kg

₱120

Economy Extra Space (SUV/MPV)

L: 5 ft
W: 3.2 ft
H: 2.8 ft

300 kg

₱140

L300/Van

L: 7 ft
W: 4 ft
H: 4 ft

1000 kg

₱415

Pickup Truck

L: 10 ft
W: 6 ft
H: Open

2000 kg

₱1800

Pickup Truck Extra Space

L: 14 ft
W: 6 ft
H: Open

2000 kg

₱2200

Closed Van (4W)

L: 10 ft
W: 6 ft
H: 6 ft

2000 kg

₱1800

Closed Van Extra Space (6W)

L: 14 ft
W: 6 ft
H: 6 ft

2000 kg

₱2100

Long Pickup Truck

L: 18 ft
W: 6 ft
H: Open
7000 kg

₱4850

10-W Wing Van

L: 32 ft
W: 7.8 ft
H: 7.8 ft

15000 kg

₱7500

Reefer Truck
L: 14 ft
W: 6 ft
H: 6 ft

2000 kg

₱2700




Mini Dump Truck

L: 10 ft
W: 6 ft
H: Open

3500 kg

₱1500

6w Fwd Truck

L: 18 ft
W: 6 ft
H: 7 ft
7000 kg

₱4850
There are factors that you must know when packaging items for deliveries. These are the length, width, height and weight of your cargo. These dimensions are essential since they determine the vehicle that you need to transport your cargo. For example, cargoes with lengths of up to 14 feet should use a pickup truck, not an L300 van. The weight of your cargo also plays an important factor in choosing the right vehicle. Items weighing more than 300 kg should not use an economy class sedan. Lastly, the nature of your goods is another determinant of the vehicle to use for transportation. If your problem is how to transport loose materials such as construction debris, then there really is no need to package your items. But if it is fragile items like glass and ceramic materials, then the closed van is the appropriate vehicle for your needs. Read on to get tips from experts on how to properly package your goods for cargo delivery.
Tips for Packing Items for Cargo Delivery Service
Now that you have an idea of how to pack your delivery items, here are some useful additional tips that you may follow to secure your packages. Remember, it's better to be prepared than to be regretful in the end.
We have all experienced the worst and disappointed in opening a package, only to find out that the item was damaged due to irresponsible and improper packing. Reducing the chances of this awful happening by following these few insider tips from the freight logistics experts is advisable.
Follow these essential packing tips to make sure that your items will arrive at its intended location safely and sound:
1Separate Fragile to Non-Fragile Items
Put those glasses, antiques, dishes, and other fragile items in a separate box. To create secure protection, you can wrap them individually by using a bubble wrap to limit their movements in the box.
Make sure that your boxes are secured with heavy-duty packaging tape, which can be purchased at any bookstore or hardware store near your area.
2Choose Extra Thick Boxes for Fragile Items
Put additional protection to your packages with sturdy and thick boxes that won't easily break open during the transit. Thick boxes give an extra layer of protection that can't be found in standard shipping boxes.
3Be Lavish with the Packaging Materials
This tip is crucial. Do not overfill the boxes and make sure that you use plenty of bubble wrap, packing peanuts, or expandable foam to provide cushion for the fragile items.
These packaging materials can be bought at your favorite hardware stores or some bookstores. If you have questions, our customer service will be glad to give you advice on the best possible way to secure your items. Here at Transportify, we provide outstanding trucking and freight logistics and cargo delivery service to satisfy our customers.
4Do the Shake Test
After packing a box, try doing a shake test. If you hear something move inside the box, it only means that the cargo is not secured enough. Immediately open the box and try adding more packing material to prevent the items from moving. You can trust any cargo delivery service provider to make sure your item gets delivered. But packaging it well by yourself can ensure its perfect condition.
5Use Original Packing Materials for Gadgets and Electronics
Most electronics and gadgets like laptops, tablets, LCD television, and other electronic appliances, arrive in packaging, which is created specifically for them. No boxes will protect them better than their own packaging. So, if the original packaging or boxes are still available, use it to ensure the safety of the electronic products before shipment.
6Disassemble Other Appliances and Housewares before Shipping
Remember, your furniture or other appliances may be permanently damaged if you try to move it without disassembling it first. For example, you may disassemble the legs of a dining table and box them separately for safekeeping. Besides, you can also remove cushions and foams from sofas and box them accordingly to prevent possible damage during the transit. By doing so, you will have the peace of mind that the cargo delivery services for your items will run smoothly.
7Shrink-wrapping For Business Shipping
To provide multiple or larger items extra security during the transit, consider shrink-wrapping the items to secure them from unwanted elements. Other freight logistics companies can guide you professionally to prepare your package by using the shrink-wrapping technique. Some of them also give custom packaging solutions if your packages require enclosed sides.
8Call the Experts
These tips are some of the few ways to protect your packages from getting damaged during the transit. For additional help, you can consult with a cargo delivery service personnel to give you professional assistance.
Whatever items you need to ship, Transportify is glad to be your delivery partner to provide the smartest, convenient, efficient, safest, and economical way to get your packages delivered to where it needs to be.
Complete Freight Logistics and Cargo Delivery Service Shipping
Again, many freight logistics companies have different options when it comes to shipping. However, Transportify goes the extra mile by providing excellent service and attention to detail when it comes to handling your precious cargo.
Transportify gives customized cargo delivery service that is not available with other freight logistics and transportation companies. We take our time to understand our customer's unique needs and craft customized solutions to make sure that your freight will receive only the most secure and fastest delivery available in the Philippines.
So, whether you're shipping products to your customers, gifts to your loved ones, or building your business's logistics solution for shipping tons of products around mainland Luzon, Cebu, and Davao, you can trust Transportify for a secure, accurate, efficient, and fast delivery.
Moreover, following these packaging checklists can help ensure that your packages will get to their intended destination safe and sound. Remember, it is better to be prepared than to regret things in the end. Following these guidelines will not cost you too much. Instead, it will give additional protection to your packages.
Frequently Asked Questions:
What are the available freight logistics services in Manila?
🚛 Transportify is a freight logistics company where customers can avail the services of a wide range of vehicles through a web app. With just a few clicks on your phone or computer, you can easily book a sedan or a 10 wheeler wing van for your delivery needs. The service area of Transportify covers the entire Luzon, Cebu, and Davao. Another example of a company is Timecargo logistics corporation. They offer sea, air, and land freight transportation services. They also offer warehousing services to store your goods for delivery. Excelsior, a total logistics company, offers international air and sea freight services to countries like Korea and Japan. They also have trucking services that can deliver from port to warehouse.
How does the cargo delivery service of Transportify works?
🚛 Transportify is a logistics marketplace powered by a web app where users can make bookings. For example, a customer wants to deliver a television unit to his friend in Angeles, Pampanga. He can access the Transportify web app, select an economy class vehicle and make a booking. The app will then assign a driver to service his booking. However, for businesses who require deliveries on a regular basis, the Business Program is the right choice for them. It is has multiple features tailored for businesses such as flexible payment terms and a warranty of up to 3 million pesos for lost, stolen or damaged goods during the booking.