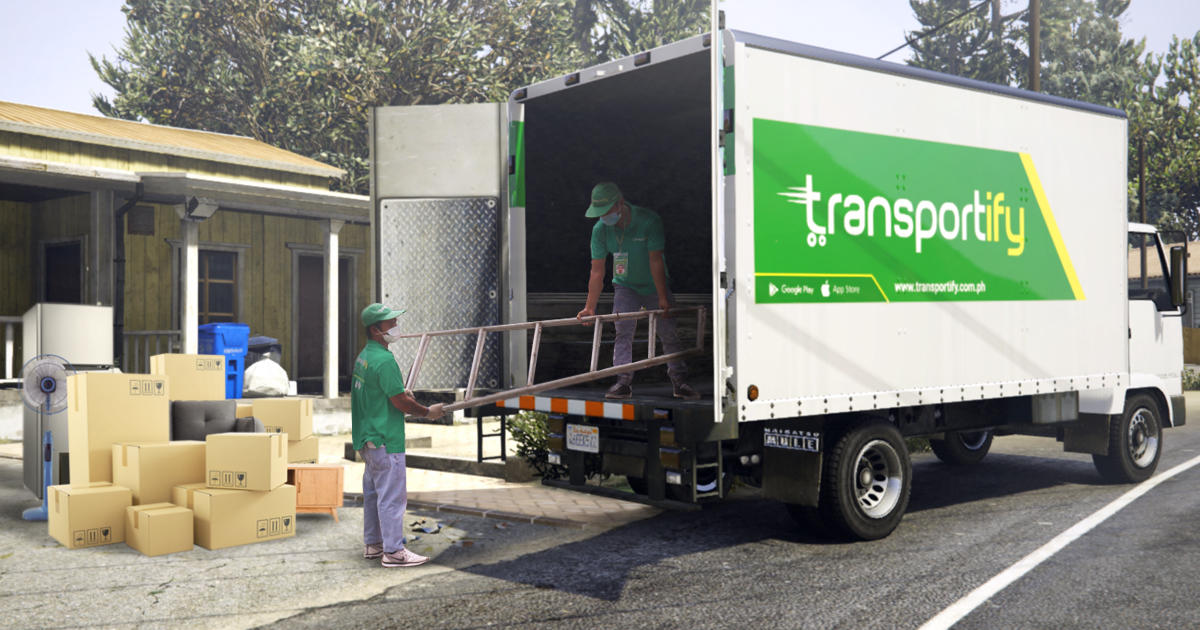 House moving, locally called lipat bahay anywhere in the Philippines, can be a stressful task because of the congested road traffic everywhere. Transporting household items won't be easy, especially if the delivery pickup or destination is within Manila. Due to moving house issues Filipinos usually face, Transportify prepared some updated lipat bahay tips to make your experience more convenient this 2021.
WE CAN HELP YOU
Load packages
Pick up from your doorstep
Deliver safely
Drop off deliveries
YOU CAN HELP US
Pack your packages
Disassemble your furnitures
Secure your furnitures
Box your deliveries

1Prepare Early
Filipinos are known for their last-minute decisions during planned events and trips, which you should avoid when you're about to move houses. Moving a whole household will occupy a lot of your time, which means that you better start early so you can do more with your time this 2021.
Keep in mind that you will be packing all sorts of years-long collected family possessions from bedsheets to living room furniture to kitchen appliances. Depending on the number of items you will bring, packing could last for days. It will be easier for you and your chosen logistics provider if the only thing left to do upon their arrival is loading your stuff into the lipat bahay truck.
2Get Organized
Aside from preparing early, one of the essential lipat bahay tips to hasten your packing is by being organized. Organizing your items is a very effective way of time management. You can also make a checklist so you can monitor which items you have and have not yet packed. Getting organized is a good practice to implement this 2021.
Before you start packing and begin unleashing household chaos, consider all the items that you'll be bringing with you for your 2021 lipat bahay operations. Identify the items according to their type and size, and if they are fragile or not so you can sort which items go together in one box. You should also consider how often an item is used daily so you can decide which items to pack first and which ones to pack last. Make sure to label the moving boxes according to the category of their contents (i.e., kids' toys, dining plates, baby clothes).
One of the greatest tips is that organized packing and having a checklist will not only help in packing and unpacking. Labeled boxes prevent confusion, and the checklist will help you quickly see if there are any missing items for your 2021 lipat bahay operations.
Note: To our valued customers, we want to highlight that your items should be well packed and organized before moving. This is especially to furniture and appliances that have large glass pieces. As much as possible, use appropriate packing materials such as bubble wraps, furniture covers and boxes to avoid unwanted problems during transportation.
3Consider the Date and Time
Deciding on the date and time of moving is essential both for you and your chosen transportation delivery service provider. Lipat bahay anywhere is more convenient if done during a sunny day and when there is no heavy traffic. To pick the best time and date for moving, keep updated on the local weather forecast and schedule a booking when there is the least possibility of rain. After all, you don't want your valued items to get wet during loading and unloading, do you? We also suggest that you pick a time that will avoid rush hour, thus avoiding being stuck in traffic.
4Estimate Expenses
House moving or lipat bahay anywhere can be an expensive task because of high lipat bahay truck rates this 2021. Those who wish to save money may choose cheaper options like renting a passenger jeepney. However, these kinds of delivery options are not always safe for your furniture and appliances.
A better way to save money is by doing early research for different available options. Avoid relying on just one lipat bahay truck rental service a friend recommended as there are many ways to find a moving truck nowadays. You can browse the Internet for nearby available logistics providers and the prices they have for the services they offer, helping you pick the one that best suits your budget.
5Select the Right Logistics Provider
Of course, a large part of the house moving or lipat bahay success is selecting the right service. You should consider the prices they offer, the services they are capable of, and their reputation in the logistics industry. With Transportify, you can be sure of our price transparency through our detailed Fleet and Pricing information. You can customize our truck services according to your needs, and you can ensure the safety and the current updated location of your valued possessions with our app's Track and Trace feature. Check our prices for Closed Van which is the perfect vehicle for lipat bahay operations this 2021.
Vehicle Type
Standard Rate
Full Day Rate
Manila
Vehicle Type
Standard Rate
Full Day Rate

Economy

₱120




+ ₱20 Per KM

₱1,800

Economy Extra Space

₱140




+ ₱20 Per KM

₱1,825

L300/Van

₱430




+ ₱27 Per KM

₱2,800

Closed Van

₱1,800




+ ₱45 Per KM

₱6,000

Closed Van Extra Space

₱2,100




+ ₱45 Per KM

₱6,300

Pickup Truck

₱1,950 




+ ₱50 Per KM

₱6,000

Pickup Truck Extra Space

₱2,350 




+ ₱50 Per KM

₱6,400
Please take note that delivery items involved in truck rentals are subject to a limited warranty policy, which means that we will take responsibility for any items lost, damaged, or stolen during its Transportify shipping. Our on-demand delivery app can also accept same day bookings, and it's effortless to use. With just a few taps on your mobile phone or a few clicks on your desktop or laptop, a moving van for lipat bahay truck anywhere will be at your service area.
Hopefully, once you've updated yourself with our house moving service tips, you won't have any problem on the big day.
SEE ALSO
More Tips For First Timer Before Booking A Lipat Bahay Truck Anywhere
For first-time movers, it can be incredibly overwhelming to be on top of everything and could miss the basics of moving. Here are a couple more lipat bahay tips that you should take advantage of when moving.
1Downsize where you can
As you shop around looking for the right logistics provider, you could encounter rates and deals that are new and expensive to your needs. Most delivery truck rental service require their vans to be full to get the best deal for the best service, but it forces you to stash everything you own in one container. It might take some downsizing on your part, especially if you are coming from a home you have lived in for a long time to cut back on your belongings.
Downsizing isn't easy but taking the opportunity during a lipat bahay shouldn't be as hard as you're doing it on an uneventful day. Since you are forced to go through all your things when packing, why not clean up a little bit. Everyone has a different method or philosophy behind their decluttering.
Mari Kondo's "The Life-Changing Magic of Tidying Up" found its way into mainstream media again after its initial publishing through the Netflix series based on the KonMari method. It is an excellent reference for those who need a thorough guide in navigating through the sea of personal items.
2Determine the needs of your route
Moving locations within the city is straight-forward. The terrain should be somewhat uniform and familiar. However, when you are moving from the province to the city or vice versa, it presents sub-challenges that you don't face every day. Try to best determine the needs of your route to better source your logistics provider or vehicle. A couple of questions you can ask are:
How far is the destination, is this a provincial move?
Are there any rough construction sites that might affect the smoothness of the ride?
Are there any significant bumps, steep slopes, or tight corners?
These questions can help you better manage your package solutions for delicate/fragile items. You can also use these as a reminder if you are having them delivered or are not the primary driver during the move. It could seem like an unnecessary extra step, but it is essential to know how much power you need to have for it to go hitch-free.
Provincial Lipat Bahay Services
Transportify also covers areas outside the Metro for our lipat bahay services. We can handle moving and relocation services to different provinces in Luzon like Pampanga, Pangasinan, Tarlac, Batangas, Lucena, Baguio, Cabanatuan and many more. Our services is considered to be the most affordable in the market. Take out the hassle out of your house moving with a reliable partner that can make your lipat bahay very convenient.
3Defer to those who have experience
Ask your family and friends about their moving experience. They might have proven tips that might help your specific situation. If you're unsure and you have no one to turn to for questions, Transportify has a 24-hour customer service line that can help you better understand your needs and supply you with the right solutions. Given that Transportify is in the business of moving things with a variety of scale and urgency, you can ask about what best fits for you.
We hope these tips helped you be prepared for doing lipat bahay anywhere & anytime. You can always book Transportify's lipat bahay truck for a hassle-free house moving anywhere in Luzon. Scan the QR code or click the buttons below to download the app:
| | | |
| --- | --- | --- |
| | or | |
Frequently Asked Questions:
Where can I rent a lipat bahay truck for my house moving?
🏡 Transportify's offers lipat bahay or house moving services anywhere in Luzon with our various vehicle types from sedans, L300s, closed van and pick up trucks. You can book our lipat bahay truck anytime using our web or mobile app and have your furniture and appliances moved anywhere in Luzon.
What are the best lipat bahay tips for first-time movers?
🏡 Here are some tips to achieve hassle-free moving: The most crucial tip is to prepare early so you'll avoid any problems with your house moving, Next is to organize your items and segregate accordingly. Be sure to pack and prepare your items ahead of time for easy moving. To know more you can read the article.