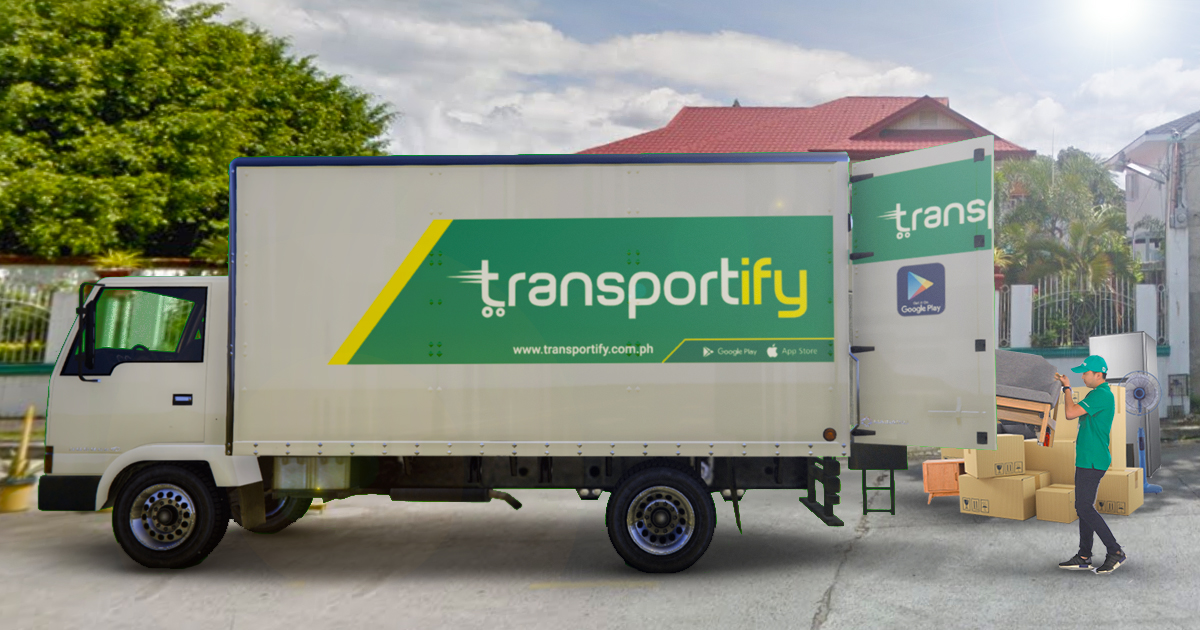 House moving or lipat bahay process can be an emotional rollercoaster–the excitement of living in a different place and meeting new people feels like a fresh start. However, the actual process of moving seems to be a whole different thing and a bit stressful to do. If you're in a province, access to find a logistics company that offers moving service may be limited and expensive since most of them are based in Manila and nearby areas only.
WE CAN HELP YOU WITH
Deliver your furniture to your new home
Load and unload on our truck
Secure your deliveries during transit
Assist you in carrying
YOU CAN HELP US WITH
Packing your furnitures in advance
Securing your fragile ornaments in a box
Wrapping, assembling/unassembling, taping your stuff

Transportify When Moving Houses From Pampanga to Other Provinces
Time to say goodbye to these lipat bahay Pampanga problems you don't have to face anymore. Transportify will help you move houses. We're a web and mobile delivery / movers app (with an average rating of 4.8-star). that provides same-day delivery solution to businesses and other logistics services like house moving, launched a new service city in Pampanga. With this, you can now book affordable moving service through our app (4.8-star) around Pampanga.
When preparing for your move, be sure that you are making the right choices. Transportify has different app features that you can customize to help you choose what service suits your lipat bahay Pampanga needs. Check out below details of our service.
1Flexible Vehicle Options
Choose a vehicle depending on how big your things are while considering your budget. Model choices for L300 vans include H100, HiAce, Urvan, and L300.
2Free Inclusions When You Book
Don't worry about these factors when you book Transportify as they're all included without any extra charges.
Driver
Fuel
Loading / Unloading
GPS Tracking
CS 24/7
Goods Safety
3Transparent And Affordable Pricing
We offer transparent pricing upfront so you pay only what you need with no hidden charges. Below is our list of vehicles perfect for your home-moving needs.
| Vehicle Type | Base Rate | + Per KM |
| --- | --- | --- |
| Vehicle Type | Base Rate | + Per KM |
| L300/Van | ₱330 | +₱22 |
| 4W Closed Van | ₱1,450 | +₱30 |
| 6W Closed Van | ₱1,750 | +₱30 |
There's a Full Day service you can book from Transportify for when your moving might take the whole day. Our Full Day option provides 10 hours of vehicle use and additional services you will avail with unlimited distance and destinations within our standard service area.
4Extra Options Depending On Your Needs
Driver Help
Extra Helper
Extra Stops
If you can't travel alongside the vehicle you booked, supervising where your things are is not a problem. Transportify has track and trace feature that allows you to locate the vehicle you booked. Using Global Positioning System (largely known as GPS), Google Maps, and the Internet, you can monitor the location of your booking and see the estimated time of arrival of the vehicle.
Transportify, the best movers app (4.8-star) gives you the assurance that your things are heading in the right direction and destination for lipat bahay Pampanga.
SEE ALSO
Top 5 Reasons to Use a Movers App for Lipat Bahay In Pampanga
A new house signifies a fresh beginning. That is why, when transferring, you have to take into consideration different factors to make it as hassle-free as possible.
Pampanga, one of the significant regions in Central Luzon, has over two million residents. It has become one of the highly urbanized places in the Philippines, and as such, more residential buildings are being built. Residents comprise at least 44% of the number of customers that uses the services of professional movers.
With the advent of technology, moving to a new place has become more accessible. Various mobile applications can help in the transportation and handling of your boxes.
However, with tons of different options, how can you select the best movers app for your lipat bahay in Pampanga? To help you with your dilemma, here are five reasons why you should use the help of a professional mover when transferring to a new place.
1No need for multiple trips
If there is anything that makes moving a struggle, it is the fact that all your stuff will not fit in your car. As such, you will most likely have no choice than to make multiple trips.
To save time and gas money, your best option is to use a movers app like Transportify. A professional mover has the necessary vehicle that you need that can fit all your furniture and boxes. There would be no need to move back and forth because you will only have to travel once.
2Get a helping hand
Moving stuff, especially furniture, can be quite burdensome on your body. You will probably end up with back and shoulder pain if you do all the carrying. For this reason, having a professional mover will significantly benefit your health.
Not only does a movers app provide a driver, but they will also help give you the extra helping hand that you need. As such, you do not have to carry all these heavy furniture. You can sit tight, relax, and let the professionals do it for you.
3Use specialized equipment
In addition, one of the primary benefits of having a professional help you with your moving is that they have the necessary equipment that you need. Ramps, hoist straps, and dollies are readily available to make a move smoother and easier.
With a movers app, you do not have to separately rent this equipment because they will provide it for you. With professional movers, you can save a lot of extra costs than making a move by yourself.
4Available anytime
One of the distinctive features of a professional mover through a movers app is that their services are available anytime. Unlike other moving companies where you have to book ahead of time, a moving service app can do it anytime for you.
Just by downloading their application in the App Store or Play Store, you can use their services even at the last minute.
5Everything remains organized and safe
There is no better option to keep all your furniture and boxes safe than have a professional mover do it for you. They are equipped with the right facilities, equipment, and skills needed to have all your items moved without any scratches or damages.
Note: We encourage our customers to safekeep their items especially those that are made out of large pieces of glass. Kindly use appropriate packing materials such as bubble wrap to ensure extra safety of the cargo during transportation.
Why Should You Use Transportify's Movers App for Your Lipat Bahay in Pampanga?
Residents in Pampanga have various reasons when relocating. Generally, most people will move to a better home or one that is located near their work. As such, have a fresh start by using Transportify's services.
The esteemed app now offers their services for those who are planning a lipat bahay in Pampanga. How to avail of its services? You can download the application in the App Store for iPhone users and the Play Store for Android users.
On the other hand, Transportify also offers not only one mover but also additional helpers if you need them, for an extra cost. They are readily trained and equipped to assist with anything you need.
Transportify's lipat bahay service is truly the best option that you can have when moving to or from Pampanga. Our vehicle fleet consists of not only an L300 but also a ten-wheeler van. So, no matter how many items you have, we can readily assist you.
Provincial Lipat Bahay Services
Our service area for lipat bahay services also covers different cities in Luzon such as Baguio, Subic, Cabanatuan, Tarlac City, Balanga, Laoag City and many more. We can handle your moving and relocation at the most affordable rate in the market. Our driver-partners are trained to give best quality service to meet and exceed the expectations of our customers.
What are you waiting for? Download the app now, and enjoy your fresh start in your new home with Transportify's premium moving service.
| | | |
| --- | --- | --- |
| | or | |
Frequently Asked Questions:
Are there lipat bahay / movers apps I can use?
🚚 One app you can try is Gawin.ph, an odd-job platform that offers moving services around Metro Manila. Another app is Mober which focuses on deliveries and bulk moving in Metro Manila. Lastly is Transportify, a logistics app that does delivery & moving services anywhere in Luzon. Your lipat bahay services can be fulfilled  hassle-free and immediately with our fleet.
How much does lipat bahay cost in Pampanga?
🚚 House moving services offered in online listings of carousell ranges from ₱1,500 – ₱3,000 depending on who you hire. You can also try out Transportify, a mobile / web delivery app that offers lipat bahay as part of it's services. Pay only for the vehicle you need and the distance. Price starts at ₱330 for the L300 / Van.