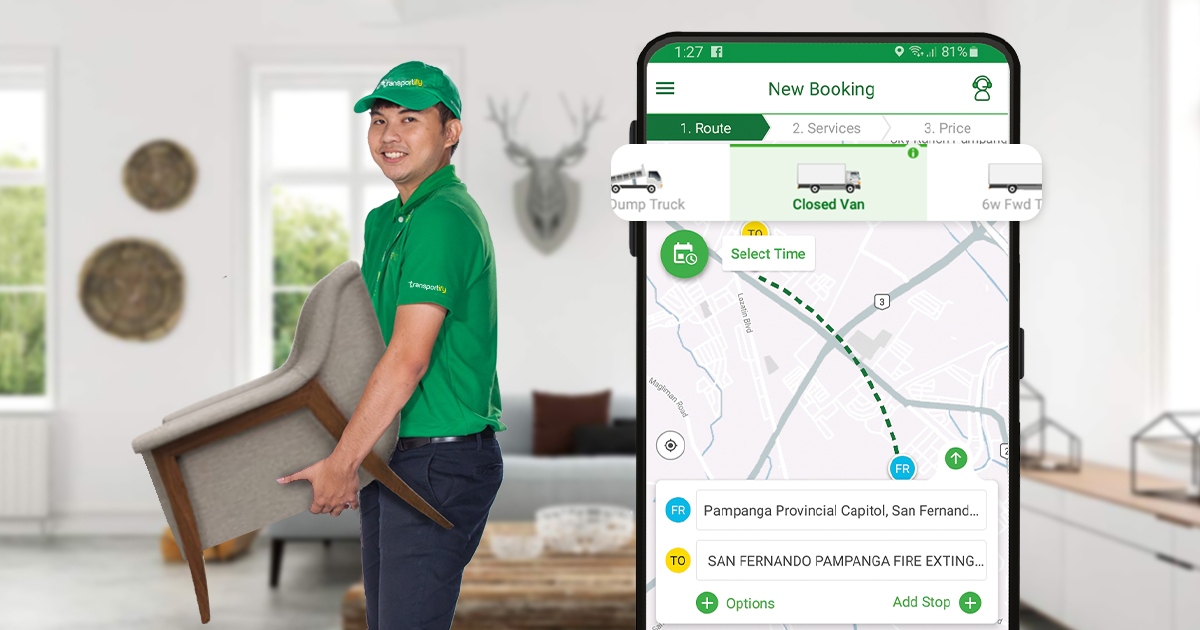 Moving home is never a fun activity. Sure, we all love the result of being able to settle into your beautiful new home or getting that new furniture when everything is said and done. Still, the actual process is arduous, stressful, and time-consuming. The simple act of transplanting your life from one place to another can be a huge undertaking. Ignoring all of the legal caveats of arranging new contracts and moving days won't help ease moving. This is only made more troublesome by the most often quoted "worst part" of this process – moving heavy furniture. Skip the hard part of moving by clicking the buttons below to book the best app for moving furniture and relocation service (4.9-star).
Tips To Make Your DIY Moving Easier
What we can offer
Load your stuff in the truck
Take care of your delivery
Secure your packages while on transit
Unload your stuff upon arrival
What we can't offer
Package your stuff
Box and wrap your packages
Provide boxes and packaging materials

Trust vs. Ability
One of the biggest problems people face with moving furniture & relocating is that it is honestly a difficult thing to do. These are large, bulky items that often don't come apart and are very cumbersome to maneuver through buildings. The solution most people seem to prefer when moving is asking help from people they trust instead of an app for moving furniture. This is a very noble thing to do and a pretty obvious choice in many matters, but just believing people does not make them expert furniture movers. Hiring a stranger from an app for moving furniture may be difficult but seeking help from professionals results in minimum risks. Transportify, a well-known app for delivery and relocation service (4.8-star) and Manila's top choice for online furniture delivery in the Philippines, knows how to handle large items and get furniture delivery done quickly and safely, meaning you get more time to relax at the end of the day.
Reliability vs. Cost
Many of us might seek help from friends and family when it comes to moving, but is this always a good thing to be doing? Of course, those closest to us are going to agree to help out. Still, this is a favor. If something else comes up, then you may get left without the help you expected for perfectly understandable reasons. Using a professional app for moving furniture, will mean that you have the people you need at the right time to get the job done conveniently.
A mobile and web app for delivery service that offers furniture delivery knows how to move big items, making Transportify the ideal app for moving furniture, as well. Transportify allows you to book well in advance, and you will know exactly their arrival and how much it is going to cost before the moving day. It may appear that this is trying to emphasize a paid-for service. Still, it's saying putting a burden of expectation on those closest to you at the risk of reliability. You can pay a nominal fee and ensure that everything is taken care of on time and without the risk of damage to your furniture or your loved ones.
Check the pricing table below to get an idea of how much moving furniture will cost you.
Vehicle Type
Dimensions/
Weight Limits
Base Price


(Metro Manila)

Base Price


(Outside Metro Manila)

Base Price


(Visayas/Mindanao)

Wing Van 

32 to 40 x 7.8 x 7.8 ft




12000kg to 28000kg

7500 PHP

6500 PHP

6500 PHP

6w Fwd Truck

18 x 6 x 7 ft




7000kg

4850 PHP

4850 PHP

4850 PHP

Closed Van

10 to 14 x 6 x 6 ft




2000kg to 4000kg

1800 PHP

1450 PHP

1450 PHP

Open Truck

10 to 21 x 6 ft x open




2000kg and 7000kg

2300 PHP

1950 PHP

N/A

L300/Van

8 x 4.5 x 4.5 ft




1000kg

430 PHP

330 PHP

310 PHP

Small Pickup

5 x 5 ft x open




1000kg

310 PHP

250 PHP

220 PHP

Light Van

5.5 x 3.8 x 3.8 ft




600kg

250 PHP

192 PHP

225 PHP

MPV/SUV

5 x 3.2 x 2.8 ft




200kg

160 PHP

130 PHP

140 PHP

Sedan

3.5 x 2 x 2.5 ft




200kg

140 PHP

110 PHP

120 PHP
Full day rate allows you to rent the vehicle for up to 10 hours. You can also head to our fleet and pricing page to know more.
Why Use An App For Moving Furniture and Relocation Service?
Moving your furniture yourself is rarely a solo task. When people say they would instead do it on their own, they mean moving with their community as opposed to a hired relocation service. The points raised above explain that while this sense of community and camaraderie worked well in the past, it is not an ideal solution for future moves. When things go wrong like a misplaced box, a destroyed antique, or sentimental time—it tests your relationships. Any shortcoming on your or their part can ultimately sour an otherwise healthy partnership. Transportify can become a part of your community. Honesty and reliability are traits that take time to develop. You can opt for a small test run of this app for moving furniture and see how you feel about it.
Intra-city vs. Provincial Relocation Services
Another thing to note about moving homes is that not all homes share the same level of difficulty. Moving within the city might garner more support from your community, given the proximity. You could also be partial to multiple trips if the distance isn't too bad. You might consider an app for moving furniture and nothing else since it is relatively easy to navigate the area. If your previous experience for moving has mostly been intra-city, don't assume it would work the same way for long distances.
Moving from the province to the city, or vice versa, is a different kind of struggle. You will not have the same enthusiastic response for assistance. You cannot set out on multiple trips to haul all of your things. If you are moving to the area for the first time, you could get lost and deal with issues specific to the terrain. Transportify takes care of all of these problems. They have an area of service in Metro Manila, and they have services outside Manila, like Baguio City and Pampanga. The drivers know the routes well, and there will be no time lost with detours. The app (that's rated 4.8-star) offers different vehicles depending on the needs and volume of your items. A relocation service simplifies an otherwise daunting task.
Note: We highly encourage our lipat-bahay customers to become more cautious in packing their items especially those that are made out of large glass. Use bubble wraps and other packing items to safekeep your cargo during transportation.
Multiple Trips vs. One Go
When you are moving homes, there is an option to do it gradually over time and multiple trips. You could take the time to haul your items in your car or take a taxi. It takes a lot of work considering the coordination between the two points, but you can do it yourself without calling for help. However, if you are prone to forgetting and misplacing items, moving in one go is ideal. It may seem more expensive, but taking a taxi or renting smaller vehicles have hidden expenses. You are at the mercy of traffic and gas price hikes. A relocation service like Transportify has a clear price list, and extra services are marked out clearly. The quote given at the beginning is the amount you will pay in the end, a simple transaction with no hidden fees. When you are looking for an app for moving furniture, working with Transportify takes care of questions like, "Can my car handle the trip?" And "Do I need to make multiple runs?"
Old vs. New
Ultimately, the question of a relocation service over DIY moving your furniture is about your willingness to try something new. Traditionally, Filipinos have always moved their homes literally with the power of the community when they would physically carry bahay-kubos from one place to another. The level of trust and willingness to help may persist until today, but not everyone has the time to commit. Using a relocation service does not mean an end Filipino values, but merely an extension of it. The driver and extra helping hand for your move can still imbibe these traditional values but in a modern setting given the app and website. There are systems in place that bridge the gap between strangers with the two-way chat feature and the GPS tracking system. You can follow the move on your vehicle and not have to worry about a thing since you can contact the driver and vice versa when issues arise.
Make a move on your terms. Don't wait for somebody's schedule to work out. Don't wait for the person with the right kind of car to offer help. Don't fret over giving the right type of compensation for family and friends when they pitch in to help. Transportify is a relocation service only download away, and it takes care of these small details that may escalate to a full-blown issue.
Frequently Asked Questions:
What are apps for moving furniture?
📱Here are apps you can try out depending on your location: For moving within the USA, you can book Dolly. Dolly is an on-demand app that also offers a moving and delivery service. If you're in South East Asia, you can try out Deliveree (known as Transportify in the Philippines) an on-demand cargo movers app that offers different vehicles depending on the size of the item you'll move.
How much does relocation services?
📱Hiring professional movers from top companies would cost around ₱6,000 – ₱10,000. You can try Online listing in carousell that could cost you around ₱5,000. You can also try booking an app like Transportify that charges depending on the distance and vehicle, which costs as low as ₱1800 for Closed Van trucks.