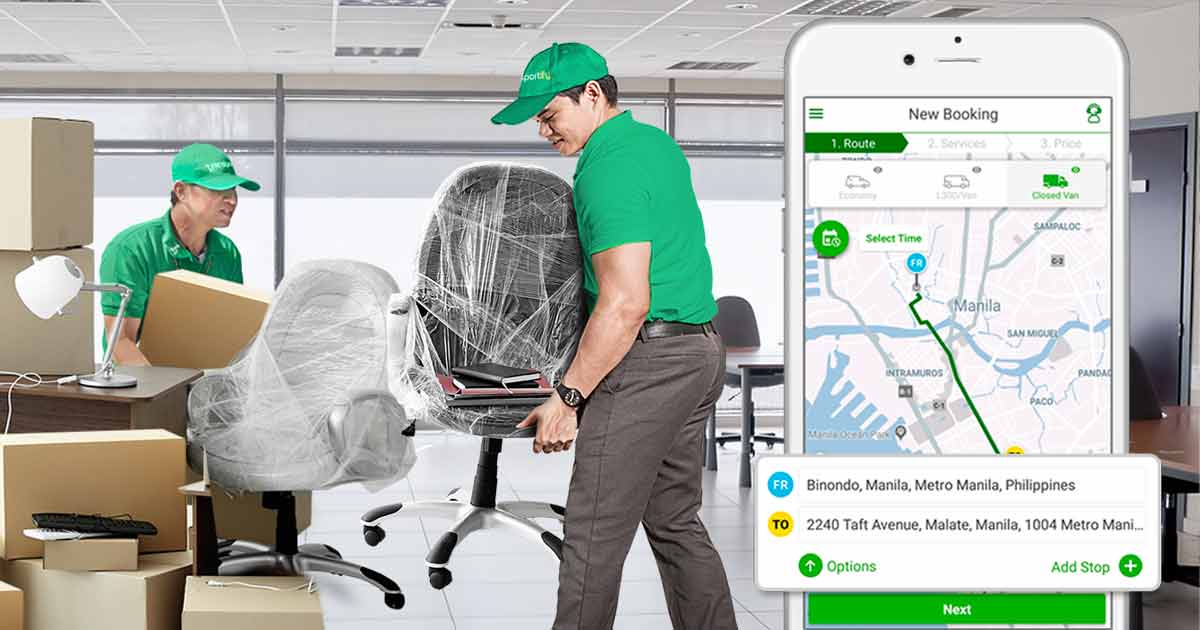 A quiet revolution has taken over the Philippines. In 2016, different transportation technology companies launched in Mega Manila. Operating primarily through mobile apps, these companies are offering a marketplace driven, on-demand, and affordable pick-up and delivery service aimed at corporates, food & beverage, retailers, and even individuals throughout Mega Manila.
One leading unique player this 2023 is Transportify that modernized house and office relocation services with its intracity movers app. Currently, the largest in the market with thousands of vehicles in its marketplace covering Baguio, Pampanga, Mega Manila, and select areas to the North and East of including Meycauayan, Cainta, Antipolo, Taytay, and San Mateo.
Offering Eco Cars, L300s, and closed vans for delivery and relocation services, Transportify boasts an on-demand feature where you can make a booking and get matched with a driver in real-time who promises to arrive as early as 60 minutes after the confirmation. It's not as fast as Uber, but these are trucks and commercial vehicles, after all. Alternatively, as Transportify encourages, use the schedule option to book up to two weeks in advance to plan your house or office relocation for stress reduction. The service itself is nearly full service, including a driver, loading at the pick-up, and unloading at the dropoff. The app has some Extra Services that allow you to customize your booking so that you only pay for what you need and nothing more.
Aside from being the number one 2023 movers app for consumers , Transportify can also be used effectively by 3PL, forwarding company, express company, and relocation company players. It even offers a viable alternative to Uhaul and other DIY hauling and transportation options.
Vehicle Type
Dimensions/
Weight Limits
Base Price


(Metro Manila)

Base Price


(Outside Metro Manila)

Base Price


(Visayas/Mindanao)

Wing Van 

32 to 40 x 7.8 x 7.8 ft




12000kg to 28000kg

7500 PHP

6500 PHP

6500 PHP

6w Fwd Truck

18 x 6 x 7 ft




7000kg

4850 PHP

4850 PHP

4850 PHP
Closed Van

10 to 14 x 6 x 6 ft




2000kg to 4000kg

1800 PHP

1450 PHP

1450 PHP

Open Truck

10 to 21 x 6 ft x open




2000kg and 7000kg

2300 PHP

1950 PHP

N/A

Mini Dump Truck

10 x 6 ft x open




2000kg

1500 PHP

1200 PHP

N/A

L300/Van

8 x 4.5 x 4.5 ft




1000kg

430 PHP

330 PHP

310 PHP

Small Pickup

5 x 5 ft x open




1000kg

310 PHP

250 PHP

220 PHP

Light Van

5.5 x 3.8 x 3.8 ft




600kg

250 PHP

192 PHP

225 PHP

MPV/SUV

5 x 3.2 x 2.8 ft




200kg

160 PHP

130 PHP

140 PHP

Sedan

3.5 x 2 x 2.5 ft




200kg

140 PHP

110 PHP

120 PHP
So whether you are a new family moving into your new house, an expanding company that needs to relocate their office, corporate, F&B, retailer, or an individual who needs affordable same day deliveries to your customers in Mega Manila, give Transportify a try and see for yourself if it truly is a revolution. Also, if you're a 3PL, forwarding company, express company, or relocation company, or even Uhaul, try Transportify as your number one sub-provider or contractor for days when your standard fleet is stretched.
Learn more about the number one movers, Transportify, by browsing our site, or contact us through our live chat function.
SEE ALSO:
What are the Best Practices to Make Office Relocation Services Easier?
Packing, boxing, and moving office items from one place to another is a tedious task. Taking into consideration the act of carefully organizing and storing important documents, there must be a careful planning process before the actual day of moving.
To make things easier, here are several practices that many companies use to streamline office relocation.
Use relocation services from movers app
Ultimately, the top choice for most companies in doing an office relocation is to use the services of a professional mover. Companies comprise 40% of the total users of moving services. The following are the reasons why office relocation is best done with a professional mover like Transportify.
Cost reduction
Most businesses move to another location to be closer to their target market or to save costs in running the business. Besides, moving to a new office where the shortcomings of the former location are duly addressed would be great for the welfare of your workers. Therefore, it is always in the company's interest that the transfer will not be too heavy on the pocket.
The use of a 2023 movers app for relocation services is more cost-efficient than having to do it on your own. If you individually purchase boxes, organizing materials, vehicle rentals, and gas, this can be troublesome because there might be some shortage, which will make you spend over your budget. With a relocation service like Transportify, you get to see the breakdown of expenses upfront without being surprised by extra charges.
Less hassle
The goal of relocation services is to take care of everything for you – from the vehicle, manpower, and storage boxes. All you have to do is supervise the transfer. You would not break a sweat because everything is already handed to you. You can just leave an instruction, and the movers will do the rest.
Secure items exposed to risks
Some office equipment is fragile and requires the utmost care in transferring. Also, there are heavy machineries such as photocopiers, office tables, and lounge couches. That is why relocation services are the best option in office relocation.
Note: Items with large glass pieces should be well packed and fully bubble-wrapped to ensure safekeeping and avoid unwanted problems during transportation.
Professional movers and freight companies know how to handle the transfer of fragile equipment and heavy machinery. By getting their services, you need not worry about the risk of breaking these items or plan how to move the big machines.
Classify and label all items and boxes
Before the actual day of moving, all your things should be in storage boxes. A common and essential practice in office relocation is to make sure that all your storage boxes are duly labeled. This can help both in the moving and unpacking process.
Also, make sure that all boxes with fragile items inside are labeled in an eye-catching way to avoid breakage.
Know what not to bring
Homeowners are not the only people guilty of hoarding items. Sometimes, storing unnecessary office equipment can be detrimental. It is important to take note that office relocation aims to be in a new and better place. So, if there are items that do not serve their purpose anymore, it is best for them to be thrown out or donated.
Transportify is the best movers app for office relocation!
Gone are the days where companies have to personally go to professional moving companies to avail of their services. Mobile applications have helped make the facilitation of moving faster. One of the best movers app providing relocation services in the Philippines is Transportify.
Transportify has an extensive set of vehicles that varies in size and price. Included in their array are large trucks that can take care of office furniture and a commercial vehicle for small items. With these vehicles available, you can select according to the number of items intended to be transferred as well as maintain a budget through its customization feature.
Transportify's professional movers app services do not end in vehicle rentals. With the application, you can have not only the vehicle of your choice but also a professional mover to carry all the boxes, which will leave you relaxed throughout the transfer process. The movers are also very kind and are trained to ensure customer satisfaction in all ways possible.
In addition, the movers app of Transportify makes it easier for you to secure its services. By downloading the application, you can book for professional movers two weeks before the actual moving date. The app also offers pick-up and delivery services for cases where there are last-minute items needed to be transferred.
So, if you are planning for an office relocation any time soon, then download Transportify's movers app now. As the best provider of relocation services in the Philippines, we can guarantee that the transfer process is safe and easy.
Download the Transportify app now by clicking the button below or scanning the QR code.
| | | |
| --- | --- | --- |
| | or | |
Frequently Asked Questions:
What are the available movers apps in the Philippines?
🚚Gawin is a hire service app that lets you connect to different providers to do your moving while Transportify is a delivery & movers app that lets you book different vehicles depending on what you need to assist in your moving.
How much would office relocation cost?
🚚Hiring from online listing to help you in your office relocation usually costs around ₱6,000-₱10,000. A good alternative is booking Transportify's relocation services where you can save up to 40% by paying only for the vehicle you booked & the distance. Our 4-wheeler closed van prices at P1,800 base price and +₱45/km and already includes an extra helper.