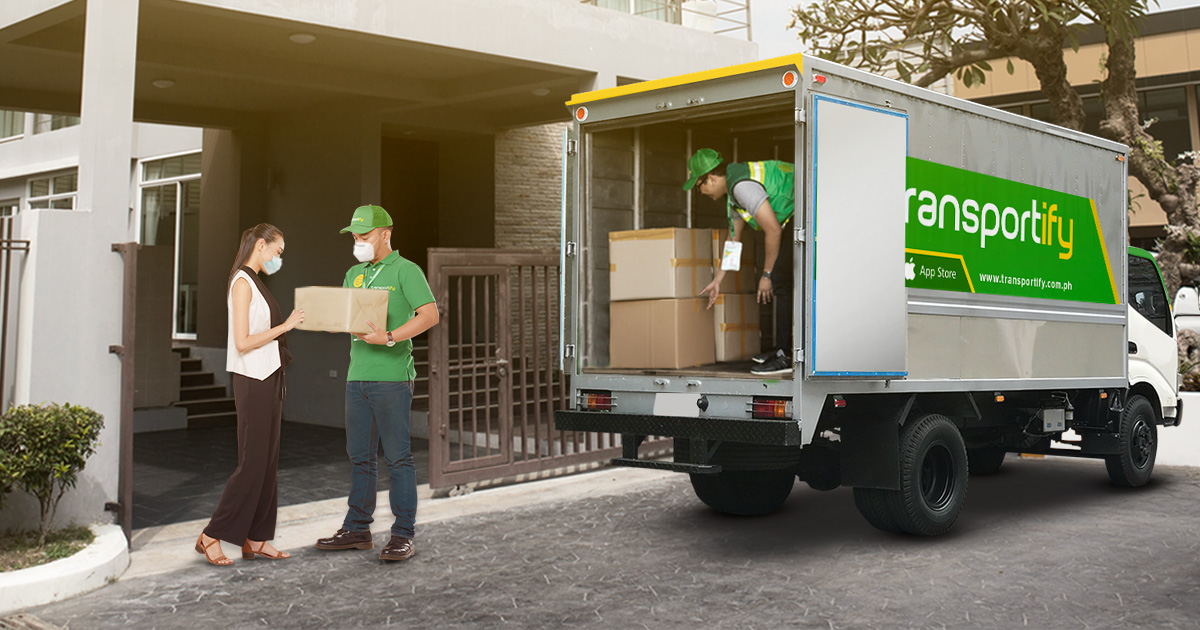 In recent years, there has been a tremendous shift in the way people purchase goods and products. It used to be the case that people would visit stores and shops in shopping centers in order to purchase new apparel, gadgets, or other similar items. Nowadays, with the growing popularity of online selling platforms and services, consumers purchase goods online and have those items delivered to their homes. Thus, the home delivery service being offered by many retailers has become indispensable. But in order for business owners to fulfill the delivery requirements of their customers, a truck hire app such as Transportify is needed.
What are Home Delivery Services?
Home delivery services are a type of logistics solution wherein goods and items are delivered straight to the home of the customer instead of the customer having to pick them up in a fulfillment center or other similar establishments. This means that the retailer is the one responsible for organizing the last mile delivery operation from the store up to the home of the client.
The table below shows the popular vehicle types for home delivery operations.
Vehicle Type
Dimensions/
Weight Limits
Base Price


(Metro Manila)

Base Price


(Outside Metro Manila)

Base Price


(Visayas/Mindanao)

Wing Van 

32 to 40 x 7.8 x 7.8 ft




12000kg to 28000kg

7500 PHP

6500 PHP

6500 PHP

6w Fwd Truck

18 x 6 x 7 ft




7000kg

4850 PHP

4850 PHP

4850 PHP

Closed Van

10 to 14 x 6 x 6 ft




2000kg to 4000kg

1800 PHP

1450 PHP

1450 PHP

Open Truck

10 to 21 x 6 ft x open




2000kg and 7000kg

2300 PHP

1950 PHP

N/A

L300/Van

8 x 4.5 x 4.5 ft




1000kg

430 PHP

330 PHP

310 PHP

Small Pickup

5 x 5 ft x open




1000kg

310 PHP

250 PHP

220 PHP

Light Van

5.5 x 3.8 x 3.8 ft




600kg

250 PHP

192 PHP

225 PHP

MPV/SUV

5 x 3.2 x 2.8 ft




200kg

160 PHP

130 PHP

140 PHP

Sedan

3.5 x 2 x 2.5 ft




200kg

140 PHP

110 PHP

120 PHP
As mentioned above, the popularity of home delivery services has grown exponentially in the last few years thanks to numerous online selling platforms. In fact, an article from Manila Bulletin states that the use of online selling platforms is rapidly increasing in non-metropolitan areas in the Philippines.
Furthermore, the Philippine digital economy has experienced a 55% growth in the past year thanks to these online selling platforms and applications. Thus, in these times when there are restrictions in movement, a retail company should consider pivoting to an online selling business model and using a truck hire app such as Transportify to fulfill the logistics requirements.
It is an undeniable fact that many consumers opt for home delivery services because of the numerous benefits that go along with them. From the comfort and convenience provided by shopping at home to the savings in time as a consequence of not having to go out of the house, it is not surprising that many customers are attracted to this business model.
In the section below, we will explore the main reasons why many consumers opt to shop online and use home delivery services as the logistics solution to bring goods to their homes.
Spend less time shopping
In today's busy world, time is as precious as money. This explains why there are numerous productivity apps aimed at optimizing the usage of time for their users. After all, we only have 24 hours in a day and there are so many things to be accomplished.
Online selling and shopping have grown in popularity not just in the Philippines but all over the world because of the time savings it brings. With online shopping, there is no need to spend a lot of time traveling to the shopping center and going over the different stores one by one. And sometimes, there is the added frustration that the item you are looking for is currently out of stock.
With online shopping and home delivery services, all you have to do is enter an online shopping website and look for the item you want. Whether it is a new pair of shoes or a new laptop, an online selling platform would have just the right item you are looking for. Furthermore, it gives you numerous choices and there are many great deals when buying items online. And all these shopping activities need not take a lot of time since all you have to do is log in to the online selling store, look for the desired product and enter your payment details.
Better comfort and convenience
It is only natural that consumers would opt for the most comfortable and convenient method of shopping. If they can purchase items from the comfort of their home using their phones or computers, then perhaps there is no need to visit the physical store.
This is another reason why online shopping is very popular in the Philippines and in many other places around the globe. Being able to shop at home means that a consumer can do online shopping at any time of the day. Thus, people who are busy during the day can spend some time in the evening browsing through various online selling stores. And with the use of a truck hire app for home delivery services, they can order their goods and have them delivered to their doorstep. No need to personally visit the physical store of the retailer.
Prompt and efficient delivery operations
Another reason why the online selling and buying business model is a success in the Philippines is because of the promptness of the home delivery service, especially if the retailer uses a truck hire app like Transportify.
In many cases, online stores promise next-day delivery or delivery within the week schemes. And more often than not, they do stay true to these promises, especially those online retail stores that use truck hire apps like Transportify.
Furthermore, Transportify has numerous vehicle types and can pick up and deliver items nationwide. This means that an online retailer based in Metro Manila can deliver his goods to a customer in Batangas city using any vehicle type from Transportify.
With this kind of e-commerce logistics infrastructure in place, many consumers are confident in buying their goods online because they are assured that their purchased items arrive within a reasonable time and are still in good condition.
SEE ALSO
Why Use a Truck Hire App for Home Delivery Services?
In our present day setting, consumer behavior has shifted from buying items from a physical store to purchasing items via online selling platforms. This means that many Filipinos are now accustomed and even prefer to buy things online rather than having to leave the house and drive to a shopping center. Thus, for a company engaged in online commercial activities, it must have the necessary logistics infrastructure in place that can support and fulfill the delivery requirements.
This is where a trucking and logistics company like Transportify comes into the picture.
A business need not create its own in-house logistics department. Such an endeavor would cost a lot of money since it would mean procuring numerous trucks and other delivery vehicles to support the logistics operations. On top of that, it would only open the doors to other problems in the future such as vehicle breakdowns.
With a truck hire app like Transportify, a business can easily book a delivery van or truck at any time and from anywhere in Luzon, Cebu, and Davao. The Transportify app also comes with numerous benefits such as 24/7 live customer service support and the ability to track and trace your delivery in real-time.
Furthermore, Transportify offers a corporate account for those businesses that are in regular need of logistics services. This corporate account brings with it exclusive benefits such as having your own account manager and goods insurance of up to Php 3 million.
| | | |
| --- | --- | --- |
| | or | |
Frequently Asked Questions:
How does the home delivery service work?
🏠 The home delivery service operation is a logistics solution that involves coordination between the retailer and the logistics company. First, the retailer records the address of the customer that will be used as the drop-off point by the logistics company. The retailer then forwards all pertinent information to the logistics company that will handle the delivery operation from the source up to the customer's home.
What is a truck hire app?
🏠 A truck hire app, such as Transportify, is an online platform that connects customers with drivers or truck operators. Customers use a truck hire app because they want to outsource the logistics operation to drivers or truck operators with the appropriate vehicle type. By using a truck hire app, a customer specifies the pertinent information such as pickup and drop-off location, vehicle type, extra services, and then the app's server will match the booking request with an available driver.