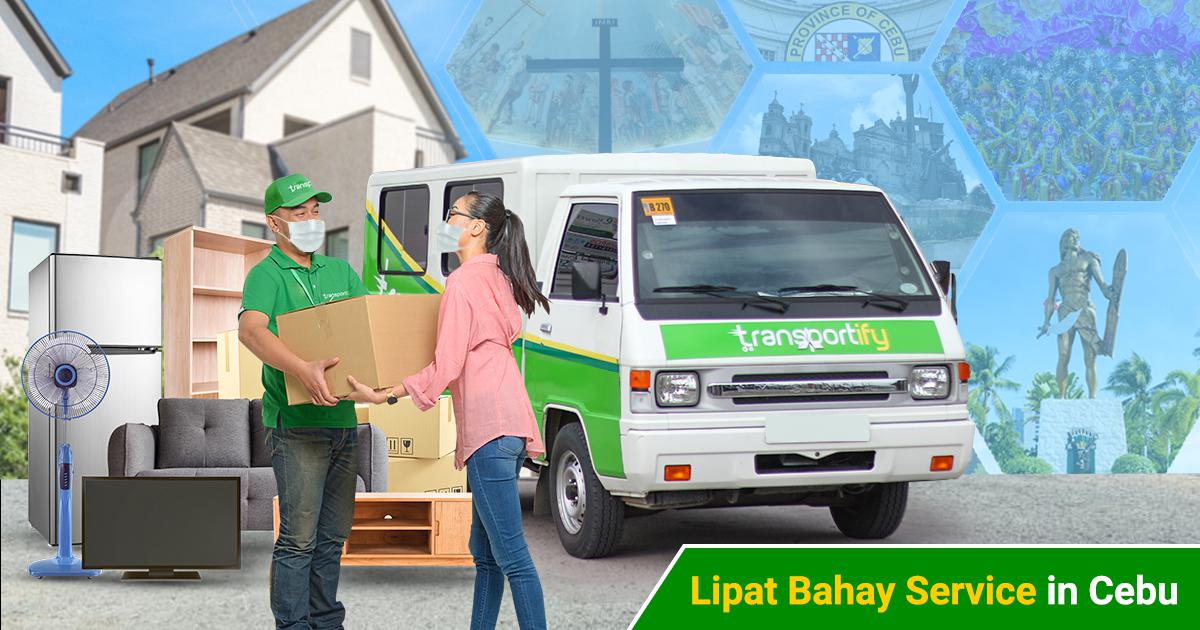 Truck rental app is a great tool to use when doing a lipat bahay in Cebu city because mobile phones and the internet are a big part of our lifestyle. The availability of applications make delivery services more accessible, which is why the "deliver goods with just a push of a button" is so in-demand today. Imagine the convenience of using a truck rental app for your lipat bahay because there is no need to stress about safety, insurance, timely delivery, fuel, and driver throughout your lipat bahay journey. Transportify is here to elevate your experience using our truck rental app for lipat bahay in Cebu city.
How Does the Lipat Bahay Service of Transportify Work?
Lipat bahay in Cebu city, and in general, can be a tiresome and costly activity. It may be necessary to conduct extensive research to find a company that can provide you with the right vehicle and price. Transportify has revolutionized lipat bahay in mainland Luzon through our truck rental app, and we want Cebuanos to experience just the same quality service.
WE CAN PROVIDE
Door to door pick up and drop off
Load and unload for each location
Safe transport
GPS tracking of the entire delivery from pick up to drop off
WE CANNOT
Assemble and pack your item
Provide boxes and any packaging

Easy booking process
To start your lipat bahay in Cebu city via Transportify, you must first make sure to have the app. Our on-demand truck rental app for cheap lipat bahay is always ready to take your booking and find a driver for you. Make sure to measure your items first and compare them to the size of our fleet so you can choose the suitable vehicle for you. Below is a table for our wide vehicle selection that you can use as a guide:
Vehicle Type
Dimension &
Weight Capacity
Base Price


(Visayas/Mindanao)

Wing Van 

32 to 40 x 7.8 x 7.8 ft




12000kg to 15000kg

6500 PHP

6w Fwd Truck

18 x 6 x 7 ft




7000kg

4850 PHP

Closed Van

10 to 14 x 6 x 6 ft




2000kg to 4000kg

1450 PHP

L300/Van

8 x 4.5 x 4.5 ft




1000kg

310 PHP

Small Pickup

5 x 5 ft x open




1000kg

220 PHP

Light Van

5.5 x 3.8 x 3.8 ft




600kg

225 PHP

MPV/SUV

5 x 3.2 x 2.8 ft




200kg

140 PHP

Sedan

3.5 x 2 x 2.5 ft




200kg

120 PHP
SEE ALSO:
Transparent pricing
Transportify offers a cheap lipat bahay in Cebu city because we base the price only on your total distance and your extra services if there are any. We are budget-friendly because we allow our users to customize the service according to what they need. You are in control of your service. You can make the lipat bahay service you want to fit your budget.
On-time pick up and delivery
We train our drivers with utmost professionalism. Everyone's time is of the essence, which is why we make sure that the pick up at your doorstep is always on time. We've developed a reliable monitoring system to detect your driver's arrival. If you have any concerns about the booking, you can always check the Transportify truck rental app and chat with our 24/7 Customer Service.
Free inclusions
Transportify provides good package deals for our cheap lipat bahay service. The price of any vehicle you book on Transportify includes a driver, fuel, loading, and unloading, insurance, as well as in-app features like GPS tracking, chat with your driver, and route optimization.
Extra service options
As mentioned in the first part, we give you control over your booking. We have a variety of extra services you can choose from. We have special help for Sedan, MPV/SUV, Canopy Multicab, and L300/Van, which you can avail of if you want your driver to help you load and unload beyond 15 meters from the vehicle. We also have extra helpers available for L300/Van in case you need additional hands to move your items.
Flexible payment options
We are an innovative company that gives our users options. Payment for our cheap lipat bahay in Cebu city service can be through bank transfer, credit/debit, and cash. Limited social interaction is a must these days, that is why we have flexible payment options for you.
Tips on How To Plan a Fail Proof Lipat Bahay
To have a good plan results in resolved challenges before it comes. You might be planning for your first lipat bahay, or you have done it a few times before. Either way, here's a list of tips and things you need to watch out for:
1Downsize and let it go
When getting ready to move, it's common to discover plenty of items you didn't realize you had or had forgotten. The case is, do you still need them? Take note to go over your things well and reevaluate their purpose. This tip will lessen the volume of your load and free up space for more essential items, or you can go for a smaller vehicle to save money.
2Get organized early
Disassemble your furniture as early as you can. Pack while you have more time. If you prepare your things in the right headspace without being anxious and in a hurry, you can better segregate your load based on importance, and it will be easier to arrange once you are in your new place.
3Hire a trusted transport service
Look for a service provider that has reputable reviews online so you'll know what type of service you can expect. Check out truck rental apps like Transportify. It will be a lot easier because booking for a truck can be done within minutes.
More than just the ease of booking, hiring a service equates to hiring a professional. You'll know your items will be in good hands because you will pay for their expertise. Transportify's cheap lipat bahay in Cebu city provides not only low-cost transport but also professional service.
4Ready your permits
If you are moving to a condo or subdivision, make sure to have your moving permit ready. Remember you will need a lot of time to unload and settle after you have arrived at your new place. Having those permits ready and available will keep you on track.
Transportify Is Your Trusted Lipat Bahay Service Provider
Transportify has more than 2 million registered accounts in its profile today. This number strongly indicates how trusted and recommended our on-demand truck rental app is to businesses and individuals. Cheap lipat bahay in Cebu city is best with Transportify because we can provide end to end service anytime and anywhere in the province of Cebu. We aim to elevate your experience and make your lipat bahay journey a remarkable one.
The truck rental app of Transportify does not just cater to lipat bahay in Cebu city.  The on-demand app can also provide interisland deliveries from Cebu to other cities in Visayas and Mindanao to support businesses for better fulfillment results. You can always send us an email for your inquires to business@transportify.com.ph.
| | | |
| --- | --- | --- |
| | or | |
Frequently Asked Questions:
What is the advantage of Transportify's cheap lipat bahay in Cebu city among other companies?
⭐ The primary advantage of booking lipat bahay with Transportify is that we are driven by technology. We have an app accessible to all users of Android and IOS. You will be able to experience a hassle-free booking because the whole booking process can take less than 5 minutes. The second advantage is that we are available 24/7. We can help you with any booking concern at any time.
Can I transport pets when I book via Transportify's truck rental app?
⭐ No. Transportify is a truck rental app that is used only for cargo transport. Domestic animals and pets are included in our prohibited items. We encourage users and drivers to strictly follow this protocol for the safety of both parties.
Can I do a lipat bahay in Cebu city from Metro Manila?
⭐ Yes. Transportify has an interisland trucking service available for 10w Wing Van, 6w Fwd Truck, Closed Van Truck, and L300/Van from Metro Manila to Cebu. This type of service usually takes 1-5 days and will use RoRo to travel over bodies of water. If you plan to do a lipat bahay in Cebu city from Metro Manila, you may check our website for more information.