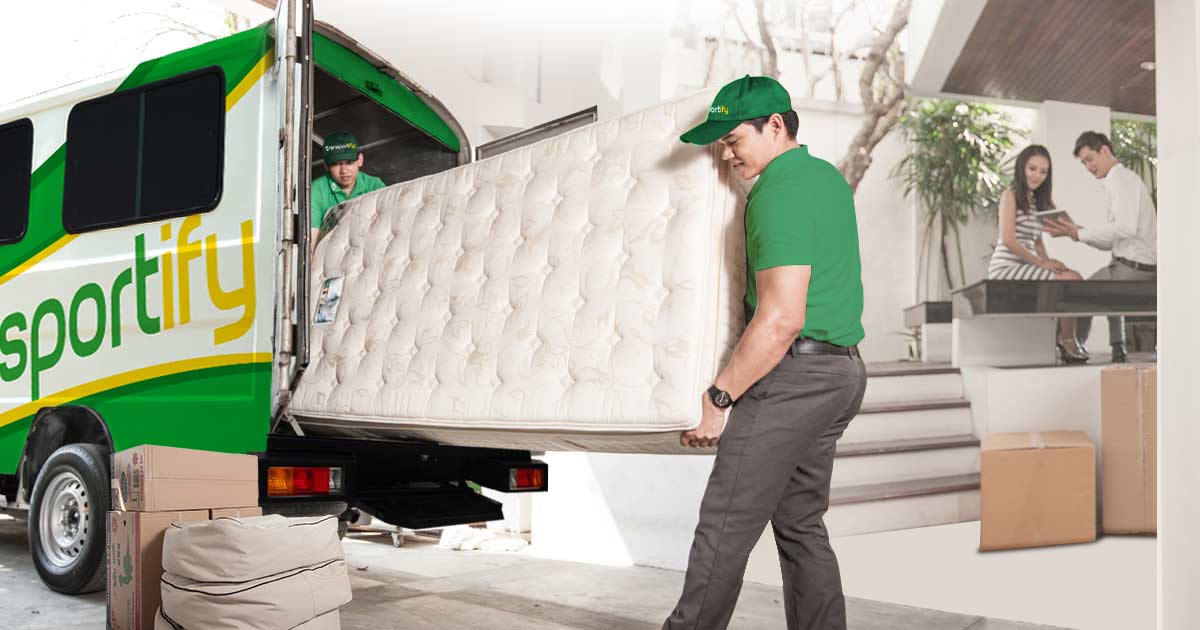 Relocating can be a daunting task for families, but with proper planning and the assistance of a trusted lipat bahay service, it can be a stress-free experience. As a logistics company, Transportify offers a reliable and efficient service to help families move their homes with ease.
Most of us fear lipat bahay because of the time, effort, and money required. Fortunately, Transportify's lipat bahay app is not just a delivery app!  It also offers express transport services if you need to move furniture and goods from your old place to your new home. With nationwide service and affordable rates, it's the only app for all lipat bahay services you'll need.

How Does Transportify's Lipat Bahay Service Work?
Starting a new life in a new place and moving houses is challenging, especially if you do it for the first time. There are a lot of things that should be transferred and bought for the new journey. Don't underestimate the importance of your preparation time since a well-planned lipat bahay day is all about a well-organized checklist and researched packing techniques.
Read about Transportify's Complete Lipat Bahay Checklist here.
Transportify offers affordable, no hustle, no bustle lipat bahay services where you can find the right truck. Let Transportify's reliable drivers carefully handle your belongings and transport them to their destination within the same day. You also should not worry about payments because there are many flexible payment options for lipat bahay needs.
Read the article to know more about how it works:
No hustle, no bustle
Back then, moving houses was stressful because it took a lot of time, planning, and energy. First, Filipino families must find a lipat bahay truck for rent, which can take days. Once they find one, they can only start negotiating with the operator and driver about the rent price and the schedule. This means they have to wait when the lipat bahay truck for rent and the driver are available to pick up furniture and appliances up from their old home. Imagine how long moving took back then.
Now, you can move from one house to another by booking from a lipat bahay app with just a few taps and clicks. Book a truck the same day you want to move out. You can set your moving schedule with the Transportify lipat bahay app days ahead if you want. Still, you can also immediately move the same day you booked a transaction, provided that there is a Transportify lipat bahay truck within your area.
The right truck at the right price
Transportify's lipat bahay app has different features that let you customize the kind of service you want – from the moving vehicle you want to rent to how many movers or helpers you need. Depending on the budget, clients can choose from the sedan, MVP/SUV, L300/Van, or closed van. You can also specify if you want the driver alone to help carry the packages or if you want the driver to be accompanied by one or two helpers.
Model choices for L300 vans include H100, HiAce, Urvan, and the FB L300, while for the closed vans, clients can choose between an elf truck and a canter truck.
Vehicle Type
Dimensions/
Weight Limits
Base Price


(Metro Manila)

Base Price


(Outside Metro Manila)

Base Price


(Visayas/Mindanao)

Wing Van 

32 to 40 x 7.8 x 7.8 ft




12000kg to 28000kg

7500 PHP

6500 PHP

6500 PHP

6w Fwd Truck

18 x 6 x 7 ft




7000kg

4850 PHP

4850 PHP

4850 PHP
Closed Van

10 to 14 x 6 x 6 ft




2000kg to 4000kg

1800 PHP

1450 PHP

1450 PHP

Open Truck

10 to 21 x 6 ft x open




2000kg and 7000kg

2300 PHP

1950 PHP

N/A

Mini Dump Truck

10 x 6 ft x open




2000kg

1500 PHP

1200 PHP

N/A

L300/Van

8 x 4.5 x 4.5 ft




1000kg

430 PHP

330 PHP

310 PHP

Small Pickup

5 x 5 ft x open




1000kg

310 PHP

250 PHP

220 PHP

Light Van

5.5 x 3.8 x 3.8 ft




600kg

250 PHP

192 PHP

225 PHP

MPV/SUV

5 x 3.2 x 2.8 ft




200kg

160 PHP

130 PHP

140 PHP

Sedan

3.5 x 2 x 2.5 ft




200kg

140 PHP

110 PHP

120 PHP
SEE ALSO:
See and supervise the whole operation
Most clients moving houses who own a car usually travel the road to their new home alongside the lipat bahay truck they rented. But not all clients have cars, so some would need to commute. For clients who cannot travel alongside their lipat bahay truck, we got you covered with Transportify's track and trace delivery app feature.
This feature lets clients locate the delivery vehicle they booked through their phones in real-time. The track and trace feature uses Global Positioning System (primarily known as GPS), Google Maps, and the Internet so clients can monitor their packages. The clients can also see the estimated time of arrival (or ETA) of the delivery vehicle. With this, clients are assured that their packages are heading in the right direction and destination.
Pay it your way
No credit card? That's alright because the payment method for using Transportify's services are very flexible – a reason customers find it easy to do transactions with us.
Clients can pay cash to the driver after the booking is accomplished. Both the website and mobile app allow clients to see their bills and the confirmation of their payments. Nevertheless, those who prefer to pay with credit/debit cards may use the app. Customers may also opt to use online transfers or bank deposits to fund their accounts with credits for bookings.
As Transportify gives a new meaning and experience to lipat bahay services, moving houses is no longer a burden and a bustle but an adventure! Customers do not have to worry too much because they are assisted every step of the way. Transportify is the only lipat bahay truck for rent services app you'll need.
Providing security and trust
One of the most significant inconveniences commuters face nowadays is having last-minute cancellations of bookings by the provider. This is a total hassle for commuters, but the same scenario may happen to customers who book lipat bahay services via the app. Choose a provider with excellent testimonials and high service levels. Though Transportify allows you to book a vehicle on the same day, you may opt to book up to two weeks in advance to adequately prepare your belongings without rushing your packing.
Provincial Lipat Bahay Services
As we aim to improve our customers' service not just in Metro Manila, we've continuously made it our mission to expand our reach by providing our fixed price route provincial delivery services to reach rural areas of North, South, and Central Luzon. Transportify also provides same day delivery and lipat bahay services in Cebu island and Davao. To handle the increase in reach in location, we've also bumped up our number of active drivers.
Starting with just 450 drivers when we first opened, we've successfully expanded to over 5,000 and counting active drivers since 2017.
Reminder: For these services, we encourage our customers to ensure that their items, most especially furniture and appliances with large glass pieces, should be packed and bubbled-wrapped to avoid unwanted problems during transport.
Affordable Lipat Bahay App by Transportify
Our lipat bahay services aren't only for that or hauling your luggage from one location to the next. We can do more to help you ensure you have a successful move-in to your new place. Changing houses isn't just about bringing furniture from your old home to your new one. Finding a new home also means going through repairs and buying additional furniture. Thanks to our business partners, we can now both work together to make a lipat bahay service experience that's convenient for all our customers.
In terms of purchasing new furniture, SM Appliance Center has you covered. With our third-party logistics partnership, we don't just move from house to house with our lipat bahay app, you can also easily have your furniture and appliances delivered on the same day with branches such as SM North, SM Cubao, SM Bacoor, and SM Sta. Mesa.
Moving houses can be a challenging experience for any first-timer. But with lipat bahay service app, we can ensure that bringing your furniture, purchasing materials for repairs, and carefully loading and unloading your belongings will be a task that you will no longer have to stress about your house moving.
| | | |
| --- | --- | --- |
| | or | |
Frequently Asked Questions:
Where is the nearest lipat bahay truck for rent?
🚚 If you're looking for a lipat bahay service for your immediate request, book with the Transportify app. It's a logistics app that offers moving services wherever you are in Luzon, Cebu, and Davao. It transports anywhere and can arrive within an hour at the earliest depending on the vehicle.
How much is the price of a lipat bahay truck for rent?
🚚 Prices for lipat bahay services vary depending on the provider. For Transportify, lipat bahay truck for rent starts at ₱430 + ₱27 per km for our smallest moving services vehicle, the L300 / Van, while our four-wheeler closed van starts at ₱1,800.