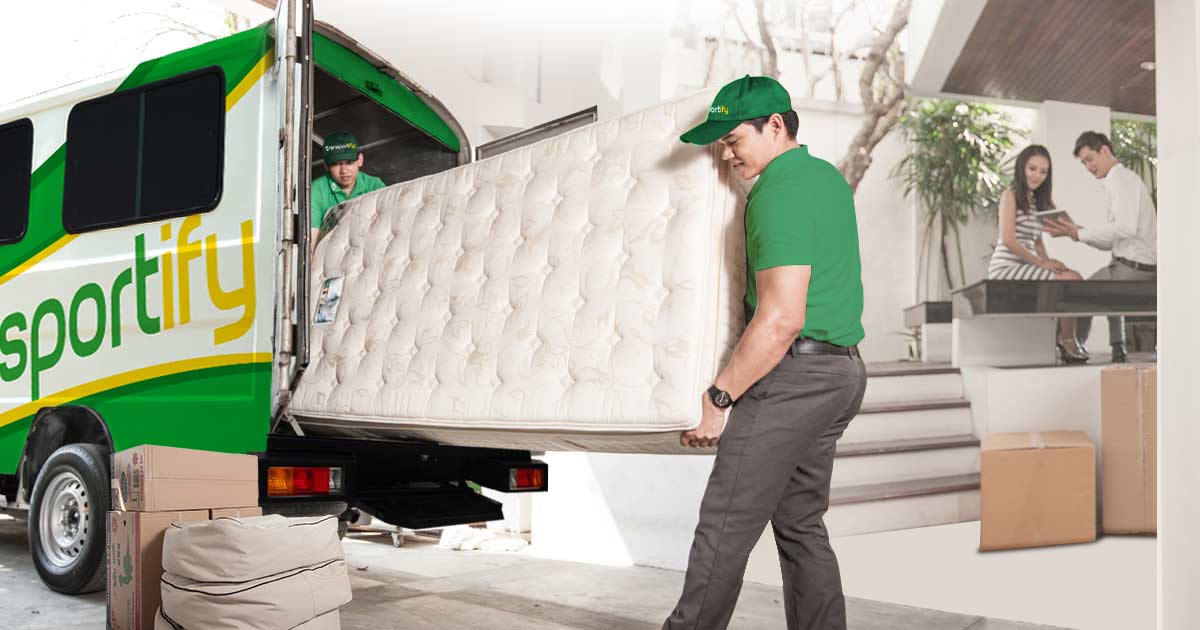 Changing houses, commonly called lipat bahay (and sometimes spelled as lipat-bahay) in the Philippines, is something that Filipino families get to face at some point in their lives for a variety of reasons. They could have bought a new house, or they needed to move places due to work circumstances.
We all know how moving from one house to another can be a total hassle. Fortunately, Transportify's lipat bahay app is not just a delivery app because it also offers transport services if you need to move furniture and goods from your old place to your new home. It's the only app you'll ever need for all your lipat bahay needs.
No hustle, no bustle
Back then, moving houses is stressful because it takes a lot of time, planning, and energy. First, Filipino families need to find a lipat bahay truck for rent, which can take days to do. Once they find one, only then can they start negotiating with the operator and/or driver about the price of the rent and the schedule. This means they have to wait when the lipat bahay truck for rent and the driver will be available to pick furniture and appliances up from their old home. Imagine how long moving took back then!
Now, you can move from one house to another with just a few taps and clicks. Move on the same day you want to move out! You can set your moving schedule with the Transportify lipat bahay app days ahead if you want, but you can also immediately move the same day you booked a transaction, provided that there is a Transportify lipat bahay truck within your area.
The right truck at the right type
Transportify's lipat bahay app has different features that let you customize the kind of service you want – from what kind of moving vehicle you want to rent, to how many movers or helpers you need. Clients can choose from economy class, L300 van, or closed van, depending on their budget. You can also specify if you want the driver alone to help in carrying the packages, or if you want the driver to be accompanied by one or two helpers.
Under the economy class, the available model options are sedan, hatchback, and MPV/SUV. Model choices for L300 vans include H100, HiAce, Urvan, and the typical L300; while for the closed vans, clients can choose between an elf truck and a canter truck.
Column 1
Column 2
Column 3
Manila
Vehicle Type
Standard Rate
Full Day Rate

Economy

₱190




+ ₱20 Per KM

₱1,800

Economy Extra Space

₱290




+ ₱20 Per KM

₱1,900

L300/Van

₱500




+ ₱30 Per KM

₱2,800

Closed Van

₱2,150




+ ₱50 Per KM

₱6,000

Closed Van Extra Space

₱2,550




+ ₱50 Per KM

₱6,400
See and supervise
Most clients moving houses who own a car usually travel the road to their new home alongside the lipat bahay truck they rented. But not all clients have their own cars, so some would need to commute. For clients who will not be able to travel alongside their lipat bahay truck, we got you covered with Transportify's track and trace delivery app feature.
This feature allows clients to locate the delivery vehicle they booked through their phones in real time. The track and trace feature uses Global Positioning System (largely known as GPS), Google Maps, and the Internet so clients could monitor their packages. The clients can also see the estimated time of arrival (or ETA) of the delivery vehicle. With this, clients are assured that their packages are heading to the right direction and destination.
Pay it your way
No credit card? That's alright because the payment method for using Transportify's services is very flexible – a reason why customers find it easy to do transactions with us. Clients can pay cash to the driver after the booking is successfully accomplished. Both the website and mobile app allow clients to see their bill, as well as see the confirmation of their payment.
As Transportify gives a new meaning and experience on lipat bahay services, moving houses is no longer a burden and a bustle, but an adventure to look forward to! Customers do not have to worry too much because they are assisted every step of the way. Transportify is truly the only lipat bahay truck for rent services app you'll need!