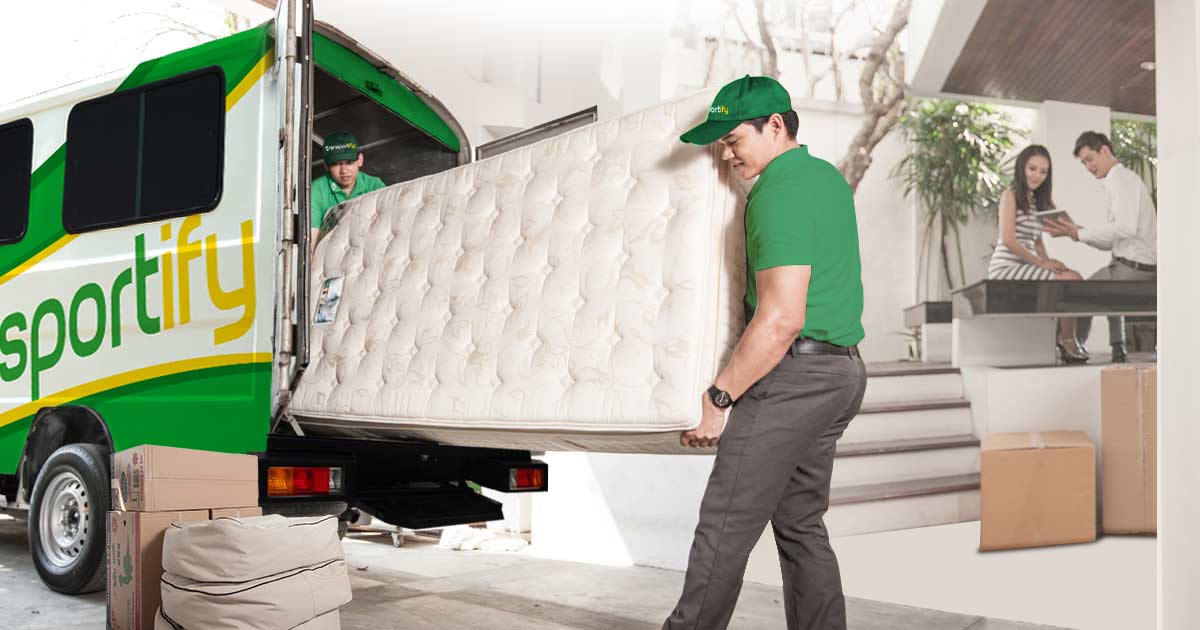 Changing houses, commonly called lipat bahay (and sometimes spelled as lipat-bahay), in the Philippines is something that Filipino families get to face at some point in their lives for a variety of reasons. They could have bought a new house, or they needed to move places due to work circumstances.
We all know how moving from one house to another can be a total hassle. Fortunately, Transportify's lipat bahay app is not just a delivery app because it also offers express transport services if you need to move furniture and goods from your old place to your new home. With a cumulative rating of 4.8 It's the only app for all lipat bahay services you'll need.
WE CAN DO
Pick up from doorstep
Load truck
Transport safely
Unload to doorstep
WE CANNOT
Pack or unpack
Wrap or unwrap
Box or unbox
Assemble or unassemble
Tape furniture

What Is The Lipat Bahay Truck For Rent Service?
Moving houses is a really stressful activity especially if you are a starting family. There are a lot of things that should be transferred and bought for a new journey as a growing unit of the society. Transportify offers a no hustle, no bustle lipat bahay services with the right truck for the right moving needs. Customers can also ensure that things are being handled well because driver partners are professionally trained to handle these needs. You also should not worry about payments because there are many flexible payment options for lipat bahay needs. Read here to know more:
No hustle, no bustle
Back then, moving houses is stressful because it takes a lot of time, planning, and energy. First, Filipino families need to find a lipat bahay truck for rent, which can take days to do. Once they find one, only then can they start negotiating with the operator and driver about the price of the rent and the schedule. This means they have to wait when the lipat bahay truck for rent and the driver are available to pick furniture and appliances up from their old home. Imagine how long moving took back then!
Now, you can move from one house to another by booking from our lipat bahay app with just a few taps and clicks. Move on the same day you want to move out! You can set your moving schedule with the Transportify lipat bahay app days ahead if you want, but you can also immediately move the same day you booked a transaction, provided that there is a Transportify lipat bahay truck within your area.
The right truck at the right price
Transportify's lipat bahay app with a rating of 4.8 has different features that let you customize the kind of service you want – from what type of moving vehicle you wish to rent, to how many movers or helpers you need. Clients can choose from economy class, L300 van, or closed van, depending on the budget. You can also specify if you want the driver alone to help in carrying the packages, or if you want the driver to be accompanied by one or two helpers.
Under the economy class, the available model options are sedan, hatchback, and MPV/SUV. Model choices for L300 vans include H100, HiAce, Urvan, and the typical L300, while for the closed vans, clients can choose between an elf truck and a canter truck.
Vehicle Type
Standard Rate
Full Day Rate
Manila
Vehicle Type
Standard Rate
Full Day Rate

Economy

₱120




+ ₱20 Per KM

₱1,800

Economy Extra Space

₱140




+ ₱20 Per KM

₱1,825

L300/Van

₱430




+ ₱27 Per KM

₱2,800

Closed Van

₱1,800




+ ₱45 Per KM

₱6,000

Closed Van Extra Space

₱2,100




+ ₱45 Per KM

₱6,300

Pickup Truck

₱1,950 




+ ₱50 Per KM

₱6,000

Pickup Truck Extra Space

₱2,350 




+ ₱50 Per KM

₱6,400
See and supervise the whole operation
Most clients moving houses who own a car usually travel the road to their new home alongside the lipat bahay truck they rented. But not all clients have their cars, so some would need to commute. For clients who will not be able to travel alongside their lipat bahay truck, we got you covered with Transportify's track and trace delivery app feature.
This feature allows clients to locate the delivery vehicle they booked through their phones in real-time. The track and trace feature uses Global Positioning System (primarily known as GPS), Google Maps, and the Internet so clients could monitor their packages. The clients can also see the estimated time of arrival (or ETA) of the delivery vehicle. With this, clients are assured that their packages are heading in the right direction and destination.
Pay it your way
No credit card? That's alright because the payment method for using Transportify's services is very flexible – a reason why customers find it easy to do transactions with us.
Clients can pay cash to the driver after the booking is accomplished. Both the website and mobile app allow clients to see their bill, as well as see the confirmation of their payment. Nevertheless, those who prefer to pay with their credit/debit cards may do so by using the app. Customer may also opt to use online transfer or bank deposit to fund their account with credits for bookings.
As Transportify gives a new meaning and experience on lipat bahay services, moving houses is no longer a burden and a bustle, but an adventure! Customers do not have to worry too much because they are assisted every step of the way. Transportify is genuinely the only lipat bahay truck for rent services app you'll need.
Providing security and trust
Transportify is often likened to be similar to services such as Grab and Uber. One of the most significant inconveniences that commuters nowadays face is having their booked transport provider to cancel on their order. Not only is this a nuisance from getting from one place to the next, but it remains true to people who are looking to seek lipat bahay services. Though Transportify gives you the convenience of booking a vehicle on the same day, you may opt to book up to two weeks in advance so that you may adequately prepare your belongings without having to rush your packing.
As a commitment to our bond with our customers, we've ensured that penalties from both parties will ensue if a delivery is canceled or denied by our drivers. A penalty of 30% of the projected payment is due from customers who opt to cancel their booking, while our drivers are blocked from picking up customers if they fail to deliver their packages.
Provincial Lipat Bahay Services
As we aim to improve our customers' service not just in Metro Manila, we've continuously made it our mission to expand our reach by providing our fixed price route provincial delivery services to reach rural areas such as Vigan, Laoag, Ilagan, and Tuguegarao to name a few of our recent additions. For us to handle the increase in terms of reach in location, we've also bumped up our number of active drivers.
Starting with just 450 drivers when we first opened, we've successfully expanded to over 5,000 and counting active drivers since 2017. With hopes for expansion into other areas of South-East Asia, Transportify is growing not just as a popular delivery & lipat bahay app in the Philippines but in international waters as well.
Reminder: For these services, we encourage our customers to ensure that their items most especially furniture and appliances with large glass pieces should be packed and bubbled-wrapped to avoid unwanted problems during transport.
| | | |
| --- | --- | --- |
| | or | |
Excellent Lipat Bahay Truck For Rent App
Our lipat bahay services aren't just or hauling your luggage from one location to the next. We can do more in helping you out in making sure that you have a successful move-in to your new place. Changing houses isn't just about bringing furniture from your old home to your new one. Finding a new home also means going through repairs and buying additional furniture. Thanks to our business partners, we can now both work together to make a lipat bahay service experience that's convenient for all our customers.
In need of a quick shower repair? Or maybe you want to install a new section to your home? Our collaboration with Handyman has made it easier for you to deal with renovations. With an extensive collection of affordable and quality products ranging from ceramic tiles to plywoods to hardware equipment, no construction work is too big or too small with Handyman and the Transportify app right in the palm of your hands.
In terms of purchasing new furniture, SM Appliance Center has you covered. With our third-party logistics partnership, we don't just move from house to house with our lipat bahay app, you can also easily have your furniture and appliances delivered on the same day with branches such as SM North, SM Cubao, SM Bacoor, and SM Sta. Mesa.
Moving houses can be a challenging experience for any first-timer. But with lipat bahay service app with a rating of 4.8, we can make sure that bringing your furniture, purchasing materials for repairs, and the careful loading and unloading of your belongings will be a task that you will no longer have to stress about your house moving.
Frequently Asked Questions:
Where is the nearest lipat bahay truck for rent?
🏡 You may find lipat bahay truck for rent online through the marketplace like Carousell and OLX, which are subject to availability. If you're looking for a lipat bahay service for your immediate request, book with the Transportify app. It's a logistics app that offers moving services wherever you are in Luzon. It transports anywhere in as fast as 3 hours before the pick-up time.
How much is the price of a lipat bahay truck for rent?
🏡 Prices for lipat bahay services vary depending on the provider. For Transportify, lipat bahay truck for rent starts at ₱430 + ₱27 per km for our smallest moving services vehicle, the L300 / Van, while our four-wheeler closed van starts at ₱1,800.