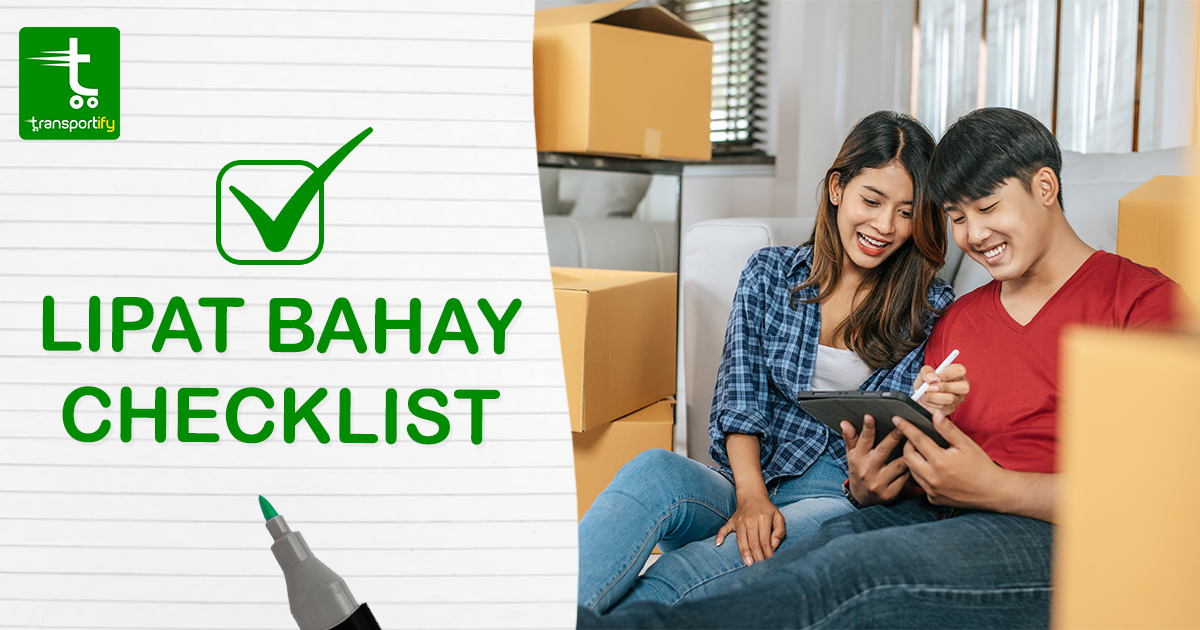 Are you planning to move in 2022? If so, you'll want to use this comprehensive lipat bahay checklist! We've compiled everything you need to know into one place to make your move as smooth as possible. Follow these moving tips, and you'll be unpacked and settled into your new home before you know it!
Depending on the volume of your belongings you need to move and transport, the average preparation time for lipat bahay is around 8 weeks or two months. Here are the things you need to figure out and sort out 8 weeks before your official move:
In This Article:
✅ Six Weeks Before The Move
✅ Four Weeks Before The Move
✅ Two Weeks Before The Move
✅ Official Day of The Move
What Are The Things Homeowners Need To Do Before Moving Out?
Lipat bahay is meticulous and time-consuming. It's not a secret to everyone when we say there's a lot to do to prepare. However, you'll be relieved that you began early and created this huge moving checklist, so you don't miss anything.
Six Weeks Before Your Move Checklist:
1Make an inventory of your belongings
It's always a good idea to plan ahead of time. Check your belongings and inventory everything that will be moved to ensure no valuable items are overlooked. Visiting each room in the house and determining what you'll bring with you and what you want to discard is a crucial first step.
2Set a budget for moving expenses
Setting a budget when moving houses is important because it allows you to track your expenses and avoid overspending. It also helps you determine how much you can afford to spend on your new home. Make sure to allocate a budget for moving tools and packing supplies. After all, securing your items is also an important part of the preparation.
3Start collecting supplies like boxes and bubble wraps
Start buying boxes for moving houses and packing supplies, such as tapes, bubble wraps, markers, etc. Also, make sure to get items like mattress covers, wardrobe boxes, and dish barrels for items that need special packaging.
4Plan how to move fragile or unusual items, such as piano, billiard table, and jacuzzi
It's possible that your movers are not experienced in moving some of your special belongings. You may need to engage the services of a special mover or ask the supplier who supplied you with the goods for advice on how to properly relocate. Make certain you know what the movers you engaged will and will not carry.
Four Weeks Before Your Move Checklist:
When you're six weeks out from moving, make sure everything is in place. If you're moving out of town, you'll need to spend time with family and friends. After that, you'll need to start organizing your stuff (and life in general). Numerous responsibilities must be handled during this period, so keep reading this lipat bahay checklist to learn more. Don't worry that you'll not have enough time. Four weeks is plenty of time to get everything done!
5Research about packing and moving hacks to help you prepare and pack
Packing and moving hacks are important because they help you save time, money, and energy. With the right packing and moving hacks, you can avoid costly mistakes and make your move as smooth and stress-free as possible.
Here are helpful packing and moving hacks from Transportify:
Vehicles you can book from Transportify for lipat bahay services:
Vehicle Type
Dimensions/
Weight Limits
Base Price


(Metro Manila)

Base Price


(Outside Metro Manila)

Base Price


(Visayas/Mindanao)

Wing Van 

32 to 40 x 7.8 x 7.8 ft




12000kg to 28000kg

7500 PHP

6500 PHP

6500 PHP

6w Fwd Truck

18 x 6 x 7 ft




7000kg

4850 PHP

4850 PHP

4850 PHP
Closed Van

10 to 14 x 6 x 6 ft




2000kg to 4000kg

1800 PHP

1450 PHP

1450 PHP

Open Truck

10 to 21 x 6 ft x open




2000kg and 7000kg

2300 PHP

1950 PHP

N/A

Mini Dump Truck

10 x 6 ft x open




2000kg

1500 PHP

1200 PHP

N/A

L300/Van

8 x 4.5 x 4.5 ft




1000kg

430 PHP

330 PHP

310 PHP

Small Pickup

5 x 5 ft x open




1000kg

310 PHP

250 PHP

220 PHP

Light Van

5.5 x 3.8 x 3.8 ft




600kg

250 PHP

192 PHP

225 PHP

MPV/SUV

5 x 3.2 x 2.8 ft




200kg

160 PHP

130 PHP

140 PHP

Sedan

3.5 x 2 x 2.5 ft




200kg

140 PHP

110 PHP

120 PHP
6Use different-colored stickers/tape to label your moving boxes for each room
It's important to label boxes when moving houses to know which ones contain fragile items and which don't. It'll make unpacking a lot easier and less chaotic. Plus, it'll help you keep track of your belongings better.
Here's a quick guide on how to label boxes when moving:
Get a marker and write the box contents on the top and sides.
If fragile items are in the box, mark them with a red X or 'Fragile' so that everyone knows to handle them with care.
Make sure the labels are big and visible enough to see from a distance.
7Separate the packing of your most valuable and make a list
One of the most important aspects of moving is figuring out how to pack your belongings securely and efficiently. This can be especially challenging when you have valuable items that need to be moved. That's why it's important to separate the packing of your most valuable items from the rest of your belongings. Doing this ensures that these items are packed correctly and are not damaged during the move.
Packing your most valuable items separately also allows you to track them easily. When dealing with many boxes and furniture, losing track of small items can be easy. But if you pack them in their box or bag, you'll always know where they are.
8Have the exact dates of your office move
One of the most important things to do when moving houses is to set a date for the move as early as possible – at least four weeks in advance. This gives you enough time to plan and organize everything, including packing, hiring a removal company, and arranging for utilities to be disconnected and reconnected at your new home. If you're moving to a new city or town, it's also important to research schools and childcare options in advance to ensure you have everything in place for your family before you move.
Two Weeks Before Your Move Checklist:
You're only two weeks away from moving, and the big day is quickly approaching! Begin inputting your new address into your accounts and records. You should also use the two weeks before your move to plan of time for packing, meals, medication, pets, and children. Moving day is work some day. Make a point of crossing everything off your lipat bahay checklist by the end of the two weeks. We promise you'll be glad you did!
9Pack your non-essentials, such as clothing you won't need right away
Packing everything in one go is one of the most common mistakes homeowners make when moving. This includes packing non-essentials, which can be done a week or two before the big day. Doing this gives you more time to focus on the things that matter and lessens the chance of forgetting something important.
10Hire a moving company to assist you with transportation
It's more convenient, and you don't have to worry about renting a truck or borrowing one from a friend. Most moving companies offer your belongings insurance if something gets damaged during transport. And it's just less stressful overall to let someone else handle the logistics of moving your stuff from one place to another.
Transportify is one of the leading lipat bahay providers in the Philippines. The app allows you to confirm the booking at least two weeks in advance. Transportify is well-known for providing the best lipat bahay package with insurance coverage. Unlike traditional lipat bahay, Transportify has a faster and more advanced system that will make your lipat bahay experience more enjoyable.
Learn more about Transportify's lipat bahay service here:

11Collect all your documents and store them in secure and dry boxes/containers
Having a single container for documents is important because it will help you stay organized and make it easier to find what you need when you need it. Plus, it'll help keep your valuable documents safe and sound during the move.
So, what should you put in your document container? Here's a list of essential documents that you'll need to have on hand:
Your driver's license
Your passport
Birth certificates
Social security cards
Insurance documents (health, auto, homeowners/renters)
Bank statements and other financial records
Tax returns
Property deeds or leases
Vehicle registration and title information
Having them all in one place will make your move much less stressful. So follow these moving tips and add this task to your lipat bahay checklist.
12Finish all your packing
It's important to finish packing two weeks before the move so that you're not rushed and can take your time to pack properly. Packing too close to the moving date can lead to a lot of stress and result in damaged or forgotten items. Make sure you crosscheck everything that is in your inventory.
Official Day of The Move Checklist
All of your moving preparation has led you to this point. To get here, you've completed the moving tips on this lipat bahay checklist. Make an early start on the day of your move. The sooner you pack up and move, the more time you will have to unpack and settle in.
13Coordinate with the arrival of the truck
You need to coordinate with the driver for the truck's arrival to ensure that everything is ready to go on moving day. This includes having your belongings packed and ready to be loaded onto the truck. If you cannot coordinate with the driver for the truck's arrival, it could throw off the entire moving process and delay your move. So make sure to coordinate with the driver ahead of time to avoid any issues.
14Do a final inspection of the home to be sure all of the goods have been put into the trucks
It's always a pain to realize you've forgotten something important after you've locked up and left your old home. To avoid this, do a final sweep of the property before leaving for good. Check all the rooms, cupboards, drawers, closets, and even the attic or basement (if you have access to them). Make sure nothing has been left behind!
SEE ALSO:
Best Of Luck On Your Move!
Moving is a big task, but with proper preparation, it doesn't have to be overwhelming. Use this lipat bahay checklist and moving tips as your guide to ensure you don't forget anything important. And if you need help with the move, don't hesitate to hire professionals like Transportify. They can make your move a lot easier and less stressful.
| | | |
| --- | --- | --- |
| | or | |
Frequently Asked Questions:
How does researching for moving tips before moving out important?
🏠 Moving to another house is a big decision you should not take lightly. There are many things to think about and plan for when you're making a move, and one of the most important things is figuring out how you're going to get all your stuff from your old place to your new one. This is where researching moving tips come in handy. By learning about different ways to pack and move your belongings, you can make sure that everything arrives at your new home safe and sound.
What are the most important moving tips a homeowner should know?
🏠 The answer is simple: start preparing for your move as soon as possible. This may seem like an obvious tip, but you'd be surprised how many people wait until the last minute to start packing and then end up stressed out and exhausted by the time their big day arrives. If you want to avoid this scenario, start planning your move well in advance. This way, you'll have plenty of time to declutter your home, pack up your belongings, and even get help from friends or family members if needed. Another important moving tip is to create a budget for your relocation expenses. This will ensure that you don't overspend on unnecessary items or services during the moving process.