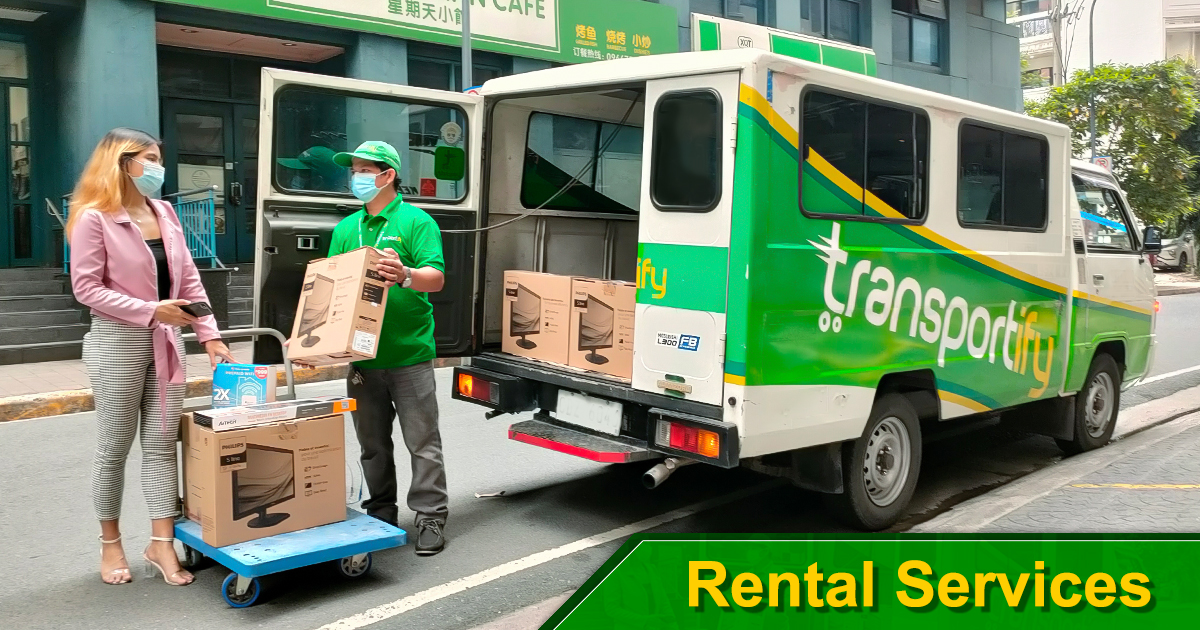 Are you thinking about hiring car or truck rental services? When it comes to these rental services, you will have a lot of options. Many people may find it inconvenient, but if you know what to look for in renting car rental services, it will make your life easier. Get to know more and experience quality but affordable car rental services using Transportify.
There are hundreds of light commercial vehicle and truck rental services in the Philippines which offer different quality and affordability based on your budget and need. With many options out there, deciding on the best and most appropriate car rental services might be challenging.
Transportify is particularly proud of its diverse array of delivery trucks and light commercial vehicles, including anything from four-wheeler sedans to 10-wheeler wing vans that can carry up to 25 tons. With this, you can select the most appropriate car rental services for your needs.
What Does Transportify Rental Services Offer?
1Customizable service according to your preference
Transportify's rental services give you the perfect opportunity to control and tailor-fit our service. We allow flexible booking wherein customers can customize our service based on their budget. You can directly indicate your booking requirements for the number of extra workers, whether you want the vehicle to have extra capacity, or if you need special assistance from the driver through our Transportify app.
2Economical rates
Asides from vehicle offers, Transportify also provides a cost-effective method of saving money. Rental services rates are frequently determined by the type of vehicle rented. As a result, if you're on a tight budget, a light commercial vehicle with our standard service features can suffice. Aside from that, despite lower rates compare to others, Transporitfy assures that service quality is always top-notch. Being affordable and finding cheaper alternatives does not mean that quality will suffer.
3Wide variety of vehicles
Transportify uses closed van trucks and L300 van rental, and they can provide third-party logistics services for heavy goods and large products. If you simply need to ship a few boxes, you can rent one of our light commercial vehicles to complete the job with less environmental impact and at a cheaper cost to you.
Check out this list of Transportify's vehicles:
Vehicle Type
Dimensions/
Weight Limits
Base Price


(Metro Manila)

Base Price


(Outside Metro Manila)

Base Price


(Visayas/Mindanao)

Wing Van 

32 to 40 x 7.8 x 7.8 ft




12000kg to 28000kg

7500 PHP

6500 PHP

6500 PHP

6w Fwd Truck

18 x 6 x 7 ft




7000kg

4850 PHP

4850 PHP

4850 PHP
Closed Van

10 to 14 x 6 x 6 ft




2000kg to 4000kg

1800 PHP

1450 PHP

1450 PHP

Open Truck

10 to 21 x 6 ft x open




2000kg and 7000kg

2300 PHP

1950 PHP

N/A

Mini Dump Truck

10 x 6 ft x open




2000kg

1500 PHP

1200 PHP

N/A

L300/Van

8 x 4.5 x 4.5 ft




1000kg

430 PHP

330 PHP

310 PHP

Small Pickup

5 x 5 ft x open




1000kg

310 PHP

250 PHP

220 PHP

Light Van

5.5 x 3.8 x 3.8 ft




600kg

250 PHP

192 PHP

225 PHP

MPV/SUV

5 x 3.2 x 2.8 ft




200kg

160 PHP

130 PHP

140 PHP

Sedan

3.5 x 2 x 2.5 ft




200kg

140 PHP

110 PHP

120 PHP
Know More About Light Commercial Vehicle
The popularity of modular automobile platforms has increased the use of lightweight materials. But, what does it mean to be light? What are the benefits of lightweight in car rental services?
A light commercial vehicle is inexpensive and provides good value for its price. Moreover, it is a relatively uncomplicated vehicle that is mechanical, reliable, and easy to maintain. Finally, it is a light commercial vehicle that is compact, well-suited to the Philippines' congested highways, and simple to operate for the average driver.
The use of light commercial vehicles is a critical project in Transportify's evolution. The goal of light commercial vehicles is to minimize vehicle maintenance costs as much as possible while maintaining the vehicle's strength and safety performance. The weight of the chassis, the weight of the interior, the weight reduction of the powerplant, and other factors all contribute to the lightweight performance of a light commercial vehicle.
The light commercial vehicle performance is, of course, the most noticeable. In general, there are three strategies to obtain a lightweight body: one is to use high-strength and lightweight materials, and the other is to optimize the body. Here in the Philippines, we commonly use the Mitsubishi L300 or Hyundai H100.
SEE ALSO:
Why Use Transportify's Light Commercial Vehicle?
1It's everywhere, and it's easy to find
Because this is a light commercial vehicle, there are plenty of them in urban and rural locations. Brands continue to produce products because they see a market for them, especially now that last-mile delivery and logistics operations are becoming increasingly crucial. Transportify chose light commercial vehicles as their primary option for last mile delivery because they are smaller than trucks and can easily pass through traffic in the city without breaching vehicle limitations.
2High levels of functionality
For faster last-mile delivery, light commercial vehicle is perfect. These vehicles, as previously indicated, have fewer to no vehicle restrictions, allowing Transportify to transport them to retail businesses, warehouses, subdivisions, and private areas without having to hire trucks. Because of their smaller size, these vehicles have a cargo capacity of up to 1000 kg, or more, depending on the unit and type. Transportify can move heavy products such as office fixtures and supplies, furniture and appliances, retail supplies, hardware machines and tools, gym equipment, and more with enough room.
3Improve fuel efficiency, minimize pollution, and lower fuel costs
Furthermore, when the vehicle's weight is reduced, its fuel consumption will fall. According to research, if the vehicle weight is reduced by 10%, the fuel efficiency can be increased by 6% to 8%. If the rolling resistance is reduced by 10%, the fuel efficiency can be increased by 3%; and if the axle, transmission, and other devices' transmission efficiency are increased by 10%, the fuel efficiency can be increased by 7%.
When it comes to product and commodities delivery, the most cost-effective vehicle to utilize is a light commercial vehicle. Light commercial vehicle is the most chosen vehicles for Transportify's distribution and transportation of goods over short distances and its service areas. Light commercial vehicle such as an L300 or Commuter van for delivery can provide various advantages for freight transportation while ensuring that all cargo is safe and well-protected throughout the journey. It is large enough for many company purposes, such as online selling, other e-commerce platforms, or personal transactions such as Lipat-Bahay.
Transportify's Rental Services For Your Business Delivery Needs
More than the availability of light commercial vehicles, it is also crucial to look for a reliable delivery partner that will gain your confidence that a smooth delivery operation can be done. If you plan to use Transportify's rental services for business deliveries, there are other exclusive services you can enjoy under Corporate Account for Business, along with our diverse vehicle selection and technology-based logistics solutions.
| | | |
| --- | --- | --- |
| | or | |
Frequently Asked Questions:
Aside from L300 are there other light delivery vehicles we can rent in Transportify?
? Yes. On the app, you can choose between commuter van-type, FB type-van, and H100/Long FB. You can choose among these light delivery vehicles depending on your need and preference. There will be locations that FB type-van or H100 are not allowed in the area so people will opt to choose Mommuter type-van. If you will need a light delivery vehicle in Cebu and Davao, Transportify also offers canopy multicab in the area that can carry weight up to 600kg. Its open rare space gives more flexibility to customers who will use it to transport odd-size items.
Can I avail Transportify's rental services in Visayas and Mindanao?
? Yes. Transportify has expanded its service areas to Cebu and Davao for light delivery vehicles and trucks for same day delivery rental services. If you are looking for rental services within these areas, you can definitely check out Transportify's mobile and web app. If you need an interisland service because you have business deliveries to Visayas and Mindanao, you can check out Tranportify's interisland trucking services for L300, Closed Van Truck, 6 wheeler forward truck, and 10 wheeler wing van.