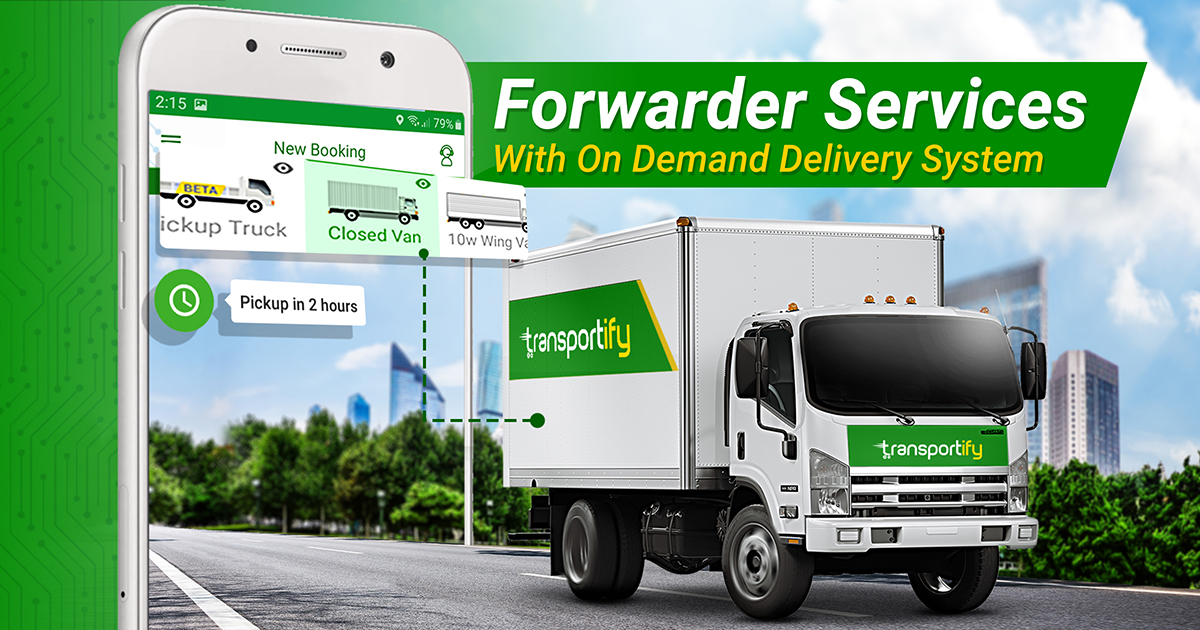 The evolution of technology has altered the logistics and distribution industry. Technology-based logistics solutions like on demand delivery systems have changed how business professionals conduct their operations by helping them be more efficient and productive than ever before. These developments would not be possible without innovative logistics providers for forwarder services that offer multiple operational benefits to companies that work with them for freight forwarding.
Before discussing why businesses should consider using forwarder services, it is quintessential to learn about them and how they can help your business logistics immensely.
What is a Freight Forwarder?
A freight forwarder acts as an intermediary between the shipper and the endpoint of the goods. It is important to note that a freight forwarder does not necessarily own or operate vehicles and trucks but instead arranges with carriers on behalf of its customers. In the case of these modern times, freight forwarders like Transportify use their on demand delivery app like a logistics marketplace, where their system matches bookings to drivers.
A freight forwarder usually offers a broad range of forwarder services that help companies with their fulfillment needs. Some of the most common types of forwarder services include:
A freight forwarder like Transportify knows how important it is for a company to have a competent third-party logistics partner to support deliveries, which is why Transportify only partners with drivers that are well trained and professional.
Here is a complete list of Transportify's diverse light delivery vehicles and trucks selection for every logistics needs:
Vehicle Type
Dimensions/
Weight Limits
Base Price


(Metro Manila)

Base Price


(Outside Metro Manila)

Base Price


(Visayas/Mindanao)

Wing Van 

32 to 40 x 7.8 x 7.8 ft




12000kg to 28000kg

7500 PHP

6500 PHP

6500 PHP

6w Fwd Truck

18 x 6 x 7 ft




7000kg

4850 PHP

4850 PHP

4850 PHP
Closed Van

10 to 14 x 6 x 6 ft




2000kg to 4000kg

1800 PHP

1450 PHP

1450 PHP

Open Truck

10 to 21 x 6 ft x open




2000kg and 7000kg

2300 PHP

1950 PHP

N/A

Mini Dump Truck

10 x 6 ft x open




2000kg

1500 PHP

1200 PHP

N/A

L300/Van

8 x 4.5 x 4.5 ft




1000kg

430 PHP

330 PHP

310 PHP

Small Pickup

5 x 5 ft x open




1000kg

310 PHP

250 PHP

220 PHP

Light Van

5.5 x 3.8 x 3.8 ft




600kg

250 PHP

192 PHP

225 PHP

MPV/SUV

5 x 3.2 x 2.8 ft




200kg

160 PHP

130 PHP

140 PHP

Sedan

3.5 x 2 x 2.5 ft




200kg

140 PHP

110 PHP

120 PHP
SEE ALSO:
The Advantages of Using Forwarder Services With On Demand Delivery System
While on demand delivery systems are becoming mainstream, the concept is still relatively new to the logistics industry and it will take years before all businesses can fully experience its benefits. However, here are some of the advantages you can expect and utilize if you employ such a system in your business logistics:
1It helps build customer's trust
Businesses who involve themselves online use on demand delivery system strategies to create a competitive edge by leveraging the fast service of their logistics partner. Once done ordering, customers constantly think about what they ordered over the internet. Consumer behavior is that they will continuously think about it until it arrives at their doorstep. They have probably only glanced at the pictures and videos of the items and previous purchasers' reviews but haven't seen or handled the product themselves.
So, during that time, there is uncertainty and distrust, more so if it is a first time customer. The longer it takes, the more trust issues arise. Many customers are influenced by their mental processes or external factors and cancel orders before they are delivered.
So for retailers, it is always better to deliver the order as quickly as possible. That is why on demand delivery systems and same day delivery are very popular among consumers who purchase online. It helps to build trust.
2Efficient inventory management
On demand delivery systems relieve operational and logistics managers of the burden of storing goods as orders come in. When orders pile up, managers can quickly create bookings to free up space for more. Businesses can then focus their efforts on processing orders and packing them rather than worrying about delayed shipping and dealing with unmet customer expectations.
In the event that you require unplanned deliveries from suppliers to your warehouse due to a lack of stock, you can easily transport goods using an on demand delivery system. This type of service is normally completed on the same day, so you don't have to worry about delays when you need a rush delivery.
3Flexible delivery arrangements
Another benefit is that it gives businesses the flexibility to deliver products and services in bulk whenever necessary. Without on demand delivery system, businesses would only be able to send products or supplies one by one as they receive orders from customers.
For example, instead of sending one package every day for five consecutive days, a logistics partner for forwarder services can ship all packages at once with a single order form. These benefits make freight forwarders increasingly popular these days among logistics managers who want to improve overall efficiency even further when shipping certain items like perishable goods where spoilage may become an issue over time.
4Cost-effectiveness
The on demand delivery systems via logistics app use cutting-edge technology to automate processes and reduce the need for human resources. It will eventually cause you to save a lot of money on operational expenses. Logistics apps, such as Transportify, allow you to manage deliveries without having to worry about the costs of fleet management, vehicles, and others. Each booking will only cost you the booked vehicle and the total distance that the booking will cover. In the long run, having support from a third party logistics partner can save you from the cost of managing an in-house fleet, especially when demand is low and off-season.
Transportify Can Support Your On Demand Delivery Needs
This article is written to not only give an insight on how on demand delivery system can benefit your business logistics, but also provide a guide for future development following these initial changes. This will be beneficial for businesses across industries to strengthen their competitive edge against their rivals by implementing and adapting on demand delivery system in their operations.
Transportify is your on-the-go logistics app that can provide you with forwarder services anywhere in mainland Luzon and Cebu. If you need rush deliveries within an hour or two, you can book a closed van and expect same day delivery. Transportify wants businesses to experience the benefits of on demand delivery system at a price point that is still cost-effective to your operations. If you have your deliveries anywhere in Luzon like Baguio, Quezon, and Bicol and in Cebu to places of Carcar, Danao, and Bogo you can rely on Transportify's on demand delivery capabilities anytime 24/7, including holidays. If you have more questions on Transportify's on demand delivery system and forwarder services, you send an email to business@transportify.com.ph.
| | | |
| --- | --- | --- |
| | or | |
Frequently Asked Questions:
Can Transportify provide forwarder services to Visayas and Mindanao?
🚚 Yes. Transportify has an interisland trucking service that can help you to transport your cargo from Luzon and Cebu to other islands of Visayas and Mindanao. Aside from interisland trucking services, Transportify also has other forwarder services like less than truckload and full truckload services. 
How can my business benefit from on demand delivery system?
🚚 Only demand services may help a company if it is tailored to its commercial strategy. Seasonal businesses like flower shops and bake shops on Valentine's Day are frequently in need of on demand delivery. When consumers buy online, they prefer receiving items on demand. People had to wait days for appliances to arrive at their homes previously. However, Transportify's on demand delivery system allow not just the consumer but also the business to finish the transport as quickly as possible. This reduces or entirely eliminates waiting time for the customer.