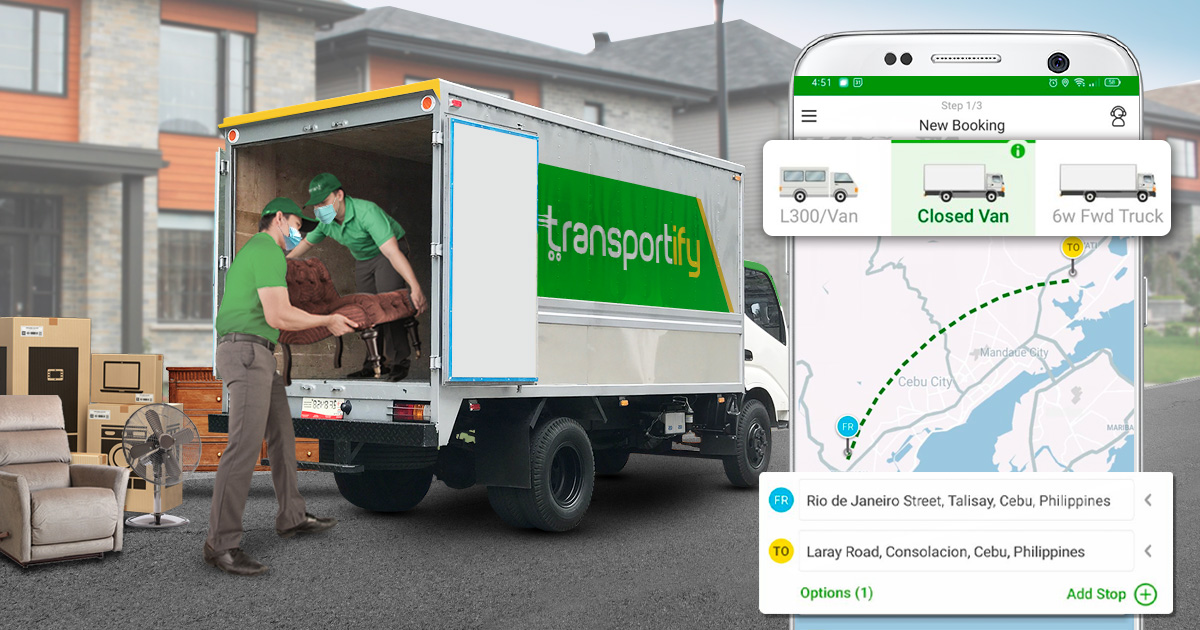 Did you know that you can hire a truck via a moving service app for your lipat bahay needs? Mobile applications are part of our lives. According to Hootsuite 2022, the Philippines has more than 73 million internet users, which is 6% higher than in 2020. We use it for entertainment, shopping, and now, for acquiring logistics services. Transportify is here to revolutionize traditional lipat bahay by going online. Now that we have our operations in Cebu, you can hire our service anytime and anywhere via our on-demand moving service app. Click the buttons below for a price quote.
Why Should You Use a Moving Service App on Your Next Move?
A moving service app provides a different level of convenience to users. It is simpler, faster, and more affordable. Let us discuss these reasons in greater depth as we go along in this article.
1

Simplified booking process

You might be juggling your lipat bahay preparations with other tasks. Scouring the internet or asking for recommendations can be a time consuming process. A moving service app like Transportify is available on Google Playstore and Apple App Store whenever you need it. Plus, the fact that you can easily find a vehicle on the app will surely help your preparations big time. For first time users, booking through Transportify is easy. All you have to do is provide the details such as the pick up and drop-off address, type of vehicle, pick up time and you are good to go.
2

Reduced costs

Hiring a vehicle through a moving service app for lipat bahay Cebu is more affordable because you are not required to pay for other fees like fuel and driver expenses. Logistics service via a mobile application is more likely to come with good inclusions that will maximize your budget. Moreover, the use of moving service apps will reduce the involvement of brokers, which sometimes contributes to the inflation of price. Transportify offers a competitive price for lipat bahay Cebu because we compute the price based on total distance and the vehicle rate only.
3

Saves you time

A truck or an L300/Van may not be accessible for some people preparing for a lipat bahay Cebu. Others may need to spend days or hours looking for a vehicle that they can rent. This is what a moving service app like Transportify wants to eliminate. We want to help you find the best driver in the shortest time possible so that you can use your time doing more preparations. The table below shows our vehicle selection in Cebu:
Vehicle Type
Dimension &
Weight Capacity
Base Price


(Visayas/Mindanao)

Wing Van 

32 to 40 x 7.8 x 7.8 ft




12000kg to 15000kg

6500 PHP

6w Fwd Truck

18 x 6 x 7 ft




7000kg

4850 PHP

Closed Van

10 to 14 x 6 x 6 ft




2000kg to 4000kg

1450 PHP

L300/Van

8 x 4.5 x 4.5 ft




1000kg

310 PHP

Small Pickup

5 x 5 ft x open




1000kg

220 PHP

Light Van

5.5 x 3.8 x 3.8 ft




600kg

225 PHP

MPV/SUV

5 x 3.2 x 2.8 ft




200kg

140 PHP

Sedan

3.5 x 2 x 2.5 ft




200kg

120 PHP
SEE ALSO:
Transportify Is Your Modern Moving Service App
Transportify is a go-to option for people about to do lipat bahay in mainland Luzon because we provide fast, professional, and affordable service. Now we are ready to deliver the same type of high quality for lipat bahay Cebu. Read on to learn how Transportify lipat bahay works:
WE CAN DO
Loading and unloading of your things
Pickup and drop-off service anywhere in Cebu
Safe transport with our professional drivers
On demand arrival in less than an hour for some vehicles
WE CANNOT DO
Packing or unpacking
Assemble or unassemble furniture and fixtures

Lipat bahay can be easy when you are with the right team to help you with it. Do yourself a favor and hire a moving service company like Transportify for your next move. Here are more reasons why:
Track and trace feature to ease your worries
The moving service app of Transportify has a helpful feature for monitoring the progress of the delivery. Our app has a GPS live tracking feature that will allow you to track and monitor the vehicle's travel towards destinations. We want you to feel secure and confident during your lipat bahay. Being able to track your items from point to point can ease your worries.
Set the most convenient time for you
Need a rush lipat bahay in Cebu? Download the Transportify app and book for a Closed Van that can arrive in 2 hours or less. The three time types under which you can choose are Immediate, Scheduled, and Full Day. If you are in a hurry, you can book for a Closed Van, L300/Van, Canopy Multicab, Sedan, or MPV/sUV which can arrive within 2 hours or less. If you need a truck for heavier items, you may book a 10w Wing Van or 6w Fwd Truck, which can arrive within 4 hours. You can book these vehicles up to two weeks ahead if you want to plan early for your lipat bahay Cebu.
For those with a lot more things to move, you may consider our Full Day booking. The Full Day service includes 10 hours of delivery service with a fixed rate, unlimited destinations within a 40-kilometer radius of pick up, and full service for loading and unloading. With all these flexible time options, you can carefully consider which one fits your lipat bahay needs the best.
We can attend to you 24/7
Our Customer Service is always ready to attend 24/7 every day. This is one of the best perks our customers like the most. Whenever a concern needs attention from Transportify, you may always call or chat our hotlines, and we will give you resolutions right away. Our Transportify agents are proactive in resolving issues because we want to provide the best service to our customers.
Inclusive of insurance
Booking in Transportify is always inclusive of insurance. There will always be unforeseen or inevitable situations that will lead to damages or missing items. We want to protect your items with our insurance coverage. Contact us within seven days of booking completion if any items are damaged or missing, and we will assist you with the necessary claims process.
Transportify Is Now in the Queen City of the South
Aside from lipat bahay Cebu, Transportify can provide other delivery services. We can do office relocation services, last-mile delivery for retail businesses, office equipment delivery for BPO companies, building supplies delivery, and transport of heavy industry equipment. We support businesses from different industries through our Corporate Account for Business. We provide them technology-driven business logistics solutions to achieve better delivery fulfillment operations.
| | | |
| --- | --- | --- |
| | or | |
Frequently Asked Questions:
Can I cancel my booking using the moving service app of Transportify?
🚚 Yes. The app allows customers to cancel their booking, but only up to a certain time. When the driver has arrived at the location and you opt to cancel the booking, you may chat or call Transportify hotlines to assist you with that. You may cancel for free until the driver arrives at the pick up or first location of your booking. We will charge a Last Minute Cancel Fee if you cancel before or after the driver's arrival at the pick up or first location. For clarifications, you may always reach out to us.
What are the payment methods for lipat bahay Cebu using Transportify?
🚚 We offer flexible payment options for our lipat bahay Cebu customers. You may choose to pay via a cashless transaction or pay cash upfront to the driver. For cashless payments, you may arrange payments via bank transfer, credit/debit card, and GCash. For our credit/debit card, we accept JCB, MasterCard, Visa. The minimum amount is 300PHP and the maximum is 50,000PHP. For GCash, this is available to all vehicle classes offered by Transportify.