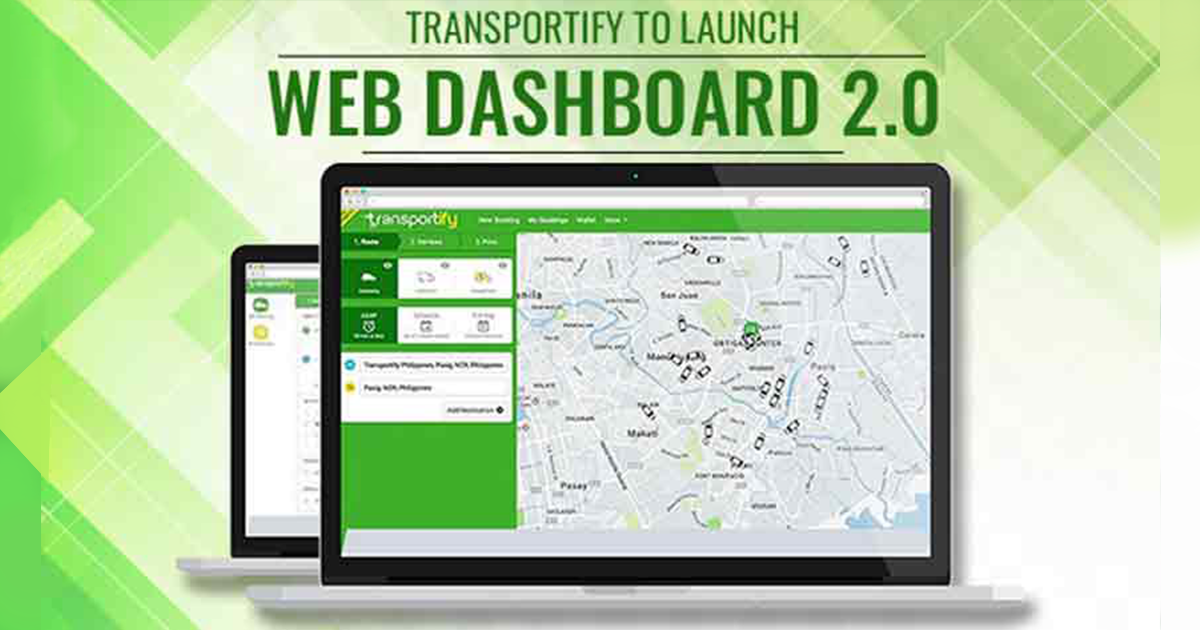 As part of its revolutionary mission to improve the logistics services in the Philippines, Transportify launches a new web app look. The new design aims to make transactions more convenient for both regular package senders and business program enrollees. Here are a few new things to expect from Web Dashboard 2.0 New Menu Header.
For its new look, the Transportify web app features a menu header that contains New Bookings, My Bookings, Wallet, and More tabs so clients could easily navigate across the said pages. With these tabs at the header, clients could effortlessly create a new delivery booking through the New Booking tab, view their transaction history at the My Bookings tab, and check their available balance at the Wallet tab. A visible Chat Support button is present for immediate customer service needs.
New Booking System
The new web app features a new booking system where booking the transactions are made more comfortable with the Add From Contact option and Add Me option features. The latest booking system will also retain the selection of the right vehicle, where clients can choose among closed vans, L300 vans, and sedan for delivery vehicles. Clients could also choose local same-day delivery, pre-scheduled delivery, and full-day delivery bookings at the selection for timing preference.
Here's a table to give you a quick summary of our trucking services Philippines rate:
Vehicle Type
Dimensions/
Weight Limits
Base Price


(Metro Manila)

Base Price


(Outside Metro Manila)

Base Price


(Visayas/Mindanao)

Wing Van 

32 to 40 x 7.8 x 7.8 ft




12000kg to 28000kg

7500 PHP

6500 PHP

6500 PHP

6w Fwd Truck

18 x 6 x 7 ft




7000kg

4850 PHP

4850 PHP

4850 PHP
Closed Van

10 to 14 x 6 x 6 ft




2000kg to 4000kg

1800 PHP

1450 PHP

1450 PHP

Open Truck

10 to 21 x 6 ft x open




2000kg and 7000kg

2300 PHP

1950 PHP

N/A

Mini Dump Truck

10 x 6 ft x open




2000kg

1500 PHP

1200 PHP

N/A

L300/Van

8 x 4.5 x 4.5 ft




1000kg

430 PHP

330 PHP

310 PHP

Small Pickup

5 x 5 ft x open




1000kg

310 PHP

250 PHP

220 PHP

Light Van

5.5 x 3.8 x 3.8 ft




600kg

250 PHP

192 PHP

225 PHP

MPV/SUV

5 x 3.2 x 2.8 ft




200kg

160 PHP

130 PHP

140 PHP

Sedan

3.5 x 2 x 2.5 ft




200kg

140 PHP

110 PHP

120 PHP
New History View
My Booking page allows clients to view their Transportify transaction history in 'Grid View' and 'List View.' On this page, clients can see their past and upcoming bookings, complete with transaction details such as dates, Transportify delivery driver-partners, and more. The page also features an Export Excel button so clients can download their booking history in Excel file format.
With these changes, Transportify as trucking services Philippines provider hopes to make your transactions faster, more convenient, and still give you that awesome user experience.
Why Web App Trucking Services Philippines is Trending Locally
There are plenty of local businesses that are looking for a logistics company that can provide a web app or a mobile app for the convenience of their customers. Local companies have their unique way of providing good customer service for their clients. Because of these reasons, many business owners prefer to get tied-up with third-party logistics that can provide a web app for their delivery needs.
According to a survey, mostly 50% of millennials are fond of using a web app to give them the convenience they demand. That's why our web app is developed to fit any kind of business and industry perfectly.
In this kind of competitive industry, most businesses find their customers too busy to pick up those stores that can provide convenience and excellent customer satisfaction that they are looking for. When that happens, if you want your business to excel and outshine others, it is essential to reach them out to give them a comfortable service, make it cost-efficient, and save their time.
As a customer, no one likes to receive late deliveries and damaged packages. Isn't it? That's why here in Transportify as your trucking services, Philippines provider is here to help your business provide an excellent web app that you can use to give outstanding delivery service for your customers.
Web App Trucking Services: What is it?
It is a customized web app or mobile application that is used to deliver the needs of customers when they request a service. The design, interface, and features of this web app are designed according to the needs of logistics companies and their target clients.
A web app is developed based on the respective target audiences they want to reach. Here in Transportify as your trucking services Philippines provider, we make sure that our web app can cater to our customer's needs.
Here are some of the advantages you can get from using our web app for your trucking services Philippines needs:
1Giving Our Customers More Value
Building a successful business will depend upon the reciprocation. That's why we developed an on-demand delivery, which can foster an excellent interaction with our customers. Opening up a communication channel between customers can result in giving more value to them by respecting their individuality. Moreover, they can be personalized and customized to their delivery needs by using our app. Our customers can select whatever vehicle type they want to use to deliver their goods; it could be sedans, MPV/SUVs, closed vans, trucks, trailers, etc.
Here in Transportify, we can provide your trucking services Philippines needs, just download our app and explore our services to find out more.
2Security
Using our web app for your trucking services Philippines needs, you don't need to worry about your information and data. We ensure that all of the valuable information you provide to us is encrypted and well-protected. Aside from personal details, you can make sure that all of your goods are handled professionally and with the utmost care.
Our partner-drivers are well trained, well-mannered, and knowledgeable in handling different kinds of cargos. Aside from our reliable drivers, we also offer insurance for the goods, so our customers can remain at ease while their package is in transit.
To find out more about the insurance we offer and trucking services Philippines we provide, call our customer service for more information.
3Tracking
Using our delivery web app, you can track the packages you have booked with us. Simply open our app to view the current status of your packages. You can also check the current location of the vehicle you've booked from us.
Having this kind of feature in our app can put our customers at ease to prevent mishaps, getting lost, and theft.
4Personalized
One good thing about our app is that you can book whenever and wherever you want. You can schedule deliveries in any part of the Philippines. We have a broad network channel for vehicles that can pick up your goods right in the comfort of your home.
Here in Transportify as your trucking services Philippines provider, you can ensure that we only provide the best logistics services that your business deserves to have.
Essential Features of Web App
Aside from the benefits that you can get from our web app, here are the following features that we have on our application:
1User-Friendly and Easy Interface
Not all customers are techy; we always put first the convenience of our customers; that's why our web app has a simplified interface. So, users of all ages can easily log in and create an account to explore our services online.
2Order Tracking
As mentioned above, you can track your packages once our partner-drivers picked it up on your location. Having this kind of feature in a web app, customers can remain at ease and track the delivery of their products in real-time. Moreover, you can also watch the current location of your chosen vehicle, so you'll know if your packages have been delivered to its intended receiver.
3History
The good thing about our web app is that customers can easily view their transaction history. So if you have a favorite driver to pick up your packages, you can simply check again the transaction you have made from the past. You can message your favorite driver and let them pick your parcel at your home.
Industries that Benefits that Most Using Web App
Here are the following industries that can benefit the most by using our web app for their business delivery needs:
Retails
Beauty
Food Delivery
Home Furniture and Appliances
Hardware
Healthcare and Fitness Products
The on-demand delivery app, web app, and other mobile applications are the future of many trucking services Philippines providers. That's why many businesses are following this trend to meet their business goals and to build customer loyalty. Moreover, an on-demand delivery app is continuously upgrading to provide customer satisfaction in all aspects, whether you want to deliver food, goods, or even rent a van for your lipat-bahay need. Indeed, a web app for deliveries can make life smooth and seamless.
Hence, partnering with a logistics company that can give this kind of service is a great business decision because it can boost your brand in this competitive market.
| | | |
| --- | --- | --- |
| | or | |
Frequently Asked Questions:
What difference does it make to book through the web app in Transportify?
🚚 Both the web app and the mobile app offer the same features. The process is the same, although the interface may only differ a bit. Nevertheless, booking through the web app gives the same experience. Since some users still prefer using desktop computers, Transportify continues to update its features simultaneously. One reason is that most information about the company is found on the main web. This information includes announcements on updates, business program guides, driver FAQs, and other related matters that are only accessible through the main web.
How can my business benefit from trucking service in the Philippines?
🚚 The most common thing trucking service can benefit any kind of business is that it helps you save on logistics costs. For small to medium businesses, having a fleet for your supply deliveries is very expensive. Having the option to hire a third-party logistics service is the easiest choice. But choosing among which is the best is the challenge on your part. On the other hand, for big corporations running hundreds of deliveries a day, there may come a time where the demand is unpredictable. There are days where a number of your delivery vehicles are underused, while in peak seasons, you might find yourself in a situation where you'll be needing more. Trucking service like Transportify fills in the gaps that give opportunities for your underused trucks and give you options to supply your needs during peak seasons.