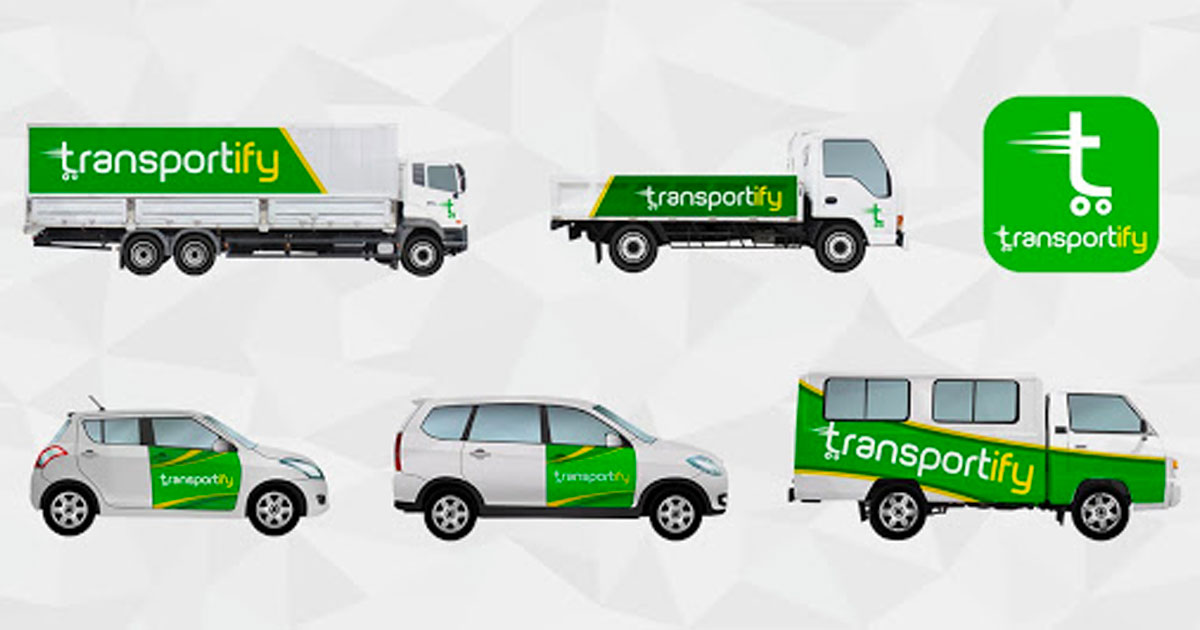 We've been waiting for you! The green truck sticker or green car sticker you just saw represents Transportify, Philippines' favorite way to transport cargo and goods throughout the country at the best prices in the market. If you've seen our truck with a Transportify sticker car sticker in your area, it means our service is available near you. Find out by launching our app or live chatting with us at the buttons below to find out.
With Transportify as your trucking services Manila provider, you can count on getting maximum flexibility at affordable prices when bookings transportation for you or your business. We provide cargo trucking deliveries from anywhere in Luzon. Some examples of the ways customer use us:
Supplier to warehouse
Warehouse to warehouse
Warehouse to distributor
Warehouse to end customer
They include the vehicle with an experienced driver, gasoline, and labor to load and unload. No hidden fees. This is what our green truck sticker and green car sticker stands for.
What Is the Importance of the Transportify Sticker?
From the past few years, entrepreneurs and business owners are looking for a way to make a name for themselves. Today, to be known or famous, you need to think of a way that can make you outstanding among your competitors. That's why we decided to "go mobile" – with this; we achieve the branding and fame that we have right now, especially while we're on the road.
However, we're practicing a kind of "mobile marketing," where we use our partner-drivers vehicle to display our Transportify sticker. But it's a bit different from what you're thinking. We decided to put our Transportify sticker on our vehicles to inform our potential customers that we work as one and as a professional cargo trucking company that can provide all of your trucking services in Manila needs. Check our standard pricing for our vehicles in the table below:
Vehicle Type
Dimensions/
Weight Limits
Base Price


(Metro Manila)

Base Price


(Outside Metro Manila)

Base Price


(Visayas/Mindanao)

Wing Van 

32 to 40 x 7.8 x 7.8 ft




12000kg to 28000kg

7500 PHP

6500 PHP

6500 PHP

6w Fwd Truck

18 x 6 x 7 ft




7000kg

4850 PHP

4850 PHP

4850 PHP

Closed Van

10 to 14 x 6 x 6 ft




2000kg to 4000kg

1800 PHP

1450 PHP

1450 PHP

Open Truck

10 to 21 x 6 ft x open




2000kg and 7000kg

2300 PHP

1950 PHP

N/A

L300/Van

8 x 4.5 x 4.5 ft




1000kg

430 PHP

330 PHP

310 PHP

Small Pickup

5 x 5 ft x open




1000kg

310 PHP

250 PHP

220 PHP

Light Van

5.5 x 3.8 x 3.8 ft




600kg

250 PHP

192 PHP

225 PHP

MPV/SUV

5 x 3.2 x 2.8 ft




200kg

160 PHP

130 PHP

140 PHP

Sedan

3.5 x 2 x 2.5 ft




200kg

140 PHP

110 PHP

120 PHP
Here are the reasons why we use Transportify stickers to our vehicles:
1. Branding
Our logo is the face of our company. Putting it on a car can enable a company to expand a geographic market area with the company's image. It is great to build brand awareness and broader visibility for the brand's public face. It serves as an image that our current customers can immediately recognize us. That way, we also made way for potential clients to remember our company's name.
Because of this, we must choose to spread our brand and logo as far as we can and display it to different places where our current and potential customers can see it.
Our decals help us to promote our company because we offer cargo trucking services that put our staff out in the field. Meaning, we use this opportunity to encourage our trucking services Manila nationwide.
Having a company logo like our Transportify sticker on our vehicles could help our customers associate our brand with a specific job well done. It could be that they are happy with our cargo trucking services, or perhaps they love how our drivers treat them with excellent customer service. That way, having a Transportify sticker on our vehicles will help us promote our brand for more audiences.
Since we compete with logistics company giants, the Transportify sticker current on the van or truck for cargo trucking services can help us to differentiate our team and our trucking services Manila from those logistics company giants.
Besides, having a strong brand is essential, and our Transportify sticker is a surefire method to create a strong presence and spread our brand to more audiences. Also, we are brave enough to put our Transportify sticker on our vehicles because we only give outstanding and excellent cargo trucking services and shipping needs to our customers.
2. Mobility
If a company rents a billboard, most of the time, they are not sure if there will be a lot of people who can see their advertisement. Those people who will drive past in that area are the ones who will only notice it.
The same method can go for online advertisements and even commercials. It can be limited to a specific area, which can lessen the size of potential customers.
With our Transportify sticker, our company's logo can inexpensively and effectively travel the whole Philippines. Anywhere in the Philippines, we can have our customers that require cargo trucking services Manila. Even our staff and our loyal partner-drivers can advertise our cargo and logistics services with our company logo decals, such as the Transportify sticker.
3. Cost-Effective
Advertising is a bit expensive. Worst, despite the enormous expenses, many customers will still not trust us – no matter how great and fantastic our ad was. Here in the Philippines, competition in the logistics industry is at the peak. To win and to stay competitive in the game, we should think out of the box.
The most effective method of advertising is through word of mouth or personal recommendation. People have been communicating about their brand preferences when it comes to cargo trucking services Manila for almost a decade.
A business can spend thousands of pesos on a commercial or through an online advertisement that will only run for a shorter period. Of course, a company doesn't want to spend too many expenses, as this could hurt their income.
Having a company logo and using it on our vehicles as our Transportify sticker, we could potentially travel the advertisement across the whole Philippines for many years to come.
4. Be Seen by Everyone
Of course, running a logistics company in an industry with a high level of competition, you want the best method as possible when it comes to marketing. Any amount that a company spends for marketing purposes deserves to have a maximum possible ROI (return of investment). Meaning, a good advertisement should be seen by every single person that our vehicle has driven past.
Putting decal like our Transportify sticker in our vehicle is a smart way to introduce brand awareness and our cargo trucking services Manila to everyone.
There are tons of people that drive past every single day in every part of the Philippines. That way, having a custom decal like Transportify sticker is an excellent way to promote our cargo trucking services Manila to others.
By this, we have the opportunity to increase our exposure without spending too much money on the advertisement.
Custom decals like our Transportify sticker is an amazing and useful marketing tool that let us shine among the other logistics company. Have you seen other logistics company's vehicles with their custom decals on it?
Maybe, you have seen a few. But Transportify sticker will leave you mark since you'll see the whole decals on the vehicle. Our logo, brand, and slogan are printed all over our cars so that you can recognize us from the others.
Besides, having a custom decal for our cargo trucking services Manila, give us the authority to bring our name and pride on the road. People can recognize our services and separate us from the norm. Being different gave us the privilege to be well-known by everyone who has seen our vehicles.
Plus, people will get curious about who we are, what services we provide, and how competitive we are in this competition full of logistics and delivery company giants.
So, when you saw our vehicles on the road, proudly wearing our custom decals, it's time for you to remember that "We are Transportify!" and we are here to serve and give you an excellent trucking services Manila that every business deserves to have!
| | | |
| --- | --- | --- |
| | or | |
Frequently Asked Questions:
Are drivers required to put on the Transportify logo sticker?
🚚 The primary Transportify logo, also known as the "small T," represents the company wherever you go. As individuals or businesses entrust drivers. It is required for any driver-partners to have the small T placed at the back of their vehicle. This identifies a car as an official driver-partner. This also gives security for all the customers to know that their drivers are legitimate. This also empowers the drivers to represent the company and uphold excellent services.
What cargo trucking services fit for my business?
🚚 Different trucking services specialize in different kinds of vehicles and features. The ideal service to decide on will be based on the nature of your business. For businesses like online selling or in need of parcel deliveries, you may opt to choose for services from LBC or Grab Express. Since they are tailored to small packages. Although LBC is better for long-distance delivery, Grab Express is ideal for same-day deliveries in the city. But if your business is for bulk deliveries, it is better to hire Transportify as your third party logistics provider. Since there is a variety of larger vehicles that can be used.