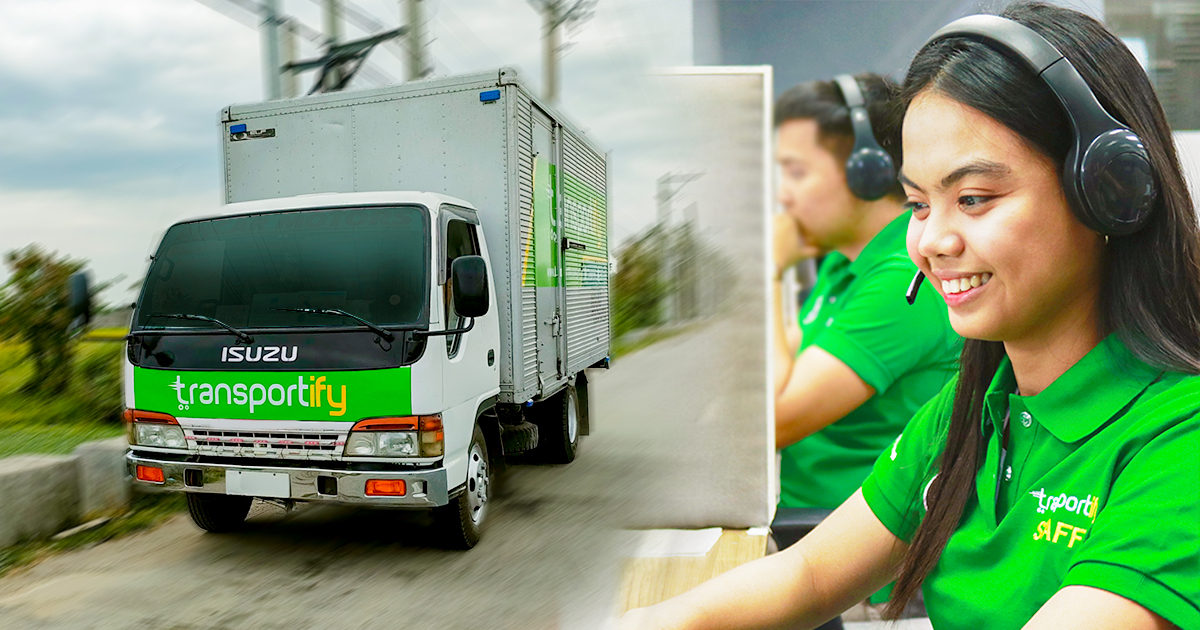 Pushing onward and moving forward as Manila's 2023 smartest logistics provider, the Transportify app achieved yet another milestone. Following their Customer and Driver In-App Chat Feature, Transportify continues its mission in revolutionizing the local high tech trucking services by introducing a new addition to their web and mobile app features—Delia: Transportify's latest crew.
Who is Delia?
Delia is artificial intelligence (AI) computer bot created and designed to make the Transportify app for delivery and high tech trucking services more convenient by attending to the clients' needs. As a friendly AI, Delia can be relied on by clients the way they can rely on any trusted Transportify customer service representative.
How can Delia help?
Delia's number one purpose is to help clients find a matching Transportify budget truck rental service available after the client encountered two failed tries. If the Transportify app was unable to match you with a driver on your first two attempts, Delia will pop up on your computer or phone screen and look for a compatible Transportify delivery driver-partner and vehicle based on your delivery high tech trucking services needs. All you have to do is confirm the booking once Delia found you a Transportify driver and vehicle.
Here's a table to give you a quick summary of our delivery services:
Vehicle Type
Dimensions/
Weight Limits
Base Price


(Metro Manila)

Base Price


(Outside Metro Manila)

Base Price


(Visayas/Mindanao)

Wing Van 

32 to 40 x 7.8 x 7.8 ft




12000kg to 28000kg

7500 PHP

6500 PHP

6500 PHP

6w Fwd Truck

18 x 6 x 7 ft




7000kg

4850 PHP

4850 PHP

4850 PHP
Closed Van

10 to 14 x 6 x 6 ft




2000kg to 4000kg

1800 PHP

1450 PHP

1450 PHP

Open Truck

10 to 21 x 6 ft x open




2000kg and 7000kg

2300 PHP

1950 PHP

N/A

Mini Dump Truck

10 x 6 ft x open




2000kg

1500 PHP

1200 PHP

N/A

L300/Van

8 x 4.5 x 4.5 ft




1000kg

430 PHP

330 PHP

310 PHP

Small Pickup

5 x 5 ft x open




1000kg

310 PHP

250 PHP

220 PHP

Light Van

5.5 x 3.8 x 3.8 ft




600kg

250 PHP

192 PHP

225 PHP

MPV/SUV

5 x 3.2 x 2.8 ft




200kg

160 PHP

130 PHP

140 PHP

Sedan

3.5 x 2 x 2.5 ft




200kg

140 PHP

110 PHP

120 PHP
Is Delia available every day?
Yes! Just like all the other members of Transportify's devoted Customer Service Team, Delia is always available 24/7. But while clients have to initiate contact with any of our customer service representatives first for any inquiries, Delia's services operate automatically once she sensed that the client was not able to successfully find a matching Transportify driver and vehicle.
We hope that the addition of Delia into our booking system will improve Transportify as a trucking company, online logistics, and delivery services provider and show our clients how much we care about making their transactions smarter, smoother, faster, and more convenient than ever.
Why Choose Online Logistics & High Tech Trucking Services?
A capable and responsible business leader or owner will acknowledge the vital benefits of effective online logistics. A business owner or individual will understand that gaining an outstanding high tech trucking services is one of the key elements in keeping satisfaction with customer demands to win against competitors.
So, even if you're a start-up or a well-established business, you still want to grow and expand your market to reach more customers in the future. It only means that expanding on a particular area or region is a plus factor to the growth of your business. Whatever your location is or industry you're currently in, online logistics can help lessen the costs and time you spend to deliver products from point A to point B.
Product shipments are more complex and sensitive as this element always depends on the continuous changing of customer's demands. Product shipment won't be successful if it doesn't have an effective and organize mode of transportation. Because of this, online logistics became one of the most vital factors in the quality of any shipping solutions.
If there's an effective mode of transport, you might probably get an impression that this thing is simple. However, in reality, it requires a lot of expertise, professional management, and skills for clients to see that this kind of service is "effortless."
Here's the thing, don't look down on some online logistics – it takes a lot of expertise and specialized knowledge to have an effective and outstanding delivery service.
Here's the question – why choose online logistics and high tech trucking services for your business?
1Improve Buying Experience and Enhance Your Customer Satisfaction Level
Choosing online logistics that can provide high tech trucking services gives you the ability to display multiple delivery options to your customers. Remember, customers love the conveniences that you can offer to them. Having these services will engage them to stay and place an order for your business.
With these additional options for delivery, your customers can quickly meet their delivery demands and needs, which improves the buying experience and increasing the overall customer satisfaction level.
Though choosing online logistics with high tech trucking services may seem like an overwhelming duty that you wouldn't want to try with. But if you're partnered with the most reliable and responsible logistics company like Transportify, choosing online logistics is an easy task that will pay multiple dividends for your business.
2Online Logistics Will Increase Your Sales
This service is essential, especially if your products are heavier and bulk. Because these items can't be shipped using a small parcel. Having freight rates and alternative options like high tech trucking services is a plus factor to your customers. You can give your customers a list of the shipping costs while visiting your online store, which lessens the chances of losing a particular sale.
3Enhance Quoting Accuracy
Availing the service of online logistics can enhance your business quoting accuracy. With a precise product catalog that contains correct weights and dimensions for your product, getting freight rates will lessen the manual data entry, which gives more accurate freight rates by reducing the time spent in quoting.
4Accounting Effective
Having an online logistics with your business operations enables a centralized location of your product shipment information that can be used for future rating and reports. With this centralized shipment information, you will have the ability to retrieve all the necessary information that you need without going through multiple sources. Doing this will save you an incredible amount of time and disappointment. Also, it gives you additional time to focus more on high priority business matters.
5Shipment Routing
If your customers are well-informed about the freight rates and logistics company's reputation, shipments are routed for shipping. Here at Transportify, you can quickly call our partner driver to get your products by using our on-demand delivery app at your fingertips. You don't need to go to their physical business office and call for a delivery service to avail of our shipment services, simply download our on-demand delivery app and book for a shipment.
If you want to know more about our on-demand delivery app, you may call our customer service, and we are glad to assist you.
Having a shipment routing eliminates the need for your staff to run for freight rates on every shipment. Also, it can free up their valuable time that can be used for the high-priority task instead. This can lead to a quicker order processing throughout your supply chain.
To stay competitive in your chosen market, you need to be partnered with the most efficient, fastest, and safest logistics company. By choosing Transportify as your online logistics and high tech trucking services partner, you can ensure that the services you'll get from us are outstanding and high-class.
Here in Transportify, we provide the convenience of our customers down to their clients as well. If our customers are happy, we are also satisfied. That's why we are continuously improving our services when it comes to technology.
Since we live in today's modern technology, using this as an advantage will benefit both the logistics company and the customers. Technology is a broad topic; there are tons of possibilities that can ease particular tasks and services to provide a different approach to the business. You can never go wrong with choosing high tech trucking services. Using this opportunity will set the bar high for many logistics companies here in the Philippines and across the globe.
| | | |
| --- | --- | --- |
| | or | |
Frequently Asked Questions:
How good are the reviews for Transportify?
🚚 Since launching their operations in 2016. Transportify review has been really well received. Most of the reviews and comments about them show how they value their customers and work toward ensuring that each and every booking made on their platform are done in a high quality standard. Customers and even big and small companies alike continue to use our online logistics service every day. Check out their reviews from their app stores, social media, and Google.
Is customer service available for Transportify?
🚚 Transportify has a 24/7 365 service available including customer service. In the event Delia won't be able to address your concern, our customer service will be able to personally get in touch with you to help. This makes Transportify the high tech trucking services available in the Philippines.