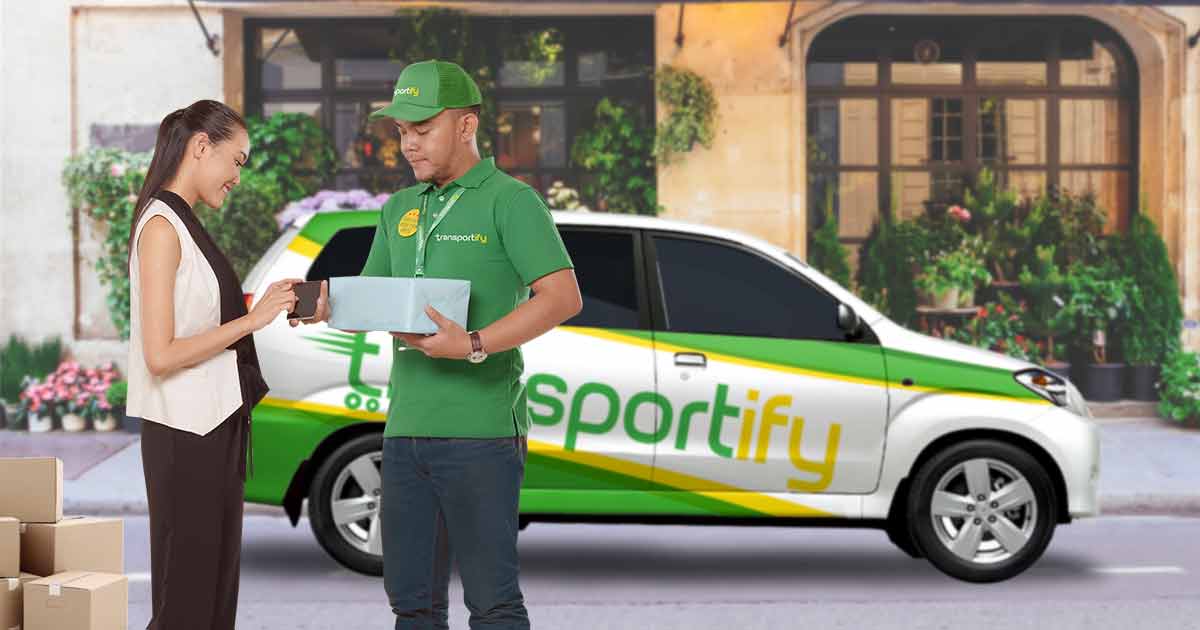 Deliver efficiency at any point in Luzon awaits you when you use the Transportify Courier App. With Transportify, you can schedule an urgent booking within 60 minutes and not have any problems delivering your items to any province in Luzon within the day. Contrary to the Quick delivery option, you can also pre-schedule your bookings 3 hours before the pick-up time up to 2 weeks in advance. Prepare your delivery ahead of time and expect the vehicle on your scheduled day. Either way, experience the same-day deliveries from a provincial courier like no other!
Reasonably Cheap Courier Service in the Philippines
With Transportify's flexibility in delivery, you can book as much as 15 destinations anywhere throughout Luzon! Forget about the fees because, at Transportify, you can save more!
If you need a provincial courier that delivers within the Standard Service Area, there would be no surcharges at all! The standard fare depends on the vehicle class you need. If it's an economy vehicle, you will pay as low as ₱190 for the base fare and a succeeding ₱20 charge per kilometer after that. To make it easier for you, here is a list of the standard fare pricing:
Column 1
Column 2
Column 3
Column 4
Vehicle Type
Cargo Dimension
Capacity
Starting Price

Economy (Sedan/Hatchback)

L: 3.5 ft
W: 2 ft
H: 2.5 ft

200 kg

₱190

Economy Extra Space (SUV/MPV)

L: 5 ft
W: 3.2 ft
H: 2.8 ft

300 kg

₱240

L300/Van

L: 7 ft
W: 4 ft
H: 4 ft

1000 kg

₱470

Closed Van (4W)

L: 10 ft
W: 5 ft
H: 5.5 ft

2000 kg

₱1950

Closed Van Extra Space (6W)

L: 14 ft
W: 6 ft
H: 6 ft

2000 kg

₱2350
If you would need to deliver outside of the standard service area, you pay a surcharge of 25% above the standard rates. What's more? Transportify's 25% surcharge will not apply if your pick-up and the final destination is within the standard service area!
Deliver anywhere in Luzon!
A top pick from business, Transportify picks up from within Metro Manila and delivers anywhere in Luzon! Be it a delivery up in the North (Ilocos Region, Cagayan Valley, and the Cordillera Administrative Region) or down to the South (CALABARZON, MIMAROPA, Bicol Region), we can provide you with a cost-efficient service. A first for any app-based courier in the Philippines.
All you need is to book a vehicle for your shipments within our Standard Service Area. From there, Transportify will deliver it to any destination in Luzon. Book now and let Transportify handle your deliveries at any location of your choice!
Transportify's user-friendly application does not only transact your shipments efficiently in just a few clicks; it also allows you to track and trace your packages anywhere.
Track and trace provincial deliveries using the app
Transportify's user-friendly application does not only let you transact deliveries in just a few clicks; it also allows you to track and trace provincial deliveries in real-time!
Just download the app via App Store or Google Play, select a pick-up and delivery schedule, and monitor where your shipments are. You'll also receive a digital signature from your receiver once the packages are received. If there are multiple provincial destinations, you'll receive one from each receiver.
Unparalleled Courier Service in the Philippines
Same day delivery at any point in Luzon for a reasonable price, plus the ability to track and trace your shipments in real-time? With the unparalleled service that Transportify has to offer, there is nothing more you can ask for!
Continuously intensifying their delivery flexibility, Transportify's cheap courier service in the Philippines is right for your business! For more information, browse through the website or chat with us.
What is Point to Point Courier Service In The Philippines?
Now that you know why Transportify is the top pick for cheap courier service in the Philippines, let's talk about what's unique about today's couriers and how it affects businesses.
Point to point delivery service is the number one courier used for small businesses like online selling and other eCommerce platforms. Ideally, point to point courier is often used by sellers who use a point to point marketplace. It is widely used for delivering orders from the seller to the shoppers. Not only it is used for businesses, but many individuals use this service to transfer goods and cargo to someone who was not able to get their items in person.
A point to point marketplace is online selling platforms where sellers or business owners transact with the buyers. So, instead of creating a transaction between the business and the consumer or business to business, the transaction is made between individual people. The perfect example of this kind of activity is online selling using Facebook, and so on. Point to point is referred to as "peer to peer" or a "person to person" delivery. Often, it is also called by many as a same-day delivery courier. However, depending on the location, it'll required days to be received by the buyer.
Why do People Cater Point to Point Couriers
Here are the following reasons:
It benefits the seller or the business owner when it comes to profit.
It also helps the buyer when it comes to savings.
Also, point to point marketplace owners can get commissions on each sale transacted on their platform. It is similar to how stock exchange earns profit for suited buyers or sellers of the stocks. The benefit covers the costs of running the platform, which can give the sellers a proof of reputation, communication (seller to buyer), trust, and guarantees. Other also benefits from it, like the joy of giving people the value of their time, increase efficiency, and offer convenience.
Why Small Business Owners / Sellers Choose Couriers with Point to Point Delivery?
As you may know, there is no shortage of point to point deliveries . Not only you can find it in an eCommerce platform, but many individuals or sellers who don't use point to point marketplaces, instead sell their goods on their websites, uses this cheap courier service Philippines – point to point delivery.
If you're a seller, it is more convenient to use a point to point delivery servicer where fees and rates are affordable. Not only it'll benefit your business, but buyers will also get savings from it. As a buyer, you wouldn't like to pay for an extra fee that is too expensive for a particular good.
Moreover, shipping the goods using the usual channels or local shipments can cost you more money. There are separate taxes, stamps, and other fees that are included for that kind of courier.
Because of that, sellers and buyers are looking for a more cost-effective, reliable, and trustworthy point to point alternative, the top pick is Transportify Philippines for point to point delivery service.
Transportify Philippines is a courier service in the Philippines, giving sellers and buyers affordable rates, convenience, and assurance that their goods are safe and secure.
Qualities of a Good Courier Service in the Philippines
Choosing the best courier can be quite complicated. As you may know, since the birth of online selling, many couriers are competing with each other to gain attention and trust from the customers. So, what qualities do couriers have that made them the top pick?
Customer Service: The best couriers could provide you the most pleasing customer service that they have. Meaning, they were able to address all of your concerns and issues promptly

Honesty: An excellent courier is not only about being reliable but also an honest company and staff. You can make sure that no matter what your goods and items are, they're safe in good hands

Professionalism: If you're a seller, remember that your courier partner is an extension of your business. So, if your chosen courier like Transportify PH provides an excellent service, customers will remember that and can give you more profits in the long run.
If you're looking for this kind of qualities in a courier partner, search no more, you've come to the right page! With Transportify PH, you can make sure that all of your goods and cargo that needs to be delivered will be delivered safe and secured to the receiver.
Frequently Asked Questions:
How much do courier services cost in the Philippines?
🚛For cheap courier service in the Philippines, the motorcycle courier usually costs about P200-300+. If you're looking to deliver larger and bulky items or it's too fragile to be transported by one, you can book Transportify's economy vehicle where price starts at P190 and can deliver anywhere in Luzon.
Who has the cheapest courier service price for multiple deliveries?
🚛For a motorcycle courier, Grab Express offers a base fare of P80 and can deliver within Metro Manila. If you need more space and a more extensive service area, you can book Transportify's Economy vehicle with a base fare of P190 and can deliver from anywhere in Luzon connecting more businesses to their customers. You may also add drop-off points for multiple deliveries with corresponding extra cost for each stop.