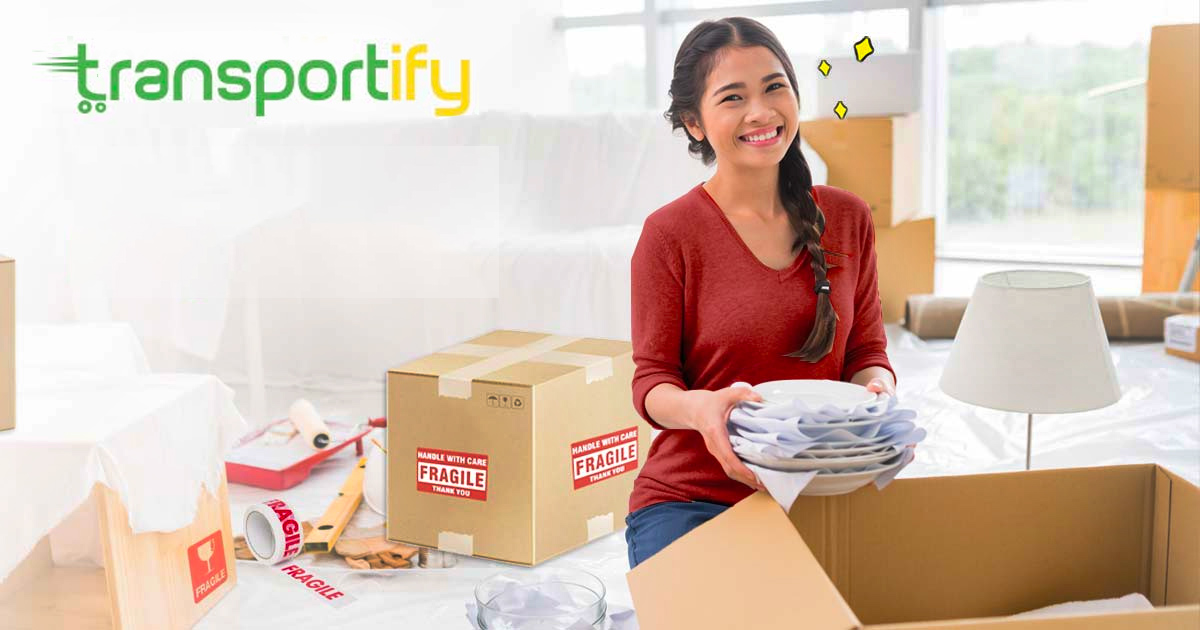 If you're due for a house moving soon, then you're likely experiencing a whirlwind of emotions at the moment! Well, perhaps you should relax a little. As long as you have a reliable moving service app on your side, you'll be able to get through the experience without a hitch!
WHAT WE DO
Deliver your packages
Load and unload your furnitures
Secure your deliveries on the way to the destination
WHAT YOU CAN HELP US WITH
Prepare your packages in advance
If possible, disassemble bed frames, cabinets, tables, etc.
Wrapping your stuff for safety
Emptying cabinets and drawers

Tips on Packing Fragile Items
But of course, one of the biggest concerns when it comes to house moving service Philippines is whether or not you're going to be able to move all of your beloved possessions without breaking something! Well, if you follow these expert tips on packing fragile items, then they should arrive at their destination unscathed. Let's have a look.
Identify what exactly needs to be moving
Grab a pen & paper and start compiling a list, but not before you grab yourself a cup of coffee because this could take a while! What you want to do before starting your packing is to take an inventory of every single fragile item that you plan to move. While compiling this list, identify and decide on any stuff that you're not going to need to keep.
Why am I doing this?
You're going to need a lot of packaging supplies, so taking count of your fragile items will enable you to prepare enough to pack absolutely everything appropriately. Also, make sure to choose the logistics company which can provide a moving service app for your moving convenience. Aside from that, you should need to be ready with the moving cost, so, to give you an idea, refer to the below table for the prices:
Get everything you need to start packing
OK, now before you start packing your fragile items away, you're going to have to get your hands on plenty of packaging supplies. For the best results you'll need the following:
Sturdy cardboard boxes (preferably double-walled)
Soft packing paper
Bubble wrap
Heavy-duty packaging tape
Marker pens
Inspect all of your supplies and ensure that the boxes are clean and in the appropriate condition.
Pack your initial layer
The soft packaging paper is for lining the inside of your boxes with an initial layer of protection. Place plenty of scrunched up papers at the bottom of the box. The papers will also absorb an impact during transit. Following that, you'll want to start wrapping your fragile items in this paper, using tape to secure the bundles. Then, you'll want to use leftover paper to fill up any other spaces in the box once your fragile items have been packed inside.
Bubble wrap it all up!
We love bubble wrap! So much so that we cannot get enough. Bubble wrap is the perfect and essential addition to your delicate packaging and house moving routine. If you have enough, you can layer the box with some bubble wrap. However, that may not be necessary. However, you must first carefully wrap all of your fragile items in a bubble wrap (assuming that they've already covered in paper). You'll want to take extra care when wrapping glass figurines and ornaments. Sufficient bubble wrapping is essential for keeping them intact in transit. In addition to that, be sure to use tape to secure all of the wrapped items in place.
Note: We encourage our customers to safekeep their items especially those that have large pieces of glass. This should have extra layer of  safety measures such as bubble wraps and boxes to reduce the probability of unwanted damage during transportation.
Label carefully so that everyone knows what is inside the boxes!
The labels are where your marker pens come into play. You must clearly label every box so that people know what's inside. These labels are particularly crucial for boxes that have china plates and glassware. You can also use different colors; for example, you may wish to use a red marker for fragile boxes and black for generic items.
Sorting the kitchen
Packaging everything in the kitchen is arguably the most frustrating and time-consuming room in the house. That said, there's no avoiding it! Not unless you want to be eating off paper plates for the rest of your life. So, how can you easily package your glasses and dishes to ensure they're fully protected?
Set yourself up with a decent packaging station on the kitchen table.
Make sure that you use heavy-duty boxes for these and add a couple of layers of tape on the bottom of the box for extra security.
Wrap your plates thoroughly in a paper, and then add a layer of bubble wrap as well. We'd recommend wrapping these individually to prevent scratching.
Arrange your wrapped plates sideways in the boxes, as opposed to laid flat on the bottom and stacked.
Make sure that you fill in all of your cups and glasses with paper before wrapping them up.
Pre-cushion your boxes before carefully arranging your glasses and cups inside.
Packing electronics
Hopefully, you have saved the original boxes for your electronic devices. The boxes will make them significantly easier to pack. In any case, before you move anything, you should be sure to back up any information (e.g., for laptops and computers), just in case (hopefully not!) they do get damaged in transit. Following that, you'll want to ensure that all sensitive screens are protected with tissue paper and cardboard and then wrap them thoroughly in paper and bubble wrap.
Pro-tip: If you're a bit of a technophobe and you don't think you'll be able to remember how to wire everything up again, make sure that you take some photos before dissembling them.
Other fragile items that need careful packing are not just electronics and kitchenware that need handling with care. Here are a few items that you must package appropriately:
Picture frames
Mirrors
Lamps and other ornaments
Musical instruments
Artwork/canvas
Cleaning supplies (you don't want bleach leaking all over your other possessions!)
Wine and liquor bottles
Books
Follow the same process with the items above! Tissue paper and bubble wrap. Provided that you follow these house moving tips, you shouldn't have any issues with your move.
SEE ALSO
Are You Looking for an Expert House Moving Service App?
Of course, the most important thing of all is settling on a reliable house moving service. If you haven't found one yet, then do not hesitate to try Transportify. We serve as an all-around logistics provider and doubles as a moving service app. Just contact us today, and one of our friendly staff will gladly answer any questions that you might have about our expert house moving services. Here's the list of our fleet's dimensions to give you an idea about the vehicle you want to use.
Vehicle Type
Cargo Dimension
Capacity
Vehicle Type
Cargo Dimension
Capacity

Economy

L: 3.5 ft
W: 2 ft
H: 2.5 ft

200 kg

Economy Extra Space

L: 5 ft
W: 3.2 ft
H: 2.8 ft

300 kg

L300/Van

L: 7 ft
W: 4 ft
H: 4 ft

1000 kg

Closed Van

L: 10 ft
W: 6 ft
H: 6 ft

2000 kg

Closed Van Extra Space

L: 14 ft
W: 6 ft
H: 6 ft

2000 kg

6w Fwd Truck

L: 18 ft
W: 6 ft
H: 7 ft

7000 kg

10-W Wing Van

L: 32 ft
W: 7.8 ft
H: 7.8 ft

15,000 kg
Provincial Lipat Bahay Services
House moving is not easy especially when the location is far from your address. But with Transportify's provincial lipat bahay services, it is now possible to move anywhere in Luzon and Cebu.  Remove the hassle out of your relocation with this awesome service at a very affordable rate.
In any case, we wish you the very best of luck with your house moving and hope that you are incredibly happy in your new home!
To Wrap Things Up
There are lots of house moving truck rental companies to choose from. Make sure that you pick the most appropriate one which can fit your budget and moving needs. Moreover, they should be able to provide a moving service app to track your household items in real-time so you can feel at ease that your items are in good hands. Moving van feature is just one of our services here in Transportify.
It's never easy to move into a new house, with all the stress and tiredness from loading and reloading household items; indeed, moving can drain you physically. So you better be ready for full day delivery. Aside from that, it would be best if you also considered all the hassles in wrapping and packaging all the fragile items that you have in your house. But following the tips above will surely help you to have a smooth house moving experience. Here in Transportify, we can assure you that all of your house moving needs will be met accordingly.
Download this house moving app by scanning the QR Code or clicking the buttons below:
| | | |
| --- | --- | --- |
| | or | |
Frequently Asked Questions:
Where can I rent house moving services?
🏠 House moving services offered in online listings of carousell ranges from ₱1,500 – ₱3,000 depending on who you hire. You can also try out Transportify, a mobile / web delivery app that offers lipat bahay as part of it's services. Pay only for the vehicle you need and the distance.
What are the available moving services app?
🏠 During a house moving it is inevitable to transport a lot of items to its new location. Sometimes, one trip is not enough. There are numerous moving services you can find that work independently. But since you are moving personal belongings it is just to look for a trusted moving service provider. Transportify does not just give you accessible moving services but all our drivers are reliable and we make sure no items will be left behind.