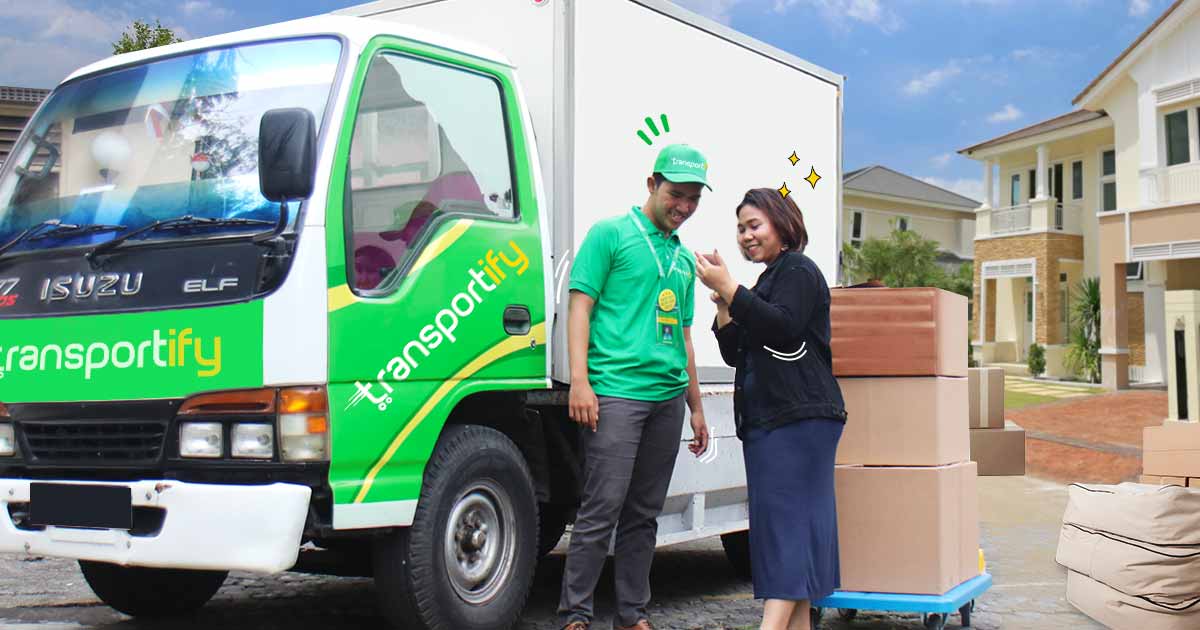 There's nothing much more exciting than moving into a new house or apartment. But at the same time, there is so much more to do. It can become rather stressful unless you take a breath and be sure to plan the procedure thoroughly with the help of a trusted moving service app. Contact us today!
In this post, we're going to take you through a list of things that you must remember to do! If you follow this guide, you shouldn't have any issues when relocating and finding a reliable and trusted moving service Philippines. In fact, it may even be an enjoyable process for you! Let's begin…
1It's time to purge

Moving gives you a unique opportunity to declutter your belongings and get rid of some things that you don't need, never use, and is taking up too much valuable room and space in the moving service vehicle that you'll use. Go through every room in your home and identify what you want to get rid of. Then you can try to give some old bits away to charity shops!
2Check your food stores
Is everything in your kitchen worth moving? Perhaps you have some food which is about to expire? Maybe you have some frozen meats which are going to be too difficult to move? Why not collect some food and give it away to a local homeless shelter? You'll be doing a good deed while making a move less awkward.
3Who is going to help you move?
Deciding on which "moving" company to assist you is another important step. That said, you can simplify the experience by choosing Transportify moving service app. We have revolutionized Lipat Bahay services, making it incredibly easy for people to hire truck rental services here in the Philippines to help transport their home from one place to another using your mobile phones or computers. Here is our standard pricing to give you an idea:
Vehicle Type
Dimensions/
Weight Limits
Base Price


(Metro Manila)

Base Price


(Outside Metro Manila)

Base Price


(Visayas/Mindanao)

Wing Van 

32 to 40 x 7.8 x 7.8 ft




12000kg to 28000kg

7500 PHP

6500 PHP

6500 PHP

6w Fwd Truck

18 x 6 x 7 ft




7000kg

4850 PHP

4850 PHP

4850 PHP
Closed Van

10 to 14 x 6 x 6 ft




2000kg to 4000kg

1800 PHP

1450 PHP

1450 PHP

Open Truck

10 to 21 x 6 ft x open




2000kg and 7000kg

2300 PHP

1950 PHP

N/A

Mini Dump Truck

10 x 6 ft x open




2000kg

1500 PHP

1200 PHP

N/A

L300/Van

8 x 4.5 x 4.5 ft




1000kg

430 PHP

330 PHP

310 PHP

Small Pickup

5 x 5 ft x open




1000kg

310 PHP

250 PHP

220 PHP

Light Van

5.5 x 3.8 x 3.8 ft




600kg

250 PHP

192 PHP

225 PHP

MPV/SUV

5 x 3.2 x 2.8 ft




200kg

160 PHP

130 PHP

140 PHP

Sedan

3.5 x 2 x 2.5 ft




200kg

140 PHP

110 PHP

120 PHP
4Get all of your packing supplies
You can't move your life without boxes! Invest in all of the packaging supplies that you need to get your possessions boxed up and ready for transportation (i.e., cardboard boxes, packing tape, bubble wrap, sugar paper & marker pens).
5Order new home essentials in advance
One of the most exciting aspects of moving into a new home is ordering some modern essentials. Order them ahead of time so that you can take advantage of your new home essentials when you arrive! There's no problem with transporting your orders because there are flexible moving service providers Philippines like Transportify, who can do the job for you.
6Get packing!
Next, it's time to start packing everything into your boxes. We would begin by going room to room and packing everything in order. Additionally, you'll want to pack items that you won't need for the next week or so. Keep your essentials on standby until the day that you're ready to move and have a few spare boxes prepared for it!
Note: We highly encourage our customers to have an extra layer of safety on their items especially those that are made out of large glass. Use appropriate packing materials such as bubble wrap to ensure that it will not encounter any problems during delivery.
7Book your time off
There's no good trying to move to a new house before or after you finish work, nor is it ideal using your only day off to do so. We would advise booking at least a couple of extra days to sort the move and get settled in and unpacked. You can book a moving truck for rent up to 14 days in advance through a moving service app with advanced tech like Transportify.
8Sort your utilities out
It's always worth calling your utility companies in advance and letting them know that you're due to move to a new house. In most cases, you'll need a technician to come out to your new property, so be sure to get it done. You don't want to arrive at your new home and have no water or electricity!
9Have your new home deep cleaned
You should arrange to have your home thoroughly cleaned the day before you arrive. That way, it can be beautiful and clean when you arrive. You'll feel much better once you're settled into a new environment.
10Relax!
Try not to let the stress get to you! If you take a step back and sort everything in advance as opposed to leaving it to the last minute, everything will run smoothly. If you're moving long distance, then be sure to check out our fleet and prices. We're confident that our house moving service Philippines will be of satisfaction to you.
If you are new to moving, here are additional steps you can take to improve your experience when you use moving service Philippines. These are common tricks of the trade that might be known to people who have been moving consistently but not necessarily to the first-time mover.
What are some Tips from the Best Partner for Moving and Relocation Needs?
Pack by room and not by category
Packing per room may require more boxes and more vehicles (depending on the amount of stuff you have) for the move, but it can be helpful if you quickly get confused. Assistance from a moving service app can help you stay on top of all the moving parts. When you arrive at your new place, you can move each box according to the label and unload the items. After unloading, you have to organize the bits and bobs to their rightful place. There are two ways you can approach this step:
1. According to the rooms of the house you are moving from
2. According to the office of the home, you are moving into
When you pack by the rooms of your current home, it streamlines the packing process. You can even allow a specific amount of boxes per room, and anything that doesn't fit can move on to family members, friends, or charity shops. You can use the moving service app for distributing large furniture to family and friends if your space can't handle it. If it proves to be efficient, the moving service app may become a staple in your close circle.
Packing per room can be an opportunity for you to declutter and to review what you have. The declutter can also help you move in one go, moving service Philippines have their van capacities listed online for you to double-check.
The second way, packing for the rooms of your new home, requires a bit of imagination. You might be moving into a house with more or fewer places. If you have decided what each room does, you can begin to make judgments beforehand. The extra room can be a home office, guest bedroom, or the solo room of your child—whatever you choose to do with it; there is a simple way to segregate the items for the room.
Transportify's van rental is a popular moving service Philippines, including unloading your items. The moving service app lists extras like additional helpers who can have the boxes moved to their corresponding room without leaving you to do it on your own. The moving service app also has other features like track and trace and a whole day rental option for moves that you cannot facilitate or moves that require multiple stops. You can consult the customer service on the moving service app for more details.
Separate your essentials from the rest.
When you have the assistance of a moving service Philippines, the loading and unloading and the transporting of your items will be finished in a flash. The packing and unpacking process is the most time-consuming part of any move. Not everyone has the luxury to dedicate all their time and effort, and it can prevent you from doing more important things. Even if you had the time to organize your stuff, it is such a tedious process; it could take you days before you go through everything. If you anticipate a busy week that coincides with your move, consider using moving service Philippines and separate the essentials that can help you be on the go without negatively affecting your life.
Pack your essentials like your clothes, toiletries, gadgets, and cooking and eating tools apart from the rest. When you move into your new space, segregate your box according to the rooms they are supposed to occupy and unpack your essentials first. You can then move on to your other items by order of importance.
Provincial Moving and Relocation Services
Moving home furniture and appliances is always a hassle as it requires more energy and money especially when your new house is far from your current location. But with Transportify's provincial lipat bahay services, you may now book a vehicle to handle your provincial relocation needs. The available driver-partners for these services are well-trained and equipped to lessen the burden of transferring from your old house to your new home. Moving and relocation services is now made easy with Transportify!
Excellent moving service Philippines is hard to come by, but Transportify's moving service app can change that. Their moving service app can easily link you to people who can transport and do the heavy lifting. This ten-step guide, along with their moving service Philippines, can help you settle in your new home with no worries.
Download the app now!
| | | |
| --- | --- | --- |
| | or | |
Frequently Asked Questions:
What are the moving services in the Philippines?
? Hiring a moving service when changing homes can easily be found online. OLX and Sulit.com are ad websites you can conveniently connect to truck operators to help you with your transport. However, if you want a certified and experienced company in moving logistics, you should check out Transportify. Also, we can serve you to any point by land in mainland Luzon, Cebu, and Davao.
How much is the moving service of Transportify?
? Prices for Transportify's  truck for rent start at P430 + P27 per KM for our smallest moving service vehicle, the L300 / Van, while our 4 wheeler closed van starts at P1800. You can also rent these vehicles for a full day to save from multiple drop offs and trips.