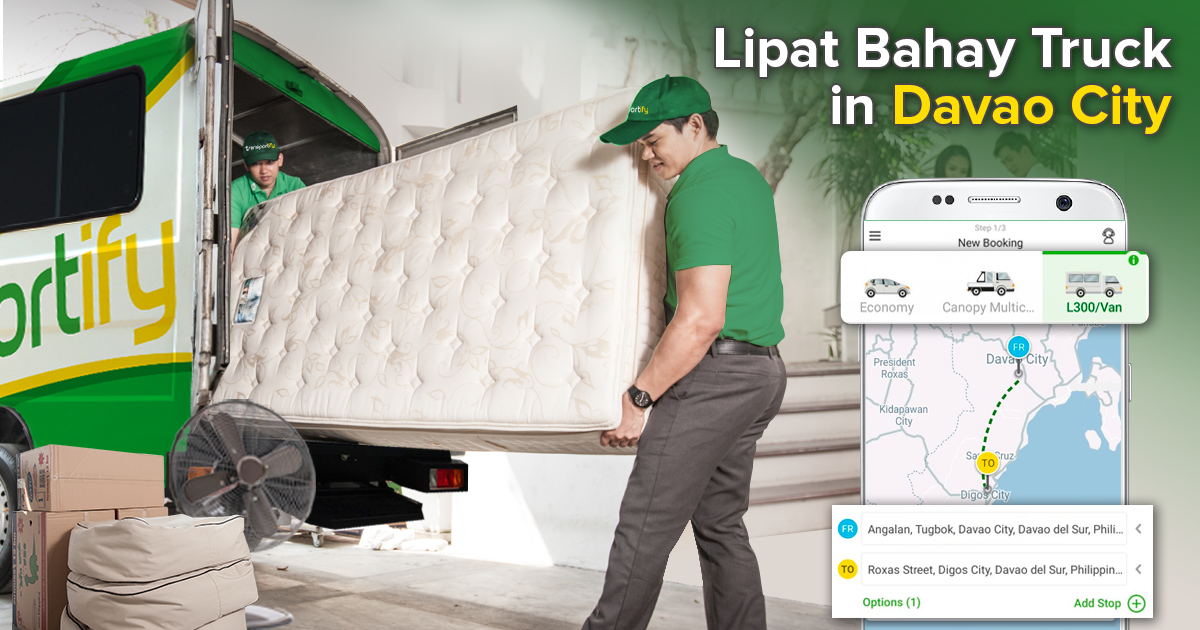 Because lipat bahay is among the most stressful chores, learning about innovative ways to make it go more smoothly is useful. Finding a lipat bahay truck Davao City is not simple, especially during a pandemic. However, if you are familiar with some of the latest logistics trends and delivery apps that have changed with the pandemic, it'll be less difficult.
This article will look at apps for delivery that can help you with your lipat bahay in Davao city. Transportify, thanks to new technology, may assist you with making your next move and possibly save you time and headaches when moving house. Transportify is a well-known logistics company that has considerable expertise in business deliveries as well as personal ones, such as lipat bahay. They take pride in providing clients with a high level of service, whether in Manila, Cebu, or Davao.
But First, How Do We Define Apps for Delivery and How Does It Work?
Delivery services may use apps for delivery to assist them in providing their clients with a better experience. The application, such as an e-commerce website or a social networking platform, can be hosted on-premises or in the cloud. End-users may now access numerous platforms and technologies that provide seamless and dependable applications, one of which is Transportify
Individuals may now use their cellphones to hire services, thanks to these applications. In addition, an app delivery platform may help you manage your delivery projects or other activities in the most efficient way possible, including documentation, planning, and organization. You may quickly determine which bookings are time-sensitive and not based on the notes you will provide.

How Can Transportify Assist You in Looking for a Lipat Bahay Truck in Davao City?
If you're looking for a lipat bahay truck Davao City, Transportify has the resources to assist you.
Transportify is well used in mainland Luzon, and it is also known as an app-based marketplace for on demand delivery services. Once you've downloaded the Transportify app from Google Play or Apple App Stores, you'll have access to thousands of on demand and professional delivery drivers who are ready to help you with your lipat bahay Davao needs. When you use Transportify, there's no need to look for a delivery van for rent on the internet.
Transportify's apps for delivery is a significant improvement over traditional courier services and delivery truck rentals in the area.
This delivery app is intended to serve as a platform for consumers to locate the closest drivers and vehicles that best meet their delivery requirements in 2023. Thanks to this incredible logistical breakthrough, customers may now have their products picked up and delivered on the same day.
Here are the available vehicles and trucks of Transportify you can book in Davao:
Vehicle Type
Dimension &
Weight Capacity
Base Price


(Visayas/Mindanao)

Wing Van 

32 to 40 x 7.8 x 7.8 ft




12000kg to 15000kg

6500 PHP

6w Fwd Truck

18 x 6 x 7 ft




7000kg

4850 PHP

Closed Van

10 to 14 x 6 x 6 ft




2000kg to 4000kg

1450 PHP

L300/Van

8 x 4.5 x 4.5 ft




1000kg

310 PHP

Small Pickup

5 x 5 ft x open




1000kg

220 PHP

Light Van

5.5 x 3.8 x 3.8 ft




600kg

225 PHP

MPV/SUV

5 x 3.2 x 2.8 ft




200kg

140 PHP

Sedan

3.5 x 2 x 2.5 ft




200kg

120 PHP
Transportify, as one of the country's delivery apps, is ideal for city and provincial lipat bahay demands.
When moving, finding the correct lipat bahay truck Davao City can be difficult, especially if it's your first time. Transportify provides an extensive range of vehicle kinds to suit your needs, whether you're moving to a new house or a new condo.
One of the known services that Transportify can offer is to provide people with high-quality services without having to spend a lot of money. In addition, this apps for delivery not only highlights low delivery costs and, but also emphasizes accessibility, ease, and visibility. Transportify also offers interisland trucking service, if you plan to do lipat bahay from Luzon or Cebu to Davao. So if you are looking for lipat bahay truck Davao city, Transportify will make it possible for you.
SEE ALSO:
Reasons Why You Should Hire a Lipat Bahay Truck Davao City From a Trusted Provider
1

Cost-Effective

A key aspect to remember in having hiring trucking services from apps for delivery is that it may save you a lot of time and money. For some providers, hiring a lipat bahay truck Davao city implies you'll be responsible for all gasoline costs associated with the process. If you're intending to have a lipat bahay truck, you may find yourself spending a significant amount of money on petrol and other travel expenses. However, with Transportify, they are transparent with the overall costs between all clients, you'll be able to save money on logistics spendings compared with other trucking services providers.
2

Less Risk of Damage

Trust is a very important factor when looking for a lipat bahay truck. The worst that can happen in such a situation is that your items get damaged while in transit. Especially if you are transporting your personal items, you want them to arrive safe and sound. With that, you would want a lipat bahay truck service that can also provide you with insurance. As the old saying goes, prevention is better than cure. As a result, it is critical that you select the trusted lipat bahay service that is committed to taking care of your items.
3

Appropriate Vehicle for your Goods

Every request for heavy carrying is given the attention it deserves. As a result, one type of lipat bahay vehicle cannot be used for all types of delivery. In other words, Transportify does not operate on a one-size-fits-all basis. Being an app for delivery, Transportify has a fleet of vehicles waiting for the perfect client. Of course, this will vary depending on the items to be delivered, but most are set up to handle as many orders as feasible.
4

Extra service options

The app comes with a number of extra services available. If you want your driver to assist you to load and unload items beyond 15 meters from the vehicle, it has special help available for sedan, MPV/SUV, Light Van, Small Pickup, Canopy Multicab, and L300/Van. It also includes extra helper options for the L300/Van if you need help moving your stuff
Transportify Is Now Delivering in Davao
Transportify has over 1 million active users in its profile today. This is a strong sign of how popular and reputable their on demand truck rental apps for delivery is to businesses and individuals. Transportify's lipat bahay truck service is the most convenient because it can provide end to end delivery service solutions at any time in Davao. They strive to improve your lipat bahay experience and make it remarkable and hassle-free.
Aside from the lipat bahay truck in Davao city, Transportify can also provide other delivery services. Some of their services are: offer office relocation services, last-mile delivery for retail companies, office equipment delivery for BPO firms, building supplies delivery, and transport of heavy industry equipment. They work with a wide range of companies, from every sector. They offer Corporate Account for Business to assist them in improving their delivery fulfillment operations through technology-driven business logistics solutions.
| | | |
| --- | --- | --- |
| | or | |
Frequently Asked Questions:
Can the driver go back and forth locations to deliver multiple items under the same booking?
🚚 Yes. You can add up to a total of 15 drop-offs for every booking in Luzon, Cebu, and Davao. However, if you think that the booking may last 10 hours or more due to the volume of items, you can check out the Full Day option. Under this time type, you will rent the vehicle for 10 hours and can extend up to 6 more hours with incurring fees. 
Are apps for delivery usually available on mobile and the web?
🚚 Yes. Usually, that is how it goes. Like Transportify, they have their mobile app which you can download, and a web app that you can access using a browser. The Transportify app is free and can be used by individuals or businesses as long as they provide sufficient credentials upon registration.