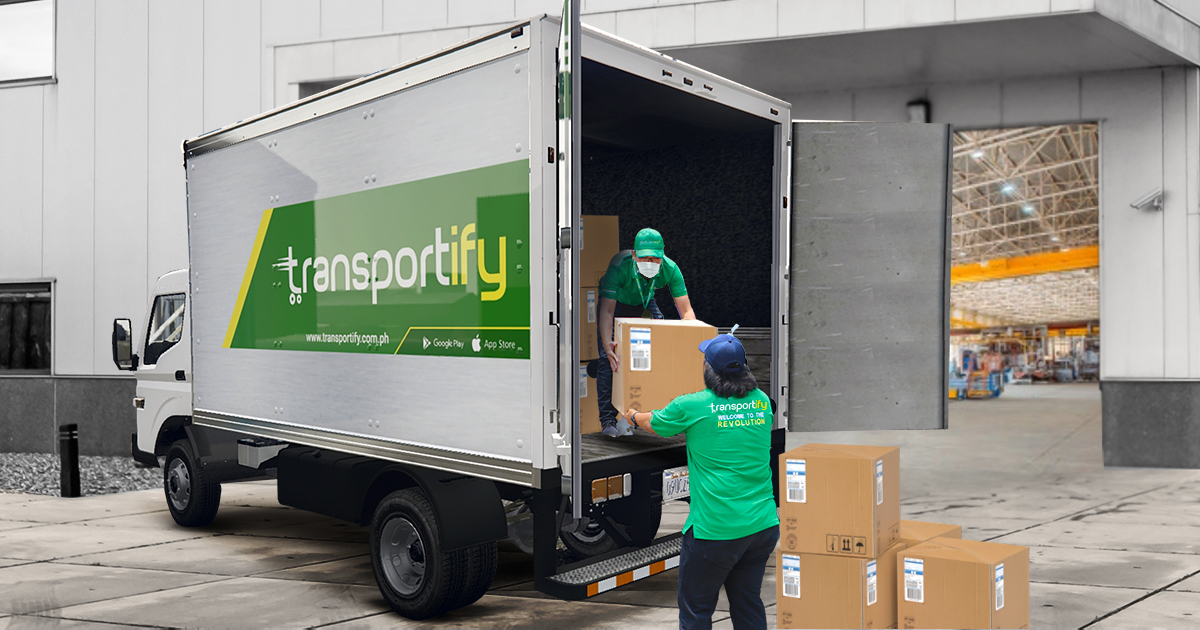 The shipping and logistics industry has numerous growth opportunities. If you want your business to expand and reach more customers, you need to know how to improve your services so that you can seek the best experience for you and your clients. One of the trends in the logistics industry now is door-to-door service. If you want your deliveries to take a step further, definitely hire a door-to-door service provider for your future logistics operations. Transportify is a logistics company in the Philippines that offers door-to-door service. We support businesses and individuals for outbound and inbound transport of goods at any time and day to anywhere in mainland Luzon and Cebu.
How Can Transportify's Door-to-Door Service Improve Your Inbound Transport Operations?
Let us first define the terms that we will talk about in this article. A door-to-door service is a delivery arrangement wherein your cargo is delivered to your doorstep, from the sender to the receiver. Customers prefer door-to-door service because it saves time and effort for both sender and receiver. On the other hand, inbound transport means the transport of goods from warehouses of your suppliers to your business. If you're in the manufacturing business, it usually refers to transporting raw materials to your hub or transporting assembled items like furniture if you're in the retail business. Now that we have defined the terms, let us identify the reasons how door-to-door service will make your inbound transport operations better. Read on below to learn more:
1Flexible use of vehicles and trucks
Goods can come in a variety of shapes, sizes, and states. Food, raw materials,  manufacturing, and construction supplies can now all be transported via door-to-door service. Transportify has a broad roster of vehicles and trucks that can transport your goods from your destinations to anywhere in mainland Luzon and Cebu. The table below will show you our vehicle selection and their common use, which you can refer to as a guide.
Vehicle Type
Common Cargo
Capacity
Starting Price
Vehicle Type
Common Cargo
Capacity
Price Starts at

Economy (Sedan/Hatchback)

Food Products
Small Merchandise
Office Equipment

200 kg

₱100 (Metro Manila)
₱90 (Other Areas)



Economy Extra Space (SUV/MPV)

Food Products
Small Merchandise
Office Equipment

300 kg

₱120 (Metro Manila)
₱110 (Other Areas)


L300/Van

Home Appliances
Small Furniture
Office Equipment

1000 kg

₱415 (Metro Manila)
₱330 (Other Areas)


Pickup Truck

Agricultural Products
Construction Materials
Large Furniture

2000 kg

₱1,800 (Metro Manila)
₱1,450(Other Areas)


Pickup Truck Extra Space

Agricultural Products
Construction Materials
Large Furniture

2000 kg

₱2,200 (Metro Manila)
₱1,850 (Other Areas)


Closed Van (4W)

Large Appliances
Large Furniture
Gym Equipment

2000 kg

₱1,800 (Metro Manila)
₱1,450 (Other Areas)


Closed Van Extra Space (6W)

Large Appliances
Large Furniture
Gym Equipment

2000 kg

₱2,100 (Metro Manila)
₱1,750 (Other Areas)


Long Pickup Truck

Steel Reform Bars
Agricultural Products
Oversized Furniture
7000 kg

₱4,850

10w Wing Van

Palletized Items

15000 kg

₱7,500

Reefer Truck
Temperature Sensitive Goods

2000 kg

₱4,300




Mini Dump Truck

Sand
Gravel

3500 kg

₱1,500 (Metro Manila)
₱1,200 (Other Areas)


6w Fwd Truck

Bulky Merchandise Items
Large Appliances
Large Furniture
FMCG Products
7000 kg

₱4,850
SEE ALSO:
2Multiple stops in one booking
Multiple pick ups may happen if you need certain goods from different suppliers. Hiring a door-to-door service for inbound transport that can pick up goods from multiple locations and deliver them all to you in one go would be a time and cost-effective solution. Transportify's on-demand logistics app can help you with this. Our app will allow you to set up a total of 15 destinations for every booking. You have complete control over these destinations and can decide where the pick-up and drop-off points will be.
3Operational efficiency
Inbound transport can be challenging because you must effectively manage your goods, ensure their stable flow while avoiding delays and surplus. On-demand door-to-door service can be extremely useful in this situation. On-demand service for inbound transport can allow you to predict and hire services only when needed. This type of control gives the ability to manage unforeseen business situations in times of bad weather, changing demands, and more. Transportify, as mentioned in the first part of this article, is available any time and day because we are on-demand service providers. You can choose a convenient and optimal delivery day and time up to two weeks in advance.
3Easier to manage
One of the best advantages of a door-to-door service for your inbound transport is that it is easier to manage. If you use a logistics app like Transportify, you can easily communicate with us when a need arises, and there is a GPS tracking system that monitors your delivery in real time. Door-to-door service via logistics app would save you a significant amount of hassle and lifts the burden of having to manage the fulfillment process from point A to point B.
Optimize Your Inbound Transport Management
Inbound transport requires extensive effort for its optimization and smooth operation. It is possible to do all of this in-house, but it can be very costly. If you need ongoing and permanent efforts, hiring third-party logistics for inbound transport can be an efficient and effective option. On the other hand, if your company needs to increase production during peak seasons, you only need temporary inbound transportation solutions. Hiring third-party logistics can enable you to scale up or down your operations without incurring an excess cost for labor and management. Lessen the burden of procurement with effective and optimized inbound transport through these pointers:
Analyze and compute the cost
Leverage technology to effectively compare and analyze transport costs. Keep in mind to look into operational expenses such as labor management, fleet maintenance, tools, and software management when calculating the cost to understand where costs arise and how to avoid them in the future. According to Capgemini in their study on third-party logistics, cutting costs is on the top list of challenges for businesses. With all advancements and innovations, you must remain budget conscious to sustain operations.
Consider outsourcing
Outsourcing logistics services is a great way to hand over control and therefore avoid the headaches of inbound transport operations. This has been one of the main reasons why more businesses are turning to third-party logistics providers like Transportify to ensure that delivery requirements are met in a timely manner.
Consolidate your goods and choose the best shipping arrangement
In some cases, it is more practical to go for one full truckload than to have the deliveries under several less than truckload deliveries. You can better manage your inbound transport by coordinating with your suppliers and consolidating your deliveries into a single delivery booking. By doing this, you will not only save time but also cost.
Implement processes and technology to track performance
The failure to track the performance of suppliers and vendors is a primary contributor to higher procurement management costs. By implementing procedures and using technology to track and automate performance measurement, you can save money. Tracking performance can be easy with third-party logistics because they have the technology to present accurate and real time data that can provide actionable business intelligence and further action points for improvement.
Transportify Is Your Partner in Effective Logistics Management
Procurement and logistics are two aspects that must coexist. They need to work seamlessly together to ensure that operational costs will not go overboard. Such a scenario will only be possible with proper planning and management. Transportify has its logistics app available for your business. With our flexible booking time types and technology driven features for our door-to-door service, you can practice better planning and management. We provide services to businesses across industries, and we are ready to support you. We have a corporate account for a business that includes more exclusive benefits such as Cash on Delivery (COD), Proof of Delivery (POD), and flexible payment options. You may always send your inquiries to business@transportify.com.ph.
| | | |
| --- | --- | --- |
| | or | |
Frequently Asked Questions:
Does Transportify offer same day delivery for its door-to-door service?
? Yes. We provide same day delivery for full truckload bookings to any point in mainland Luzon and Cebu. We guarantee a fast and direct door-to-door service for your inbound transport. We have a GPS tracking feature for visibility so that you can monitor the progress of the delivery and 24/7 customer service personnel available to answer your questions or concerns. 
I want to use a truck for my upcoming inbound transport, is there a lead time for booking?
? Yes. We have a lead time, and the duration depends on your chosen truck. For our 10w Wing Van, bookings must be made 4 hours in advance. For our 6w Fwd Truck and Long Pickup Truck, bookings must be made 6 hours in advance. For Pickup Truck and Closed Van, you may book within 2 hours or less before your preferred pick up time. If you need to transport temperature sensitive goods, we have a Reefer Truck you may book 24 hours in advance.