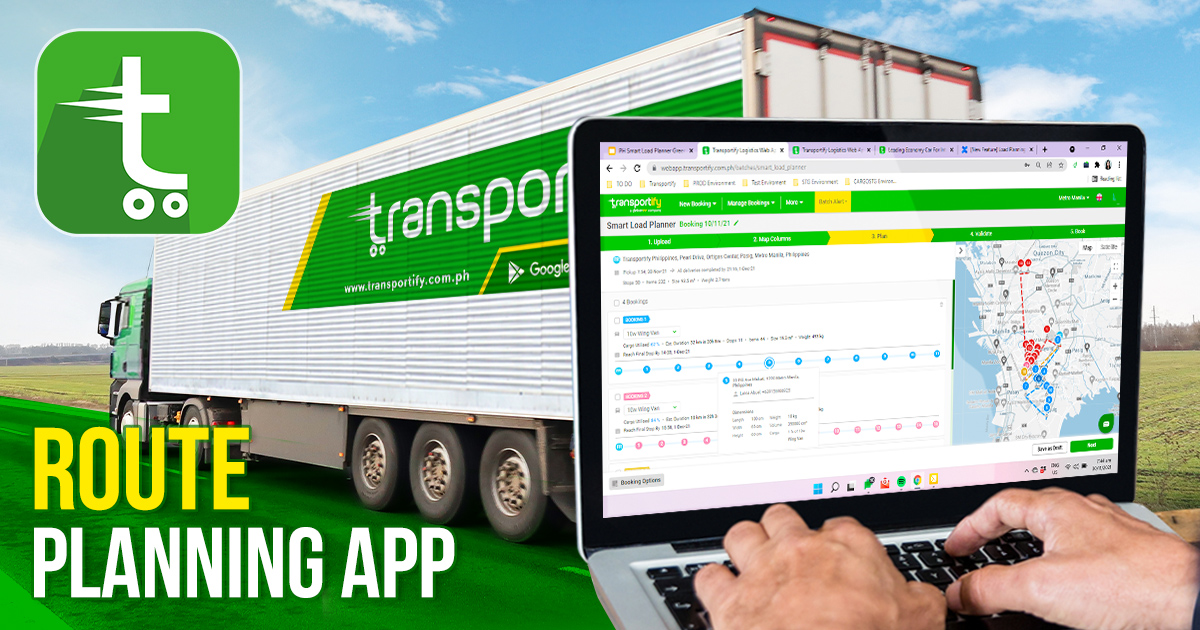 Multi drop delivery can be a logistical nightmare if not planned properly. That's why more and more e-commerce businesses are turning to route planning apps to help them optimize their fulfillment process. These apps can be an extremely effective tool in managing complex delivery routes and can help improve efficiency and minimize delays. In this article, we will discuss the benefits of using a route planning app for multi drop deliveries, and show you how Transportify can help you get the most out of your e-commerce fulfillment.
How is E-commerce Fulfilment Done?
Ecommerce fulfillment is a process that includes the picking, packing, and shipping of orders from an online store. This process begins once the order has been placed and is received by the ecommerce retailer. The order is then processed and the necessary items are picked from inventory. These items are then packed into a box or parcel and shipped to the customer.
Fast and Efficient Delivery Improves Customer Experience
A well-executed e-commerce fulfillment process is key to a positive customer experience. When orders are fulfilled quickly and efficiently, customers are more likely to be satisfied with their purchases. This is especially important for online retailers who offer multi-drop delivery services.
Multi Drop Delivery in One Booking
Multi drop delivery refers to the shipment of multiple items to different addresses on the same day. It can be a logistical challenge to manage multi drop deliveries effectively, but a route planning app can make it much easier.
Advantages of Using Route Planning
Route planning apps allow you to create routes for your drivers that optimize the delivery process. They take into account factors such as traffic congestion, time constraints, and available resources. This means that you can ensure that each order is delivered as quickly and efficiently as possible.
Some of the benefits of using a route planning app for e-commerce fulfillment include:
Improved time and cost-efficiency
When it comes to fulfilling an eCommerce order, efficiency is key. With the right tools in your arsenal, you can make sure that each step of the process goes as smoothly as possible. One such tool is a route planning app for multi drop delivery.
A good route planner can help optimize your fulfillment process by streamlining your delivery routes. This means that you'll spend less time driving around and more time getting orders ready to go out the door. Not only does this improve efficiency, but it also helps keep costs down by reducing mileage expenses.
Minimized delays
One of the biggest headaches for any business is dealing with unexpected delays. Whether it's due to traffic congestion or a broken-down truck on the highway, these unforeseen events can seriously disrupt your workflow and cause a lot of stress.
A good route planner can help minimize these types of delays by giving you a better idea of what to expect during your journey. By factoring in things like rush hour traffic and road closures, you can avoid unpleasant surprises that might otherwise cause delays. This leads to a more streamlined fulfillment process and fewer missed deadlines.
How Can Smart Load Planner of Transportify Help Your Fulfillment?
The Smart Load Planner tool of the Transportify App is designed to help customers optimize the route from the list of orders that will be provided. Through this tool, customers won't have to create bookings one after the other, simply input the details and the system will bundle a booking for your multi drop delivery. In addition, the system of Smart Load Planner doesn't just create bookings out of the list provided, it also arranges the route to the most optimal order possible, allowing drivers to maximize time and gas resources.
Here is how Transportify Smart Load Planner works:
| Steps | Description |
| --- | --- |
| | STEP 1: Customer needs to upload an Excel file that has necessary booking details. (e.g. contact name, contact person, item length, item width, item height, item quantity) |
| | STEP 2: After uploading, the bundling engine will create bookings based on the list of orders in the Excel file. |
| | STEP 3: Bookings are treated as normal full truckload (FTL) and will be pushed to drivers after confirmation of customer. |
Skip the manual work
Do you need to create 20 bookings today having multiple drop-offs? We understand that this task could be laboriously tedious. More than the task of completing the addresses, names, contact numbers, and packing the actual cargo, another worksome task is actually creating the bookings one by one. Through the Smart Load Planner, all the Transportify route planning app will need are the details and the system will be the one to bundle the drop-offs and create bookings for you. The task that takes a day to be prepared can be shortened to half.
Once your logistics managers master the use of Smart Load Planner planning of multi drop delivery will be piece of cake.
Cost-efficient use of budget
Are you having problems grouping your deliveries for the day? Not only does planning takes too much of your time, but it also requires you to be knowledgeable with traffic and road so you can arrange the order of multi drop delivery at its optimum. This dilemma is now solved with the Transportify app.
The Smart Load Planner is not only helpful with bundling drop-offs, but it can also help you arrange your drop-offs to their most optimal order, with consideration to the metro traffic. Another reason it's cost-efficient is that it will assign you to the most fitting vehicle based on the dimensions you will provide.
Data available for real-time monitoring
Once the tool is done bundling and creating your bookings, you can instantly monitor the bookings. You will be presented with real-time data that you can use to make actionable and relevant decisions in case of need. Such visibility is crucial if you are a business that does multiple bookings regularly. Having real-time data is important in terms of tracking and monitoring the arrival of drivers to revert drop-off of your multi drop delivery.
Free tool at your expense
The Smart Load is available to all accounts, but can only be accessed using the web application of Transportify. Having free access to an app feature like this will allow you to prepare for deliveries days ahead, especially if demands are high.
SEE ALSO:
Difference Between Batch Booking and Smart Load Planner
What is Batch Booking?
You may create up to 50 bookings at once with our Booking Feature. This functionality is only accessible through our web app. Upon selecting "Batch" on the app, you will need to choose from two options:
Create batch with our app (Recommended)
Use EZ Sheet upload (For experienced users)
As stated in the options, if you are only starting out with batch booking you can try out the first option because it is more beginner-friendly. On the other hand, if you are familiar with excel, you can check out the second option.
What is the difference between normal Batch Booking with Smart Load Planner?
The main difference of the feature is that in normal Batch Booking the customer is still required to decide the route on each booking, while in Smart Load Planner the tool is can instantly bundle and optimize the destinations for you from the list of orders that you will provide.
When is the best time to use each feature?
The normal Batch Booking options can be used if you are just starting to explore this type of feature in the Transportify app since it will be less complicated. Moreover, you can use this if your bookings are not particular with the drop-off arrangement.
On the other hand, use Smart Load Planner if you want lesser manual work. You'll have fewer worries through the duration of the bookings knowing that the destinations are arranged with consideration to distance and metro traffic.
| | | |
| --- | --- | --- |
| | or | |
Frequently Asked Questions:
What are the advantages of using Smart Load Planner?
⏲️ Route planning software allows you to plan efficient delivery systems that can benefit both you and your customers. The route planning app of Transportify considers things like traffic congestion and scheduling constraints. This implies that you may guarantee that each order is delivered as fast and efficiently as possible.
What is the main difference between the normal Batch Booking app feature of Transportify and Smart Load Planner?
⏲️ The Smart Load Planner of Transportify can bundle and optimize the route of your bookings based on the list of orders provided. The feature is more advanced than the normal Batch Booking that was crafted by the company to help customers handle multi drop deliveries with greater ease.