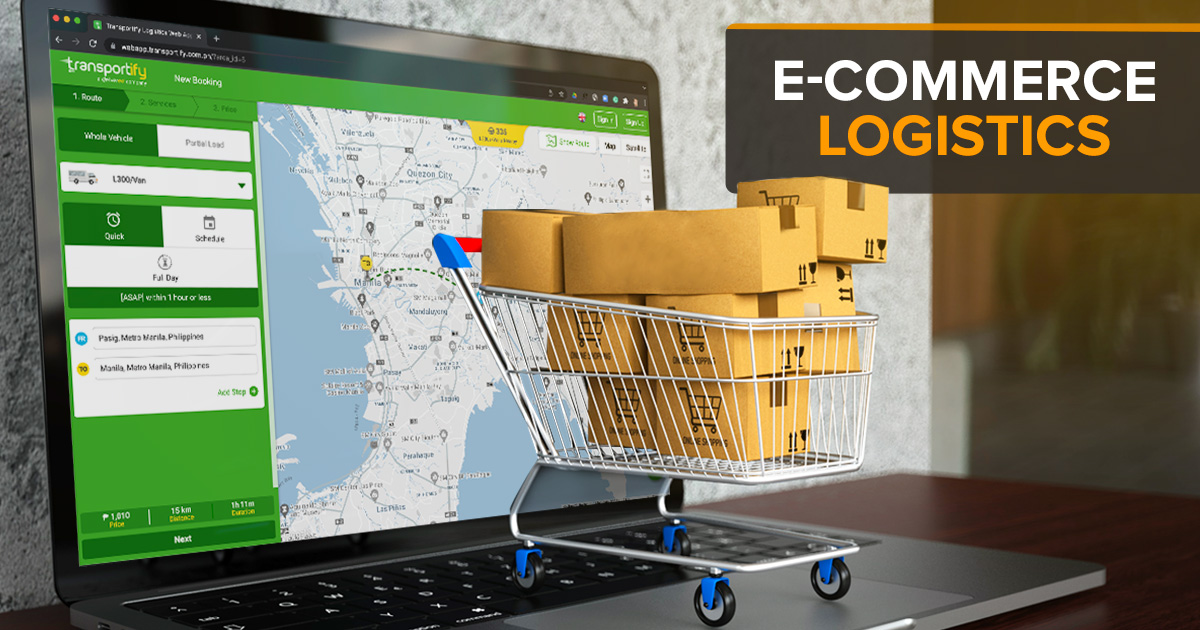 At a time when the country is swept away in lockdowns, ecommerce logistics thrives, particularly in provincial areas of the Philippines. Merchant migration to online platforms is projected to continue to disrupt the retail business in the future. However, before diving into the online world, it's critical to comprehend the current status of the sector and the forces at work. Despite having excellent internet access, Filipinos have been sluggish to embrace e commerce. The trend in ecommerce logistics right now is to deliver the same day or the next day. To meet this need, retailers and developers began exploring ways to make this available to customers. We'll learn everything there is to know about ecommerce logistics in this article.
What Is an Ecommerce Logistics Provider?
An ecommerce logistics service provider, often known as third-party logistics (3PL), is a company that specializes in providing supply chain management services such as warehouse management, order fulfillment, and shipping orders. There are various excellent logistics providers available, but ecommerce businesses should take the time to pick one that will go above and beyond to meet and exceed their needs.
They typically offer:
Inventory management
Warehousing initiatives
Order processing
Trucking and shipping
Services related to transportation
What is the Ecommerce Logistics Situation in the Philippines?
For several causes, the ecommerce industry in the Philippines has seen tremendous growth. Primarily because of advanced mobile apps and banking solutions, which have made it simpler for customers to place online orders, boosted by the continuing ecommerce logistics industry and the growth of new logistics and freight firms.
The companies are turning their attention to online platforms in order to adapt to the Philippine market transformation. There is unquestionably a significant influence on regional trade from this established Build Build Build government initiatives. With the inclusion of multichannel capabilities into their platform, ecommerce companies may now connect to a larger number of customers.
According to experts, the Philippine logistics industry is in its growth stage. The government's efforts to improve our country's infrastructure have benefited logistics and freight firms as well as ecommerce businesses in their operations to fulfill the needs of our increasing population.
Here are the common vehicles ecommerce businesses use for their logistics operations:
Vehicle Type
Common Cargo
Capacity
Starting Price
Vehicle Type
Common Cargo
Capacity
Price Starts at

Economy (Sedan/Hatchback)

Food Products
Small Merchandise
Office Equipment

200 kg

₱100 (Metro Manila)
₱90 (Other Areas)



Economy Extra Space (SUV/MPV)

Food Products
Small Merchandise
Office Equipment

300 kg

₱120 (Metro Manila)
₱110 (Other Areas)


L300/Van

Home Appliances
Small Furniture
Office Equipment

1000 kg

₱415 (Metro Manila)
₱330 (Other Areas)

Small Pickup
Home Appliances
Small Furniture
Office Equipment

1000 kg

₱310 (Metro Manila)
₱250 (Other Areas)


Pickup Truck

Agricultural Products
Construction Materials
Large Furniture

2000 kg

₱1,800 (Metro Manila)
₱1,450(Other Areas)


Pickup Truck Extra Space

Agricultural Products
Construction Materials
Large Furniture

2000 kg

₱2,200 (Metro Manila)
₱1,850 (Other Areas)


Closed Van (4W)

Large Appliances
Large Furniture
Gym Equipment

2000 kg

₱1,800 (Metro Manila)
₱1,450 (Other Areas)


Closed Van Extra Space (6W)

Large Appliances
Large Furniture
Gym Equipment

2000 kg

₱2,100 (Metro Manila)
₱1,750 (Other Areas)


Long Pickup Truck

Steel Reform Bars
Agricultural Products
Oversized Furniture
7000 kg

₱4,850

6w Fwd Truck

Bulky Merchandise Items
Large Appliances
Large Furniture
FMCG Products
7000 kg

₱4,850




Mini Dump Truck

Sand
Gravel

3500 kg

₱1,500 (Metro Manila)
₱1,200 (Other Areas)


10w Wing Van (32ft)

Palletized Items

15000 kg

₱7,500

Wing Van (40ft)
Palletized Items

28000 kg

₱10,500 (Metro Manila)
₱9,500 (Other Areas)

What Are the Most Important Ecommerce Logistics Capabilities?
Having access to ecommerce logistics services becomes a critical component of the ecommerce supply chain. Though many businesses begin by fulfilling and shipping orders in-house, fast-growing businesses or those with ambitions to expand quickly discover the value of outsourcing fulfillment and logistics. If you don't take advantage of these benefits, you are throwing money and opportunity away. Here are some of the most critical characteristics you need to look for in an ecommerce logistics service provider:
1Ensures Long-term Success
Growth necessitates the use of a dependable logistics provider. Companies frequently discover that fulfilling and shipping orders themselves is unsustainable in the long run and that there are hidden costs associated with it that eat into profits and limit their ability to expand. You can free up critical time to spend on other profit-driving responsibilities like marketing, customer engagement, and product development by transferring costly and time-consuming logistics management tasks to a good ecommerce logistics service provider.
2Integrations and Technology
Every good ecommerce logistics service provider is equipped with data management capabilities. Customers, ecommerce entrepreneurs, and logistics suppliers all benefit from having the correct information at the appropriate time. Choosing a partner who uses the most up-to-date management software like having API capabilities is critical since it gives you real-time data, allowing you to make quick decisions and improve service quality. Businesses who only manage to book a few orders per month can ship across the country without having to pay a large delivery fee thanks to on demand trucking logistics and API. API integration in business operations enables businesses to simply manage deliveries by linking two systems to create and power new procedures that will boost logistics productivity.
3Professionalism
Because you leave your trust to a logistics service provider, it is critical to work with a company that knows and accepts your mission and values. A reliable and professional logistics service provider will get to know your needs and use their industry knowledge to connect their aims with yours. This will help both of you create trust, which is essential for fostering strong business relationships and long-term success.
SEE ALSO:
3Last Mile Delivery Services
Last mile delivery is a type of delivery process when the product travels the final leg of the journey to the customer's door, which is one of the most demanding and difficult aspects of being a good ecommerce logistics service provider. A postal or shipping carrier, or local postal services, usually handle the last mile. Ecommerce is more than just creating a wonderful product. Retailers must be able to match the current requirements of modern consumers in order to be successful in today's competitive market. Strong ecommerce logistics service provider is essential for creating a successful ecommerce business, whether they use a third-party logistics provider or build internal capacity.
You Get What You Pay For
The market is extremely competitive, and you will come across a wide choice of offers with varying prices. While price is significant, it is not the most crucial element to consider. Remember that a low price is not always the greatest option if your products are not delivered on time. You have to reallocate resources to resolve claims and problems, or you will not be happy with the service. It is not worth the risk of losing profits and revenues owing to a low-cost but bad logistical service. Look for a good ecommerce logistics service provider that provides the finest balance of service, purpose, and price.
Finally, the best investment you can make is to invest in a logistics provider that matches your demands, helps you delight your consumers, enhances your brand image, and can grow with you over time. Shipping, transportation, security, storage, product handling, management, tracking, packaging, distribution, and deliveries are all parts of being a good ecommerce logistics service provider. Being one of the finest ecommerce logistics services providers, Transportify is regarded for coordinating all of these operations in an efficient and timely manner while staying under budget.
Transportify is your one-stop shop for all of your commercial logistics needs. An e-commerce business need not worry about delays because on demand logistics service provider like Transportify ensures that there will be nearby vehicles anywhere in Luzon, Cebu, and Davao to accept and complete your booking. All you have to do now is download the Transportify app on your smartphone or use the web app on your desktop to start making bookings at any time of day.
| | | |
| --- | --- | --- |
| | or | |
Frequently Asked Questions:
How can a trucking logistics company like Transportify assist a business with WooCommerce integration?
🛒 Consumers now expect their goods to be delivered to their doors quickly. To satisfy these customer needs, the company or vendor must schedule and manage deliveries ahead of time. A more efficient and successful technique to do this is to leverage a cutting-edge logistics provider's system integration. By doing so, WooCommerce integration with Transportify's system will work together to process orders coming into your website. The process will be purely automated, thus will relieve your operations from unnecessary workload.
Should I use a shipping API for my business?
🛒 It all depends on the circumstances of your company's operations. Most of the time, small and medium enterprises (SMEs) do not want to do WooCommerce integration with Transportify because they do not have the order volume and the system infrastructure to do so – and this is fine. As a result, shipping API WooCommerce integration is ideal for companies and organizations with their own app or website that can connect to the Transportify server. For SMEs or smaller businesses without such assets, Transportify's Corporate Account for Business that offers special benefits would be sufficient.