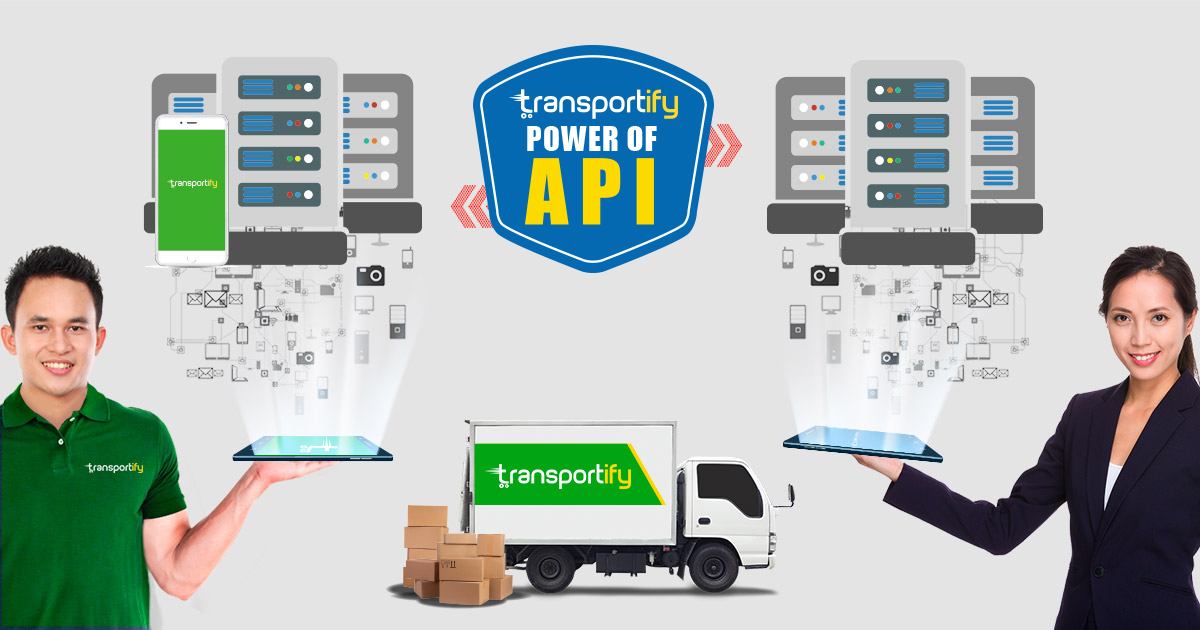 In today's fast paced world, the expectation of most consumers and businesses is that deliveries should be quick and easy. Online buyers expect that after they have entered their payment credentials in the online selling platform, they should receive their ordered items right away. Supermarkets and grocery store owners also expect their stocks to be replenished quickly. Thus, a new challenge is posed to retail companies or any other business with numerous delivery requirements. How will they be able to keep track of their delivery operations in order to maintain excellent service levels? Fortunately, a logistics company like Transportify has system integration capabilities which holds the solution.
Throughout the years, advances in information technology have greatly benefitted human beings. One major breakthrough that this field has achieved is the ability to allow different applications or systems to communicate with each other just like how humans relay messages. Freight API system integration allows your own system to communicate directly with another system thereby allowing both parties to share data and other useful information which would make business operations efficient and more effective.
From sending emails on different platforms to real time tracking of deliveries, integrating systems with each other has improved the way we carry out our daily tasks. In fact, APIs even connect everyday items like doorbells and wearable fitness trackers. Thus, it can be said that API system integration can help a business organization get more work done by enabling the communication and data sharing of multiple systems. Read on to learn more.
What is System Integration?
A general definition of systems integration would be the process of connecting different subsystems or components into a single system that can function as one unit. From an Information Technology (IT) perspective, it refers to the linking of various IT systems to enable working functionally together. Through system integration, digital devices, software applications and data servers can communicate effectively and efficiently with each other.
The concept of integrating various systems has been around for over a decade. In fact, a lot of the mobile and desktop applications we interact with on a daily basis make use of an application programming interface (API) that supports systems integration. For example, Flickr, a photo sharing website, launched its API integration capability in 2004 which allows users to post images on various social media sites and web pages. Facebook, launched its API integration capability in 2006 which allows app developers to access a Facebook user's profile information. System integration capabilities have also improved the way we navigate places. Google Map, launched in 2006, created its application programming interface in order to link its mapping solution with other apps such as fitness trackers or a travel app.
Why should I allow my application to integrate with other systems?
Having an application programming interface which supports system integration is beneficial for business owners which utilize an app. System integration will benefit both parties because it enhances the functionality of both applications. By allowing your application to integrate with other systems, you are opening up new possibilities to what your app can do. Here are other reasons why numerous developers support application programming interface system integration.
1Cutting operating and software development costs
By allowing your application to integrate with other systems that can do the task you want, you are essentially doing more while spending less because you reduce the effort needed to implement the task. For example, an FMCG (fast moving consumer goods) company has its own software that manages inventory levels of various warehouses. However, they do not have the capability to book a truck that will replenish the inventory level of a certain warehouse. By integrating their system with a logistics company like Transportify, they can easily book a 10 wheeler wing van to deliver goods to a warehouse that needs replenishment. Thus, that FMCG company does not have to spend a lot of time, money and effort to build that capability.
2Fit for mobile applications
Most mobile applications rely on API integration to boost its functionality and services. Furthermore, 51% of the global website traffic comes from mobile devices. If your application only works on desktop and you want it to be used in smartphones as well, utilizing API integration can help you achieve that goal. Half of the global website traffic comes from mobile devices so it is always a good idea to consider structuring your app for mobile phone usage. For example, the Transportify app works well both on desktop and mobile devices. Thus, customers can make a delivery booking anywhere because the app can be accessed via different platforms.
3Functionality enhancement
Besides cutting costs and allowing your app to fit mobile phone usability, another great benefit of system integration is functionality enhancement. Because API integration allows different applications to communicate with each other, the outcome will always be a better way of performing operations. For example, if you have an application that monitors and organizes public events like concerts and bazaars in an area, you may want to integrate with an app that offers event logistics like Transportify. In doing so, you can manage public events effectively knowing that you have a reliable logistics and trucking company to transport items like tables, chairs, and sound system equipment.
SEE ALSO:
Integrating Your System with the Transportify App
A logistics company must take advantage of the advances in technology to improve the way it carries out delivery services. While it is a good practice to continually offer in-app services like a better means to communicate with customer service personnel or an improvement in real time tracking, integrating your application with another app enables a more effective and efficient way of providing logistics service. Transportify, an app based logistics company, has an application program interface which is a protocol that allows your system to directly communicate with Transportify's system. In other words, automating bookings from your system to Transportify's system is made possible through API integration.
The table below shows the benefits when you integrate your system with the Transportify app.
| Icon | Text | Column 3 |
| --- | --- | --- |
| API System Integration | | |
| Get Quote | Create Bookings | Amend Bookings |
| Manage Bookings | Driver Location & ETA | Delivery Confirmation |
With this system integration capability, your business can directly access Transportify's system which gives ease and convenience in making bookings. In the part of the business that integrates with Transportify, they can save time, staff, money and reduce errors in creating delivery bookings. These benefits that a business acquires from system integration with Transportify translate into better services to their clients by way of a more efficient delivery service.
App events pertinent in making deliveries can be automated once your system is fully integrated with the Transportify application. Also, the requirements are not very complicated when you want to integrate your application with this logistics company. As long as we have your desired process flow and requirements, our Transportify tech team will guide you in every step of the way from gathering requirements up to implementation and testing.
This logistics company is ready to improve your service to your customers by providing an efficient means to do delivery bookings. Through the API systems integration between Transportify and your company, creating and managing bookings is made easier and more efficient so that you can focus on other business operations that require your attention.
Lastly, you may download the Transportify app by scanning the QR code or clicking the buttons below to begin a seamless delivery experience.
| | | |
| --- | --- | --- |
| | or | |
Frequently Asked Questions
Why should a logistics company have API integration capabilities?
?️ Nowadays, consumers expect that their purchased products from retailers are delivered to their place of residence quickly. In order to meet these expectations, retailers often schedule and plan ahead their delivery requirements. However, a more effective way of achieving excellent delivery services is by integrating the system of the retailer with the system of the logistics company in order to automate bookings. Thus, a logistics company must have API integration capabilities in order to better serve their business clients who are in regular need of deliveries.
Why is system integration important?
?️ System integration is important because it allows multiple applications or systems to communicate with each other which improves the way business operations are executed. Furthermore, system integration is important because it improves the functionality of a system while minimizing operating and software development costs. For example, a fitness app can do systems integration with a mapping app like Google maps in order for the user to see the route he is taking while jogging or cycling.