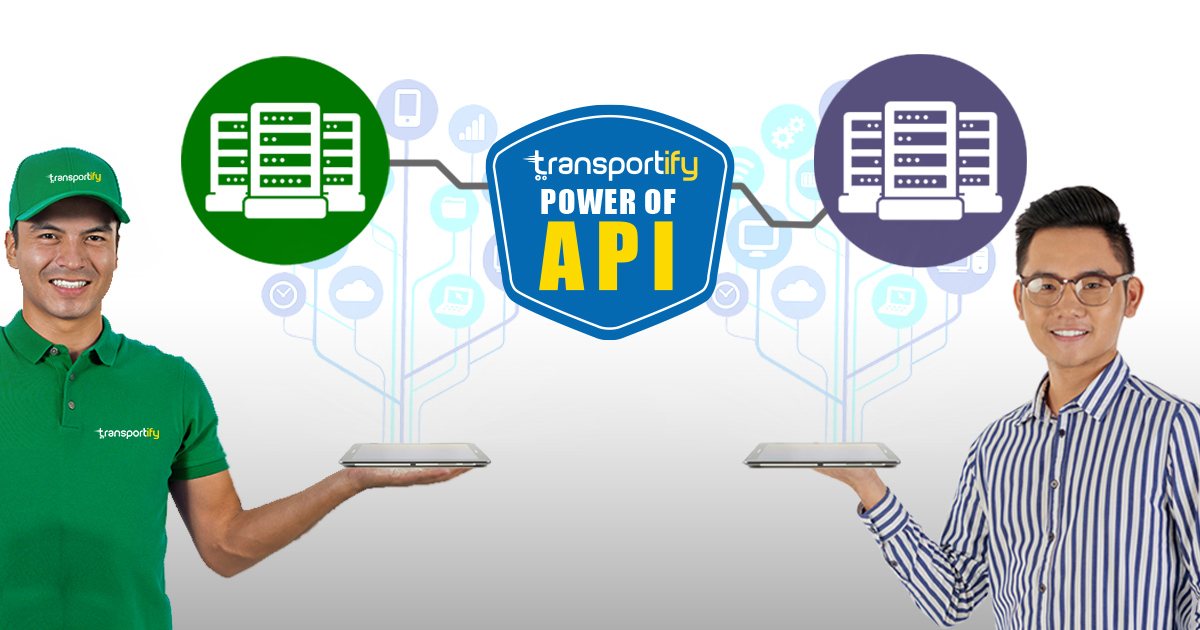 Most consumers of today expect prompt deliveries with excellent service levels. After they have checked out of an online selling platform, time is running for retailers to deliver their products to customers on time. A similar problem is experienced by supermarket owners and fast moving consumer goods (FMCG) companies. Replenishing stocks in distribution centers is a tedious task and any solution to make the process more efficient is always welcome. Fortunately, Transportify, a delivery app capable of application program interface (API) integration is ready to fulfill your logistics needs. Through this logistics integration between your software and Transportify, your delivery operations will become more efficient.
The logistics industry benefits greatly from advances in the field of information technology. From improving communications to optimizing delivery routes, delivery app companies like Transportify owe the field of information technology a great deal. However, the improvements that technology brings to the logistics field do not end here. By enabling logistics integration, delivery apps and other trucking companies can expand their portfolio and offer more services to their clients.
In recent years, the capability to link two softwares using application program interface has boosted the service levels of various companies. Through API integration, quick and secure data exchanges take place which allow both parties to act promptly in case there are any problems. This form of systems connection is helpful in the logistics business delivery since communication is always the key for an effective and efficient trucking service. Through logistics integration between your company's app and the Transportify delivery app, your business can move goods more efficiently.
The table below shows some benefits of API integration with Transportify.
| Icon | Text | Column 3 |
| --- | --- | --- |
| API System Integration | | |
| Get Quote | Create Bookings | Amend Bookings |
| Manage Bookings | Driver Location & ETA | Delivery Confirmation |
What is Application Program Interface?
As an overview, application program interface is the usual term for how two distinct systems communicate with each other. From the point of view of Information Technology (IT), API refers to the connection of various IT systems to achieve better ways of working together. Through API logistics integration, the Transportify delivery app and your company's app can communicate effectively because of enhanced data transfer.
The idea of improving communication and data transfer between various systems is not a novelty. It has been around for some time and many organizations make use of it to improve their performance. For example, a popular photo sharing website called Flickr opened its doors to application program interface integration allowing users to publish images on various websites last 2004. Thus, there is no doubt of the benefits that API integration can bring to many businesses, especially those who are in regular need of delivery services.
SEE ALSO:
How can I benefit from Logistics Integration?
As we have mentioned earlier, logistics integration allows for seamless data transfer and communication between your app and the Transportify delivery app. Utilizing an application programming interface which allows logistics integration software is beneficial for companies that operate on an app. By allowing your application to integrate with the Transportify delivery app, you are opening up doors to new possibilities in terms of operational efficiency. This translates to better coordination among logistics assets and more efficient delivery services. Below are some major benefits of API integration.
Automate Bookings
A principal advantage of logistics integration with a logistics app is the ability to automate booking activities. Actions such as creating and managing bookings can be done automatically with application program interface integration. For example, a pharmaceutical company must replenish medical supplies in their distribution centers when stocks reach a certain level. With API integration, a refrigerated truck for transportation services or closed van carrying fresh supplies can be dispatched from the warehouse to the distribution center automatically when stock levels need to be replenished.
Operating Cost Savings
A positive effect of automating delivery bookings is more savings in terms of operating costs. First of all, there is huge savings in the fact that a company need not procure its own delivery vehicles. Rather, it can just integrate with a logistics app like Transportify and let it take care of the logistics requirements. Savings in time is another area where many companies can benefit from in logistics integration. Instead of manually listing down and scheduling deliveries and relaying information to a team of dispatchers, application program interface integration gets rid of this problem by auto-assigning deliveries to the appropriate vehicles.
Suitability for mobile devices
Adapting to fast changing consumer demand means being able to adjust logistics operations promptly. This means having the ability to manage bookings anytime and from anywhere. A major advantage of logistics integration with the Transportify app is its suitability for mobile devices. We all know that making transactions via mobile applications is always a fast and convenient way of doing business. This idea can be translated into the field of logistics. By creating and monitoring deliveries via a mobile app, you can be ready to adjust logistics operations anytime and from anywhere.
Logistics Integration with the Transportify Delivery App
Thanks to the many advances in the field of technology, many industries around the world have improved their services and capabilities. For example, Instead of just selling in malls and shopping centers, retail stores can now showcase their products online. These advances in technology benefit many industries, especially the logistics sector. Application program interface integration has made logistics operations easier by allowing seamless data transfer between two systems. Transportify, a delivery app, is ready to make your logistics operations fast and easy through logistics integration.
Automating delivery bookings by having access to Transportify's system saves a lot of time and other resources from a company. Instead of doing things manually, like planning delivery routes and coursing it through dispatchers, they can directly access the Transportify delivery app and create a booking. In no time, a Transportify driver will arrive and carry out the delivery requirement. Thus, cost savings in time, staff and resources are some of the many benefits a company can get from integrating with Transportify.
In order for your business to grow, efficient logistics services are necessary so that you can deliver more while exhausting less resources. By offering application program interface integration, Transportify is ready to help your business scale up.
| | | |
| --- | --- | --- |
| | or | |
Frequently Asked Questions:
What are the benefits of application program interface integration with Transportify?
📲 Application program interface is a protocol that enables your system to communicate and exchange data safely with Transportify's system. In summary, it allows your app to automate Transportify bookings. A major benefit that this setup would bring is savings in time and resources. It also offers you convenience and ease because you can book deliveries using your app anytime. Lastly, this setup will bring about better communication exchanges between your app and Transportify which means errors stemming from miscommunication can be greatly reduced.
What are some examples of delivery apps in Manila?
📲 There are many delivery apps operating in Metro Manila and nearby areas. If you want to transport large and bulky items, Transportify is the delivery app for you. With Transportify, you can deliver your goods nationwide. On the other hand, Lalamove is one such motorcycle delivery app that can deliver small up to mid-sized items with its motorbikes and sedans. Borzo is another company known for its motorbike courier services that can fulfill deliveries in Metro Manila.
Should I do logistics integration with a delivery company?
📲 For a large business with its own software application, integrating with a logistics company is a good idea since it will streamline processes and yield better results. Cost savings in time, staff and resources are some of the many benefits when integrating with a delivery app. Furthermore, communication is enhanced between your business and the delivery company which means problems and issues can be resolved quickly.