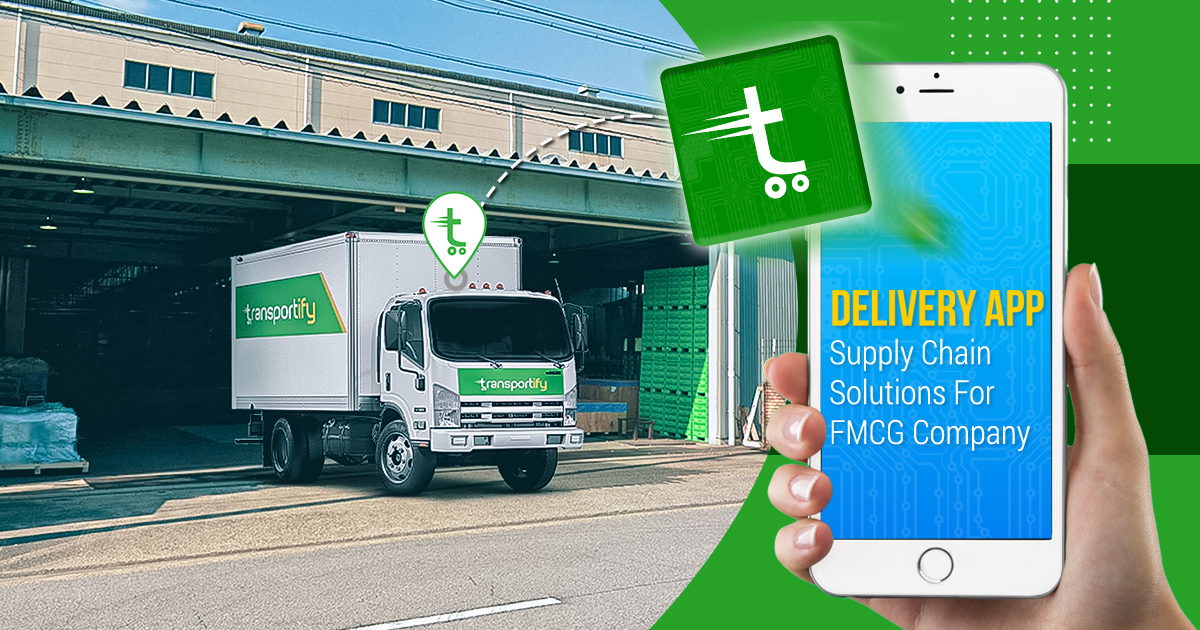 Logistics in the Philippines is a challenging operation to handle due to various factors like frequent weather disturbances, fluctuating demand, and the fact that it is a country made up of more than 7,000 islands. A Fast Moving Consumer Goods (FMCG) company needs to have supply chain solutions that are flexible enough to adapt to these internal and external supply chain challenges. Transportify, a delivery app, offers a variety of large trucks for heavy cargo logistics anywhere in Luzon, Cebu, and Davao. These trucks can be booked anytime which means they can greatly support the logistics needs of an FMCG company.
An FMCG company plays a crucial role for everyone because it provides the population with everyday essential items like food, toiletries, medication, etc. These items are normally sold in supermarkets and grocery stores and are consumed in high volumes by customers. In fact, the average Filipino family spends around 50% of its monthly income on food. Data from statista.com shows that food is the leading household expenditure amounting to more than 2 trillion pesos a year. Furthermore, other fast moving consumer goods like toiletries and some forms of medication are considered daily essentials which means people usually purchase these items in large volumes. Thus, with this information, an FMCG company must have robust supply chain solutions to sustain and meet customers' demands. It must be ready to scale the logistical challenges in the Philippines.
The table below shows Transportify vehicles for bulk deliveries.
Vehicle Type
Dimensions/
Weight Limits
Base Price
(Metro Manila)
Base Price
(Outside Metro Manila)
Base Price
(Visayas/Mindanao)
Wing Van 
32 to 40 x 7.8 x 7.8 ft
12000kg to 28000kg
7500 PHP
6500 PHP
6500 PHP
6w Fwd Truck
18 x 6 x 7 ft
7000kg
4850 PHP
4850 PHP
4850 PHP
Closed Van
10 to 14 x 6 x 6 ft
2000kg to 4000kg
1800 PHP
1450 PHP
1450 PHP
Open Truck
10 to 21 x 6 ft x open
2000kg and 7000kg
2300 PHP
1950 PHP
N/A
Mini Dump Truck
10 x 6 ft x open
2000kg
1500 PHP
1200 PHP
N/A
L300/Van
8 x 4.5 x 4.5 ft
1000kg
430 PHP
330 PHP
310 PHP
Small Pickup
5 x 5 ft x open
1000kg
310 PHP
250 PHP
220 PHP
Light Van
5.5 x 3.8 x 3.8 ft
600kg
250 PHP
192 PHP
225 PHP
MPV/SUV
5 x 3.2 x 2.8 ft
200kg
160 PHP
130 PHP
140 PHP
Sedan
3.5 x 2 x 2.5 ft
200kg
140 PHP
110 PHP
120 PHP
Why Choose Transportify for Your Logistics Needs?
Transporting goods around the Philippines is already a tall task. According to the World Bank's Logistics Performance Index (LPI), the Philippines is in 60th place, well behind other Asian countries. Many factors like poor urban infrastructure and frequent weather disturbances make it difficult to deliver goods on time and in good condition.
Oftentimes, these unwanted factors in transportation entail an additional cost for the FMCG company. Because their drives will be spending more time on the road, more overtime pay is required as compensation. Unnecessary fuel consumption as a result of prolonged stay in traffic is another cost driver. But a major problem in logistics that an FMCG company faces is delays in delivery as a result of a lack of vehicles.
The demand for fast moving consumer goods can be unpredictable. There can be moments when a certain food product is highly in demand because of sudden changes in consumer behavior. In such cases, you might need to augment your fleet of 10 wheeler wing vans or 6 wheel forward trucks in order to fulfill delivery requirements.
Whenever there are new product launches, the need for additional vehicles to support your in house fleet is necessary to get those new items to different destinations. Furthermore, there might be situations where an FMCG company has to implement truck maintenance of its in house fleet or if there are sudden breakdowns. These situations can happen anytime and can disrupt your supply chain. That is why it is necessary to include an on demand delivery app like Transportify as part of your company's supply chain solutions.
Delivery apps like Transportify have utilized technology to provide extra capabilities to its users. As mentioned earlier, doing logistics in the Philippines can be a difficult task and you have to be able to adapt to various situations. An on demand delivery app provides the supply chain solution which an FMCG company needs because it has vehicles available for use at any time of the day. For example, if there is a weather disturbance which prevents a company's in house fleet from operating, Transporitfy can easily provide the trucks needed for that day. If there is a new product launch and a company is lacking vehicles, they can easily book with Transportify to supply them with more heavy cargo delivery trucks. Whenever a company's in house fleet is undergoing truck maintenance operations or when there are sudden breakdowns, the best supply chain solution for that problem would be to avail the services of a delivery app. By doing so, their logistics operation for that time period can still operate normally.
Lastly, using an on demand trucking company as a supply chain solution means that you are only paying for the services that they render. There is no need to pay for fuel consumption or truck maintenance. In short, an FMCG company does not have to deal with these back end operations when they use 3PL companies like Transportify.
What Can Transportify Offer Your Business?
Transportify offers numerous services to its users, both individual bookers and companies. These services are specifically provided to help bookers in whatever delivery requirement they have. Whether it is appliance delivery, flower delivery or cargo trucking services, Transportify provides the supply chain solutions you need.
1Variety of Vehicles
Different types of goods require different vehicles for transportation. For example, items like small appliances, cakes, and cosmetic products would need a sedan or an MPV (multi-purpose vehicle). Construction companies would use a mini dump truck for construction materials hauling.  For an FMCG company that needs to transport large volumes of items, a 10 wheeler wing van, closed van or 6w Forward truck could be the solution you are looking for. Transportify offers all these vehicle types at affordable delivery service rates and available any time of the day.
2Delivery to Anywhere in Luzon, Cebu, and Davao
Worried that your pickup and destination points are too distant? Transportify covers the whole area of Luzon, Cebu, and Davao which means it can service deliveries from Batangas city all the way to San Fernando, La Union, or Metro Cebu all the way to Bogo City. An FMCG company with various warehouses and distribution centers scattered all to different locations can benefit greatly from this key feature of Transportify. For example, you have a warehouse in Subic where you store newly arrived shipments of goods. All of a sudden, a distribution center in Baguio city requires urgent replenishments. And your current in house fleet is unavailable to make this delivery. With Transpotify, these problems can be addressed easily because of our expanded service area and availability.
324/7 Service Availability
In the Philippines, a logistics manager has to be ready to respond to any changes in delivery schedules. One way of being ready is to have a fleet of vehicles available anytime. With this delivery app, you don't have to worry about meeting delivery cut-off times. A company or individual client can book any vehicle type at any time of the day. Furthermore, they can book deliveries up to two weeks in advance. In case there are any problems with the delivery, our 24/7 customer service personnel are on standby to assist you.
4Transportify Business Program
For companies that require regular deliveries, Transportify offers a business program that can be tailored to your logistics needs. An FMCG company can benefit from the numerous services provided in this program such as flexible payment schemes, a warranty of up to 3 million pesos for lost, damaged and stolen goods during the delivery and an account manager to assist you in all your concerns.
Transportify, an on demand delivery app, is equipped with the necessary service capabilities to address the logistics needs of an FMCG company. It can pick up and deliver to any point in Luzon, Cebu, and Davao and has a wide variety of vehicles from sedans to 10 wheel wing vans and you may book deliveries anytime. Lastly, it offers a business program with additional benefits.
| | | |
| --- | --- | --- |
| | or | |
Frequently Asked Questions:
How can we improve supply chain solutions?
? Supply chain solutions refer to the entire system of acquiring raw materials, processing them, and delivering them to various distribution channels. One way of improving the supply chain solutions is to automate where it is necessary. By doing so, we can be assured of consistency in the quality of work. Another way is to set up a demand planning scheme in order to best prepare for any contingencies in the rise and fall of consumer behavior. Lastly, constant monitoring is also needed to ensure that the supply chain system is running smoothly and without problems.
What is an FMCG Company?
🚚 FMCG companies produce items that are fast moving or consumed quickly. Compared to durable goods like cars and appliances, FMCG companies distribute items like fruits, meat, soft drinks, dairy products, toiletries, etc. These items are usually delivered in bulk from the warehouse up to a distribution point like a supermarket or grocery store. Some well known FMCG companies in the world are Procter & Gamble, Unilever, and Nestlé.
How can a delivery app make your supply chain management easier?
🚚 Delivery apps provide a brilliant solution to logistical problems by offering on demand delivery services. Gone are the days when you have to coordinate and involve many people just to secure a vehicle for delivery. Using delivery apps can eliminate long processes by providing you a tool that you can use to plan, manage and organize your bookings.  An affordable and reliable logistics company is fit to support an FMCG company because of its technology based services, wide service area, and vehicle selection.