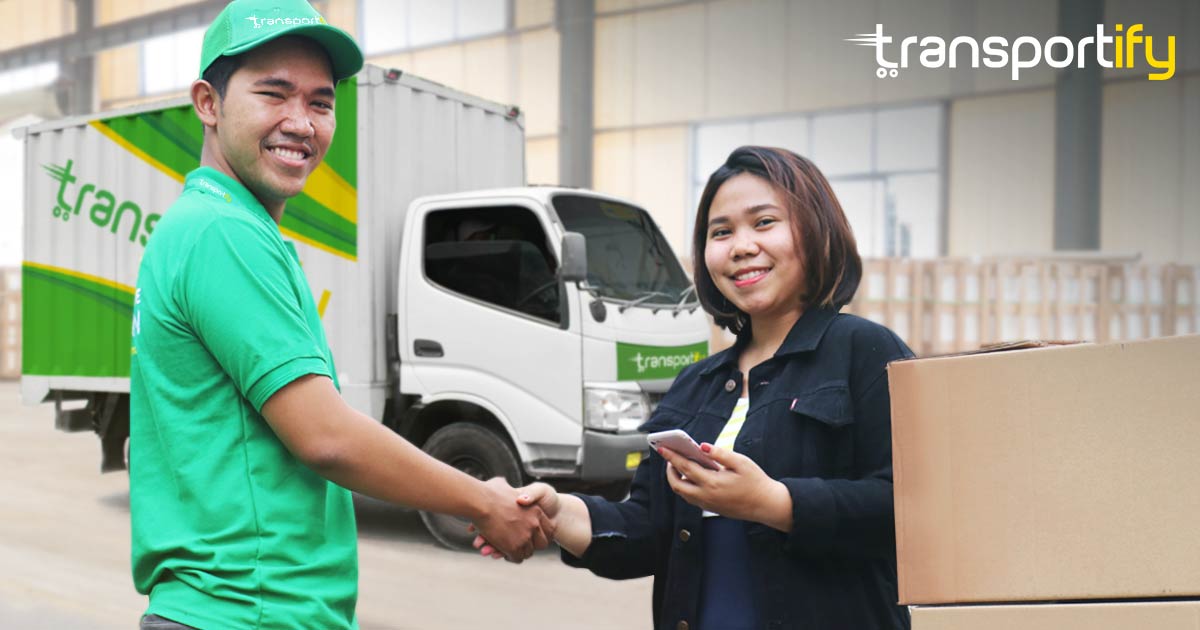 A common question that has many business owners skeptical about working with a cargo logistics provider is whether or not the delivery truck drivers will uphold the high standard of customer service that they take pride in. Obviously, as an e-Commerce business, securing the future business of customers is a vital aspect of your sustainability. Delivering excellence is paramount, but how can you be sure of that when you submit your control over a cargo logistics provider and their delivery truck drivers this 2023?
Well, in this article, we're going to set your mind at ease by talking to you through our recruitment process. This article will give you a clear indication as to who it is that we are looking for when hiring, and precisely the sort of candidate who gets the job. Additionally, we are going to shed some light on the values that we hold close to heart.
We trust that by the end of this article, you'll have enough faith in us to outsource your cargo logistics requirements with confidence in the fact that our delivery truck drivers will deliver nothing short of perfect customer service.
Our Recruitment Process
Of course, above all else, we are looking for delivery truck drivers who hold full-clean drivers' licenses. That, and we look for those who have significant experience in delivery trucks. However, that's not a requirement. If we get a good feeling about a driver and their attitude towards customer service, then we're always prepared to give them a trial run.
When it comes down to the interview process, we look for the following qualities:
Passion
Dedication
Empathy
Etiquette
Personal hygiene
Presentation
Confidence
We also ensure that they are as passionate about customer service as we are. Once we have found the candidates that we believe share the same values as us, they are then put through a rigorous training regime to ensure that they can uphold our values, and to deliver excellence at all times.
So, if you're worried about putting your faith in our delivery truck drivers, don't be. Understand that it's our reputation on the line as well, not just our clients. As such, we take the recruitment process very seriously, to ensure that those representing us do so with passion and professionalism.
Our Values
Transportify has a set of core values that are very important to us. We believe that as a business, to succeed, you must dedicate your efforts to maintain a strict code of conduct. So, for us, it's all about the customer/client. We are proud to show how we manage our operation, which can be seen in the way that our customers and clients are satisfied with the cargo logistics services that we provide.
Delivering excellence
Maintaining discipline and safety on the roads
Efficiency in all things logistical
Reducing our carbon footprint on the environment
Putting smiles on faces
Taking care of the customers' needs
Streamlining our services and constantly striving to offer a better, cleaner service
Simplicity
Again, when hiring people to work for us, whether in the 24/7 call center or out on the road for cargo logistics services, we ensure that they share these same values with us. The dedication to the brand and in upholding the brand image as well as our own.
Why not give us a try?
Above all these, we provide affordable logistics solutions for customers (as shown in the pricing table below) and always maintain high-quality delivery service to all our customers this 2023 and beyond.
Vehicle Type
Dimensions/
Weight Limits
Base Price


(Metro Manila)

Base Price


(Outside Metro Manila)

Base Price


(Visayas/Mindanao)

Wing Van 

32 to 40 x 7.8 x 7.8 ft




12000kg to 28000kg

7500 PHP

6500 PHP

6500 PHP

6w Fwd Truck

18 x 6 x 7 ft




7000kg

4850 PHP

4850 PHP

4850 PHP
Closed Van

10 to 14 x 6 x 6 ft




2000kg to 4000kg

1800 PHP

1450 PHP

1450 PHP

Open Truck

10 to 21 x 6 ft x open




2000kg and 7000kg

2300 PHP

1950 PHP

N/A

Mini Dump Truck

10 x 6 ft x open




2000kg

1500 PHP

1200 PHP

N/A

L300/Van

8 x 4.5 x 4.5 ft




1000kg

430 PHP

330 PHP

310 PHP

Small Pickup

5 x 5 ft x open




1000kg

310 PHP

250 PHP

220 PHP

Light Van

5.5 x 3.8 x 3.8 ft




600kg

250 PHP

192 PHP

225 PHP

MPV/SUV

5 x 3.2 x 2.8 ft




200kg

160 PHP

130 PHP

140 PHP

Sedan

3.5 x 2 x 2.5 ft




200kg

140 PHP

110 PHP

120 PHP
We don't expect you to trust us from the get-go. We understand that it requires an act of demonstration on our part. However, first, it requires an act of faith in yours. So, why not give us a try? Let us be the logistics provider for your business, start with a couple of packages, and see how we handle your deliveries. You'll be able to judge from how our drivers pick up your items with a smile on their face, with impressive speed and precision. Then track them in real-time as they head straight to the desired delivery destination. We assure you that once you've had the pleasure of working with Transportify, as your cargo logistics provider, you won't want to work with anyone else.
If you'd like to know more about the way our delivery truck drivers operate for your cargo logistics requirements, get in contact with us today. It's as simple as that!
Top Qualities of Trusted Delivery Truck Drivers for Cargo Logistics
Well-established and dedicated delivery truck drivers know the level of dedication needed to get the driving job done successfully. Aside from that, it requires an outstanding kind of individual to manage to be dependable on this aspect.
Here in Transportify, we can assure you that we only hire the most capable and qualified delivery truck driver for our cargo logistic services. To give you a hint aside from the details mentioned above, here are the top qualities we look for qualified truck drivers.
Adaptability
A truck driver needs to be adaptable in every shipping routine this 2021. Through the entire working shift, truck drivers are present on the road, while they have a plan, they still need to know how to respond and make a move if they encounter a sudden bump on the road.
Generally, these sudden reflexes are a must-have for every truck driver, especially if they are working for cargo logistics companies like Transportify. Not only will they deliver well-sealed and boxed packages, but most of the time, the products inside those packages are perishable or fragile. Meaning, any reckless move will affect the quality of the packages that need to be delivered to the recipients. Of course, once the item has been damaged, the customer will be disappointed with your service.
Life as a truck driver is tough, and it is not something that many people dreamed of having this kind of profession. Not only it gives you stress, but you should need to stay alert while on the road. The safety of the cargo, delivery personnel, and the driver itself is in their hands.
So having the most reliable and trusted delivery truck drivers is a plus point for every cargo and freight logistics company.
Committed
A reliable delivery truck driver should be committed to his goals and must be able to deliver a quality driving service for their customers. Moreover, they should also be committed to giving the best services possible.
Here in Transportify, we can assure you that our truck drivers are dedicated and committed to their job. Also, they value our business's main goal and objective to serve the customers with satisfaction on their faces.
Discipline
When it comes to discipline, our delivery service truck drivers can deliver your cargo on time and promptly, safe and secured. Because in Transportify, we value your hard-earned money, that's why our goal is to give you the services that you deserve.
Our delivery truck drivers work so hard to have excellent safety records and outstanding performances. So you don't need to worry about their experiences as they are well-committed and dedicated to their job.
Remember, the best truck drivers can adapt to any situation and learn how to become proactive as possible. Also, maintaining the highest peak of safety on the road will ensure successful cargo logistics services for the customers.
| | | |
| --- | --- | --- |
| | or | |
Frequently Asked Questions:
How reliable is the Transportify delivery truck service?
⭐ Transportify started in the Philippines in 2016 as a delivery service that connects driver partners to people. It was a popular lipat bahay app that made it easier for people to hire trucks. Since then, it has retained its top spot as a third party logistics service not just for personal use but also for businesses. The company prides itself on training drivers to exceed expectations from customers and is continuously innovating their services, increasing their variety of services in the logistics industry. Drivers are also supported by a 24/7 customer service and tech team that is ready to handle different situations.
What are the best cargo logistics services for small businesses in Manila?
⭐ Whether your business is considered small or big, logistics is an inevitable need that will lead you to success. A successful logistics is measured by how efficient your resources are allocated and how wastes are minimized. In Manila, there are old and new services that are ideal for small businesses. If your logistics need only involve sending documents or little packages that are not that big in volume, you may opt to use the services of LBC and JRS express since they offer very affordable services. Their presence in the whole country is exceptional. For a business that requires a frequent delivery of small packages, Grab Express and Lalamove is ideal for this structure since you can deliver packages in less than a day. However, for larger deliveries such as house moving or appliances, Transportify offers on-demand delivery with larger vehicles. Making it possible to deliver large or huge volume deliveries using a mobile app.