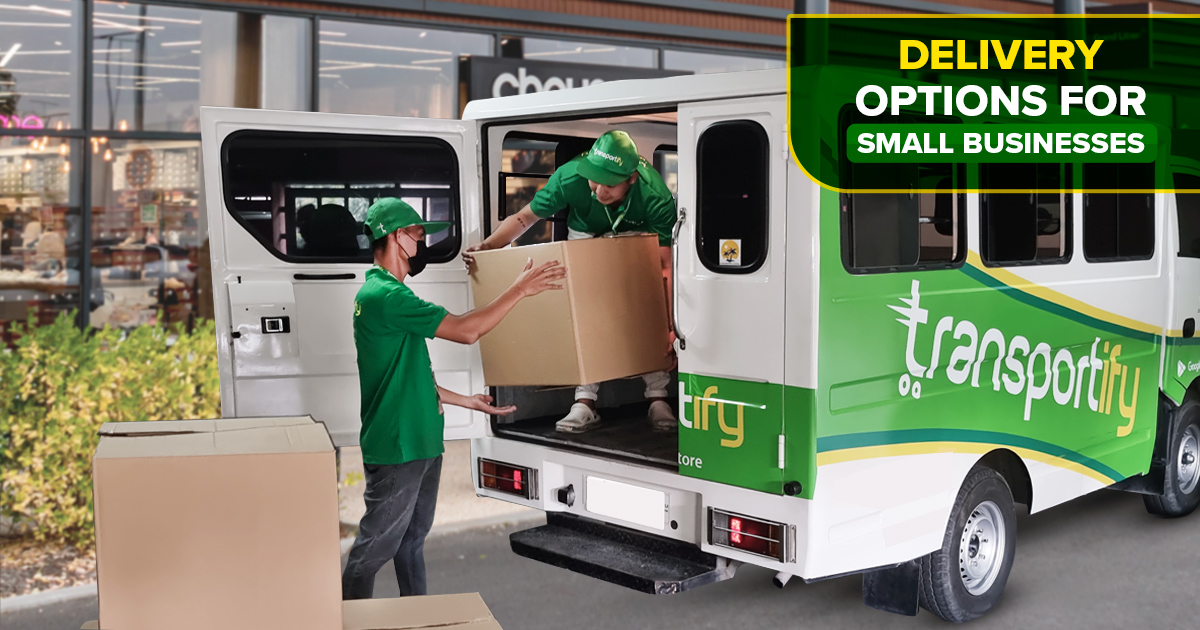 Building a delivery system is one of the most important aspects of running a small business. An efficient and reliable delivery system can save you time and money and help build your reputation as a business that is easy to work with. Building a delivery system can be a challenge, but it is well worth the effort if you want to run a successful small business. By taking the time to build a scalable and efficient delivery system, you can ensure that your business can meet the needs of your customers and clients. Find out how you can do that here!
Why Is Delivery Essential for Small Businesses?
Delivery is an important service for small businesses for a number of reasons.
It helps to reach a wider audience. Customers who cannot enter the store can still receive your products.
Delivery can help to improve customer satisfaction. Customers who receive their orders quickly and without hassle are more likely to be repeat customers.
Delivery can help to create a competitive advantage. In today's market, customers have many choices and often choose the vendor that offers the most convenience. You can make your small business more attractive to potential customers by offering delivery.
Delivery Options for Small Businesses and Startups
Before choosing to outsource your deliveries or do them in-house, weigh the pros and cons of each option carefully. Your small business's future could depend on it. Here are the most common best delivery options for small businesses:
Engage the services of a third-party delivery service
According to a PLS Logistics study, 75% of shippers said using 3PL services helped them save money on overall logistics costs. 3PLs have extensive experience in the delivery business, so they can help you set up a fast and reliable delivery system.
Hiring a third-party logistics service is a great option for small businesses because it allows them to focus on their core operations while delegating the shipping and delivery tasks to an experienced provider. Third-party logistics providers have specialized knowledge of the industry, enabling them to provide cost-effective solutions in terms of pricing, route optimization, compliance requirements, and more. Additionally, they can help reduce overhead costs associated with warehousing and transportation since they often offer end-to-end services like package tracking, tracing, and inventory management.
By engaging a third-party logistics provider, small businesses can save time and money while utilizing their expertise to ensure that shipments arrive on time and in the best condition possible. Lastly, by leveraging an external partner, small businesses can also outsource the tedious paperwork associated with freight and shipping operations, freeing up more time for their staff to focus on core business goals. Overall, partnering with a third-party logistics service is a great option for small businesses that want to streamline their supply chain processes while maintaining customer satisfaction.
Transportify offers 3PL services nationwide for bulk or less than truckload cargo with on-demand booking technology that is best for time-sensitive deliveries.
Vehicle Type
Dimensions/
Weight Limits
Base Price


(Metro Manila)

Base Price


(Outside Metro Manila)

Base Price


(Visayas/Mindanao)

Wing Van 

32 to 40 x 7.8 x 7.8 ft




12000kg to 28000kg

7500 PHP

6500 PHP

6500 PHP

6w Fwd Truck

18 x 6 x 7 ft




7000kg

4850 PHP

4850 PHP

4850 PHP
Closed Van

10 to 14 x 6 x 6 ft




2000kg to 4000kg

1800 PHP

1450 PHP

1450 PHP

Open Truck

10 to 21 x 6 ft x open




2000kg and 7000kg

2300 PHP

1950 PHP

N/A

Mini Dump Truck

10 x 6 ft x open




2000kg

1500 PHP

1200 PHP

N/A

L300/Van

8 x 4.5 x 4.5 ft




1000kg

430 PHP

330 PHP

310 PHP

Small Pickup

5 x 5 ft x open




1000kg

310 PHP

250 PHP

220 PHP

Light Van

5.5 x 3.8 x 3.8 ft




600kg

250 PHP

192 PHP

225 PHP

MPV/SUV

5 x 3.2 x 2.8 ft




200kg

160 PHP

130 PHP

140 PHP

Sedan

3.5 x 2 x 2.5 ft




200kg

140 PHP

110 PHP

120 PHP
Focus on getting shipping services
Third party shipping services provide specialized parcel delivery services. They help customers get their parcels from point A to point B with minimal effort, often offering tracking and insurance services. Third party logistics (3PL) providers, on the other hand, specialize in more than just transporting goods; they offer a wide range of services like packaging, storage, inventory management, order fulfillment, and more to streamline supply chain operations for customers.
3PLs can be used to source products from various vendors or distributors as well as handle warehousing and distribution needs. In short, while third party shipping services are focused on transportation only, 3PL providers create turnkey solutions that encompass all aspects of the supply chain process.
Manage your logistics
Managing your delivery operations can be a time and labor-intensive process. It requires assigning dedicated staff, training them on the necessary processes, and maintaining their skills through regular updates. Additionally, in-house operations require significant investments in hardware and software to keep track of orders and monitor progress.
The cost of this infrastructure can quickly add up if you don't factor it into your budget plans. In addition, having too many hands in the mix can lead to miscommunication and costly errors that could have been avoided by outsourcing delivery operations. Finally, managing an internal delivery operation limits scalability as it's difficult to scale up or down with changing customer demand. Outsourcing delivery offers far more flexibility when it comes to growth plans.
Overall, a third-party logistics service is the best solution for small businesses looking to grow their operations. It allows them to focus on their core competencies while leveraging an experienced partner to handle all aspects of delivery operations. Businesses can save time and money and ensure customer satisfaction by doing so if you're considering outsourcing your delivery operations, research and find a provider with experience working with similar products or services. When done right, it can be an essential part of any successful business model.
How To Choose the Right Delivery Service for Your Business
Shipping is a critical part of any e-commerce business, and choosing the best delivery options for small businesses can make or break your success. There are a few factors to consider when selecting the best delivery options for small businesses.
First, you need to evaluate your shipping volume and frequency. If you only ship a few weekly orders, you may not need the same level of service as a business that ships hundreds of orders daily. Second, you need to consider the size and weight of your products. Shipping large or heavy items will likely require different packaging and transportation methods than smaller items. Finally, it would be best if you thought about your delivery timeframes. If you need to ship orders quickly, you'll need to choose a service that offers fast transit times. Considering all these factors, you can choose the right delivery service for your business.
Delivery Tips for Small Businesses
As a small business owner, you know efficient delivery is key to keeping your customers happy. Here are a few tips to help you make sure your deliveries are on time and hassle-free:
1Make a delivery schedule and stick to it
Customers appreciate knowing when they can expect their order, so be clear about your delivery times and communicate any changes in advance.
2Use a reliable delivery service
Do your research to find a company that will meet your needs and provides good customer service. Evaluate the best delivery options for small businesses based on the above list.
3Package items carefully
Take the time to wrap fragile items securely and label boxes clearly. This will help prevent damage and make it easier for recipients to find what they need.
By following these tips, you can ensure that your deliveries are professional and hassle-free. Your customers will appreciate your efforts, and you'll be able to focus on running your business smoothly.
SEE ALSO
What Are The Trends To Watch Out For In 2023?
As we move into the new year, it's important to be aware of the latest delivery trends so you can make sure your business is ahead of the curve. Here are three trends to watch out for in 2023:
By keeping these trends in mind, you can ensure that your business is prepared for the future of delivery.
Use Transporstify App When Delivering Your Goods: Free Download and Tech Features
In closing, small business owners must consider various factors when choosing the best delivery options for small businesses. By following best practices, such as making a delivery schedule and using reliable services, you can ensure that your deliveries are on time and hassle-free. Additionally, by being aware of the latest delivery trends, you can make sure your business is prepared for the future of delivery.
Finally, Transporstify App is an ideal solution to help manage your shipping needs with free download and tech features. With these tools in hand, you'll be able to deliver goods with confidence and success.
| | | |
| --- | --- | --- |
| | or | |
Frequently Asked Questions:
How do I find the best delivery options for small businesses?
🚚 There are several factors to consider when looking for the best delivery options for small businesses. To start, you should ensure that the delivery service offers reliable and timely shipping services. Additionally, look for delivery services with competitive prices and flexible payment terms that meet your needs. It is also important to ensure that the delivery company's customer service is excellent, as it will be essential in resolving any issues or concerns related to your orders. Finally, evaluate what tracking features they offer—this will help you keep track of packages and easily monitor their progress throughout the shipping process. With all these considerations in mind, you'll be able to find the right delivery option for your small business.
Why is hiring shipping services among the best delivery options for small businesses?
🚚 Hiring shipping services is one of the top delivery options for small businesses. It ensures reliable, cost-effective, and timely deliveries, which are key to a successful business. Shipping services also help small businesses maintain their budgets by providing bulk order services and flexible payment options.