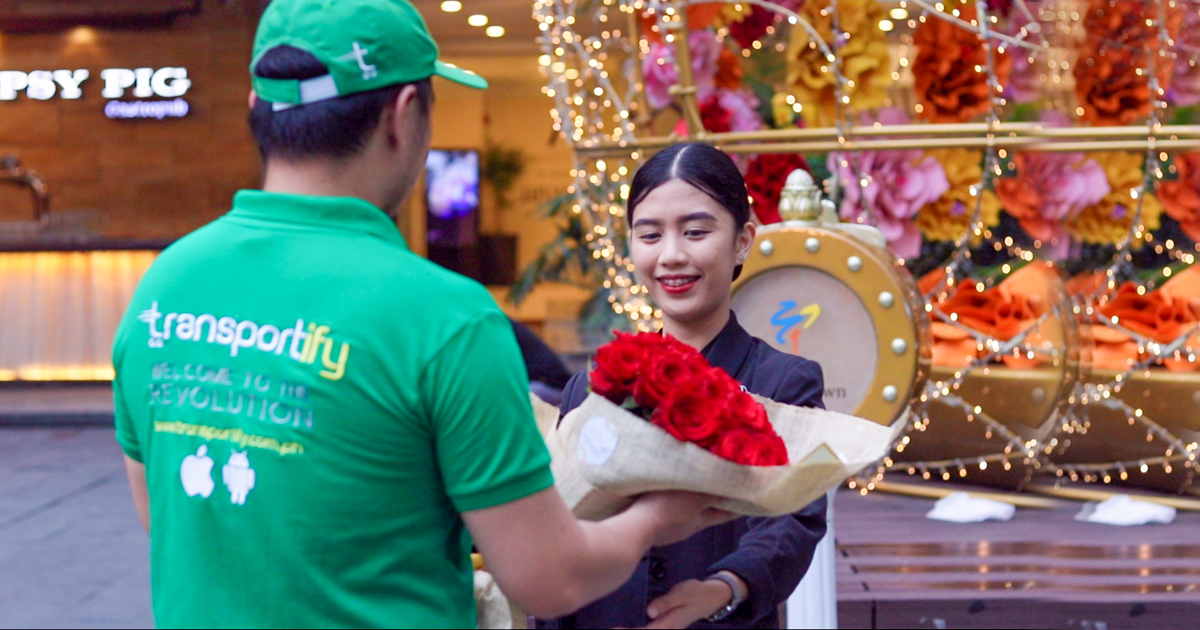 There is nothing quite like receiving flowers. Whether it's for your mom or your wife, a flower bouquet will make her feel special. However, the actual act of flower delivery in the Philippines, or anywhere else, is quite a tricky affair, far more than people may think. So if you need help this 2023's Mother's Day, don't hesitate to reach out to us.
Issues with flower deliveries
The biggest problem with flowers is that they aren't naturally designed to being cut from the ground and placed into display pieces. Now there is a whole variety of different techniques that can be employed to minimize the effects of this process, but at the end of the day, the main thing that they need is to be treated with care. This can provide a problem as transporting anything can be quite a rough experience, let alone for delicate flowers. Couple the bumpiness of roads with the trauma of traffic and the heat we enjoy in the Philippines, then you begin to see why flowers can arrive looking especially unhappy if the process is handled poorly.
Solution in delivery app
This is where 2023's trusted expert for the best flower delivery Philippines, like Transportify, is a fantastic resource. They have a varied fleet of vehicles that offer a whole range of features for customers. Using Transportify's same-day delivery app guarantees that your flower will arrive faster and in good condition. It has air-conditioned vehicles to help beat the heat and special shelving to ensure that delicate cargo is not bouncing around while in transit. Ensuring that your flowers arrive the way you expected them is paramount to be the best flower delivery Philippines, as the condition they come in is also a part of the message they portray. You can only imagine what that message might read as if they arrive battered, broken, and half dead.
What Are the App Features & Extra Services for Best Flower Delivery Philippines?
1Extra Helper
Get an extra hand to secure your flowers during transit. Your Extra Helper will also take care of the heavy lifting.
2Multiple Drops
Need to make a stop or more? No problem! With our app, you can get as much as 15 drops in just one booking.
3Extra Space
If you think that the flower is too big, then don't hesitate to get extra space to have enough room for your delicate arrangement.
3Live Tracking
Track your flowers in real-time using our app's track and trace feature, so you don't have to wonder about your delivery's location.
Transportify has a variety of services for delivery vehicle rentals, check the table below to see our available fleet:
Vehicle Type
Cargo Dimension
Capacity
Starting Price
Vehicle Type
Capacity
Starting Price

Economy (Sedan/Hatchback)

L: 3.5 ft
W: 2 ft
H: 2.5 ft

200 kg

₱120

Economy Extra Space (SUV/MPV)

L: 5 ft
W: 3.2 ft
H: 2.8 ft

300 kg

₱140

L300/Van

L: 7 ft
W: 4 ft
H: 4 ft

1000 kg

₱430

Small Pickup
L: 5 ft
W: 5 ft
H: Open

1000 kg

₱310

Closed Van (4W)

L: 10 ft
W: 6 ft
H: 6 ft

2000 kg

₱1800

Closed Van Extra Space (6W)

L: 14 ft
W: 6 ft
H: 6 ft

2000 kg

₱2100
Knowing your product
Of course, no matter how fantastic your trusted delivery service provider is, you cannot expect your flower delivery to arrive intact if they are not packaged correctly. This means that you need to ensure whatever container the flowers are in is well padded and can stand up by itself; if it is glass, then you will need an outer container as well as sturdy packaging to protect it while it travels. To help maintain your flowers, they should be sent in water, but this means that you have to package them in such a way as they can access the water, but the water is not going to escape. This can be achieved with internal plastic wrapping, which can contain the water and the stems while providing a larger overlapping area that will help prevent the water from spilling so long as the flowers are kept reasonably upright.
With all of these considerations in place, there is no reason that your flowers should not make it to their recipient in one magnificent piece that genuinely carries the message you were hoping to send. So don't let your special message get lost in translation, take the proper precautions when booking the best flower deliver Philippines, better yet go to 2023's trusted same-day delivery app that knows how to handle them.
To better serve your customers during the many sentimental occasions, be aware of your role in the marketplace. While flowers are still mainly bought in physical stores and stalls, you cannot deny that the internet is an excellent source for those who are clueless about purchasing them. The internet is so integrated into our lives that anything you need or want can be found online. Digital markets are no longer just for large brands or niche stores. It very much mimics what you see in real life. So how can someone order online the best flower delivery Philippines without seeing the flowers for themselves?
Be the business they can't ignore
Flower delivery is just one part of the purchasing process. To guarantee good business as a floral shop, you have must carve out a unique identity, an undeniable presence, and a reputation that will make people take the plunge without seeing your arrangement in real life.
Carving out an identity for your floral brand is about understanding what you bring to the table. Do you specialize in a specific arrangement or occasion? Hone in the styles that are popular with the masses and make it the main marketing point. Even if you do a little bit of everything, it doesn't hurt to be known for one thing. When the spotlight is on one arrangement, attention will eventually be drawn to your other pieces.
An undeniable presence is about maintaining relevance in an era where trends dictate what the masses see and consume. Pushing the bounds or creating new spins to classic pieces are ways you can keep the people interested. While you follow the flow of occasions from Valentine's Day to Mother's Day, remember to innovate pieces for the other sentimental moments in our daily lives. Innovation can also come by way of services. To be the best flower delivery Philippines, you can have features like cash on delivery (COD) and proof of delivery (POD) for those who want to give the piece themselves. COD and POD are services available in the Business Program if you have Transportify have your third party delivery logistics provider.
The first two points emphasize catching the attention of the crowd. When you have their attention, you have to deliver on your promises. Ambition arrangements require a flower delivery method that matches the piece. Small bouquets might survive a motorcycle delivery, but statement pieces should arrive in a vehicle where it isn't forced to fit. Finding the best flower delivery Philippines requires a leap of faith on the part of a first-time buyer, you have to meet their requirements and then some. After you build your initial customer base, you can start reeling in flower deliveries left and right.
SEE ALSO:
Best Flower Delivery Philippines for the Masses
The best flower delivery Philippines caters to a variety of needs since floral stores aren't commonly found on every other street people look online. So, who are the flowers for? A popular quote says, "Flowers are for the living, not the dead." However, if you take an introspective look at the presence of flowers in your life, you can see that they make their way through a slew of events. When you think about who the flowers are for, the answer is simple: they are for everybody. Flowers are for all occasions.
All flower deliveries deserve to reach the recipient in good condition. They can be personal treats, messages, and gifts. If they come to the recipient damaged, their use becomes diluted. Working with Transportify in their Corporate Account for Business allows you to extend into the flower delivery process. To become the best flower delivery Philippines, you need to work with a partner who knows your goal and works towards making it happen.
The best flower delivery Philippines is creating a space for itself as a service. Consider Transportify for your flower delivery needs. You create the vision. They maintain their shape and form. For 2023, everyone deserves to receive flowers the way they are advertised. Download the Transportify app by scanning the QR Code or clicking the buttons below:
| | | |
| --- | --- | --- |
| | or | |
Frequently Asked Questions:
Is flower delivery service available in the Philippines?
🚚 Delivering frail items like flowers can be a challenge. So choosing the best flower delivery service means they are complete with equipment to preserve the freshness of the plants. Motorcycles can be a good choice if the distance of delivery will be very near. Doing this in longer distances especially during noon can wilt the flowers immediately. Ensuring that something delicate like flowers will be delivered safely is a top priority. Since the reason for the flowers. Some flower shops don't offer delivery service, while others partner with third party logistics services to help them with their deliveries.
Which shops has the best flower delivery?
🚚 Luxury flower shops are becoming a trend for the past 5 years. Imported flowers and artistic arrangements are booming not just in special occasions. However, these expensive products require extreme care since ofcourse customers prefer giving it in pristine condition. Petalier is an example of a flower shop that can be considered as an "average" flower shop years ago. Until they have partnered with Transportify, a third party logistics provider, in delivering their flowers. This is because the fleet of Transportify is composed of SUVs and MPVs that are air conditioned which is the ideal delivery vehicle for a flower business. Since then, Petalier has become a popular choice not just during Valentine's day but also any occasion that involves with any flowers.