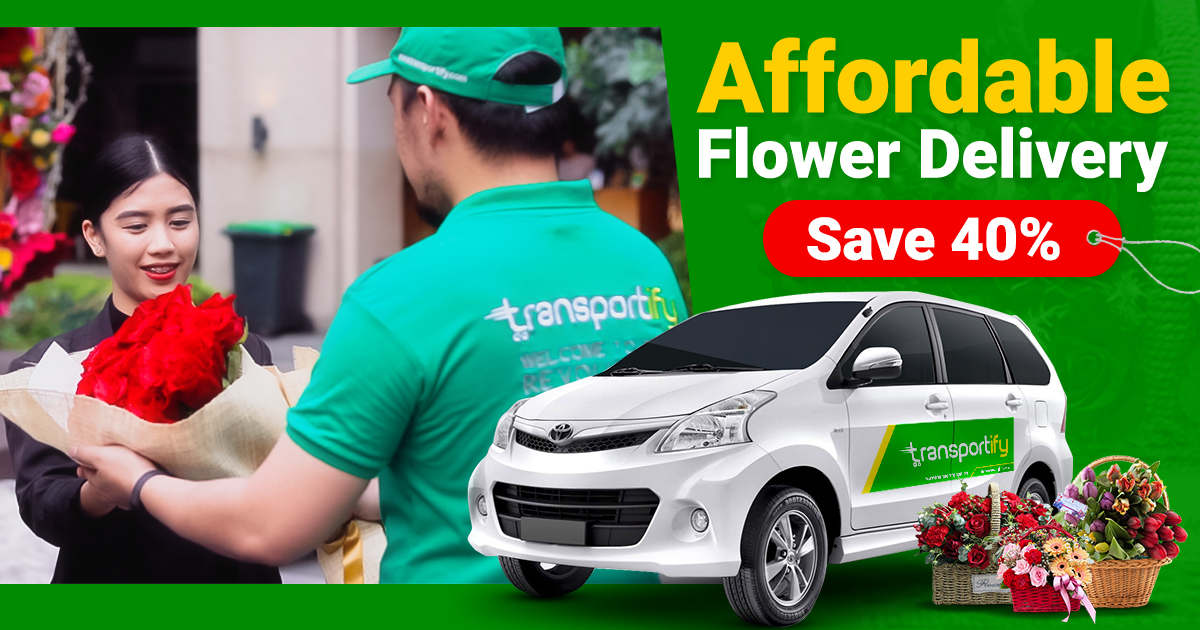 Local flower delivery in the Philippines is minimal, and finding a reasonable yet affordable flower delivery in the Philippines is even more so. Fast delivery, affordable prices, reliable service are essential factors customers and clients look for when finding a flower delivery in the Philippines. Fortunately, people can find these qualities in Transportify. Download the app now and save up to 40% when sending flowers as well as other gifts.
What Can Transportify Offer for Flower Delivery?
Safety and Reliability
You can trust Transportify in taking care of the flowers while they get delivered to their destinations. Transportify drivers are trained to take all the necessary precautions to prevent loss or damage to your packages. Transportify's logistics platform connects your booking to skilled drivers who have been certified to transport fragile items like flowers and cakes for gift-giving.
Wider Vehicle Options
Bulk orders are no problem through our on-demand flower delivery app, whether for an event or a party. Flowers, no matter the size or amount of the order, will surely be taken care of. Transportify vans and trucks are more than capable of holding large orders. From MPVs, L300s, and Closed  Vans to trucks, we will be able to hold big and bright flowers to accommodate our customers' needs.
For a comprehensive list of our fleet that can help you save up to 40% for delivery services, see the table below, or you can check out our fleet and prices for the full-service details.
Vehicle Type
Base Price


(Metro Manila)

Base Price


(Everywhere Else in Luzon)

Base Price


(Visayas/Mindanao)

L300/Van


7 x 7 x 4 ft




1000kg

430 PHP
330 PHP
310 PHP
Small Pickup


5 x 5 ft x open




1000kg

310 PHP
250 PHP
220 PHP
Light Van


5.5 x 3.8 x 3.8 ft




600kg

250 PHP
192 PHP
225 PHP
MPV/SUV


5 x 3.2 x 2.8 ft




300kg

160 PHP
130 PHP
140 PHP
Sedan


3.5 x 2 x 2.5 ft




200kg

140 PHP
90 PHP
100 PHP
Fast Delivery: Just In Time When You Need It
Flowers are delicate, beautiful things that quickly wither. But with Transportify's same-day delivery, flowers will retain their freshness upon arrival at their destination. Our express and affordable flower delivery in the Philippines will prevent flowers from withering during shipping. This will surely be hassle-free for both the customers and the flowers.
Deliver to areas of Luzon, Visayas, and Mindanao
Transportify provides affordable flower delivery in the Philippines for florists and blooming businesses. Flower deliveries can now reach provinces on the far side of mainland Luzon, Visayas, and Mindanao. Baguio, Pampanga, and Batangas are no feat for us and your flower deliveries. Just make sure that the package's pick-up point is within the service area.
In the Visayas, Transportify can deliver your flowers and gift in no time anywhere on Cebu island. Also, the same express delivery services can be used in provinces of Mindanao like Davao, General Santos City, and Cagayan De Oro.
Affordability and Cost-Effectiveness
No matter how big the order and no matter how far the destination is, affordable prices can still be expected from Transportify, with prices lower by 40% compared to traditional delivery companies. We ensure low prices and reasonable additional payments that reflect our excellent services to satisfy our customers and be able to save up on cost.
Transportify's delivery services are, without a doubt making local flower delivery in the Philippines better. From affordable prices and local same-day deliveries, we have it.
SEE ALSO:
Affordable Flower Delivery in the Philippines For Every Occasion
When it comes to gift-giving and merriment, flowers are always one of the go-to options. Around the world, the flower industry is said to be worth at least a hundred billion dollars, which goes to show just how much consumers prefer it.
There are about 8,000 varieties of flowers, 900 of which are orchids that you can find in the Philippines. The most popular ones are Sampaguita and Chrysanthemum, which anyone could buy in churches and mall establishments. A celebration of flowers called the Panagbenga Festival is commemorated annually in the City of Baguio.
Up to this day, the Philippines adorns celebrations with flowers. They are a simple gift but can convey a lot of messages. If you are in the floral business, finding an affordable delivery service in the Philippines should be a priority. Many Filipinos like to give out flowers mainly in special events such as the following.
Valentines Celebration every 14th of February
It does not come as a shock that the demand for flowers reaches its peak during Valentine's Day. 68% of sales increases during this romantic celebration. If you are providing floral services, make sure to add that extra feature of providing same-day to or scheduled delivery service so that you can gain a competitive edge against other businesses.
For affordable flower delivery in the Philippines, Transportify provides the most convenient option. It has a same-day delivery system as well as a scheduled delivery system. For this reason, you can allow your customers to have their flowers delivered at a specific time to surprise their loved ones.
Birthday celebrations
During birthday celebrations, having a flower delivery in the Philippines is also very helpful. If you cannot attend the party, then you can always opt to send out a flower to be thoughtful to the celebrant.
On the other hand, you can also have birthdays flowers delivered early in the morning to surprise the celebrant. An affordable flowery delivery in the Philippines is Transportify. The delivery company also has polite and cheerful couriers that will make the delivery lovely.
Other surprise celebrations
Giving out surprise congratulatory flowers can also help build a lasting impression on the receiver. That is why for every significant event such as graduations or passing an exam, flower delivery in the Philippines comes in handy, especially when you are away from your loved ones.
In a floral business, especially for those who are starting, it is impractical to create your delivery system. One of the best methods of saving expenses and time is through the use of the services of local courier service that is both efficient and affordable.
There are specific criteria that a delivery company should have so that you will get your money's worth, while your customers are also satisfied. Here are some of them:
1. Careful handling
Flowers are incredibly delicate, which is why the delivery and logistics company should be equipped with the right skill to handle fragile products. You would want your customers to receive their flowers just as you arranged them.
2. Punctual
Surprises are all about timing, which is why when sending out flowers, the courier should be efficient in his delivery so that the shock will go as smoothly as possible.
3. Cheerful disposition
Also, excellent delivery service in the Philippines would not merely transport the flower from one place or another. They should have a pleasant disposition to make the surprise ten times better.
Transportify's Delivery Service for Floral Business
In the Philippines, there are only a few horticultural establishments, which is why most of these do not have their delivery system. If you are one of these businesses, then you would not have to worry anymore because Transportify can cater to your needs.
Around the Philippines, Transportify can have your flowers delivered right at your customer's day with various features such as same-day delivery, door to door delivery, and scheduled delivery. At your option, Transportify can transport the gift anytime and anywhere.
Furthermore, you can avail of Transportify's services by just directly scanning the QR Code or clicking the button below:
| | | |
| --- | --- | --- |
| | or | |
Now, with the delivery service right at your hand, your customers can have their order right at their hands at a time that they prefer. This could help boost your business and make it flourish.
Frequently Asked Questions:
What characteristics do customers and clients look for when finding a flower delivery in the Philippines?
🌹 Generally, customers and clients, today want a fast, affordable, and reliable delivery service. This is especially true for flower deliveries, which is a challenging task that must be completed as quickly as possible to maintain the freshness of blooms. When peak season, such as Valentine's, Mother's Day, and Christmas approaches, floral businesses hire third-party logistics providers to support them with reliable service at a cost-effective price.
How do I avoid my flowers getting wilt while getting them delivered?
🌹 During special events, our best option to surprise our loved ones is by having flowers delivered straight to them. But during peak season, some flower shops opt to deliver it via motorcycles. Which in turn dries the flower up and reaches its destination in an unfavorable state. To avoid this, we recommend you use Transportify for the deliveries. Their sedan and MPV/SUV vehicle type is perfect for delivering fragile and temperature-sensitive items like flowers, cakes, and wrapped gifts.