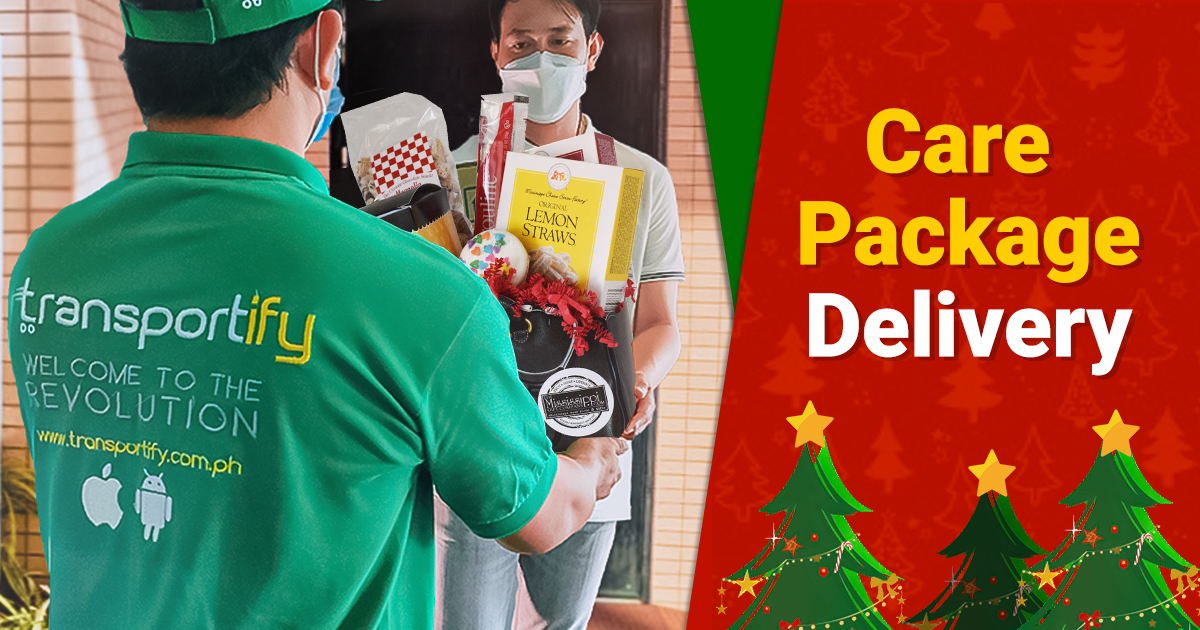 Do you want to send a care package delivery in the Philippines, but don't know where to start? If so, this blog post is for you. You'll learn the process of sending packages from your home, mall, or anywhere directly to your receiver. It is always good to know that you are not the only person in the world who is feeling alone. But when you are away from your family and friends, it can be hard to feel connected. Transportify's door-to-door service care package delivery Philippines will make sure that your loved ones will never feel left out with your gift to be delivered right to their door.
What is a Door-to-Door Delivery Service?
A door-to-door service, also called door-to-door delivery service is a type of shipping method that runs by delivering packages from one point to another, usually houses within a specified area. This type of delivery service is a more efficient way of transporting items because it does not require the use of a postal system.
The door-to-door delivery service has an edge over any other form of transport when it comes to carrying bulky packages, multiple deliveries to one location, and the ability to deliver at inconvenient times. The door-to-door delivery service typically charges much less than what you would normally pay for using any other type of shipping method.
Searching for the Perfect Gift? Door-to-Door Service Makes Logistics Easy
The door-to-door service is not only convenient and easy to use, but it's also affordable and fast. You don't need to worry about the hassle of going out of your way to getting a gift for someone on your list, or worse, forgetting them. The door-to-door service will make sure that you never forget anyone again this holiday by delivering a package on their doorstep on Christmas day. Door-to-door service is very convenient because it does not require you to make any trip, whether long or short and it can be used at all hours of the day and night without worrying about traffic jams.
Because of these benefits, door-to-door service is widely used for sending care packages Philippines especially when you want to send something that needs special attention such as gift bundles and food items like fruits and vegetables. Sending a care package through door-to-door service ensures more safety because they are delivered faster than other forms of shipping methods. They also offer an accurate time frame on how long it takes before delivering your item which can be done within the same day.
Transpotify delivers to a wider service area in the Philippines so you don't have to worry about having them delivered to your doorstep. You can choose from their wide array of services which include one-way door-to-door service, return door-to-door service, scheduled door-to-door service, or on-demand care package delivery Philippines. The quality of their services is top-notch because they ensure they carry out every process with care. Transpotify delivery services are the best way to send care package delivery in the Philippines to your loved ones anywhere in Luzon, Cebu, and Davao.
Most of the time, gifts or care packages small packages that can fit sedans and MPV. There will be instances that you'll need bigger vehicles if you will deliver to multiple stops and would require more space, for that you can use an L300. Here is a list of vehicles customers often use for care package delivery:
Vehicle Type
Base Price


(Metro Manila)

Base Price


(Everywhere Else in Luzon)

Base Price


(Visayas/Mindanao)

L300/Van


7 x 7 x 4 ft




1000kg

430 PHP
330 PHP
310 PHP
Small Pickup


5 x 5 ft x open




1000kg

310 PHP
250 PHP
220 PHP
Light Van


5.5 x 3.8 x 3.8 ft




600kg

250 PHP
192 PHP
225 PHP
MPV/SUV


5 x 3.2 x 2.8 ft




300kg

160 PHP
130 PHP
140 PHP
Sedan


3.5 x 2 x 2.5 ft




200kg

140 PHP
90 PHP
100 PHP
Tips Before Sending Care Packages During The Holiday Season
For many people, the holiday season is not complete without sending care packages to loved ones. The door-to-door delivery service has seen a spike in clients and subscribers during the holidays as people clamor to express their fondness and appreciation to one another through tokens and gifts (i.e., care packages).
Many businesses have started sending tokens or packages to their employees to show appreciation for their time and effort during the year. This is an excellent way of making people feel valued because it shows that they are being thought about. These care packages are often filled with treats or small gifts, which not only signify gratitude but also go a long way in boosting morale.
Those who want to send door-to-door delivery services anywhere in Luzon, Cebu, and Davao have to consider some things before choosing their door-to-door delivery service provider. Here are some tips that you should know:
1Look for door-to-door delivery service packages
Delivery service providers offer varying rates depending on what you want, budget, and need. Inquire if they offer door-to-door delivery service and how much it would cost to deliver tokens or gifts.
2Check delivery schedules
When choosing a delivery service provider, inquire if they have door-to-door deliveries every day and whether they can accommodate your holiday schedule. Most of them usually adjust their operations during holidays such as Christmas and New Year.
3Inquire about delivery tracking
Aside from inquiring about delivery service rates, ask if they have delivery tracking systems that allow you to monitor whether your loved ones have received their gifts. This is important because it will enable you to monitor when your gift arrives at its destination.
Choosing Transportify as your door-to-door delivery service provider allows you to send gifts to your loved ones, employees, or clients at a cost-effective rate. Transportify has delivery service packages that vary in rates depending on the location. We also have a mobile app and a web app where you can track your shipment anywhere in Luzon, Cebu, and Davao.
If you are looking for a door-to-door delivery service provider this holiday season, make sure you consider these things before finalizing your choice of transport company. Doing so will ensure that your care packages will be delivered to your receivers on time.
SEE ALSO:
Transportify Is Your Partner in Sending Care Package Delivery Philippines
Just like other door-to-door services in the country, what makes us different from them is that our clients' orders never pass through any shady processes ensuring quality control before its final destination on time. Aside from being a trusted logistics provider, we also care about the delivery of your items as much as you do.
Our door-to-door service comes with many options such as:
We offer our services at competitive rates.
We handle all packages with utmost care so that they would arrive in the best condition possible even during rush hours.
Our door-to-door service is trusted by many clients from different parts of the Philippines.
We have a proven track record as a door-to-door service provider in the Philippines that's why we are fully committed to upholding our values and principles.
Quality is never compromised because we only work with our trusted delivery partners who have been trained by us so they can provide quality door-to-door service just like what we expect from them.
| | | |
| --- | --- | --- |
| | or | |
Frequently Asked Questions:
Is door-to-door service safe?
🚚 Yes, the door-to-door delivery service is safe. It is the job of our delivery partners to ensure the safety of every package they deliver. As a delivery service provider, we also make sure that all parcels are handled with utmost care and caution during transit. It is advised for customers who want our delivery services that they should always provide enough packaging materials like bubble wraps, foam sheets, etc. to make sure that even if your item accidentally drops the box, nothing would happen to what's inside because of proper protection and cushioning materials used for packaging purposes.
Is door-to-door delivery service the same as same-day delivery?
🚚 It depends on the courier company, door-to-door service may and may not be the same as same day delivery. In Transportify's door-to-door service, they have both same day and non same day deliveries. Those that are not same day are interisland trucking service which can take up 2-3 days at most and send load, which also practices the same day pick up process.