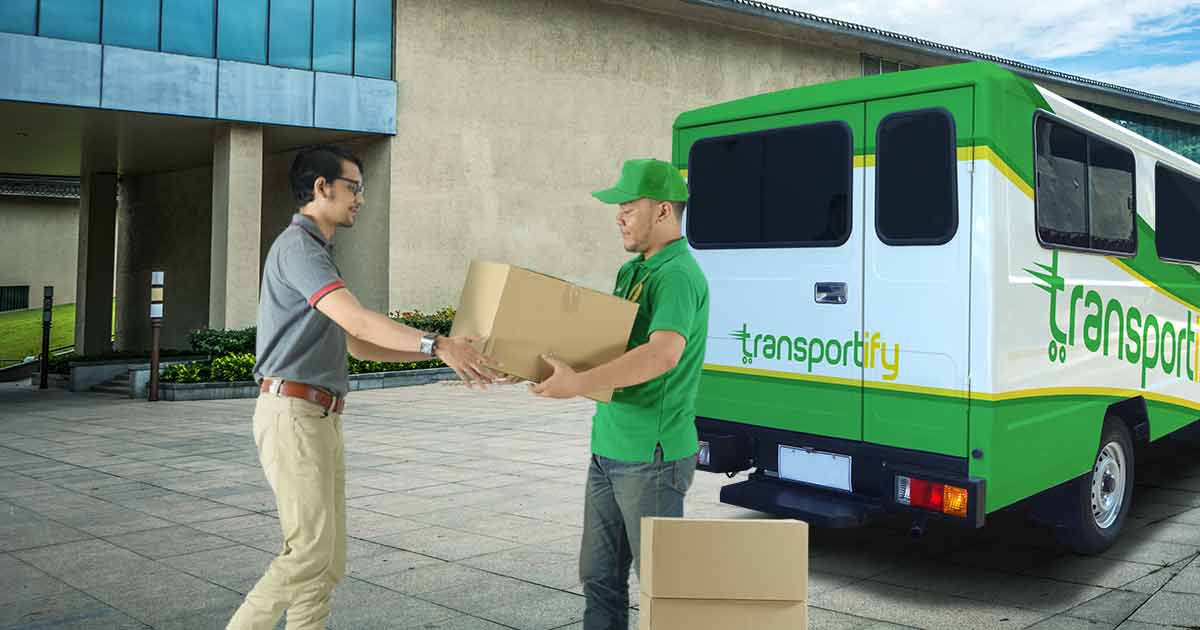 Transportify is a web and mobile application that launched in the Philippines last July 2016. Transportify is a thriving delivery and logistics company in Metro Manila that has a Luzon wide coverage. It aims to lower the costs of traditional delivery logistics methods, which includes first to last-mile delivery, of enterprises, while still providing an exemplary quality of service. Get a price check right now and confirm that we are the most affordable logistics company in Metro Manila.
Deliveree or Transportify, a leading logistics company in Metro Manila, has over a hundred thousand business customers, tens of thousands of drivers, and several vehicle classes in Thailand, Indonesia, and the Philippines. Transportify is revolutionizing the way delivery logistics company in Metro Manila operates – through its cost-effective, highly technological, and convenient delivery services.
Delivery Logistics Made Affordable
With its goal to improve the Philippines' situation in terms of transportation when doing business, Transportify lets clients and customers save as much as 40% than the traditional delivery logistics pricing.
Transportify follows a simple process to do this. Co-Country Director and Head of Operations, Paulo Bengson, explains how the system lets clients pay only for what they have used, which is a guaranteed base price, and a specific cost for every kilometer after that. For example, standard pricing for an economy class costs only ₱120 with an additional ₱20 per kilometer for the distance of the pick-up from the drop-off point.
Vehicle Type
Capacity
Price Starts At
Vehicle Type
Capacity
Price Starts At
Wing Van (40ft)

28000 kg

₱10,500 (Metro Manila)
₱9, 500 (Other Areas)


10w Wing Van (32ft)

15000 kg

₱7,500

6w Fwd Truck

7000 kg

₱4,850

Long Pickup Truck

7000 kg

₱4,850

Pickup Truck

2000 kg

₱2,300 (Metro Manila)
₱1,950 (Other Areas)


Closed Van (4W)

2000 kg

₱1,800 (Metro Manila)
₱1,450 (Other Areas)

Small Pickup

1000 kg

₱310 (Metro Manila)
₱250 (Other Areas)


L300/Van

1000 kg

₱415 (Metro Manila)
₱330 (Other Areas)

Light Van

600 kg

₱250 (Metro Manila)
₱192 (Other Areas)


Economy (Sedan/Hatchback)

200 kg

₱100 (Metro Manila)
₱90 (Other Areas)


Other than this, they also have extra services such as added destinations, exclusive help by driver, and additional helpers on the go – all offered for a budget-friendly price. With Transportify, Bengson explains, clients can know the delivery charge for the full service beforehand to avoid questionable charges.
This highly economical service is what makes them one of a kind delivery logistics company in Metro Manila.
Covering Every Delivery Logistics Phase
Through Transportify, clients have a wide selection of vehicles to choose from – with each already inclusive of a driver to pick up and drop off deliveries. The models range from economy-class cars such as sedans, hatchbacks, SUVs and MPVs, to larger transport vehicles like L300s and closed vans.
Additionally, their system allows clients to schedule pick up and drop off locations around Metro Manila and surrounding areas for as much as 15 destinations! This feature makes it more convenient for the clients, as they can maximize the services at a very reasonable price.
A first in the Philippines, Transportify gives their options for almost of types of delivery logistics requirement like no other!
Convenient Booking and Scheduling
Using the Transportify application, the clients' power to manage their delivery schedules is almost limitless. Delivery bookings are made only with a few clicks, with clients being able to have extra services should they prefer to.
Noel Abelardo, Co-Country Director and Head of Sales and Marketing, mentions how Transportify provides real-time and fast services. With Transportify, customers can book anytime, anywhere. Customers could even wait for the driver with only 60 minutes after scheduling. Clients may also opt to set the schedule as early as two weeks from the date – yet another convenient option provided by Transportify, your best logistics app.
The system also allows clients to select multiple destinations and add up to 15 locations. Another alternative is merely choosing to book any of their vehicles for a Full Day at a flat price – inclusive of a 10-hour full day service of unlimited distance and destinations within Transportify's standard service area.
Easy Track and Trace Delivery
Among the numerous flexible services offered is the full tracking. It allows the customer to track the driver's precise location and ETA to the drop-off locations at all times through a convenient mobile or web application that has a real-time GPS monitoring system.
Bengson further elaborates on the customer service support. Transportify's customer service center is available seven days a week, in any case, that clients would need assistance. Should there be any question, the customers can also directly contact drivers through the in-app Customer and Driver Chat feature.
This feature works best for small to medium size enterprises that need to fulfill their product delivery promises. Through tracking and tracing, they can monitor their business efficiently. Aside from that, Transportify has an added feature for the customer's security. The app requires a digital signature from the receiver once the items arrived at the drop-off destination — these and a lot more features that isn't available from the traditional delivery logistics company in Metro Manila.
Flexible Business Program Features
To ensure the utmost top quality for a logistics company in Metro Manila, Transportify offers business program features that are customer-centered. Other than their live support for business clients, they also have chat support for individuals who make use of the service. Through this program, you can level up your business.
Enrollment is free, with no volume required. Cash on delivery (COD) mode of payment is also available, with a flat fee per booking of only 1.50% of the invoice that is a minimum of ₱80. Cash on delivery is already inclusive of proof of delivery (POD) return service. POD return service is also available under a different mode of payment for a flat fee of ₱80 per booking for less than three destinations, ₱160 for four up to ten destinations, and ₱200 for more than ten destinations.
Transportify's current system allows them to operate within a standard service area – within Mega Manila [North (Meycauayan, Marilao, SJ del Monte), East (Cainta, Antipolo, Taytay, San Mateo, Angono, Rodriguez), and South (Bacoor, San Pedro, Biñan, Imus, Dasmariñas, Carmona, Rosario, Cabuyao, Santa Rosa, Kawit, General Trias, Noveleta, Cavite City, Tagaytay, Calamba, Silang)] and different parts of Pampanga.
Aside from services offered within the Standard Service Area, the provincial delivery service is also available for pick-up within Mega Manila and Pampanga to specific points in Luzon namely San Pablo City (Laguna), Lipa City, Batangas City, Tarlac, Cabanatuan, Lucena, Subic/Olongapo, Balanga City, parts of Pangasinan, San Fernando (La Union), Vigan, Laoag, Santiago, Ilagan (Isabela), and Tuguegarao. For 2023, Transportify can now pick up and deliver from any point in Luzon.
With the revolutionary services that Transportify offers at an affordable cost, finding exceptional logistics company in Metro Manila, Pampanga, and its surrounding areas become less of a hassle and more of a convenience.
Benefits of Delivery Logistics Company
Providing delivery logistics services to your customers can improve satisfaction rates. Nowadays, businesses thrive because they can provide their customers more than just the quality of the product, but as well as the time it took to be delivered. The faster the delivery, the more the customers are satisfied.
In addition, services offered by the delivery logistics company in Metro Manila like Transportify is also beneficial to distribution companies. Effective delivery can save warehouse storage space, time, and expenses rather than having it delivered personally by their employers.
Staying on top of the competition by using resourceful and innovative strategies is essential for every business. Today's generation has seen the rise of the importance of a customer-centered service. With the advent of technology and the development of courier services, retailers can now reach a broader customer coverage which can help expand their business.
What is Last Mile Delivery?
If you are still starting with the online retailing business, you might have come upon the term "Last Mile Delivery." Many companies have incorporated it in their services since it provides loyal customers and is a cost-efficient strategy.
Gone are the days where customers have to pick up their order. Nowadays, they want to get their items conveniently and as soon as possible. This is the situation in which every phase of delivery comes into play.
Delivery logistics company in Metro Manila, such as Transportify, offers first to last-mile services for retailers. This is where retailers can transport their products right at their customer's doorstep.
With Transportify, it is extremely easy to provide quality service without shelling out a large amount of money. Just by downloading our mobile application and booking one of our delivery options, you can deliver your goods safely and leave your customers happy.
For more information, you may chat with Transportify via the web or app.
Frequently Asked Questions:
What does the logistics company do?
🚚 A logistics company provides services for packaging, storing, and transporting goods, information or services from the points of origin to the drop-off. There are different logistics company that covers either all or selected logistics services. For example in Transportify, we have selected logistics services mainly focused on transporting goods and packages from businesses and individual customers using our fleet partners and drivers.
How much do the logistics companies charge for their trucking?
🚚 Handling fees usually cost around ₱3,000-₱4,000; Charges also apply when they pick-up your cargo, how much space you'll take up in the truck, distance, and other taxes. Most commonly, it will cost business owners around ₱10,000 to transport their goods. If you want an affordable alternative with quality service, try to use Transportify. A logistics app that charges based on the vehicle you selected and the distance so you can save up to 40% on cost.