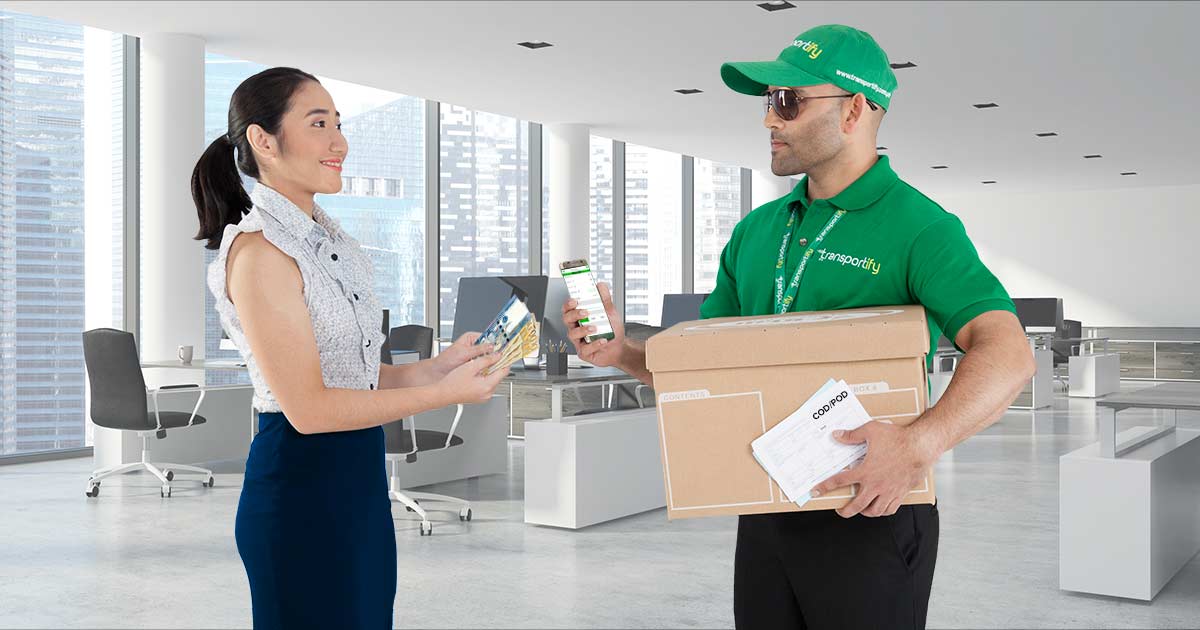 Transportify does not only cater to personal deliveries as this on demand delivery app also functions as a third-party logistics (3PL or 3pl) partner and cash on delivery courier in the Philippines for its business program clients.
As much as possible, we at Transportify want to make our clients' experiences worthwhile. So for clients who desire to try out our app's Business Program, we offer the best cash on delivery service (COD) and proof of delivery (POD) return service you can get.
COD+POD or POD only
First of all, our business program clients can pick from two types of return service features – between POD service only and both the COD+POD service. The client will get the POD return within seven days after the booking. For cash on delivery service with POD return (COD+POD), cash payment from your customers will be remitted on the next day. Both services are available from Monday to Saturday, from 8AM until 6PM.
By availing the POD service offered by Transportify cash on delivery courier, our delivery driver partners will accomplish and collect the delivery receipt of your product for you while they deliver your products to your customers. This costs ₱80 per booking for three or less destinations, and ₱160 per booking for four or more destinations.
If clients choose cash on delivery service with POD return (COD+POD), which costs a flat fee of ₱80 per booking, the driver will also collect your customers' cash payment along with the delivery receipt. Clients are guaranteed to receive 100% of their customers' cash payment. Refer to the table for more details about our affordable cash on delivery courier service:
Details
Features
Column 3
Details
Program Features

Live Support

Open 24/7

Prepay with Credit Balance

Available

Postpay with Monthly Invoicing

Available

Destination

Up to 16

COD and POD


Monday to Saturday
Cash Guaranteed 100%

COD + POD


1.50% of invoice
Minimum of ₱80
(Flat Fee Per Booking)

POD Only


₱80 for ≤ 3 Destinations
₱160 for ≥ 4 Destinations
How POD return service works
It is natural for entrepreneurs to demand assurance that their products get delivered properly – which the POD return service feature meets. All the entrepreneur-client has to do is sign on the assigned delivery driver's Transportify app, hand the package, and hand the delivery receipt to the driver once they meet at the pickup point.
The driver will then deliver the package to its destination. Upon arrival, the driver will ask the recipient to sign the entrepreneur-client's delivery receipt. He will take a photo of the accomplished delivery receipt and upload the image on the app as proof.
After accomplishing the Transportify COD/POD form (a separate form from the delivery receipt), the delivery driver will contact a Transportify Shadow Fleet member so the latter can pick up the delivery receipt and Transportify COD/POD forms.
The Shadow Fleet is a group of Transportify motorbike riders tasked to deliver the accomplished forms to the entrepreneur-client so the delivery drivers do not have to return to the pickup point.
How COD+POD return service works
The process for COD+POD return service is just the same with the POD return service – except for one detail. Unlike POD, COD+POD involves money collection. Our trusted cash on delivery courier driver partners will not only accomplish your delivery receipts, but will also collect your customers' payments for you. All you have to do is sit back and relax as your products get delivered and generate income.
The COD+POD return service accepts both cash and check payments from recipients which the delivery driver partner will secure once the recipients handed it over. Afterwards, the driver will contact a Shadow Fleet and give the accomplished delivery receipt, accomplished Transportify COD POD forms, and the recipient's payment.
The best business partner
Budding small to medium entrepreneurs don't need to look for "the best cash on delivery courier in the Philippines" on Google as the search for the courier and delivery services that will help them 100% with their business' logistics system is over. Transportify takes care of its business program clients as much as it takes care of its individual customers, and will continue to do so in the coming years!