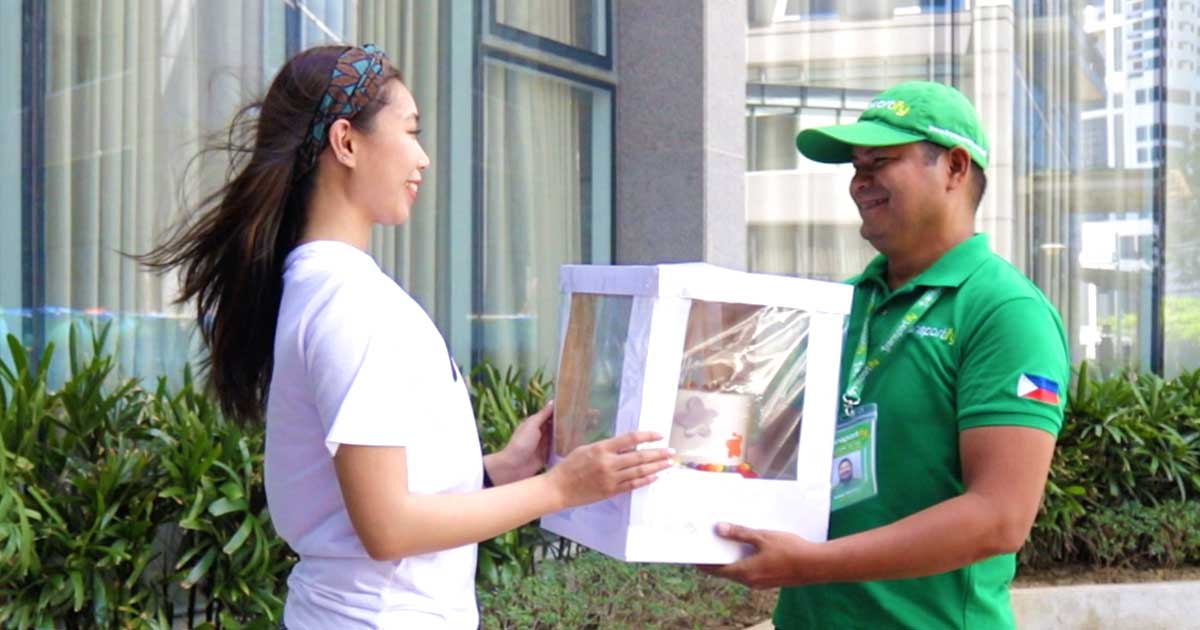 A celebration would not be perfect without a cake on the table. Every momentous occasion in life, such as birthdays, weddings, job promotions, and graduation– deserves a sweet treat. No matter what size and form a cake is, it will never fail to put a sweet smile on people's faces.
Some people work hard looking for cheap courier services for cake delivery in the Philippines to make sure that everything is in place. Moreover, there's a lot of reasons why you might want courier services for cake delivery. Perhaps, you have baked the sweetest and delicious desert known to humanity, but the person you have made it live far away from your city. Or maybe, you have started your little baking store, and you are looking for the easiest way to transport your sweet cakes to your clients.
If you are one of those people who get busy making their loved ones perfectly happy during the holidays, here are a few different ways to make your preparation more convenient with the help of the Transportify app.
Vehicle Type
Base Price


(Metro Manila)

Base Price


(Everywhere Else in Luzon)

Base Price


(Visayas/Mindanao)

L300/Van


7 x 7 x 4 ft




1000kg

430 PHP
330 PHP
310 PHP
Small Pickup


5 x 5 ft x open




1000kg

310 PHP
250 PHP
220 PHP
Light Van


5.5 x 3.8 x 3.8 ft




600kg

250 PHP
192 PHP
225 PHP
MPV/SUV


5 x 3.2 x 2.8 ft




300kg

160 PHP
130 PHP
140 PHP
Sedan


3.5 x 2 x 2.5 ft




200kg

140 PHP
90 PHP
100 PHP
Try our Sedan for Delivering Gifts!
We understand the time and effort you invest in wrapping your gifts to make them look even more special. As such, Transportify does not only offer cheap courier delivery services for cake delivery in the Philippines, but we also make sure that sending gift-wrapped packages is safer and more secure. Unlike other logistics providers who use motorcycles, Transportify uses sedan for delivery. You can be guaranteed that your beautifully wrapped gifts won't have damages.
Use our Food and Flower-friendly Services!
Our sedan services can be used for more than just delivering gift-wrapped packages. We also accept food delivery like cake and cupcakes, as well as flower deliveries in bouquets and baskets. The sedan will keep the food and flowers fresh with its air-conditioning, and shield them from the harshness of sun and rain. This is what makes us best in offering cheap courier services for cake delivery in the Philippines and other stuff as well. If you're planning to send flowers as Christmas gifts or bringing lots of cakes to your office party, use the Transportify app to avoid the hassle of carrying them yourself.
Deliver Company Giveaways with Us!
Companies love distributing giveaways among employees during the Christmas and New Year seasons. If you need help in hauling those boxes or bags of giveaway goods into your office before party attendees arrive, Transportify's cheap parcel delivery service is to the rescue. You can choose among our delivery vehicles what best suits your giveaways. If you're giving away appliances like TVs, refrigerators, and washing machines, we got you covered with our rental of L300 vans and 4-6 wheeler trucks. You don't need to carry the burden of massive giveaways — save your energy for the party later.
Partner with Us for Caterings!
Ever experience the hassle when you found out that your catering service won't be able to deliver the party food on time? Stressful right? But with Transportify's local same-day delivery and fast courier services, your problem is solved. Unlike other logistics providers that have restrictions on food with strong scents, Transportify's drivers deliver food and even accepts Lechon (roasted pig) deliveries! We also accept Noche Buena deliveries for colossal family reunions and celebrations so you can enjoy the holidays without having to run around cooking in the kitchen all day long.
We hope that these suggestions in using the Transportify app for express same-day delivery to help you enjoy a stress-free and worry-free holiday season.
Stress-Free Celebration With A Cheap Courier Services For Cake Delivery the Philippines
Delivering cakes are quite complicated, as there's no guarantee to ensure that it will remain upright once you have sent them for delivery. Many bakeshops need to make sure the success of every order, especially customized ones that are often the most difficult to send out. Not only these items are perishable, but they have a delicate decoration that can easily be ruined with just the slightest mishandling.
But fret not! You can partner up with the most reliable, trustworthy, and yet cheap delivery and courier company like Transportify to do your cake delivery ph. However, if you want to get in-depth through the process, this guide will help you to reduce the trouble of delivering cakes:
Plan in Advanced
Streamlining the process can result in a successful, orderly, timely cake delivery ph. And you can begin by baking a structurally concrete and stable cake. Look out for any wobbling area and decorations, and fix it immediately, if there's any. You may use extra pins and poles to secure the cake layers, or you can opt for a weightless Styrofoam figurine characters to make it light. Also, make sure you did not put anything that can easily break.
If you're good with carrying a stacked cake, dowel it appropriately by placing it in a center rod that will go through all the cake layers as it can support to keep the cake stable during the transport. Don't forget to limit the stack with not exceeding three to four cake layers, too, so the cake is not that too tall. However, if you want to be sure you may deliver a multi-tier cake as a single-tier instead and construct it at the recipient's venue.
If you choose to construct the cake on the event venue, or if there's a decoration emergency, don't forget to bring a kit of baking tools and supplies such as icing, pre-cut blossoms, flowers, and a piping gel.
Before leaving the house, talk to your customer about the cake delivery ph. Make sure you have the following details on hand, as well, or don't forget to ask the customer about some details upon your arrival:
Customer's name and number.
Address, landmarks, or directions.
Time for cake delivery, and in case of events, a few hours before the program proper.
Parking availability.
Routes, entry points, and distance from the parking area to the event proper or customer's home.
Number of people needed to transport the cake.
Double Check the Packaging
If the customer's location is not that far, you may choose to pack the cake in an open box and place it in a large, clean garbage bag to cover it when it rains as the courier services for delivery for cake delivery staff hand-deliver it to your customer. You may opt for a sturdy box, the actual size as the cake, and the quality one with thick boards so it can prevent the cake from moving inside the vehicle.
If the location or the current weather is too hot, you can cover-ups some noticeable gaps around the box with a foil to keep it cool as its transport. In addition to that, if the roads are too rough or too far, consider buying a special box or a customized container for the cake.
For the decorations like flowers, or character figurines, you can place a tissue in between the decoration so that it won't bump into each other. You may also put them into a separate box and place onto the cake once the cake arrives at the venue.
Transporting The Cake to the Delivery Vehicle
Before heading to the customer's location, you need to carefully place the cake inside the vehicle of the cheap courier company. Do not put the cake on the car seat or companion's lap because the area is not flat enough.
To avoid the box from slipping around while on the road, you may use a non-slip mat on the floor (e.g., yoga mat). Another technique is to pack the boxes and folded up some towels around the cake's packaging so that it won't make any move.
Indeed, cake delivery in the Philippines is a complicated task, however, if you partner with the most trusted and reliable, yet cheap courier company like Transportify, delivering a cake can be manageable. That's why finding the best online delivery and courier services for cake delivery plays an essential role in the whole process.
Frequently Asked Questions:
Who offers cheap courier service for cake delivery in PH?
?For a motorcycle courier, you can book Grab express and would cost you around P150-P250, but be warned as you're putting your cake on danger. If you want your cakes secured and safe, you can book Transportify's economy vehicle, which would cost you P120 for the base price +P20/km.
What apps offer courier services for cake delivery?
?Food Panda and Grab Express lets you buy and deliver the cake from their vendors. If the store or vendor you want isn't part of their list, no need to worry as you can contact the bakery and book Transportify to deliver your cake to you.