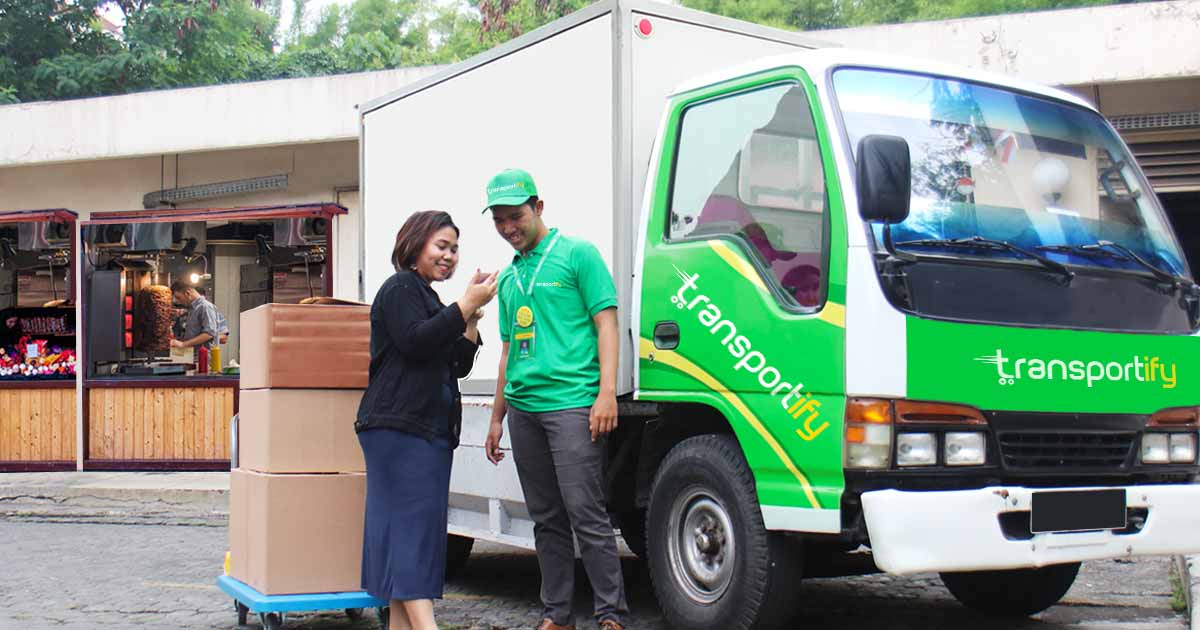 There is no doubt that Filipinos are food lovers—anywhere you look, food businesses are thriving, offering various kinds of both foreign-influenced and authentic Filipino food. From Filipino restaurants to fast-food chains to sidewalk eateries and street food vendors, it is evident that the food business industry in the Philippines will never stop growing. It has become a very significant part of the country's economic growth, even more so now that food delivery services have spread abound and rated with great feedback. Download the app to get started now.
That is why we at Transportify logistics company do our best as a third-party logistics delivery company to cater to our clients in the food business industry. We strive hard so that Transportify can give effective food delivery service for all of your food-related needs. Below are the reasons and ways of how we can make effective food delivery happen and how we gathered 4.8 stars from our customers.
Vehicle for delivery services
Not all food is created equal. Some are more delicate—and more delicious—than others. Food like cakes and cupcakes need extra care during shipping. This is why our regular bakeshop owner clients book Transportify as their courier service for cake delivery. A car's air-conditioning system keeps cake and cupcake frosting and icing from melting, and its compact space provides a safer and comfier environment for baked goods.
Additionally, catering businesses can also rent L300 vans and closed van trucks for food delivery and transportation of tables, chairs, and other catering equipment. Here's a comprehensive list of the our food delivery vehicle with its corresponding base price.
Vehicle Type
Standard Rate
Full Day Rate
Manila
Vehicle Type
Standard Rate
Full Day Rate

Economy

₱120




+ ₱20 Per KM

₱1,800

Economy Extra Space

₱140




+ ₱20 Per KM

₱1,820

L300/Van

₱430




+ ₱27 Per KM

₱2,800

Closed Van

₱1,800




+ ₱45 Per KM

₱6,000

Closed Van Extra Space

₱2,100




+ ₱45 Per KM

₱6,300
Fast Delivery
Another way we can guarantee that we can keep food delivery requests fresh upon arrival at the destination is through Transportify's same day delivery service. Our delivery driver-partners are trained to be punctual to fulfill delivery requests on time with respect to our valued clients' time; that's why their average rating is 4.8 stars.
Warranty Policy
One of the best reasons why Transportify is the best partner for food delivery for businesses is our Business Program's Premium Warranty Policy. Our Premium Warranty Policy is a privilege enjoyed by clients enrolled in our Business Program. All of them rated it as their favorite benefit.
The Premium Warranty Policy entails that any item that got lost, damaged, or stolen during pickup, transportation, and delivery during a Transportify booking will be our company's responsibility. Because we value our regular customers the way we value our business clients, individuals are also privileged to a Limited Warranty Policy.
Want to know more about why the Transportify on-demand delivery app is rated 4.8 stars when it comes to effective food delivery service? Feel free to ask our customer service representatives or read more of our many blogs on our website to learn more about our quality service.
Food Delivery Service and 3PLs in the Philippines
With various food delivery services available, restaurants are looking to branch out and explore different avenues in sharing their product to the public. Several options include food cart businesses, while other models such as mobile food parks have increased in popularity over the years.
Together with these trends in the food industry, the growing need for food delivery service continues to be the top priority of competitors within the food industry. Transportify's role as a food delivery service to restaurants and other food businesses is directly tied to the growing market in the Philippines. Budding entrepreneurs who want to take part in the ever-increasing industry have chosen various trending food options from milk tea products to street food stands, all to reach a high sales income from relatively low capital investment.
Since these Small to Medium Enterprises, or SMEs, cannot start with a grander scale in terms of various business operations such as workforce, product storage, and food delivery service, they often opt to hire third-party logistics services or 3PLs to supplement their needs.
With the accessibility of delivery service providers to outsource the workload of running a business, entrepreneurs can focus their efforts on growing their product's quality and their customer base while being in good relations with a mutually beneficial partnership.
Benefits of hiring a 3PL delivery service
A third party logistic service offers multiple benefits to its partners, whether they be SMEs or established companies. Some of these perks include:
Managing the training of workforce c/o of the 3PL
Maintenance and quality control of logistical equipment
Dedicated business models depending on the service provided
Cost efficiency for businesses that need to accommodate a broader customer base
Providing a higher quality of customer service from experts in the field
Scaling up the company's reach with regards to the 3PL's scope
Testing new markets in partnership with sharing clients and sponsors
Transportify allows our business partners to focus on their efforts to expand their brand while also increasing their credibility to their sponsors and customers by having the Transportify label of quality service attached to their company's name.
Utilizing our extensive coverage and reach
An entrepreneur doesn't have to come from Mega Manila to achieve success. A lot of provincial restaurant brands gain their popularity for establishing themselves as the go-to option for locals and vacationers. One of the many concerns that the food business industry has is the availability of goods.
For outlets nearer to their service providers in the city, restocking their supply of food ingredients and cooking equipment isn't an issue. But when it comes to dealing with province-based restaurants, they have a harder time in procuring materials if they lack the logistical equipment that would supply runs cost-efficient for their needs.
With our addition of 10 wheeler wing vans to our list of rentable vehicles, we have the capacity and flexibility to offer supply runs for food businesses from the metro to various provincial routes that continue to increase by the day.
Be a part of Transportify's business program!
Though commonly recognized for its ingress and egress services for events and the occasional emergency delivery or lipat bahay service for most of our customers, Transportify also offers business partnerships that include home appliance pick up and delivery and food delivery service as mentioned above.
Being a part of our business program provides a wide array of benefits and bonuses that extends beyond provincial delivery routes. Our business program allows for:
Dedicated fleets to cater to your food transport needs
Custom SOPs to fit your business model
Custom equipment adapted to hold your dry or cold goods appropriately
Monthly postpay to efficiently deal with more convenient liquidation
In this age of convenience and technological advancement, it's essential to keep good relations with potential sponsors and business partners. Choosing the right brand to partner up with is an integral part of running a business, and we at Transportify know the importance of partnership and expansion.
Since our debut, we've developed multiple partnerships from various franchises and increased our efforts to expanding our customer base to reach over 1 million app installs. We've grown our brand from the humble number of 450 drivers operating in Manila to over thousands of active van operators across a steadily increasing provincial location list that reaches the provinces of Baguio and Pampanga, which continues to grow to this day.
We at Transportify want to ensure that we continuously improve and expand our quality of service to cater to different industries that require our helping hand. You can sign your business up with us to see how far the Transportify brand can help you reach your brand's goals.
Frequently Asked Questions:
Who is the best delivery service for food business?
?FoodPanda is a pinoy favorite for established restaurants. For short orders and food stall businesses, Grab Express or Grab Food can do deliveries to customers. For bulk orders and catering services, It's better to book Transportify with it's bigger vehicles to load up more and protect the food since the vehicles are all closed.
What are the benefits of hiring a 3PL delivery service for my food business?
?You can now connect to your customers easily. If they opt to have the food delivered to their doorstep, you can instantly book from your 3PL delivery service. Since the demand for the food business is continuously growing, many 3PL delivery service providers have introduced food delivery. If your business is looking for a delivery partner for bulk food delivery, you should choose Transportify. We have trained our driver-partners in these services depending on the requirement of the business.